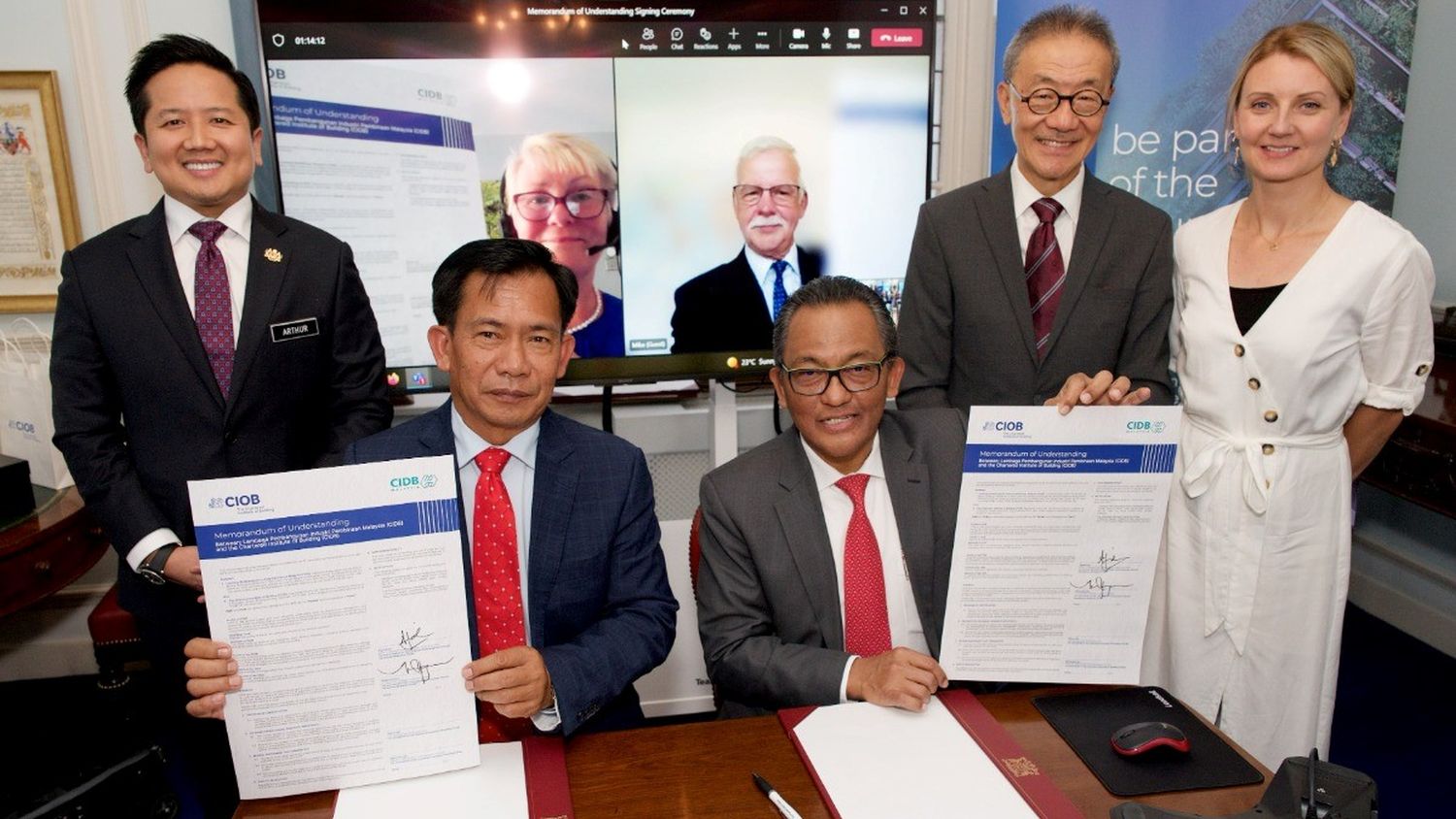 Government officials and senior construction industry figures from Malaysia visited the UK this week, marking the first time the Chartered Institute of Building (CIOB) has welcomed an overseas delegation since the start of the covid-19 pandemic.
The delegation signed an agreement with the CIOB to help raise standards, increase innovation and technology use, and improve sustainability within the sector.
The group included the chairman of Malaysia's Construction Industry Development Board (CIDB), Ir. Yusuf Abdul Wahab; its chief executive, Datuk Ir. Ahmad 'Asri Abdul Hamid; the country's deputy minister of works, Datuk Arthur Joseph Kurup; and incoming CIOB president, Datuk Seri Dr Michael Yam.
First delegation since 2020
It was the first delegation from abroad to be hosted by the CIOB since the global pandemic stopped international travel in 2020. They met on Tuesday 21 June with CIOB director of membership, Amy Gough, in the City of London, where the agreement between CIOB and CIDB was signed in the dining room of Coopers' Hall, a pre-Georgian town house belonging to the Worshipful Company of Coopers.
Caroline Gumble, CIOB chief executive, said: "This agreement further strengthens CIOB's support for the international community of construction professionals and establishes our relationship with CIDB Malaysia, with whom we share a mission to secure a better future for our industry.
"The MoU, which serves as a platform for collaboration through information and knowledge exchange, is very much in line with CIDB's role in developing the Malaysian construction industry."
Ir. Yusuf Abdul Wahab, CIDB
"We look forward to sharing best practice from our respective cultures to promote excellence and professionalism in the built environments in Malaysia, in the UK and globally."
CIOB has an established membership base in Malaysia of more than 450. The institute, which has had a presence in the country since 1980, is also partnered with seven Malaysian universities with whom it works to develop and accredit courses in construction management and quantity surveying.
Mike Foy OBE, CIOB president, said: "As the world's largest professional body for construction, with 47,000 members operating in 100 countries, the CIOB is well positioned to bring about positive change to many agendas. When we partner with an organisation like CIDB, it is because we believe we share the same values and that by working together we can make a difference, and I look forward to seeing this collaboration between our two prestigious organisations grow."
Malaysia's CIDB Construction Industry Development Board was established under the Construction Industry Development Board Act 1994 (Act 520) to regulate, develop and facilitate the construction industry towards achieving global competitiveness. The Board advises the federal and the state governments, as well as other stakeholders on matters affecting or connected with the construction industry.
Chairman of Malaysia's CIDB, Ir. Yusuf Abdul Wahab, said: "The MoU signing today, which serves as a platform for collaboration through information and knowledge exchange, is very much in line with CIDB's role in developing the Malaysian construction industry. These human capital development efforts are not only important in Malaysia and the UK, but also for all construction professionals around the world in order to remain competitive in a challenging environment."
Register for free and continue reading
This is not a first step towards a paywall. We need readers to register with us to help sustain creation of quality editorial content on Construction Management. Registering also means you can manage your own CPDs, comments, newsletter sign-ups and privacy settings. Thank you.