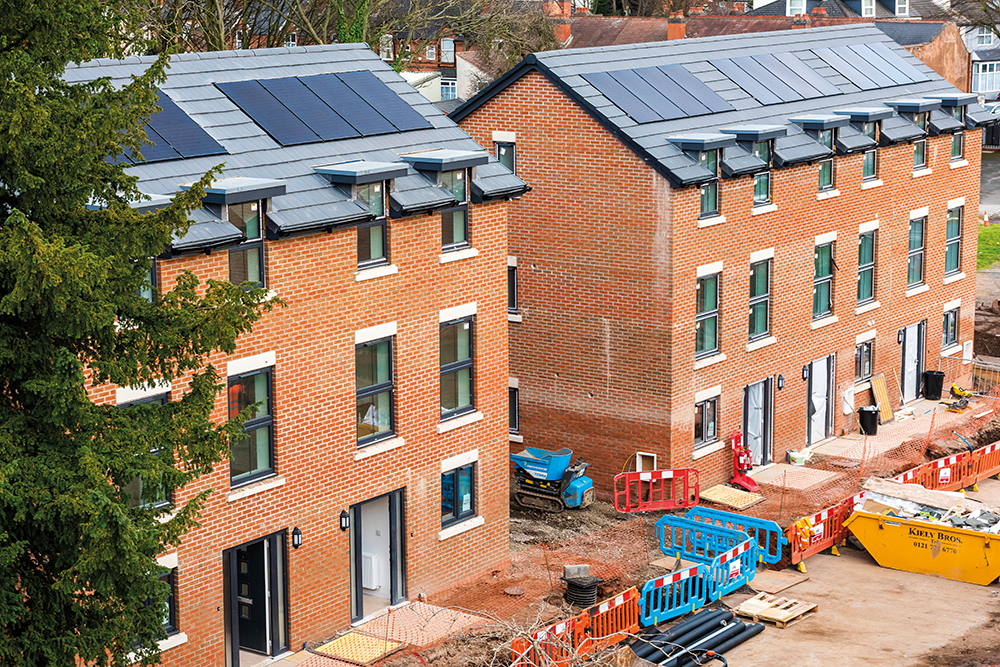 Housing association Midland Heart is pioneering one of the first Future Homes Standard developments, led by its head of construction Tony Hopkin. He spoke to CM about the project.
The introduction of the Future Homes Standard (FHS) is one of the most significant challenges the housing sector has faced in decades. It demands stringent building fabric requirements, a low-carbon form of heating and hot water, and homes that emit 75%-80% less carbon than homes built under current regulations.
Project team – Eco Drive, Birmingham
Value: £2.2m
Client: Midland Heart
Main contractor: Tricas Construction
Architect: Oakley Architects
Engineer: Patrick Parsons
Cost consultant: Thornton Firkin
Clerk of works: Derek Evans Partnership
The FHS will become a building regulations requirement from 2025, but one housing association is already embracing the changes. Midland Heart is building a 12-home development in Handsworth, Birmingham, which will meet the new standard. Head of construction Tony Hopkin considers it essential that the housing association learns about the build methods and low carbon technologies involved.
"The combination of change for us – in the way we design and build – and for our residents – in the way they use and interact with the homes – is something we need to understand better to ensure success come 2025," he explains. "This is why we've developed a research and development programme called 'Project 80' to model and understand this."
Eco Drive is a £2.2m development of 12 new homes on a former brownfield site in Handsworth. The site consists of eight three-bedroom houses of two-and-a-half storeys, two four-bedroom three-storey houses and a pair of two-bedroom two-storey houses.
The project team Midland Heart has assembled includes main contractor Tricas Construction, Oakley Architects and engineer Patrick Parsons. An industry steering group from product manufacturers, researchers and other industry bodies has also contributed ideas to the scheme. The houses are traditional construction – brick and block leaves, with 150mm CavityTherm full-fill wall insulation, built on trench-fill foundations.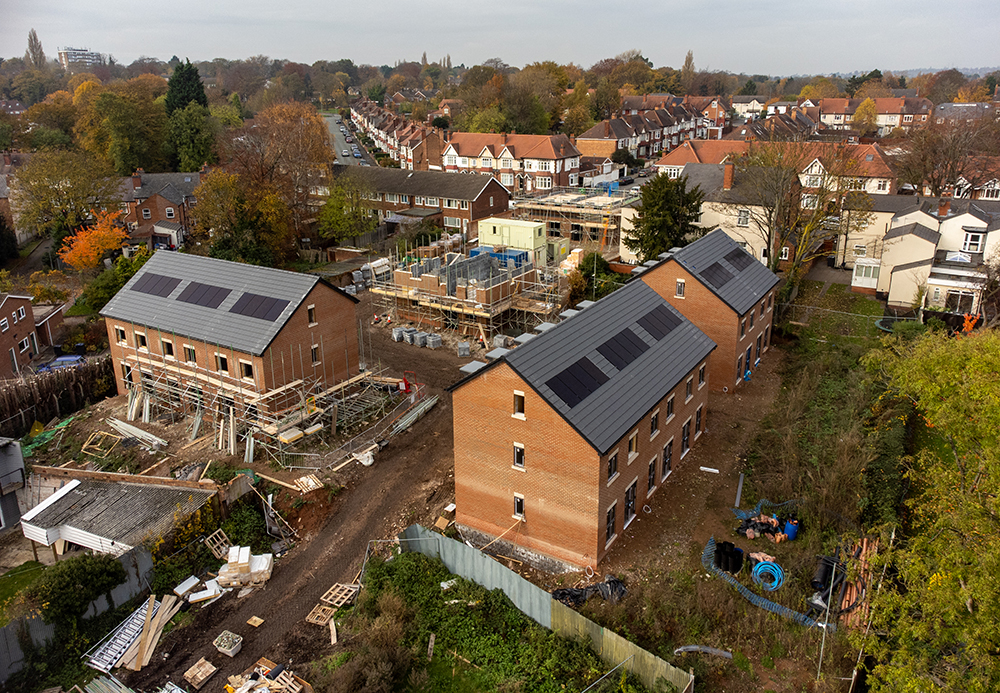 "As there are multiple ways to model the FHS, to maximise the research benefit we have incorporated different specifications," says Hopkin (see box p16).
"While most of the specification is consistent, on specific plots we have altered the block density and manufacturer (Besblock and H+H), and incorporated differing airtightness levels and ventilation strategies. We've also featured various heating and hot water approaches, again using multiple manufacturers for the systems."
The first challenge for the project team was determining how to model the FHS. To establish a baseline, the plots were modelled using SAP 2012 to meet the current building regulations.
SAP stands for Standard Assessment Procedure and is the government's method for calculating the energy performance of dwellings. The table on p17 shows the results from using SAP 2012 on plot 5 as an example.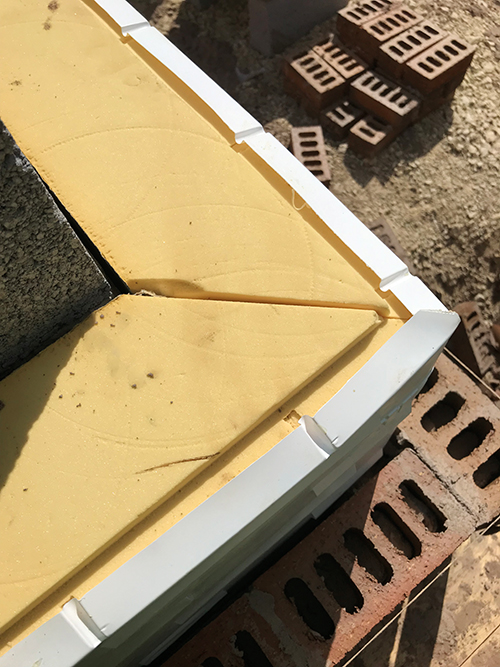 The units were then modelled in SAP Version 10 (the latest version) and aimed for an 80% CO2 emissions reduction. "This enabled us to determine the performance criteria," Hopkin explains.
The second challenge came in the external fabric and the use of a near full-fill PIR insulation to meet the 0.13 U-value.
"The bricklayers on site had to take extra care and attention to ensure that the cavities were consistent in width, because even a small deviation in cavity width was problematic," says Hopkin.
The third challenging part of the build was achieving an airtightness of 1.5m3/(h.m2)@50Pa.
"This high airtightness meant that several aspects of the build were modified (compared to the units with lower airtightness)," Hopkin notes. "For example, joists were installed on hangers instead of in walls, grommets were used to seal any penetrations through the fabric, and Blowerproof Liquid membrane was applied to the internal walls and junctions within the property."
The final technical challenge came on plots three and four. Due to the high airtightness and orientation of these two properties, the TM59 overheating analysis identified potential for these plots to overheat.
"To overcome the potential overheating problem, the g-value of the glazing was changed to 0.37 (from 0.45) – this had an impact on both the cost of the glazing units and also their ease of procurement," Hopkin says.
In addition to the technical challenges on Eco Drive, Midland Heart realises there is likely to be a significant challenge in ensuring the residents can use the homes as intended.
"As the landlord, we are conscious that many of our residents will not be familiar with the technologies in these homes, nor how to live in them so they get the most benefit," Hopkin says.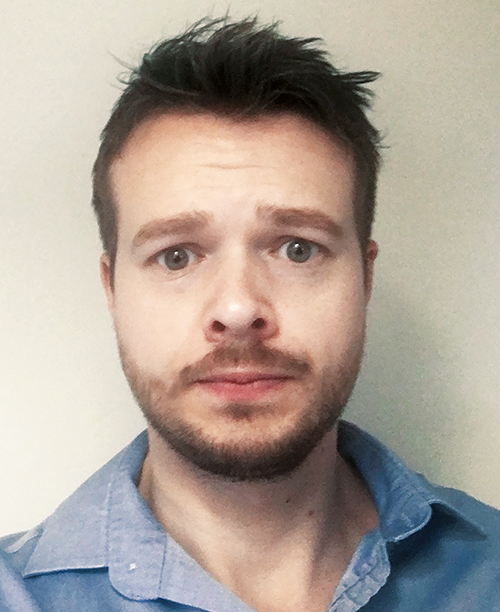 Construction manager CV: Tony Hopkin FCIOB
Since February 2020: Head of construction, quality and innovation, Midland Heart
2018-2020: Quality manager, Midland Heart
2011-2018: Technical manager plus various other quality roles, NHBC
2010-2011: General manager, First Interiors
Visiting lecturer at University of Reading and De Montfort University
Professional Review mentor, CIOB
Education
BSc Architectural Design Technology and Production, De Montfort University
MSc Management for Construction, Coventry University
EngD Housing Defects and Quality, University of Reading

"Therefore, we have put the residents at the heart of what we are doing, ensuring that they are adequately trained and informed about the properties and how to work them. We will gather residents' feedback during occupation so we can learn from their experience and help shape the way we deliver similar homes in the future."
Midland Heart is also partnering with a company called Covatic to develop a digital home user guide for residents. "They will have information at their fingertips in a format that is easy to interact with," says Hopkin.
The learning experience from the Eco Drive project identified several skills areas that need focus, says Hopkin.
"First, bricklayers will need to become more familiar with installing rigid insulation products, and there will be significant work ahead to ensure the residents take the additional care and attention these products need," he explains.
"Second, we need capacity in the supply chain to install low- and zero-carbon technologies. At present there is a significant deficit in the number of people who can install technologies such as ASHPs compared to items such as gas boilers."
Product availability is another potential concern, Hopkins adds.
"We initially explored using triple glazed windows with a U-value of 0.7 for this project," he says. "However, due to the lack of availability within the UK we ended up using an enhanced double-glazed unit. We also struggled to source windows with an enhanced g-value.
"Therefore, we need to see a greater variety of products to satisfy the multiple ways of achieving the FHS."
On completion, Midland Heart will generate 'as-built' SAP reports (in SAP Version 10) to demonstrate the dwellings meet the 80% CO2 emission reduction. "We will also undertake energy monitoring, working with Birmingham City University," adds Hopkin. "This will establish the actual performance of the dwellings, compared to the design parameters, and identify learning opportunities."
Modelling performance using SAP
SAP 2012 Plot 5
(pilot plot)
SAP 10 Plots 1-2
SAP 10
Plots 3-4
SAP 10
Plots 5-12
Floor U-value
0.13
0.11
0.11
0.11
External wall U-value
0.18
0.13
0.13
0.13
Roof U-value
0.14
0.1
0.1
0.1
Window U-value
1.4
1.2
1.2
1.2
Door U-value
1.4
1.2
1.2
1.2
Air permeability
5.12
1.5
1.5
5.0
Heating
Gas boiler
ASHP
Panel heaters HWHP
ASHP
Ventilation
Natural
MVHR
MVHR
Natural
PV
None
Yes
Yes
Yes
WWHR
No
Yes
Yes
Yes
Y-value
0.05
0.028
0.0274
0.028
Maximum Kg CO2/yr
1626.71
~352.14
~268.98
~313.52
SAP stands for Standard Assessment Procedure and is the government's method
for calculating the energy performance of dwellings. A pilot plot was modelled using SAP 2012 to meet the current building regulations and establish a baseline. The units were then modelled in SAP Version 10 (the latest version) and aimed for an 80% CO2 emissions reduction.
Sustainability features on the Eco Drive project
Varied specifications have been applied for research purposes.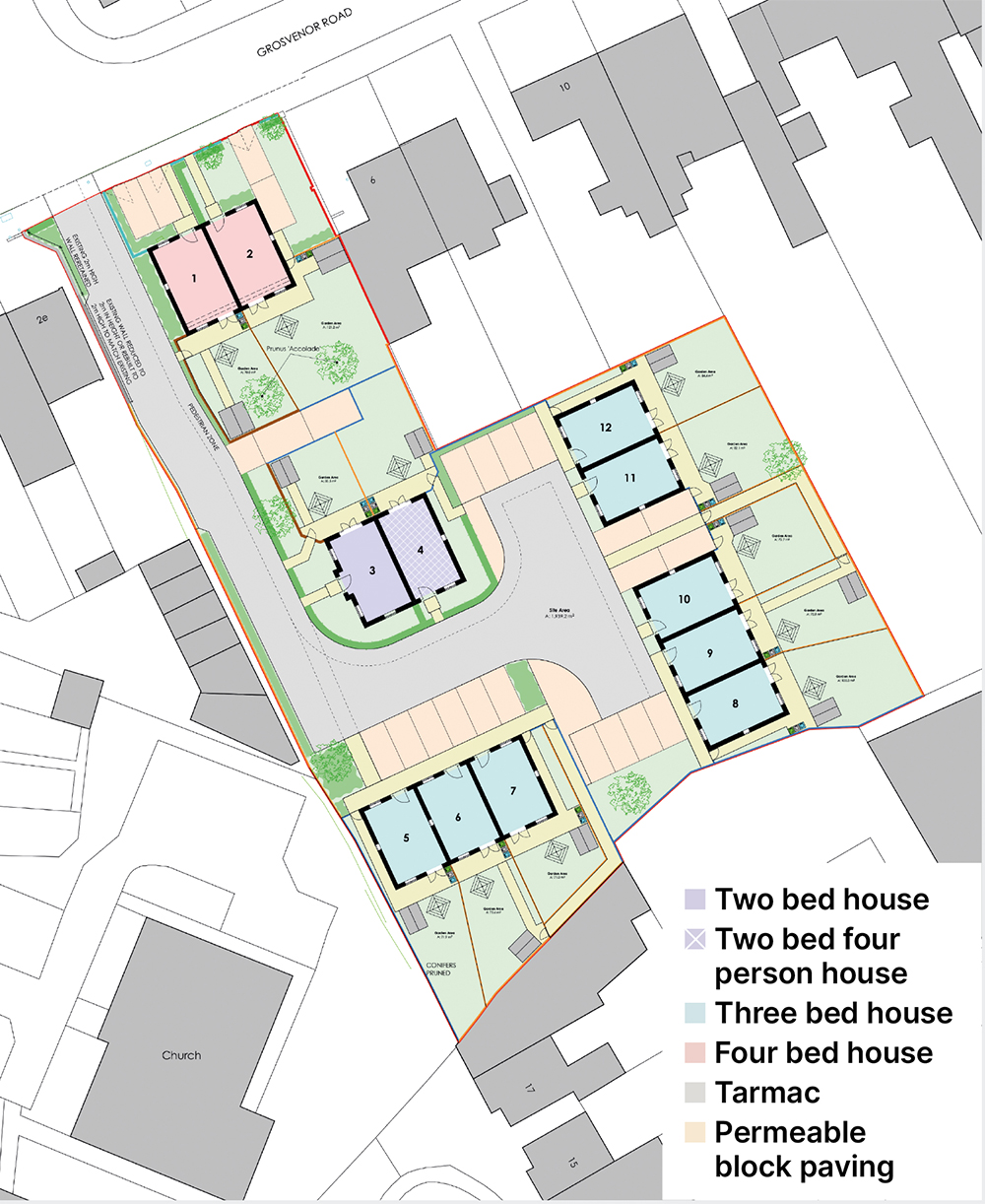 Plots 1-2 (four-bedroom houses)
These homes have been designed to achieve a high airtightness of 1.5. "Because of this airtightness, we have incorporated mechanical ventilation with heat recovery (MVHR) from Envirovent to ensure the homes are ventilated property," explains Hopkin.
"The reason for making the homes so airtight is to understand how our residents interact with a highly airtight home which utilises a mechanical ventilation system. To achieve the airtightness level of 1.5 we are utilising Blowerproof Liquid membrane.
"For heating and hot water purposes, we are using Baxi air source heat pumps and hot water cylinders. Other sustainable features include PV panels from QCell and a Showersave QB1-21 waste water heat recovery (WWHR) system.
Plots 3-4 (two-bedroom houses)
These houses have also been designed to achieve a high airtightness of 1.5. "They incorporate MVHR, have PV panels from QCell, and the Showersave QB1-21 waste water heat recovery system," says Hopkin. "However, for heating and hot water purposes we are using panel heaters from Glen Dimplex along with their Edel Hot Water Heat Pump.
"The rationale behind using panel heaters for space heating on these plots is to understand residents' views on their usability and performance when compared to air source heat pumps."
Plots 5-12 (three-bedroom houses)
The largest houses on the development have been designed to achieve a lower airtightness in conjunction with 'natural ventilation'.
"The logic for making the homes less airtight is to explore whether our residents interact differently (or better) to a less airtight home which utilises a natural ventilation system – to inform our thinking come 2025," Hopkin explains.
"These plots also incorporate PV, WWHR and use Vaillant air source heat pumps and hot water cylinders for heating and hot water purposes – which enables us to explore different products."
Inspection app helps monitor quality
The interim uplift to Part L of the building regulations (and the FHS) requires Midland Heart to document and demonstrate that the dwelling aligns with the SAP calculation. The housing association is using digital tech to help achieve this.
"We are working with Captego to trial their inspection and data recording app," says Hopkin. "The app enabled us to set up a 'digital project' for the site, upload the relevant site details, plot specifications and drawings, as well as critical details such as calculated thermal bridging.
"During construction, we can take time- and location-stamped photos of work to demonstrate compliance. We are also using the app to document progress on site and monitor quality."
Register for free and continue reading
This is not a first step towards a paywall. We need readers to register with us to help sustain creation of quality editorial content on Construction Management. Registering also means you can manage your own CPDs, comments, newsletter sign-ups and privacy settings. Thank you.