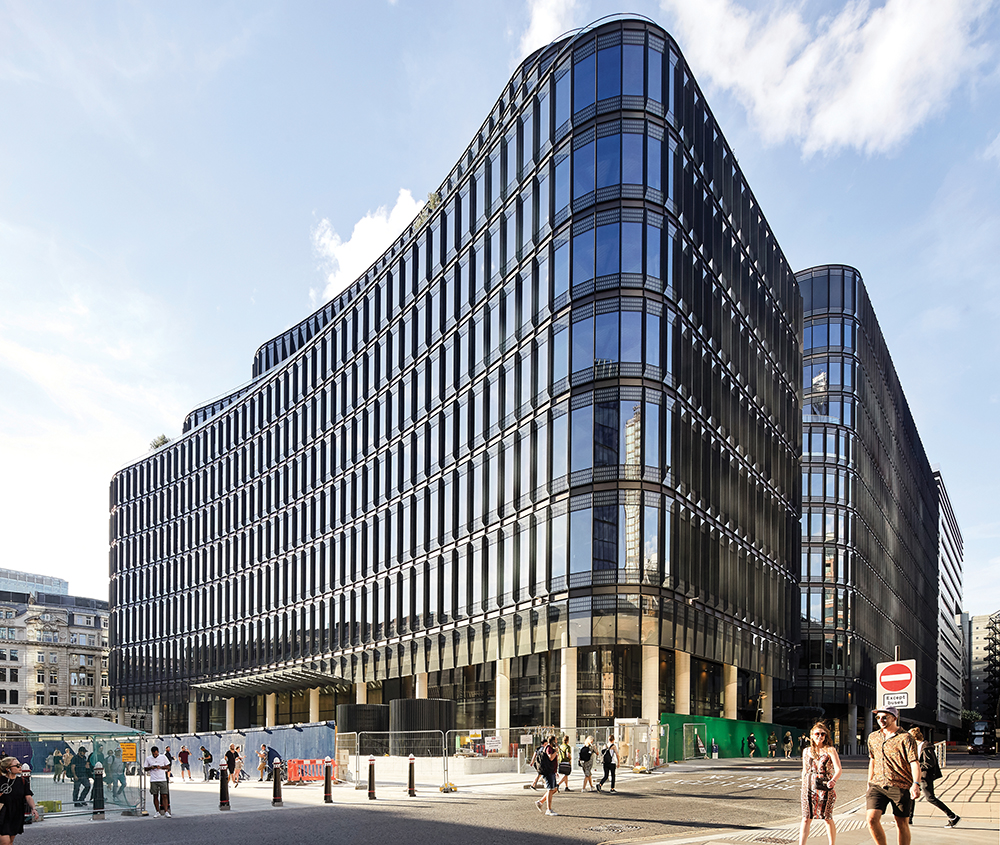 Two City of London office buildings have been reconfigured and extended into a single mixed-use scheme that forms part of the wider Broadgate redevelopment.
Totalling 66,000 sq m, 100 Liverpool Street consists of two steel-framed buildings that have been reconfigured and enlarged into a single structure. This has achieved a 40% increase in leasable area while reusing 50% of the existing superstructure and 100% of the foundations.
Award: 100 Liverpool Street, London
Architect: Hopkins Architects
Structural engineer: AKT II
Steelwork contractor: William Hare
Main contractor: Sir Robert McAlpine
Client: British Land
New steelwork was erected to knit the structures together, replace demolished areas and add four new floors to the top, creating a new 10-storey landmark building.
"The project shows the unique circular economy credentials of steel-framed construction. The steel industry's fantastic quality control processes and provenance have enabled the retention of much of the existing frame, while steel's high durability has easily assured a designed life far beyond these buildings' existing 40 years," explains AKT II technical director David Watson.
Steelwork's high strength has allowed novel strengthening details to carry the additional loads with minimal new material and waste. Steel has made the project's shallow transfer beams and super-slim suspended floor structures possible, allowing these to fit within the existing buildings' limited clearance zones.
"Analysis of the structure allowed us to identify and utilise redundancies in the original design, and work out which areas of the retained steel frames would need strengthening," adds Watson.
"The lightweight nature of a new steel composite design, using Fabsec cellular beams, meant we were able to reuse the foundations and only had to strengthen 33% of the existing columns to support the new build elements," he explains.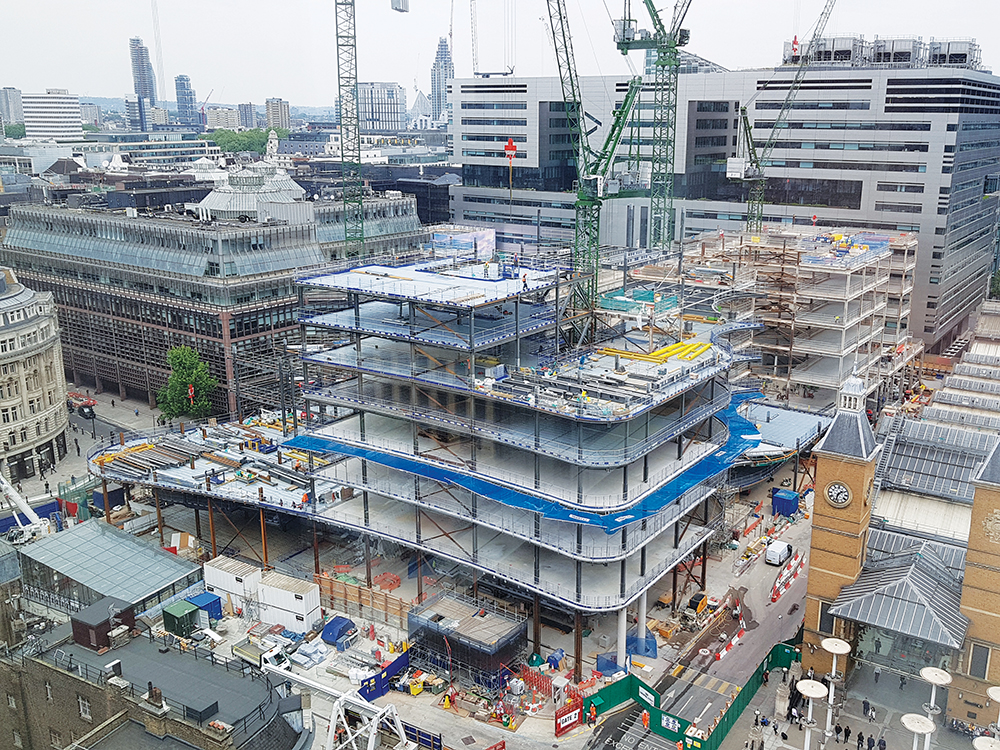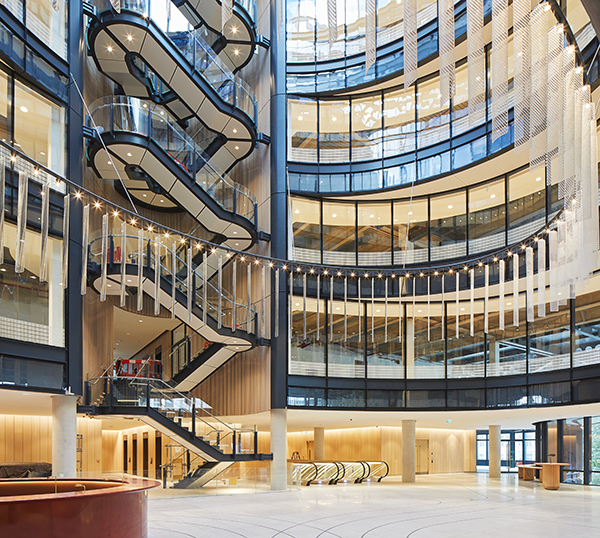 The new floors utilise a composite design, with cellular beams supporting metal decking and a concrete topping. New steel columns are bolted to the existing steel frame where possible and the building follows the original structural grid, based around a 7.5m x 7.5m column spacing.
The new office spaces open onto new terraces and atriums, while the station's western pedestrian artery has become a dramatic, full-height retail mall. Many of the office floors are extended outwards, while the new upper levels are progressively set back to preserve sunlight down to the adjacent Broadgate Circle plaza. The cores have been upgraded, with new express lifts installed.
AKT II also developed the structural design with proprietary design software that allowed structural performance and embodied carbon analysis directly from the shared model geometry. This included generative parametric modelling, to rapidly iterate and verify design options for balancing the new and existing structure in terms of carbon, logistics, buildability and flexibility.
The team first identified ways to distribute the increased loads with minimal intervention by assessing the buildings' designed capacity along with the consequent occupational, cladding and finishing loadings to date, and analysing the overall balancing to identify possible areas of opportunity. Through back-analysis of the existing structure using 3D finite element modelling (FEM), several existing redundancies were affirmed.
"The team has added floors and reworked the existing steel structure to create an elegant new City office with high sustainability credentials."
SSDA judges
Tying in a new steel frame to an existing 1980s frame has been done as seamlessly as possible. Floor slab thicknesses vary throughout the scheme, but in areas where the new build meets the retained structure, the new slab corresponds to the old.
The SSDA judges said the reworking of two 1980s office buildings cleverly presents itself as a new building. On an extremely constrained site, built over a main access into Liverpool Street Station, the team has added floors and reworked the existing steel structure to create an elegant new City office with high sustainability credentials.
Produced by the BCSA and Steel for Life in association with Construction Manager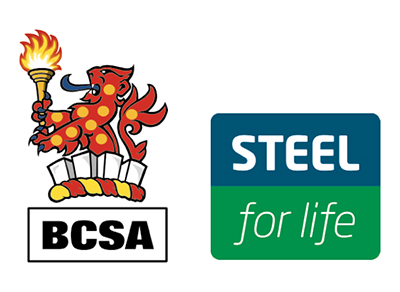 Register for free and continue reading
This is not a first step towards a paywall. We need readers to register with us to help sustain creation of quality editorial content on Construction Management. Registering also means you can manage your own CPDs, comments, newsletter sign-ups and privacy settings. Thank you.