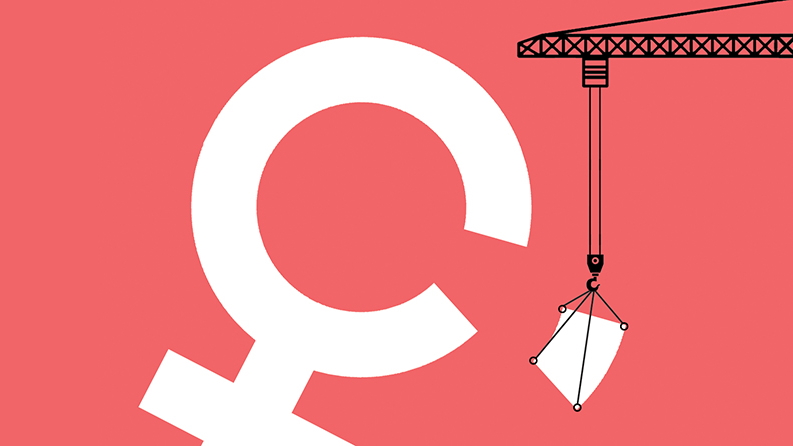 Samantha Paulin discusses the pay gap and how employers can help encourage more underrepresented groups into senior positions within the construction industry.
The gender pay gap is the difference between the average earnings of men and women. It is not the same as "equal pay", which is required by law and means that men and women performing equal work of equal value must receive the same pay. When calculating the gender pay gap, we need to look at both the mean and the median earnings of each gender across a workforce.
The construction industry has traditionally been very male-dominated. Often, (although by no means always) women in construction work in office-based roles rather than practical construction which can mean that their pay, when compared to the wider workforce, looks very positive. However, when we break this down into sub-groups/quartiles, this is not as favourable, as when compared with men working in head office we generally find that women earn less.
The ethnicity pay gap is the difference between the average earnings of white British employees and those of ethnic minority employees across a workforce. This is a relatively new concept and little work has been done to consider how the pay of ethnic minority employees relates to that of white British employees.
Who has to report their pay gap?
Employers with more than 250 employees have to report their gender pay gap online and publish it in a prominent place on their public-facing website. Failure to report could lead to court orders and fines, and also damage your reputation. The Gender Pay Gap Service applies a public 'late badge' to employers that have failed to report, which could lead to suspicions among prospective employees about the reasons for such failure.
The prospect of making ethnicity pay gap reporting mandatory (in a similar way to gender pay gap reporting) has been on the government's agenda for a number of years. On 17 March 2022 the government confirmed that ethnicity pay gap reporting would not become mandatory. Ethnicity pay gap reporting therefore remains voluntary, but some companies are choosing to report this for reasons such as increasing transparency, taking accountability, and showing customers what they are doing to increase diversity in their organisation.
It is understood that the government will publish guidance this summer to help employers that want to report their ethnicity pay gaps voluntarily. 
Why is it important to narrow the pay gap?
It is important to narrow both the gender pay gap and the ethnicity pay gap for reasons of fairness and for more commercial reasons – companies that want to avoid reputational risk and attract the best candidates, regardless of gender or ethnicity, will make this a priority.
How can we narrow the pay gap?
Even if reporting your gender pay gap is not mandatory, consider carrying out the analysis voluntarily – once you know whether you have a problem, you can start to consider how to fix it. This applies equally to your ethnicity pay gap: reporting this is not mandatory for any employers, but it is only once you understand the extent of the problem that you can start to think of ways to narrow the gap.
Given that childcare responsibilities are one of the most-cited factors in explaining the gender pay gap, permitting flexible working is one step that employers can take. Women who are reluctant to put themselves forward for promotions for fear of losing their work-life balance may be more comfortable if permitted to work flexibly. The Gender Pay Gap Service has published some further examples of actions which have been shown to help to narrow the gender pay gap. These apply equally to the ethnicity pay gap and include:
Including multiple women and/or ethnic minorities in shortlists when recruiting and when considering promotions;
Use skill-based assessment: ask candidates to perform examples of tasks they would be expected to perform in the role they are applying for, rather than relying solely on interviews;
Use structured interviews that ask exactly the same questions of all candidates and grade their responses using pre-specified criteria. This can help to avoid unfair bias influencing decisions;
Clearly communicate the salary range on offer for a role: women are less likely to negotiate their pay, and doing this can help by showing what a reasonable offer is;
Increase the transparency of promotion, pay and reward processes, so that employees are clear on what is involved and managers have objective criteria to work against;
Appoint a diversity manager or a diversity task force: such a manager or task force would monitor recruitment decisions made by managers. This means that managers know that their decisions will be reviewed, thereby increasing their own accountability.

How can we encourage underrepresented groups into more senior positions?
Consider encouraging applications from candidates who don't necessarily fit all of your criteria and, in your job advert, detail the skills you are looking for rather than listing the experience you would like to see. This may provide you with a more diverse pool of candidates from which you can pick the best.
Increasing the transparency of the route to promotion may help to encourage employees who may not otherwise have put themselves forward to be clear on what is involved and be clear that they will be treated fairly. Explicitly telling employees that you welcome applications from everyone and that all will be considered equally is important too.
Samantha Paulin is associate in the employment team at Walker Morris.
Register for free and continue reading
This is not a first step towards a paywall. We need readers to register with us to help sustain creation of quality editorial content on Construction Management. Registering also means you can manage your own CPDs, comments, newsletter sign-ups and privacy settings. Thank you.