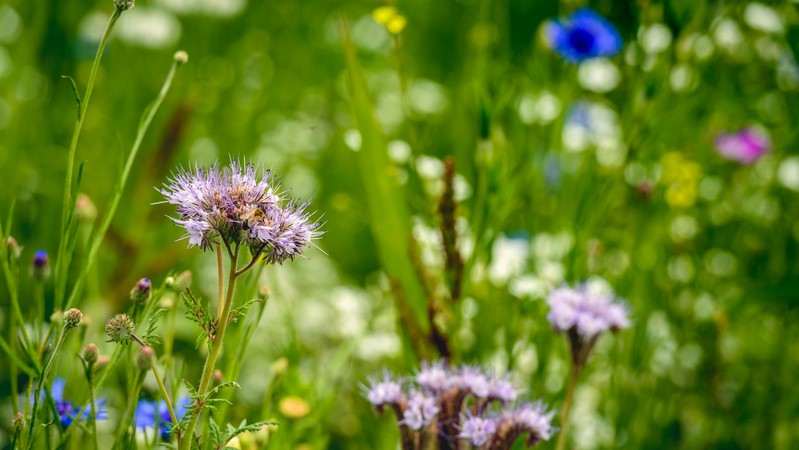 The built environment can have a significant impact on biodiversity. As a new government consultation opens, Alex Minett looks at the threats to biodiversity and how to mitigate negative impact from construction operations.
Biodiversity, in its broadest terms, is the variety of life on earth. It is the scientific measure for the earth's ecosystems, habitats and species and is necessary for human survival by supporting the air we breathe and providing us with food, clean water and medicine, among other things.
A 2019 study undertaken by the RSPB and Natural History Museum revealed that the UK was at the bottom of the G7 league table when it comes to how much biodiversity it has left. Not only that, it came third from bottom for Europe overall. Using the Biodiversity Intactness Index (BII), which the UN Convention of Biological Diversity has also adopted, it was found that the UK has retained only half of its biodiversity relative to pre-modern times, compared with 65% for France, 67% for Germany, and 89% for Canada. It's clear that action to manage our biodiversity is urgently needed.
The built environment is a significant driver when it comes to biodiversity loss. Yet at the same time, we face a housing crisis with a government target to build 300,000+ homes annually. Often, meeting housing needs requires the development of land, which will inevitably affect biodiversity with destruction of some habitats, ecosystems and food sources, along with more subtle impacts that may not be apparent until further down the line. It can be almost impossible to fully attribute some of the delayed impacts to the initial development of land as they can get lost among other contributing factors.
Issues that can occur, either short-term or long-term, may not be site-specific, but could affect local areas and include flooding, air and water pollution, water depletion and river flow disruption. While there is a heightened awareness of protected species when it comes to permission and progress of development, factors such as noise and light disturbance during the construction process may disrupt wider species' natural behaviour patterns that can ultimately lead to population decline later.
The broader indirect impacts of development on biodiversity, especially on previously undeveloped land, also include the risk of vandalism to the adjacent fringes of newly populated and developed sites and fly-tipping as well as other anti-social behaviours.
Product supply chains also play their part in biodiversity loss. The methods required to extract and supply the major materials needed for construction, such as timber, sand and gravel will either alter or destroy habitats through the removal processes with secondary impacts including noise, air and water pollution.
Furthermore, converting raw materials for construction use can contribute to yet more pollution and waste and, through the use of fossil-fuel based energy sources make a significant contribution to climate change. Man-made climate change is the single greatest threat to our species and biodiversity.
Having been through repeated drafts and amendments, the Environment Bill looks set to finally pass into law in autumn 2021. The legislation has been designed to clean up the country's air, restore natural habitats and increase biodiversity. The bill will also outline how the government will reduce waste, make better use of resources, and improve management of water resources in a changing climate.
The bill includes plans to reform habitats regulations to conserve and promote biodiversity with the objective of protecting 30% of land and drive the delivery of a new 2030 biodiversity target to reverse the decline of native British species such as hedgehogs, red squirrels and water voles. It will also look to increase tree planting, restore wetlands and introduce peat bans in an effort to reduce the release of carbon dioxide and other greenhouse gases that comes with the disturbance of peatlands.
It is worth pointing out that the Environment Bill will legislate for England only. While more than half of its measures have been designed to be implemented across the whole of the UK with the consent of the devolved nations, biodiversity net gain will only be mandatory for all development in England.
What can construction companies do?
It's often too little too late to do anything about biodiversity net gain once construction is underway, so early recognition and addressing the issue at the planning stage is essential. Collaborative planning with ecologists and all stakeholders involved in the project is critical for mapping habitats and identifying the correct environmental measures that can be implemented to enhance biodiversity in new developments.
There are considerable benefits to developers too. Discovering a protected species is resident mid-way through construction can have prohibitive financial and scheduling implications, not to mention any fines attached to breaches in biodiversity legislation as well as reputational damage.
"Early recognition and addressing the issue at the planning stage is essential."
Appointing biodiversity champions within organisations, delivering biodiversity toolbox talks, training and, ensuring policies and method statements cover the key commitments to biodiversity are all good ideas to help build trust with local planning offices and local communities and to strengthen future project wins. Don't forget supply chains: ensure that all supply chain partners are clear when it comes to environmental responsibilities.
How to ensure supply chain partners take environmental responsibilities seriously?
Look out for valid certification when selecting supply chain partners. BS EN ISO 14001 (or equivalent) issued by a UKAS or equivalent accredited certification body or a valid EMAS certificate all point towards a company that demonstrates proactive measures to protect biodiversity. Don't hold back on asking for documentation on environmental policies and plans for the management of environmental issues. Sustainable materials procurement, waste management including licences, energy management and evidence of carbon reduction and carbon-emissions reporting should all be transparent and readily available by environmentally responsible businesses.
The simplest way to ensure a supply chain is environmentally conscious is by choosing from an approved list of accredited contractors. Companies that hold PAS 91 accreditation in environmental impact and sustainability will have provided evidence to show they have met the necessary standards outlined above and that they have an established commitment to sustainable environmental practices. While achieving the common assessment standard automatically means a company can demonstrate their ongoing compliance with all regulatory standards related to environment and sustainability.
With new legislation about to come into effect, the time is now to prepare and strengthen companies and supply chains when it comes to environmental responsibilities. With proper management and measurement of environmental performance, the impact on biodiversity can be lessened over time.
When we lose biodiversity, we chip away at all the building blocks that are in place to support us and help us thrive. Biodiversity is intrinsically linked to our wellbeing and economic prosperity – and we all have a responsibility to protect it.
Alex Minett is head of products & markets at CHAS.
Register for free and continue reading
This is not a first step towards a paywall. We need readers to register with us to help sustain creation of quality editorial content on Construction Management. Registering also means you can manage your own CPDs, comments, newsletter sign-ups and privacy settings. Thank you.