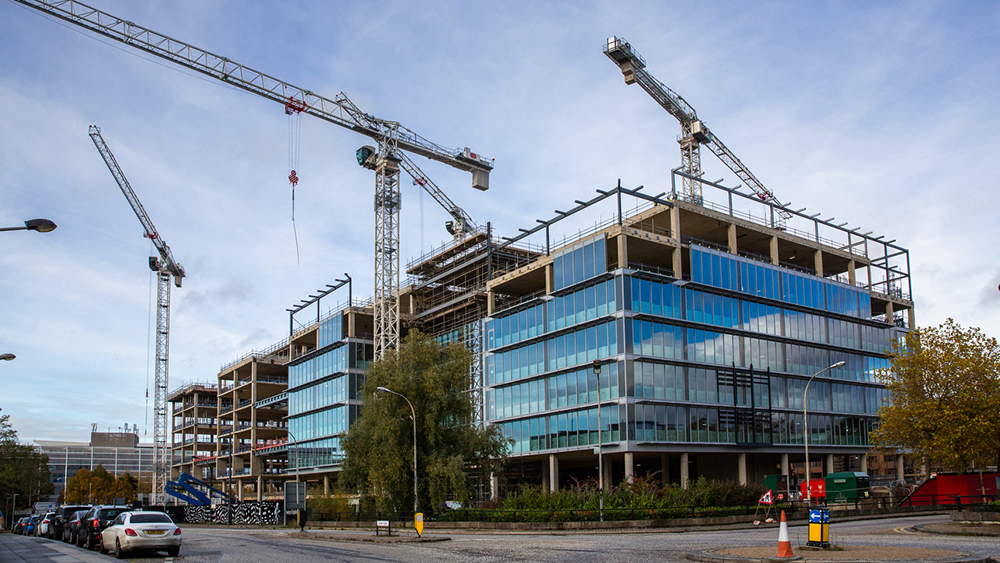 Santander is reinventing the bank HQ with its Unity Place building in Milton Keynes. Kristina Smith visited the site to find out how.
Given the pandemic-induced shift to flexible working, one might assume that the last thing Milton Keynes needs is new office space. But there it is, as you walk out of Central Station: eight storeys and 37,000 sq m of brand-new building taking shape.
This will be Santander's Unity Place. A bank HQ, but different. Forget the security guards and scanners, here the ground floor will be open to the public, with pop-up markets, cafes, yoga classes and performances to encourage people to wander through. Santander is keen to accommodate and nurture entrepreneurial fintech start-ups on the lower floors.
"It's a real paradigm shift for an HQ building," says Richard Hutchinson, director at LOM Architecture and Design, which designed the building for developer Osborne+Co. "While Unity Place is designed with security in mind, the business's ethos is to be open and transparent – and to play an active part in the local community. This has informed the design of the building."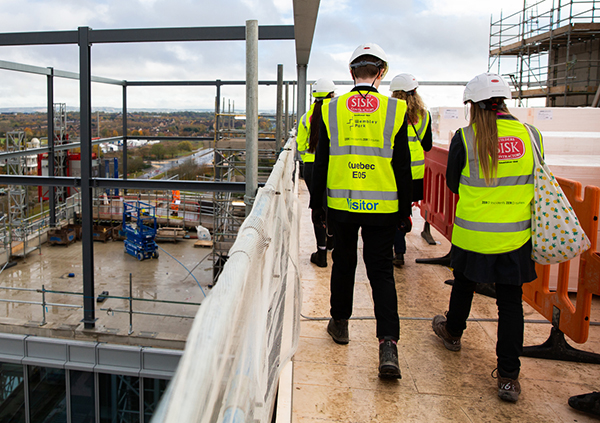 Unity Place, Milton Keynes – Project details
Cost: £160m-£170m
Programme: June 2020-late 2022
Contractor: John Sisk & Son
Architect: LOM Architecture & Design
Engineer: WSP
Project and cost manager: Turner & Townsend
Form of contract: JCT

Key suppliers
Frame and groundworks: Byrne Bros
Structural steel: Hillcrest
M&E shell and core: Update Group
M&E fit-out: Grant Walker Engineering
Facade: FKN
Roofing: Briggs Amasco

For contractor John Sisk & Son, the driving force at Unity Place is the programme. Having started tendering in March 2020, the team was on site by June. "It was an extremely quick mobilisation," says Sisk project director Aidan King. "We hit the ground running." A ready-formed team, from projects at Wembley, was vital to that flying start.
When Santander first imagined its building, Covid and its impacts were not even on the horizon. Fortunately, LOM designed the building with flexibility in mind. It has huge open floors that can be configured and used as required.
Some 6,000 Santander staff will relocate here from four other buildings when it opens in 2023, some of them moving from a building right across the road – which will then be reimagined as a mixed-use scheme. The building consists of four blocks, linked by three atriums, and glass-clad everywhere: LOM's visual translation of 'transparency'.
Each atrium will be criss-crossed by two eye-catching metal staircases, with rosewood handrails, designed to encourage the building's users to move by foot rather than lift, part of the building's wellness strategy. At a higher level, the blocks are linked by outdoor 'garden bridges', where people can get a fresh air and greenery fix.
The importance of the building's wellness and environmental credentials for Santander have increased over the lifetime of the project. Initially, though LOM had designed the building with BREEAM and WELL Building Standard in mind, there was no requirement to get the accreditation. Now there is, with targets of Excellent for BREEAM and Gold for WELL.
Santander has also ramped up Unity Place's environmental performance with the addition of huge batteries as part of the building's power system, and a connection into the local district heating scheme – which was just a possibility at the beginning of the scheme – has been firmed up, causing some legal paperwork and headaches for Sisk.
Having carried out some utility diversions when it first arrived on site, the first task for Sisk was to construct the building's 10m-deep, two-storey basement. This will house plant rooms and two levels of parking: one for the building and one for the public – a planning requirement.
"This is what we've been busy doing," says King, as he stands in the impressive space that is the basement, which extends beyond the building's above-ground footprint. It is week 73, but the building's concrete frame has yet to be clad because of the amount of time spent in the ground.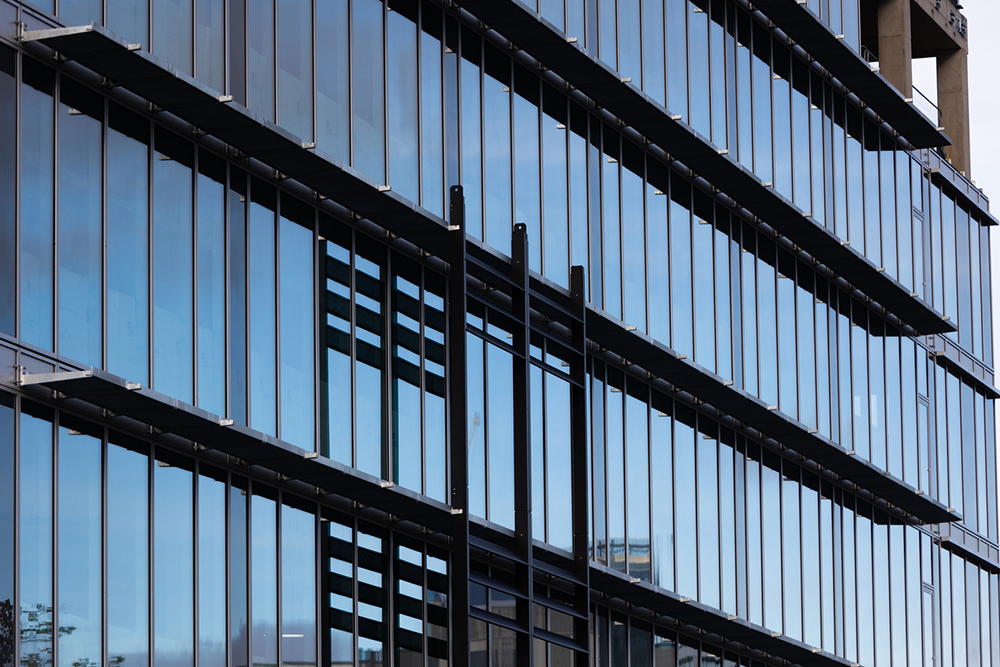 Sisk is cracking on with the internal fit out before the building is fully clad and watertight. "Some of the drylining boards will get damaged by the rain but we will cut those areas out and replace them. It's worth it for the value we gain in terms of the programme," explains King.
The perimeter of the basement was created by around 540 contiguous piles. With the capping beam in place, the box could be excavated, without internal propping, and then the 1.2m-deep raft foundation constructed. "It was virgin clay, with a really low water table, the best ground conditions we have ever encountered," says King.
Byrne Brothers has the contract for both the groundworks and the concrete frame, a package reported at £41m. Together with the packages for lifts and facades, this contract was in place before Sisk won the job.
The basement construction is reinforced concrete, with a Sika additive to make it Grade 2 waterproof (damp areas acceptable but no water penetration). Above ground, the floor beams are post-tensioned to enable large 12m spans. "The superstructure has temporary movement joints that are grouted once the initial settlement is experienced – post 56 days – to form a monolithic structure with no permanent movement joints," says King. "Interesting, considering the length of the building."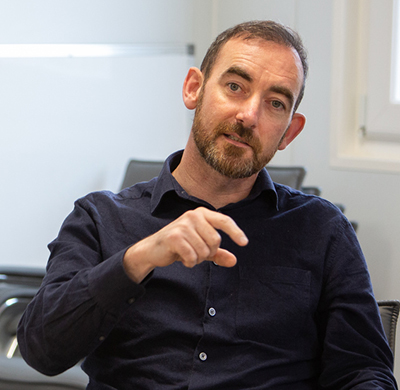 Construction Manager CV: Aidan King MCIOB
Aidan King applied for a job at John Sisk & Son before graduating and has been there ever since: 18 years in all. Since then he has worked on a variety of projects from high-rise residentials to hotels, multi-storey car parks and the refurbishment of Wembley Arena.
He is particularly proud of Sisk's recent Wembley Park residential development for Quintain: "They have come out looking so well, we have really made a big change to the area around Wembley Stadium and the quality we delivered is second to none."
2004-present: John Sisk & Son, graduate engineer to project director
2002-2003: MSc Construction Management, Heriot-Watt University
1997-2002: BSc Architectural Technology, Edinburgh Napier University
The building has six cores, all of which were jump formed, the four large ones using hydraulic shutters, the two smaller ones using one of the four tower cranes to lift the shutters. Because all the concrete will be on show internally, Sisk selected jumpform over slipform, with a slower cycle time to get the position of the joints right and recondition the formwork between pours.
The garden bridges are already in place, thanks to some careful surveying and engineering. Plates for the bridges to be attached to were cast into the concrete frame and then surveyed so that the bridges could be fabricated to suit, within 2mm tolerance.
"It's an interesting bit of engineering, due to sequencing, and just a cool structure," says King. "And it's fun to build."
The steelwork package presented a conundrum for Sisk because it was too small for a large contractor and too big for a small one, says King. But the team found a great partner in Hillcrest. Though some suppliers are new, many are old friends of Sisk, says King, which helps when the pace is fast. There are also some vast expanses of building for them to go at, which should help with the fast production rates needed, he says.
Perversely, Covid has helped to some extent, with clear roads making deliveries to site and journeys for workers easier. However, there was a breakout on sight which saw one-third of the workforce in isolation due to infection and close contact. The Sisk team feared they might have to shut the site down; draconian measures of twice-daily testing and the Sisk team staying on late to fumigate common areas kept things under control.
Up on the roof of the building, which will also be home to a bar and the walking track, it is a hive of activity in the plant area. The roof is on the critical path, and there's the late addition of the batteries to contend with. The 2MW batteries will provide backup for critical and essential services, delivering 60 minutes of AC power and reducing the need for fossil fuel-powered backup generators.
With the building's concrete frame nearing completion at the end of 2021, the installation of the glass panels that form the facade was beginning. Manufactured in Gdansk, Poland, by German supplier FKN, the facade units incorporate frame and glass and a cantilevered bracket to support an external gantry and brise soleil. The brise soleil will be installed on three of the building's four elevations to provide shade and prevent overheating.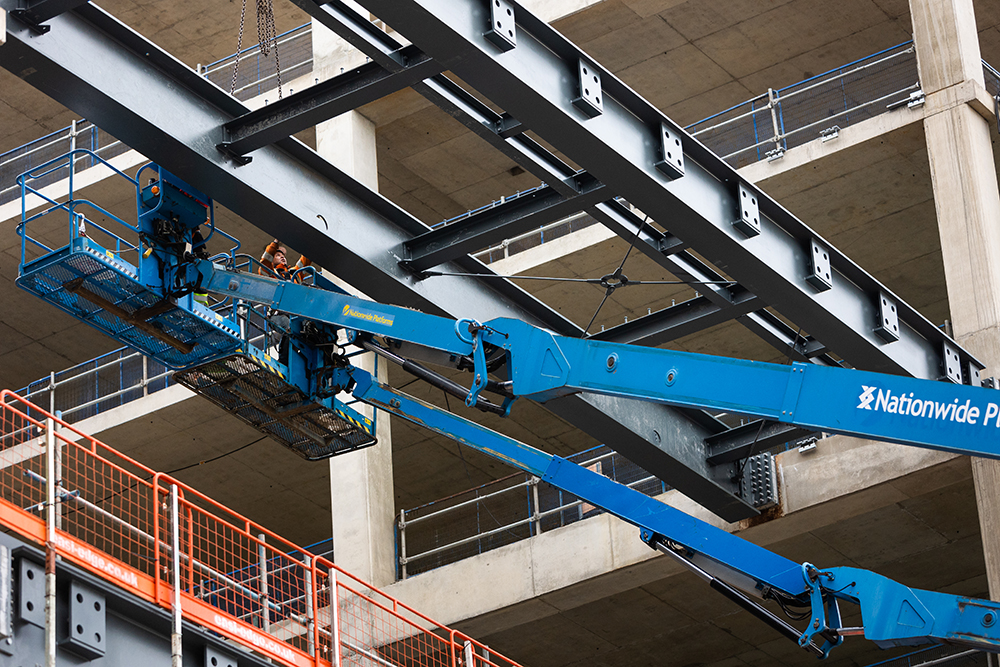 As for budget, the cost of the building is not set in stone. When Sisk won the contract, it was announced at £150m. Now it looks likely to come in at between £160m and £170m, says King.
Osborne + Co is delivering the building for Santander in a model which Hutchinson refers to as 'Build to Suit'. Though the three pre-let packages were tied down when Sisk took the reins, the others were all on provisional sums.
This sounds like a risky arrangement, but things have worked well to date, says King. Using established supply chain partners helps to keep a lid on prices in an inflationary market and a shared ethos between developer, contractor and architect has also been vital: "One of the big things to get across is that the arrangement has worked because of the collaboration between all the parties here."
Some things are still up in the air. Sisk must deliver a complete building, fitted and kitted, but decisions about its internal design were yet to be confirmed in late 2021. And as for how Santander's united workforce will arrange themselves in their new space, that is yet to be determined. A lot can happen in a year…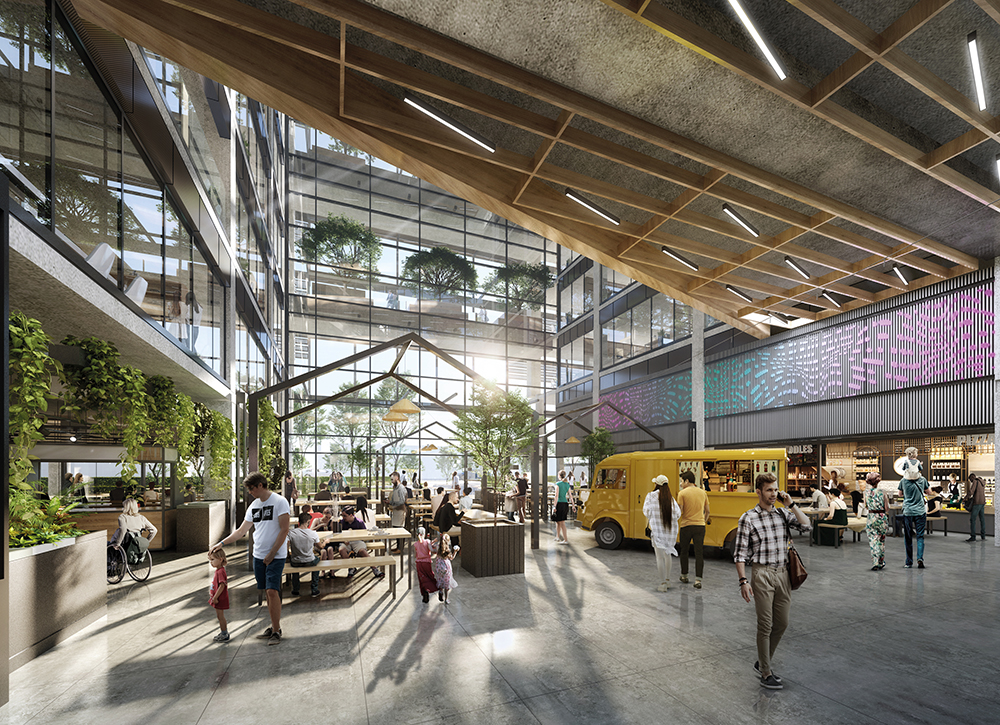 Register for free and continue reading
This is not a first step towards a paywall. We need readers to register with us to help sustain creation of quality editorial content on Construction Management. Registering also means you can manage your own CPDs, comments, newsletter sign-ups and privacy settings. Thank you.