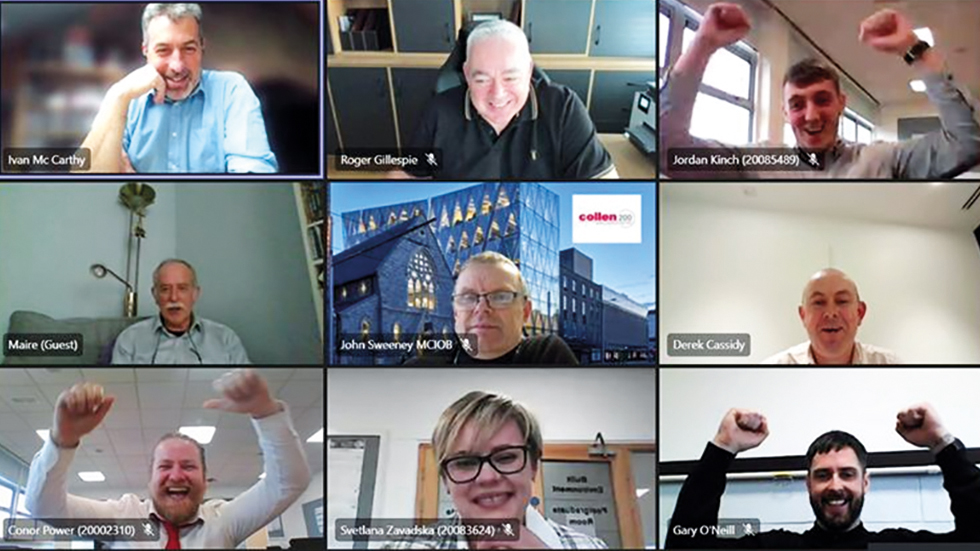 Waterford Institute of Technology was crowned the winner of this year's CIOB Student Challenge Ireland 2022, which took place as a virtual event in March. The silver winner was Letterkenny IT, with GMIT the bronze winner.
The members of the winning team – Gary O'Neill, Conor Power, Svetlana Zavadska and Jordan Kinch – were supported by their lecturer Brian Graham FCIOB.
"This is a fantastic competition for students to participate in and reinforces two of the most important skills required to be a successful construction manager: teamwork and communications," said Graham.
The three top-scoring colleges saw off student teams from Dundalk IT, TUS Midwest and MTU.
The teams of four were provided with a brief on the morning of the competition which required them to tender for the 'design and build' of a scheme of 20 family houses in an urban setting in the Midlands.
They had four hours to work on a report and presentation, highlighting what they believed to be the most important issues and how they would proceed with the work.
Each team then had 15 minutes to present their work to the judges, followed by a Q&A.
The panel of judges consisted of head judge John Sweeney MCIOB, Roger Gillespie FCIOB, Hugh Dodd MCIOB, Katherine Dobbin and Dermot Russell FCIOB.
The winners were announced by Ivan McCarthy FCIOB, CIOB Trustee.
Sweeney, a member of the CIOB Dublin Hub Committee, said "The CIOB Student Challenge is a very competitive event, considering the timeframe in which the task must be completed, along with the added challenge of not knowing the content of the brief until just 15 minutes before the start of the competition."
He added: "This provided students with a real insight in to what will be expected of them when they commence their own careers in construction management. The judges were extremely impressed by the standard of the presentations provided by all teams."
CIOB Ireland thanked the colleges, judges and sponsors, the Construction Industry Federation and Lafferty, for their backing.
Register for free and continue reading
This is not a first step towards a paywall. We need readers to register with us to help sustain creation of quality editorial content on Construction Management. Registering also means you can manage your own CPDs, comments, newsletter sign-ups and privacy settings. Thank you.