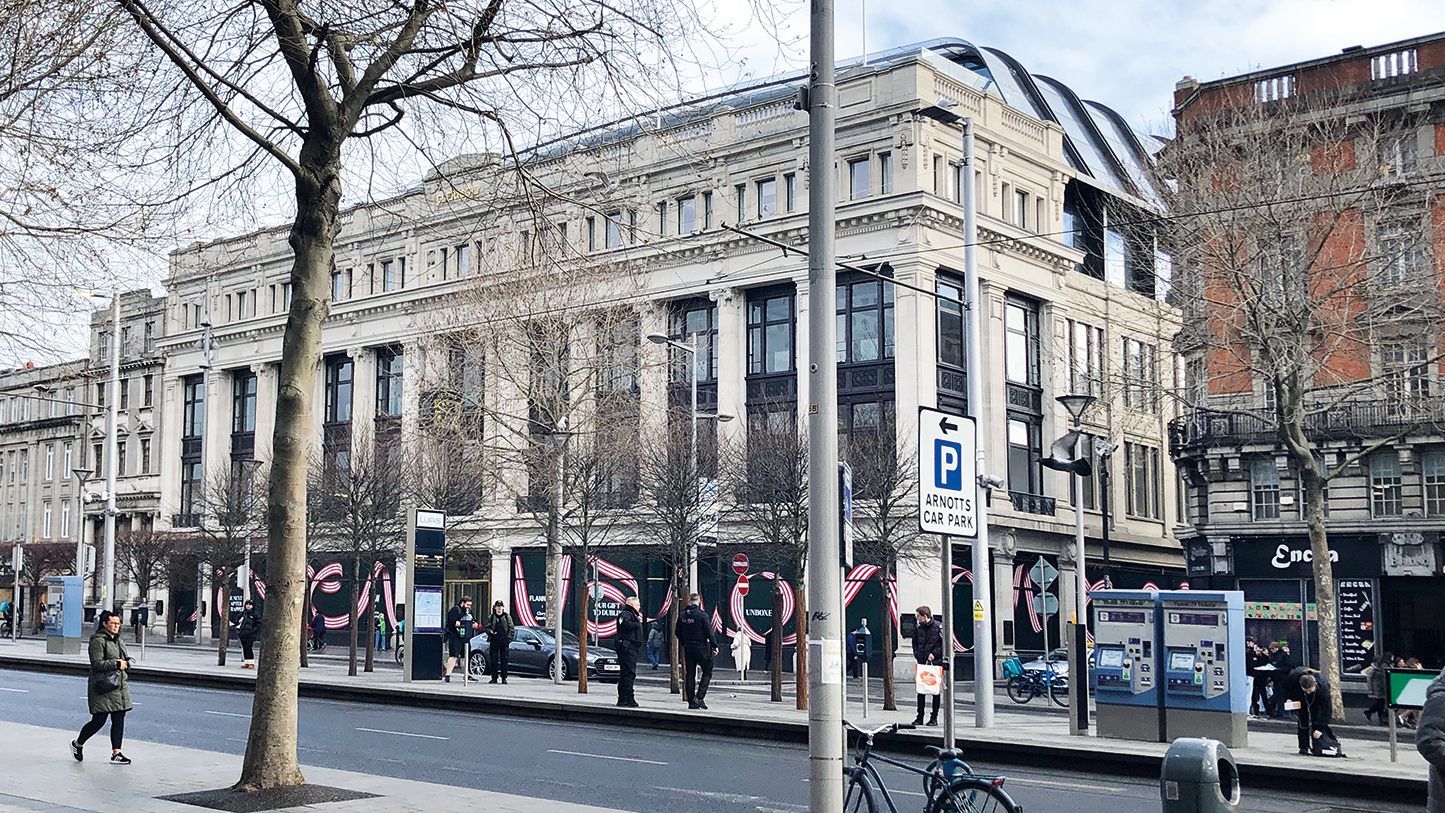 Department store refurbishment creates new city-centre destination.
Commendation: Clery's Quarter, Dublin
Architect: Henry J Lyons
Structural engineer: Waterman Moylan
Steelwork contractor: Kiernan Structural Steel Ltd
Main contractor: Glenbrier Construction
Client: Oakmount
A major refurbishment has brought back to life Clery's department store, a Dublin landmark that originally opened in 1853, but closed in 2015.
The building has been vertically extended to create a new mixed-use scheme. New third, fourth and fifth levels have been added, along with a glass cylinder atrium, lift cores and a bespoke curved roof structure.
The floor area has increased from 10,000 sq m to 16,500 sq m. The new steel frame had to be threaded through the existing structure and supported on new micropile foundations. Perimeter columns were positioned behind the old facade to minimise their impact.
"The scheme could only have been realised utilising a structural steelwork framing system," says Waterman Moylan associate Anthony Byrne.
"The ability to retain over 60% of the existing structure through application of the steel framing meant that the upfront embodied carbon for the development was limited to approximately 400kg CO2e/m2."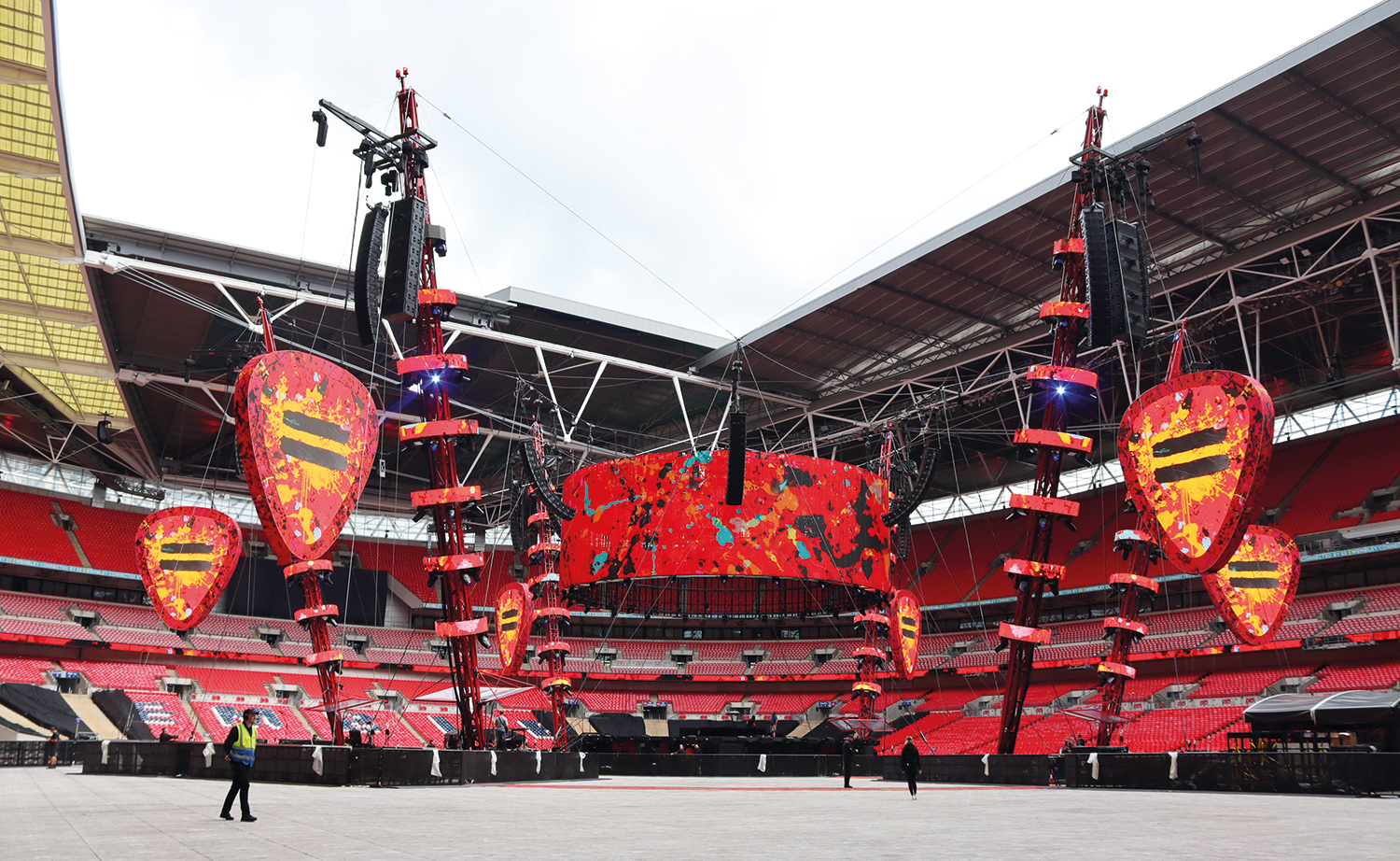 Unique steel structure provides support for Ed Sheeran world tour.
Ed Sheeran's recent Mathematics world tour featured a unique steel structure that allowed the artist to appear in the round, with the audience surrounding the stage – adding intimacy to each performance.
Commendation: Ed Sheeran Mathematics Tour
Architects: Mark Cunniffe Ltd, WonderWorks
Structural engineer: Cundall
Steelwork and main contractor: Stage One Creative Services Ltd
Client: 1325 Productions
It consists of six 30m-tall steel truss masts, positioned around the central stage, supporting a 60m-span cable net constructed of 22mm diameter galvanized steel spiral strand cable.
This in turn is used to suspend the central 21m-diameter, 45-tonne circular transparent LED screen over the stage, as well as 10 tonnes of audio systems.
Additional audio systems and double-sided LED screens shaped like plectrums, both weighing 22 tonnes, are suspended from the top of each mast, adding cutting-edge production.
The entire structure was trial erected and load tested one month before the start of the tour. This provided an opportunity to practise the erection process and hone the erection riggers' experience to achieve the fastest possible build time – 15 hours for 180 tonnes of steelwork.
Steel celebrates industrial heritage
Exposed steelwork creates new offices, retail outlets and a warehouse in Shoreditch.
Commendation: Montacute Yards, London
Architect: Allford Hall Monaghan Morris
Structural engineer: Heyne Tillett Steel
Main contractor: ISG Ltd
Client: Brockton Everlast
Montacute Yards celebrates the industrial heritage of Shoreditch through the creation of a two-storey warehouse featuring a steel exoskeleton. Two new office and retail buildings with a glazed connection are also being created, while an adjacent Grade II-listed townhouse has been refurbished.
A steel-framed solution was chosen as it provided the desired industrial look, was lighter than alternative solutions, suited the transfer structures that frame the elevations of the building and reduced the foundation costs.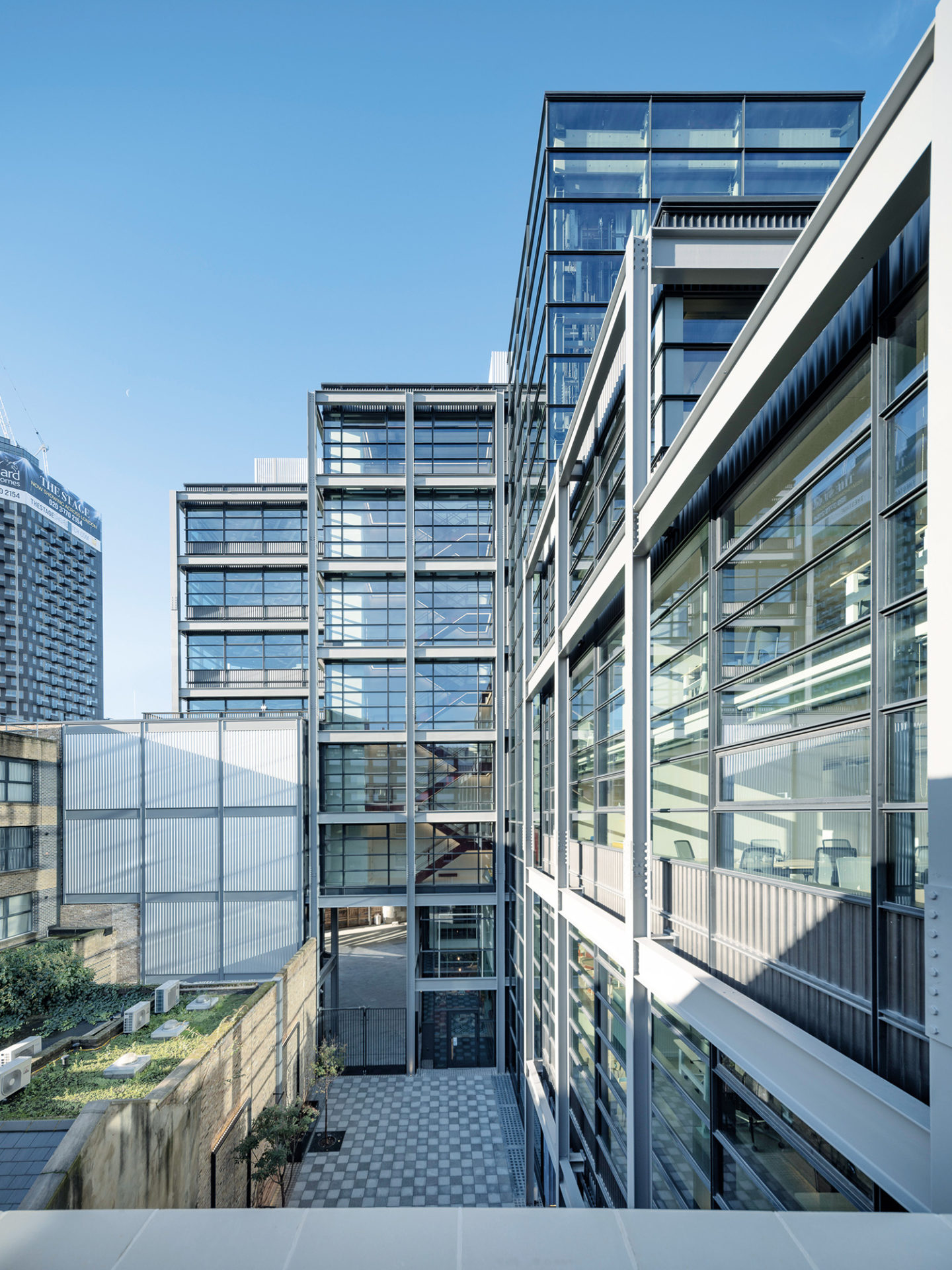 Structural thermal break pads, carefully detailed into the connections at the facade, allow the exoskeleton to be achieved without affecting thermal performance.
The heavily constrained site and limited loading space required a building that could be erected quickly, with bulk deliveries at appropriate times – which again suited a steel-framed solution.
For fabrication and erection, the structural frame was modelled in 3D in both analytical and BIM formats, allowing coordination between the design team to be fed back into the structural design model seamlessly.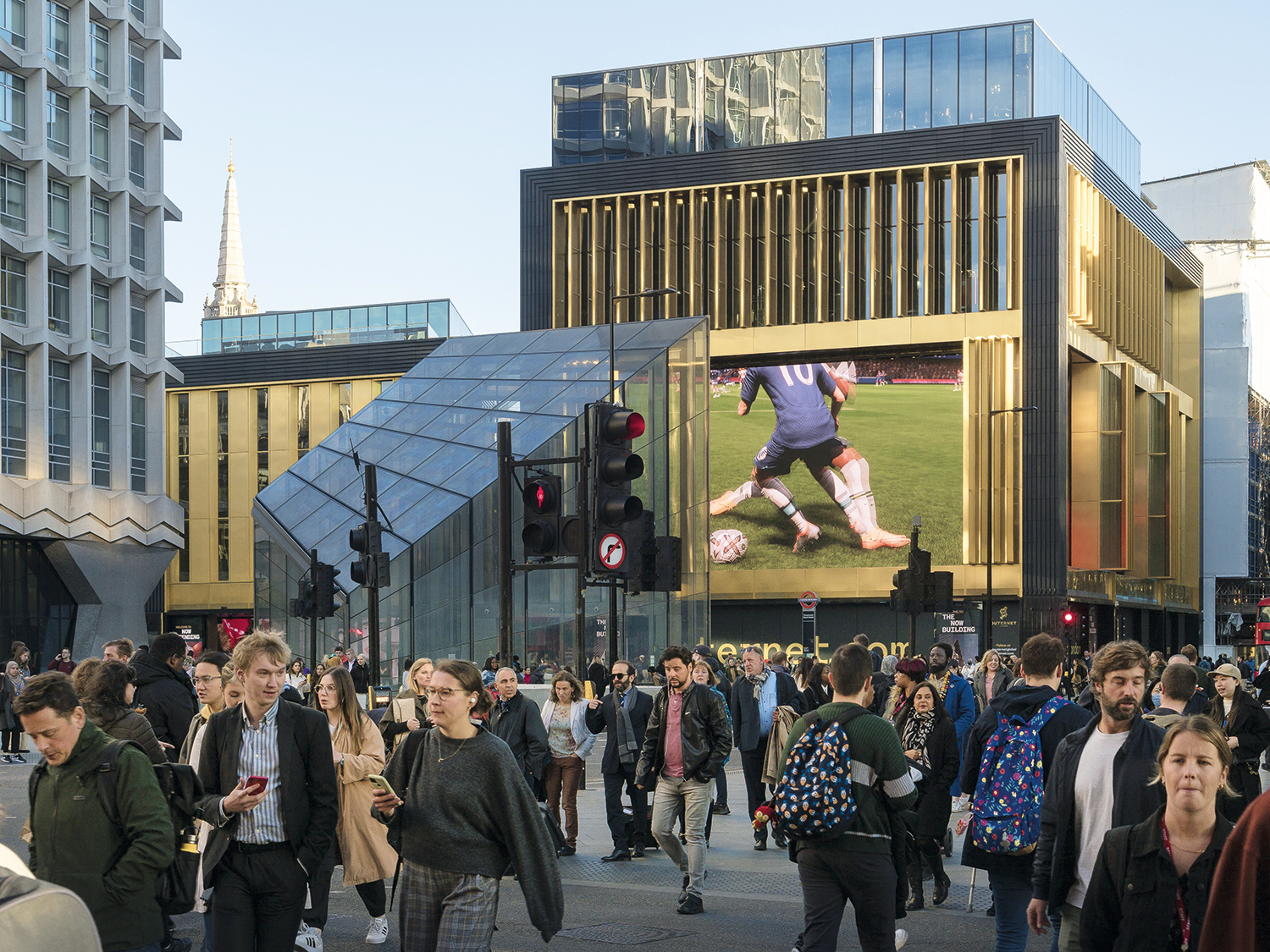 Music, arts and culture are at the heart of a four-building development in central London.
Commendation: The Outernet, London
Architect: Orms
Structural engineer: Engenuiti
Steelwork contractor: Severfield
Main contractor: Skanska UK
Client: Consolidated Developments Ltd
Entertainment spaces form a key element of central London's The Outernet, which provides around 23,230 sq m of mixed-use space, spread across four buildings and a large combined basement.
The largest venue is the Urban Gallery, a four-storey column-free space that forms part of Building A, which is a seven-storey steel-framed structure that also contains hotel, office and restaurant spaces. It is a flexible, interactive events space that contains one of the world's largest LED screen installations.
"The Urban Gallery's concept is built on the musical and creative past of Denmark Street and provides a venue relevant for the 21st century," says Andrew McEwan, project architect and associate with Orms.
"A series of sliding doors allow the Urban Gallery to be open to the general public or closed for private events, while the moving three-storey-high louvres situated above the doors can be open for most of the day and evening, allowing the gallery to essentially be a covered outdoor area. They bring a real sense of theatre to the building."
Midlands' longest railway bridge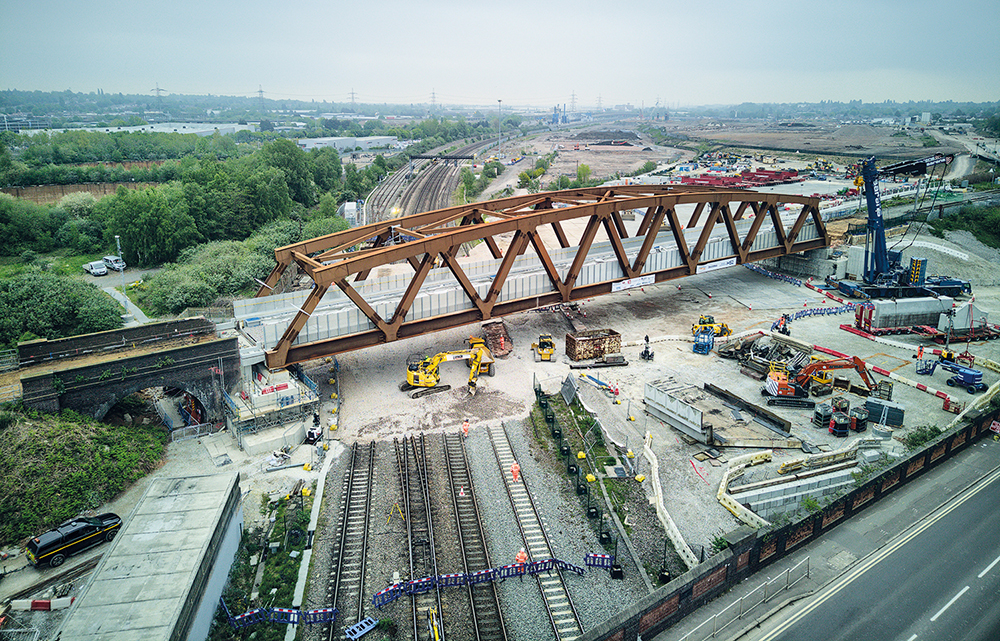 Steelwork forms Birmingham's HS2 line approach.
Commendation: SAS13 Bridge Replacement, Birmingham
Structural engineer: Tony Gee & Partners LLP
Steelwork contractor: Severfield
Main contractor: Skanska UK
Client: Network Rail
Located close to Birmingham city centre on the Stechford to Aston (SAS) line, the SAS13 bridge is a single-span weathering steel Warren truss structure spanning 92m.
With limited time available to install the bridge, the scheme was designed to make the structure buildable within a short rail blockade. This led to the decision to build offline and use self-propelled modular transporters (SPMTs) to lift and transport the bridge into its final position.
The replacement bridge comprises 1,095 tonnes of weathering steel, chosen because it will require less maintenance in the future compared to other grades of steel.
Once the steel bridge structure was assembled offline, it was jacked up to a height of 5m from a build height of 1.5m. The fibre-reinforced concrete deck slab, upstands and walkways were then cast, comprising 3,601 cu m of concrete, which added a further 1,600 tonnes to the overall weight of the bridge.
Once the deck was completed, 18 SPMTs were used to lift and transport the bridge into its final position.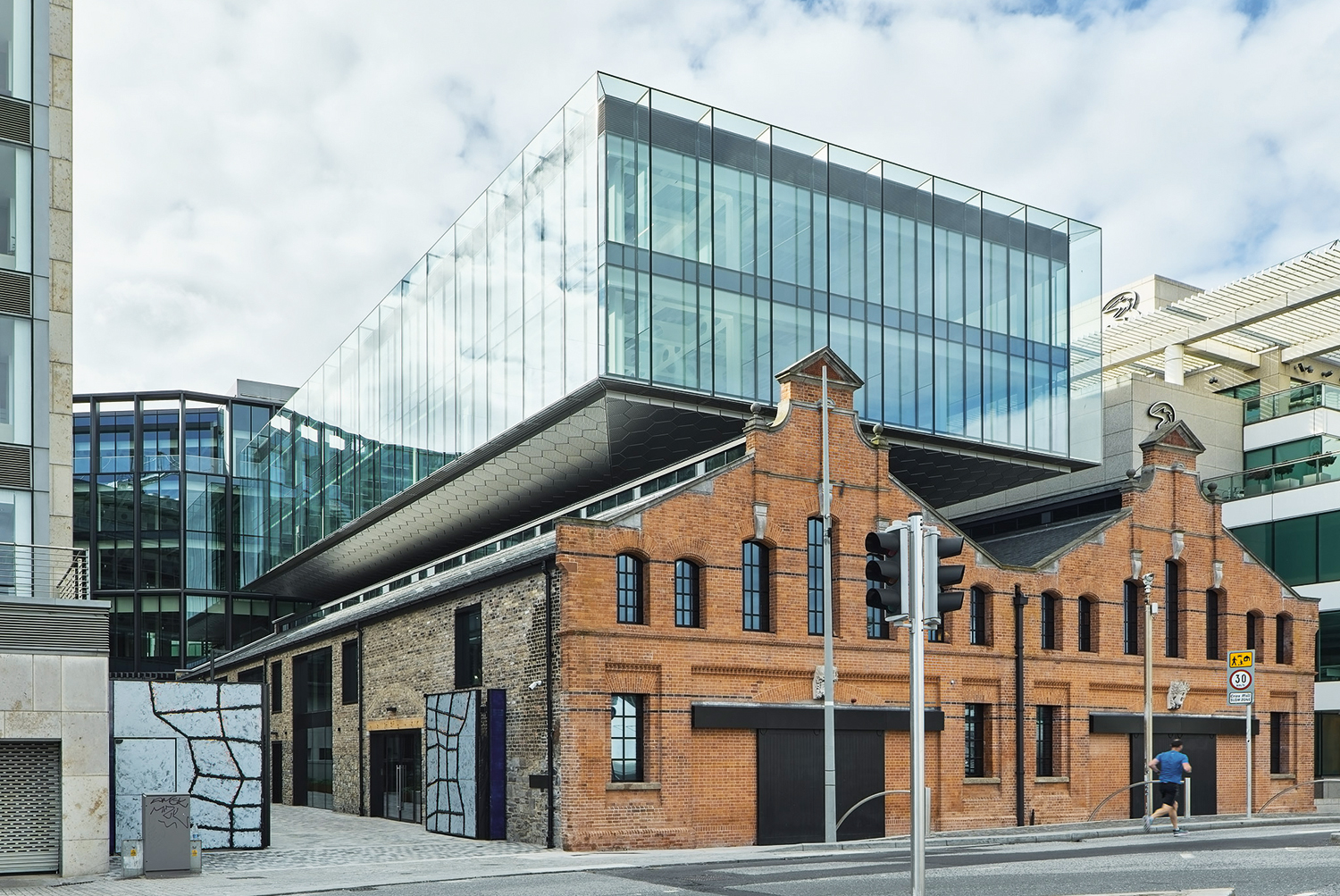 Two modern office blocks are connected at ground, third and fourth floor levels
Commendation: Tropical Fruit Warehouse, Dublin
Architect: Henry J Lyons
Structural engineer: Torque Consulting Engineers
Steelwork contractor: Steel & Roofing Systems
Main contractor: PJ Hegarty & Sons
Client: IPUT Real Estate
Incorporating much of the fabric of an original 19th century structure, the Tropical Fruit Warehouse project comprises a five-storey (Block 1) and a two-storey (Block 2) office block that are connected via a two-floor glazed link bridge as well as a ground floor atrium.
Block 2 has been constructed over the footprint of an existing two-storey protected warehouse, with minimal structural columns to allow the structure to cantilever over the structure to achieve the appearance of a floating glass box.
Six fabricated plate girder columns and one central concrete core provide structural support to the building, which measures approximately 19.5m x 40m in plan. The longest cantilevers are on the north-east and south-east corners of the building and measure 10.35m on the diagonal.
For Block 1, a steel-framed solution was chosen to facilitate the long spans and shallow depths required to meet the client's brief and keep within planning constraints for building height.
Produced by BCSA and Steel for Life in association with Construction Management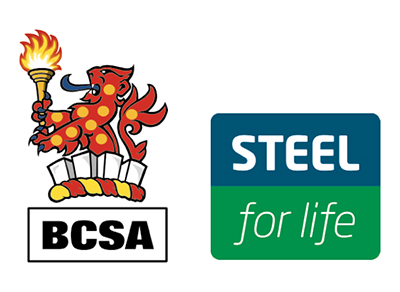 Register for free and continue reading
This is not a first step towards a paywall. We need readers to register with us to help sustain creation of quality editorial content on Construction Management. Registering also means you can manage your own CPDs, comments, newsletter sign-ups and privacy settings. Thank you.