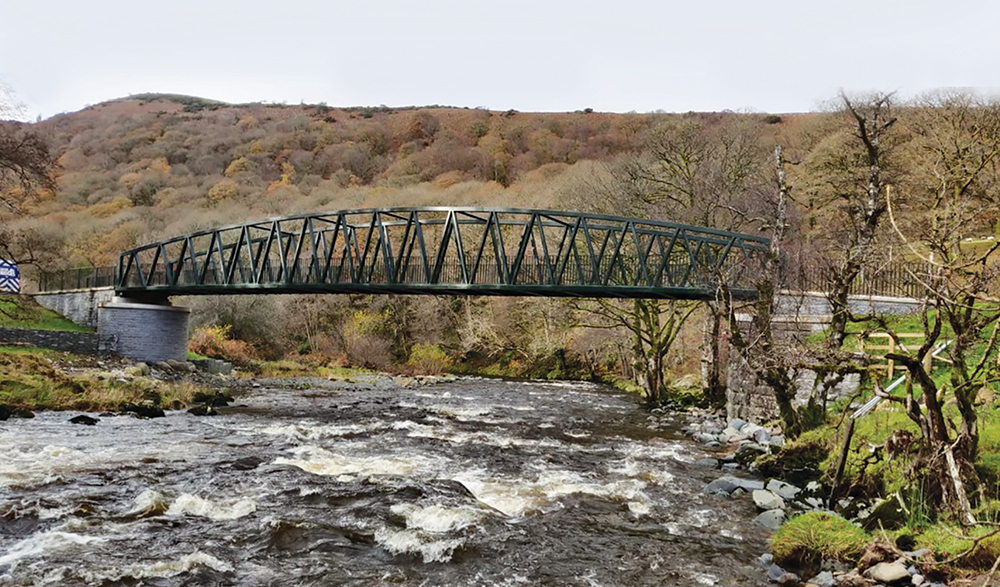 Steel spans revive Lake District sites
As well as constructing two new bridges on the Railway Trail, a third was needed for their installation.
Brundholme and Low Pearson are two new steel truss bridges that have been installed as part of the reconstruction of the Lake District's popular Railway Trail walking route.
Merit: Brundholme and Low Pearson Bridges
Architect: Capita
Structural engineer: Beaver Bridges
Steelwork contractor: Jamestown Manufacturing
Main contractor: Cubby Construction
Client: Lake District National Park Authority
Beaver Bridges developed a build sequence in agreement with the main contractor which eliminated the need for disruptive concrete works in the Greta river and reduced programme time and associated costs.
Because the Low Pearson site required access via the Brundholme site, the proposal included a modular temporary steel bridge designed to accommodate construction traffic up to 44 tonnes in weight.
Applying the principles of DfMA (Design for Manufacture and Assembly), the Low Pearson bridge was fabricated in three sections, delivered to a compound next to the Brundholme site, loaded on temporary vehicle bogies and moved to site by tractor.
On site, the sections were bolted together, fitted with a temporary launch nose adapter, launch frame and lower boom launch runway beams, which enabled the bridge to be launched into position without damaging the permanent works. The same system was used for the Brundholme bridge.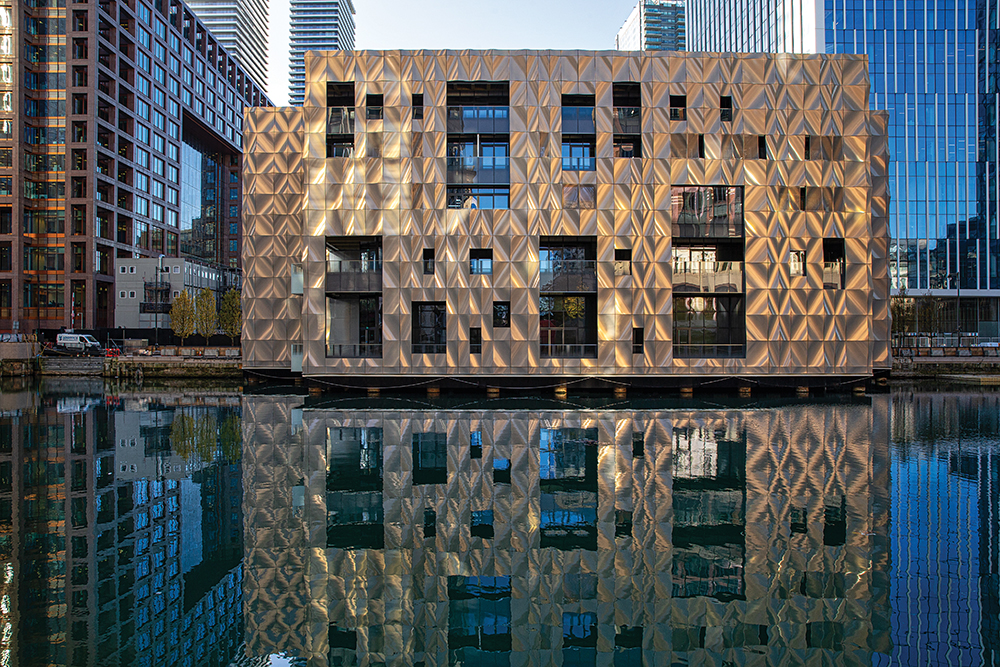 A lightweight solution for Heron Quay Pavilion
Canary Wharf estate needed the right frame to work with 1980s Docklands foundations.
Sitting on a weathering steel grillage, spanning over a portion of Middle Dock in London's Canary Wharf estate, Heron Quay Pavilion is a unique structure 63m-wide x 23m-deep,
The five-storey building is mixed-use housing restaurants, guest rooms and leisure spaces including a gym and spa.
Merit: Heron Quay Pavilion
Architect: Adamson Associates
Structural engineer: Arup
Steelwork contractor: Elland Steel Structures
Main contractor: Canary Wharf Contractors
Client: Canary Wharf Group

Its 6,000 sq m internal floor space includes open terraces at every level and a roof terrace giving visitors views across the wharf.
The project utilises a series of marine piles and pile caps, constructed in the early 1980s to support low-rise office buildings, and a logistics dockside deck, which were demolished in 2017.
The foundations are a major factor in the design of the building as they limit the size and weight of the new structure. Because of this, the choice of a steel framing solution for the building was said to be the only option.
Using steel for the structure also delivered the principal stability system, using steel bracing, and allowed for control of individual beam stiffness – essential for the steel members supporting the facade, which had onerous deflection criteria.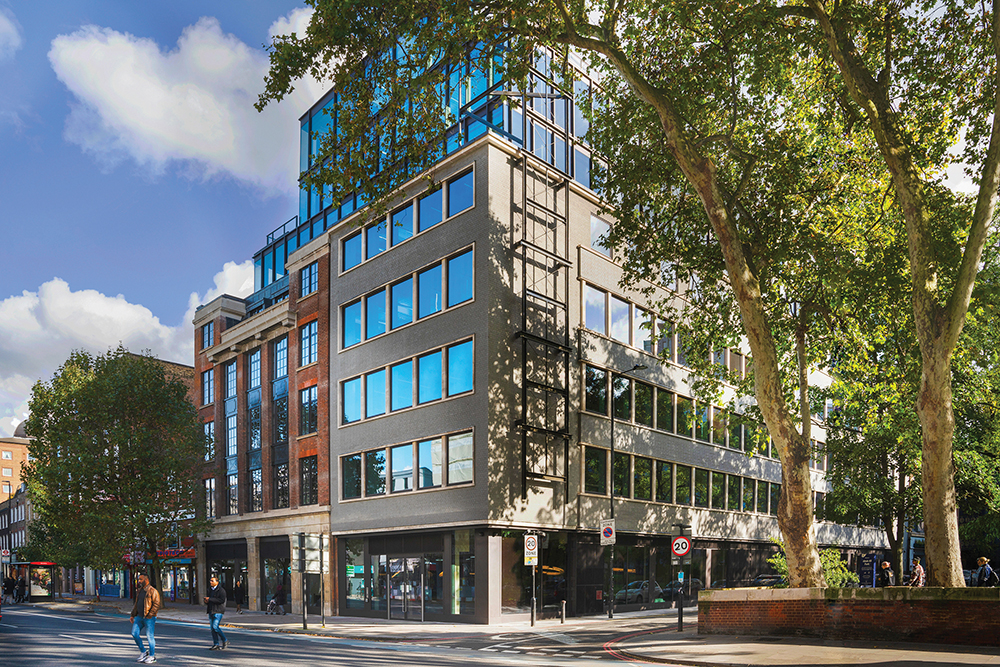 The Hickman uses steel to express Whitechapel's industrial past
A group of separate buildings in a conservation area have become a unified modern workplace and retained their history.
Situated within the Whitechapel High Street Conservation Area, The Hickman is a contemporary workplace formed by unifying a collection of separate buildings that had evolved over the past two centuries.
Merit: The Hickman
Architect: DSDHA
Structural engineer: Heyne Tillett Steel
Steelwork contractor: Hillcrest Structural
Main contractor: Ellmer Construction
Client: Great Portland Estates

The site comprised six buildings, patched together and reconstructed over time, each with varying structures, the earliest of which dated back to 1800s.
The original main building had five storeys plus a part basement. The roof and part of the fourth floor had been demolished several years ago and replaced with a new lightweight steel structure. As part of the new scheme, the building now rises to level seven, with three further steel-framed storeys added.
Internally, to express the building's industrial past, the structure is left exposed. On the original floors, the concrete encasement to the columns has been stripped back, exposing the riveted plates.
The judges said that, despite an almost total absence of base building information, through an exemplary level of investigation, an intensely forensic analysis of fire insurance documents and a highly responsive approach to 'as found' construction, which included innovative digital modelling of the completed work, this project showcased the potential of structural steel in repurposing and adding value to even the most challenging projects.
New steel roof structure lifts Wenlock Works
Concrete-framed Shoreditch offices from the 1980s are given a new lease of life.
Merit: Wenlock Works
Architect: Buckley Gray Yeoman
Structural engineer: Heyne Tillett Steel
Steelwork contractor: Billington Structures
Main contractor: Sir Robert McAlpine
Client: Stanhope

Wenlock Works in Shoreditch, east London, is a former 1980s concrete-framed building that was once divided into two parts to accommodate offices and a printing press. It has now been completely refurbished and enlarged with new steelwork to create approximately 14,000 sq m of high quality commercial space.
The client's brief included a number of architectural and structural improvements for the building, most notably an increase in the net internal area (NIA), a new services strategy, rejuvenation of the facade and a comprehensive redevelopment of the architectural and structural features.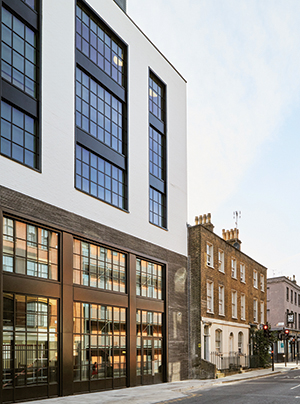 To increase the building's NIA, the existing roof structure was removed and replaced with a lightweight, two-storey, plus plant deck, steel structure.
Through careful design of the new lightweight steel storeys, the fifth-floor slab was retained to become the transfer element, thereby saving significant time, money and embodied carbon. The slab was strengthened where required using carbon fibre to avoid the need for transfer beams that would have compromised the floor-to-ceiling heights.
The judges said it was a good example of sustainable construction. By using steel to open up an existing building, extend it upwards and outwards with a lightweight frame, this 1980s office building has been repurposed with a 40% increase in floor area and greater flexibility.
Majestic, Leeds
Manchester Airport Terminal 2 Transformation
Pinewood Studios Phase II
Royal College of Obstetricians and Gynaecologists, Union Street
The University of Winchester, West Downs Campus

Produced by the BCSA and Steel for Life in association with Construction Manager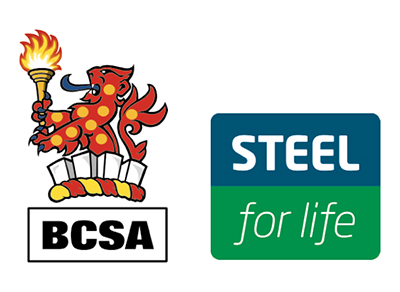 Register for free and continue reading
This is not a first step towards a paywall. We need readers to register with us to help sustain creation of quality editorial content on Construction Management. Registering also means you can manage your own CPDs, comments, newsletter sign-ups and privacy settings. Thank you.