Shapeshifting tower overcomes site complexities
The unusual twisting form of 100 Bishopsgate was achieved with the flexibility of steel.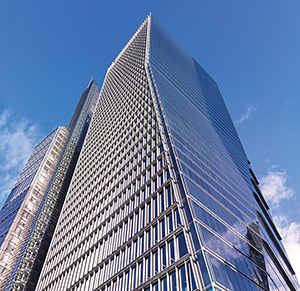 Commendation: 100 Bishopsgate, London
Architect: Allies and Morrison
Structural engineer: Robert Bird Group
Steelwork contractor: William Hare
Main contractor: Multiplex Construction Europe
Client: Brookfield Properties
Featuring a shape that transforms from a parallelogram at its base to a rectangle at the top, the 40-storey 100 Bishopsgate development is the latest landmark City of London office scheme, featuring flexible, high-quality open floorplates more often associated with shorter, wider HQ buildings.
At low level the scheme features a six-storey contiguous 60m-long podium, adjoining the main tower, which accommodates large column-free floors in excess of 4,080 sq m. It is topped by a landscaped roof terrace, offering tenants a large breakout or entertaining space.
The main 40-storey tower provides the main standout element of the project and has floorplates ranging from 1,800 sq m to 2,300 sq m.
To form its eye-catching twisting shape, two facades, north and south, feature a series of inclined columns. They are installed in a staggered configuration from ground level up to level 24, where the building straightens into a rectangle.
The judges said this city tower is a fine example of good Chicago-style commercial architecture. The simplicity and refinement of design and execution conceal the considerable site and logistical complexities that this project had to overcome.
Image: Charles Hosea Photography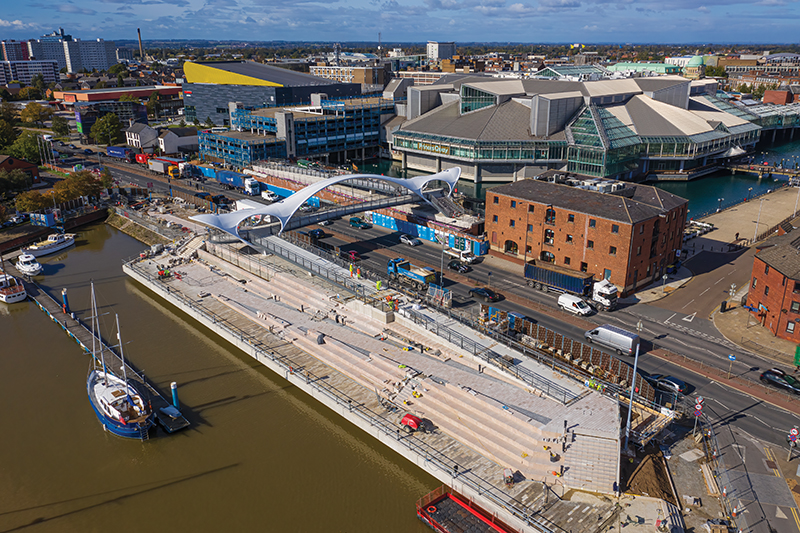 Hull's sculptural steel footbridge connects the city
Unusual pressed-steel form provides a welcome crossing, say the judges.
With a span of 40m (54m long including cantilever ends) Murdoch's Connection is named after Dr Mary Murdoch, Hull's first female GP, and is one of the most important elements in Hull City Council's (HCC) masterplan for joining the north of the city centre to the vibrant southern waterfront.
Commendation: Murdoch's Connection
Architect: Matter Architects
Structural engineer: Arup
Steelwork contractor: S H Structures
Main contractor: Tilbury Douglas Construction
Client: Highways England
Crossing the busy A63, the pedestrian bridge was funded by the Humber Local Enterprise Partnership and Highways England. Recognising the long-term role of the bridge within a developing city centre, the design makes passive allowances for future connections to adjacent areas as well as lifts and retail spaces underneath.
The steel superstructure has a hybrid shell form with a conventional tied arch formed of steel circular sections and an integrated structural canopy acting compositely with the perimeter tubes. Below the deck, the perimeter tubes transition through 'arch-feet' units, which gather the arch forces and transfer them through to the substructure on piled foundations.
The judges said the bridge provides a welcome crossing over a busy inner-city road. The unusual, sculpted form uses pressed steel plates that connect the tubular structure together resulting in a complex geometric 'roof'. This is not just a bridge but an integral part of a new urban public space.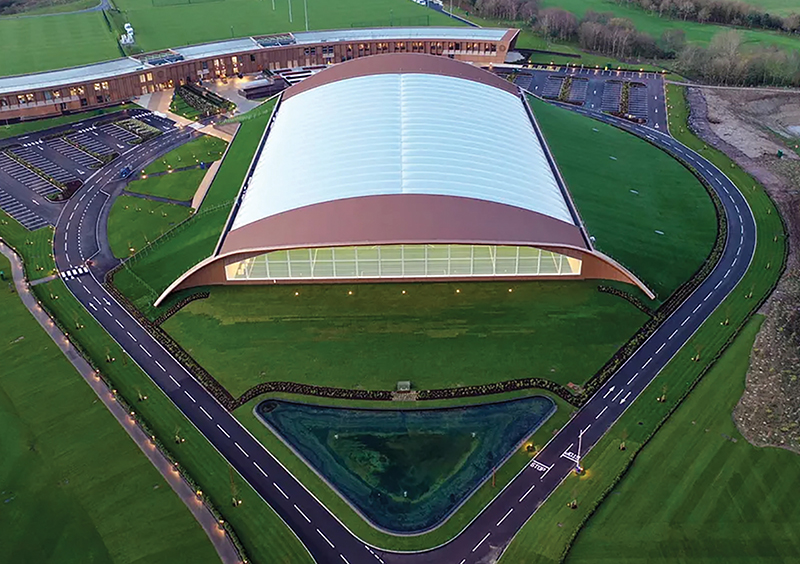 Leicester dome blends into the landscape
A steel-framed building is at the centre of city football club's training facilities.
Premier League side Leicester City has recently taken up residency in a new state-of-the-art training ground set around a main signature steel-framed building that houses an air-conditioned full-size indoor artificial pitch.
Commendation: Leicester City FC Training Ground
Architect: KSS Group
Structural engineer: TRP Consulting
Steelwork contractor: BHC
Main contractor: McLaren
Client: Leicester City Football Club
Designed to blend into the landscape, this spectacular domed structure also houses a media centre, press conference room, broadcast facilities and hospitality space.
The steel-framed building is set within a gently sloping earth embankment that blends seamlessly into the surrounding landscape.
The dome offers clear spans of 74m x 122m, achieved by using a series of 13 arched steel trusses, set at approximately 9.3m centres, supporting a box-section steel diagrid and a series of intermediate arched rafters set at 4.65m centres.
The site also features a three-storey S-shaped training centre to accommodate the first team and academy squads, while other steel-framed buildings on site include the two-storey sports turf academy and a 499-seat grandstand for a junior pitch.
The judges said changing the design to a full steel frame saved valuable programme time and resulted in an efficient and economic solution.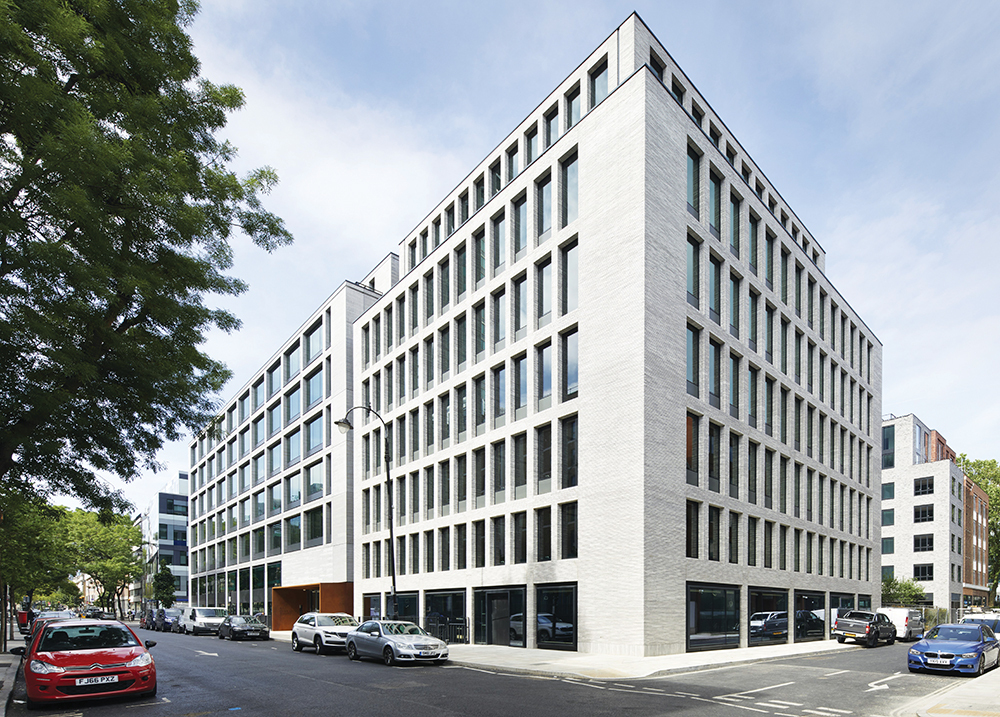 Elegant industrial look for 80 Charlotte Street
Steelwork and services are exposed in this net-zero contemporary commercial scheme.
Comprising three separate buildings, 80 Charlotte Street is a prime central London commercial scheme incorporating new steel-framed elements as well as retained and renovated structures.
Commendation: 80 Charlotte Street, London
Architect: Make
Structural engineer: Arup
Steelwork contractor: Bourne Group
Main contractor: Multiplex Construction Europe
Client: Derwent London
Exposed steelwork throughout, combined with a 9m x 6m column grid pattern, has been used to create a contemporary and spacious office environment. The exposed nature of the internal steelwork meant the detailing of the connections needed to be simple, clean and elegant. Flush end plates have been used, with toe plates to beam and column flanges.
Within the building, the services, accommodated in bespoke cells cut into the plate girder beams, are also exposed, adding to the scheme's industrial look.
The steel plate girder design provided a customised depth of steel beam with limiting deflection values. As floor-to-ceiling heights were critical, Bourne invested in advanced robotic manufacturing techniques to ensure the quality of the assembled girders met the enhanced manufacturing tolerances.
Summing up, the SSDA judges said the team had achieved the surprisingly difficult task of making a complex building look simple.
Optimising beam spans reduces embodied carbon and an all-electric power system that uses renewable electricity ensures the building is net-zero carbon.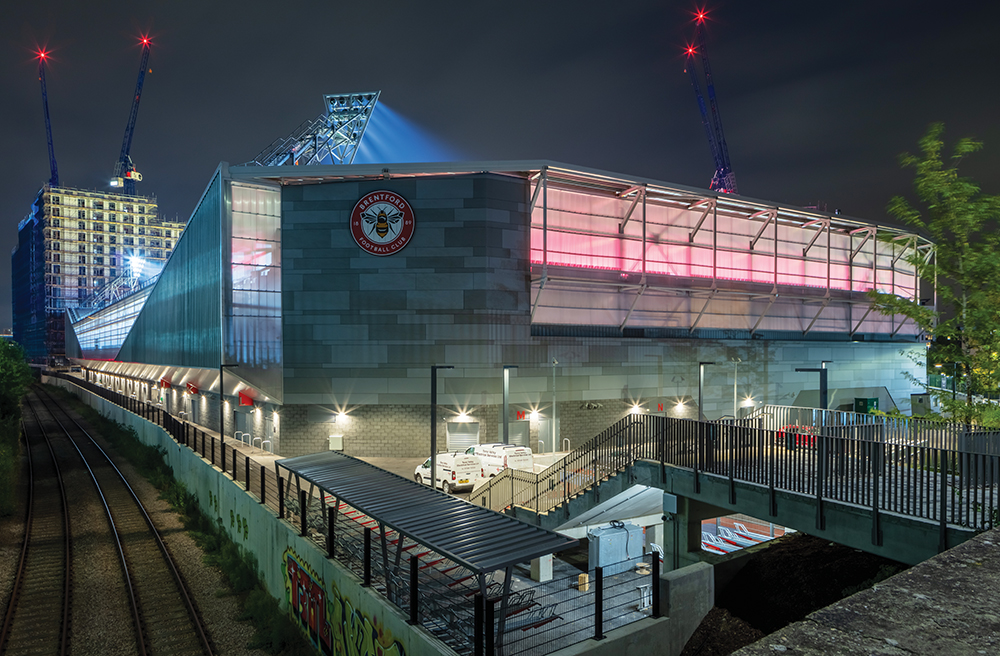 Wraparound stadium meets Brentford's design goals
A restricted site posed complex structural challenges.
Back in English football's top flight for the first time since 1947, Brentford kicked off the current Premier League campaign in a new 17,250-capacity stadium.
Commendation: Brentford Community Stadium
Architect: AFL Architects
Structural engineer: Arup
Main contractor: Buckingham Group Contracting
Client: Lionel Road Developments

The Brentford Community Stadium's design responds to a site bounded closely by three railway lines, which truncate two corners of the typical stadium footprint. This posed the challenge of integrating the taller south stand with the three remaining lower height stands.
By sloping the gable ends of the south stand, the design achieves a continuous plane, dynamically connecting the cantilevering tips of the roofs.
This not only achieves the client's ambition for a continuous seating bowl, a remarkable achievement for such a constrained site, but it also symbolically frames the view of the historic Kew Bridge Standpipe tower.
Lightweight steelwork roof options were used to achieve a continuous roof concept without movement joints. The longest span in the south stand roof is formed from a series of 37m-long cantilever trusses.
The judges said this simple wrap-around stadium has a clean uncluttered appearance, with no tension bracing despite some long, cantilevered sections. Careful design and planning resulted in significant savings in both cost and carbon.
Bringing together old steel and new
Reuse and extension give a tired City office block a new lease of life.
Located in the City of London, 60 London Wall consists of a complex redevelopment of an existing post-modern office block. Previously a tired and outdated steel-framed building, the seven-storey structure has been partially retained, strengthened and enlarged to create a new 11-storey structure with adaptable floorplates and a new communal atrium.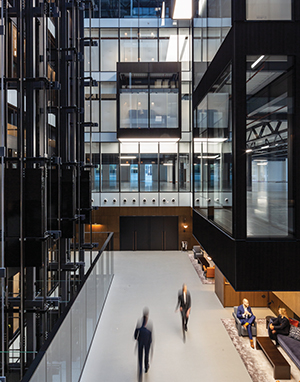 Commendation: 60 London Wall
Architect: EPR Architects
Structural engineer: Heyne Tillett Steel
Steelwork contractor: Severfield
Main contractor: Skanska
Client: LaSalle Investment Management
The building's extensions are formed from new steelwork, requiring a complex coordination programme to integrate the new and existing steel frames. This required a substantial number of new connection designs to support the new framing and ensure level finishes between floor levels.
By opting to reuse much of the steel frame, the original columns and beams were surveyed and back analysed to ensure they could carry the additional loads from the new floors and to keep strengthening works to a minimum. Much of the new and existing steelwork has been left exposed internally, giving the lettable floor area a modern, industrial aesthetic.
In summary, the judges said, through careful analysis of the existing structure, this redevelopment has provided a 50% increase in floor area, including the addition of five new floors, and made major savings in carbon. An excellent achievement.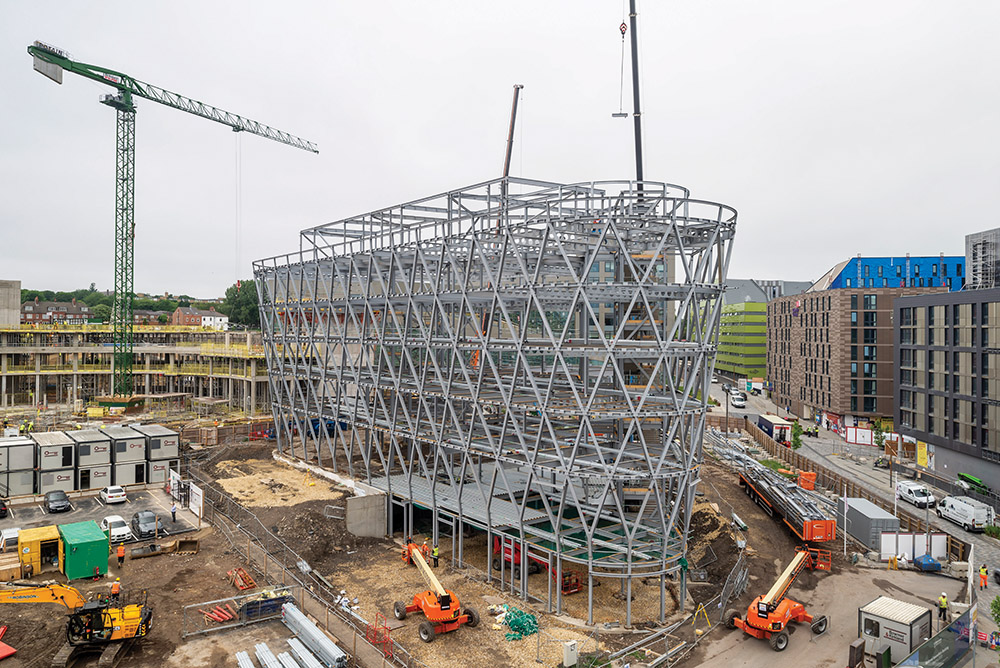 Steel brings in complex Catalyst on time and budget
Sloping facades and a triangular site called for the adaptability of a structural steel frame.
Located in the heart of Newcastle city centre, The Catalyst is the new steel-framed home of the National Innovation Centre for Ageing and National Innovation Centre for Data.
Commendation: The Catalyst, Newcastle upon Tyne
Architect: GSSArchitecture
Structural engineer: s h e d
Main contractor: Bowmer and Kirkland
Client: Newcastle University
A striking and unique exterior has been created by sloping the facades, while the triangular site, which dictated the structure's shape on plan, has been softened by curving the three corners.
This exciting and yet simple and elegant architectural solution was then combined with the structural engineering to create the finished standout building.
The structural steel frame is highlighted by expressed sloping diagrid facades and triple-storey diagrid trusses that span the open landscaping area at the front of the building.
According to s h e d managing director Marc Horn, the innovative diagrid solution was made possible by the very close collaboration between the architect, engineer, steelwork contractor and main contractor.
"The complex intertwining of different uses alongside the building services meant that the main internal spaces are largely column-free, using shallow cellular beams for
service integration."
Structural steelwork allowed the building to be built in a short construction programme and under budget. Using an alternative framing solution would have meant an increased budget, a longer programme and more of an environmental impact on the surrounding area.
Produced by the BCSA and Steel for Life in association with Construction Manager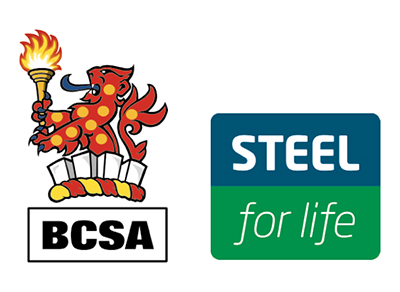 Register for free and continue reading
This is not a first step towards a paywall. We need readers to register with us to help sustain creation of quality editorial content on Construction Management. Registering also means you can manage your own CPDs, comments, newsletter sign-ups and privacy settings. Thank you.