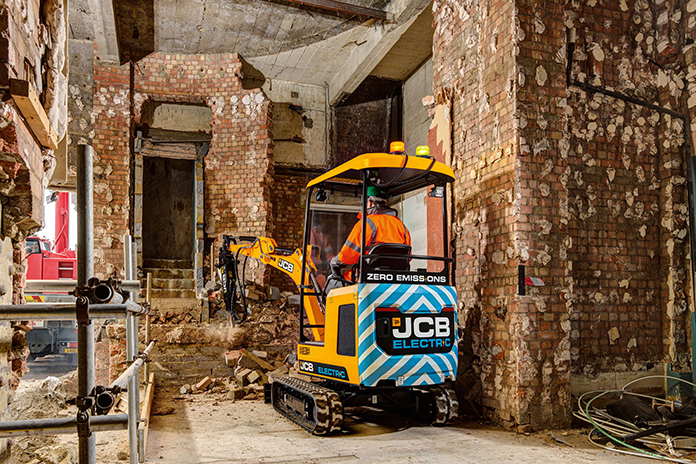 Electric mini excavators are suited to indoor or urban sites. JCB says its 19C-1E can work a full day's eight-hour shift on a single charge
Construction equipment is getting greener, driven by emissions regulations and advancing technology. CM looks at the plant sector's environmental innovations.
Polluting emissions from plant and machinery have long been one of the less appealing features of construction sites – but they are falling fast as manufacturers clean up their engines.
This has been largely driven by the Euro emissions standards, introduced in a series of increasingly stringent stages since 1999, and, more recently, the introduction of low emissions zones (LEZs) in major cities like London. Meanwhile, leading clients are also raising the emissions bar, with HS2 requiring that all plant on its sites must be powered by the cleanest available Euro VI stage engines.
Plant manufacturers have responded with technological innovation. Engine redesign has slashed emissions by 97% since 1999, through the introduction of particulate filters and more efficiency. Electric machines are now being produced by most major OEMs (original equipment manufacturers), while hydrogen fuel cells are also being explored.
"Since the European standards came in, 70% of OEM R&D has been spent on looking at emissions," says Rob Oliver, CEO of the Construction Equipment Association (CEA), which represents OEMs. "Now the focus is on electric."
These machines are still a relatively low proportion of all construction equipment, but Oliver says there has been "impressive progress" made by OEMs with electric technology over the last five years.
"The challenges are the same as for cars; there isn't the supporting infrastructure for charging yet," he notes. "It's even harder for construction as sites by their nature are remote and temporary."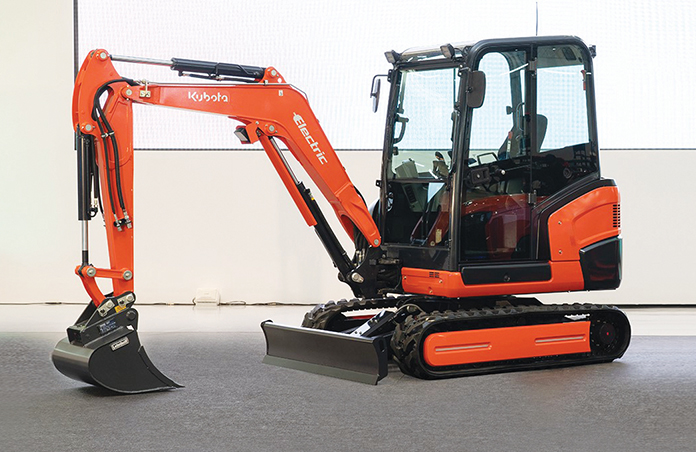 Kubota unveiled its prototype electric mini excavator last year in Kyoto, Japan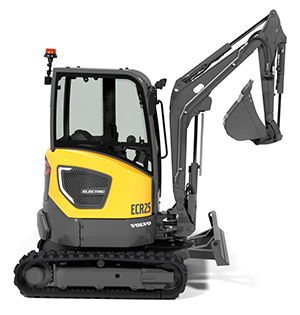 Volvo's new ECR25 electric compact excavator
For this reason, lithium-ion battery power has been largely limited to smaller machines to date. These are becoming common for work indoors, in confined spaces and on inner-city sites, particularly in LEZs. With little noise during operation, they are popular for night-time utilities work.
"In urban environments in particular, contractors are understandably very keen to operate zero emissions equipment whenever possible," says JCB's chief innovation officer, Tim Burnhope.
"With increasing urbanisation, machines are operating more closely to people as well as digging underground, indoors, near hospitals and in food production environments. As a result, there is a new zero emissions sector emerging. It is for this reason we have put ourselves at the forefront of alternative power technologies and developed our first ever electric machines."
JCB started production of its first fully electric mini excavator last summer. The manufacturer says the 19C-1E can work for a full day's eight-hour shift on a single charge and offers the same performance as a conventional 1.9-tonne mini excavator. It is five times quieter than its diesel counterpart and its battery pack can be fully charged in under two hours.
JCB estimates charging costs will be 50% cheaper than for a conventional diesel machine and servicing costs will be 70% lower.
Other OEMs are also entering the mini electric excavator market. In January, Kubota unveiled its prototype last year in Kyoto, Japan, which it says can operate with the equivalent output of existing diesel engines. Meanwhile Volvo will shortly launch its ECR25 Electric compact excavator. The manufacturer says the machine can be operated for an eight-hour working day and charge to 80% in less than one hour using a fast-charger.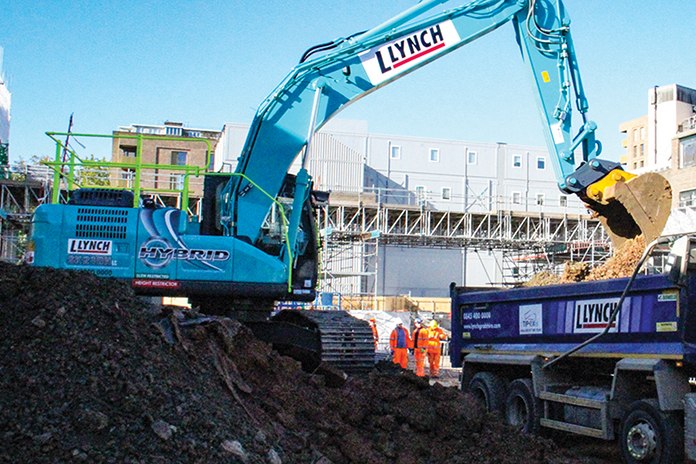 Lynch Plant Hire supplied the Kobelco 22-tonne hybrid excavator to the Costain Skanska JV on the HS2 Euston project
Where bigger machines are required, which need to work long shifts away from charging points, OEMs offer hybrid solutions.
Lynch Plant Hire supplied the Kobelco 22-tonne SK210LC-10 hybrid excavator to the Costain Skanska JV on the HS2 Euston project, where it has been working alongside JCB's 19C-1E.
The machine's efficient diesel engine, combined with electric slew, battery-powered generator motor and smart control unit, reduces fuel consumption by 20% and cuts exhaust emissions by 88%, the hirer says. It has also improved productivity by 8%, as measured by load volume per hour.
Another hybrid machine is the CAT D6XE dozer, which has been supplied by Flannery Plant Hire to Balfour Beatty's M4 Smart Motorway project team for trial. The machine has an electric drive, which results in 30% lower fuel consumption while delivering increased pushing power.
Alternative fuel technology
Then there is alternative fuel technology. Kubota is developing an alternative fuel model mini excavator using LPG (liquid petrol gas), with a launch planned for this year and mass production in 2021
And Hyundai's construction equipment business recently announced a partnership with its car manufacturing sister to start the development of hydrogen-fuelled excavators, with a target date for mass distribution set for 2023.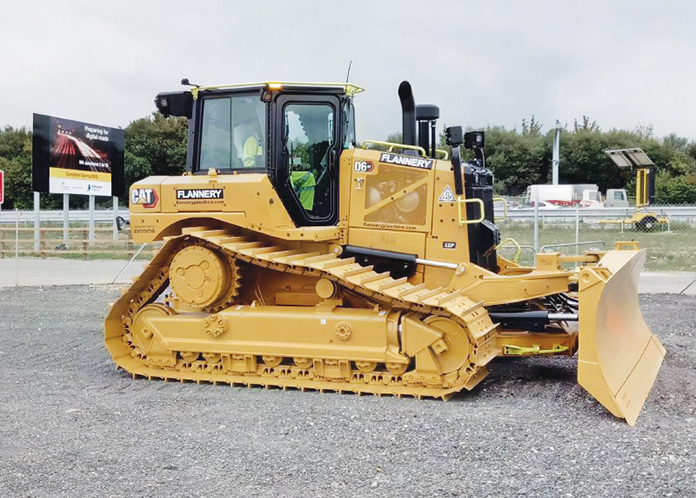 Flannery Plant Hire has supplied a CAT D6XE hybrid dozer to Balfour Beatty's M4 Smart Motorway project
Meanwhile, environmental regulation looks like it will only get tighter. Before the Covid-19 crisis, chancellor Rishi Sunak announced an end to the red diesel subsidy, which would add an extra 47p per litre to fuel used by construction machines.
However, his plan has been put back to 2022 following lobbying from the plant sector, which feels that – even with recent eco advances – there is still a role for diesel.
"For large-scale excavators, electric power is quite simply too costly both financially and environmentally," says JCB's Burnhope. "It would cost £160,000 for a lithium-ion battery large enough to power a 20-tonne excavator for an eight-hour shift – not to mention the vast amount of carbon dioxide produced in the battery's manufacturing process."
Oliver points out: "There are some specialist machines, such as cranes which do very heavy lifting, which are not used very often, so does the economics work out to convert these machines to electric?
"We should get away from the idea that diesel is all bad, particularly considering the dramatic reduction in emissions that has been achieved over the past two decades."
And some in the plant sector feel low-carbon machinery is only part of construction's environmental equation.
"The issue of carbon and fuel consumption in the plant sector has to be viewed far more holistically," believes Chris Matthew, strategy manager for Flannery.
"Yes, we need more fuel-efficient and alternative energy powered equipment, packed full of technology to make it more productive, but we need to consider how to tackle the whole site fuel cost. We also need to look at how we can reduce the carbon impact of people travelling to the site itself."
Identifying eco-compliant construction equipment
How do construction managers check machines on their sites conform to emissions rules?
JCB has signed up to the CESAR compliance scheme
With emissions regulations getting tougher, the challenge for contractors is identifying compliant machinery when it arrives onsite. But the CEA is getting to grips with this issue.
"We had received feedback from manufacturers and hirers that their machines were receiving much more scrutiny at the site gate," Oliver explains.
"Main contractors wanted to know that machines on their sites did actually conform to the European emissions standards stages, as they were supposed to. Because if they do not comply, the main contractors could face enforcement action.
"However, surveillance and policing has been a challenge. The enforcement responsibility for LEZs sits with planning, so the planning officers have to supervise. The Greater London Authority felt that only 28% of sites in London were compliant with its LEZ. This was partly due to planning departments lacking the resources to inspect construction equipment and having to scrabble around in the mud when they did go to sites."
The CEA's solution was to extend its CESAR (Construction and Agricultural Equipment Security and Registration) marking scheme, which has existed for 10 years to help combat plant theft, to explain the emissions stage of each machine.
The CESAR Emissions Compliance Verification (ECV) was launched at the Plantworx exhibition in 2019, following discussions with HS2 and the Energy Saving Trust.
"From a practical perspective, the ECV labels are fixed to the machine and have QR codes that can be scanned using an app by planning inspectors," explains Oliver.
With JCB and Hitachi already using the scheme on all new machines, the uptake is set to further accelerate as major clients including HS2 encourage use of the ECV labels. The CEA is also planning to promote and explain the system to local authorities.
Plant theft warning for closed sites
Construction sites shut down due to the coronavirus crisis have been targeted by plant thieves.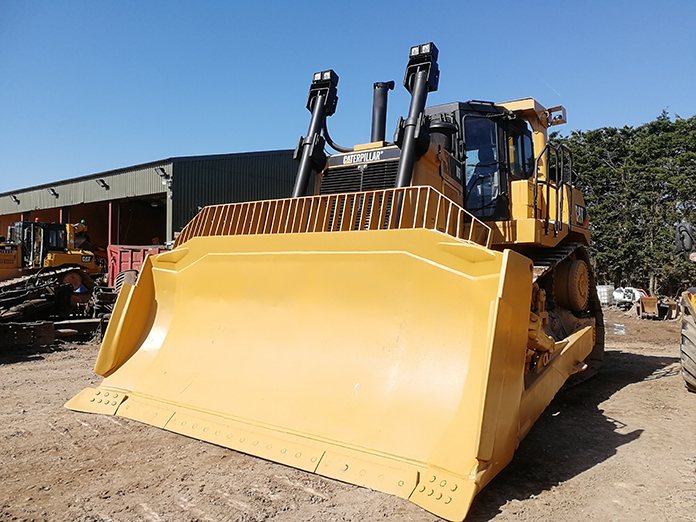 A stolen Caterpillar dozer that was later recovered in Gloucester
Plant and tool thefts from construction sites have risen sharply since the Covid-19 lockdown came into force, the construction equipment sector is warning.
The CEA, which owns the plant marking and registration scheme CESAR, says that the closure of sites, with most personnel including onsite security leaving as a result of coronavirus social distancing measures, has allowed criminal gangs to exploit the situation.
CM understands that industry chiefs including Build UK are increasingly worried about the problem.
One exasperated contractor told CM: "There's so much going on at the moment, and so many challenges to the business because of coronavirus – to have to start worrying about valuable plant and tools going missing from our sites is the last thing we need to contend with."
The CEA has called on the police to be vigilant where construction plant and equipment has been left on site, and warned that any transport movements for construction plant at unusual times of day, or if a vehicle is moving numerous items of plant belonging to different companies could be a sign of thefts.
The association, which is part of pan-industry anti-theft organisation Combined Industries Theft Solutions (CITS), is also advising owners of construction plant to ensure that tracking companies are alerted to the location of their plant.
"Where traditionally companies would perhaps have used plant containers – during these challenging times – companies are advised to leave these almost empty and remove plant and tools to a head office, where possible."
Ian Elliott, group head of security, Clancy Docwra
Ian Elliott, group head of security, Clancy Docwra and CITS vice-chairman, says: "Firms should be aiming at removing the majority of tools and plant away from site compounds.
"Where traditionally companies would perhaps have used plant containers – during these challenging times – companies are advised to leave these almost empty and remove plant and tools to a head office, where possible, or placing the tools and small kit, within brick or concrete buildings well out of sight of the criminals.
"For sites where a company can't physically remove machines, it should be placed within containers and the containers then blocked with vehicles or large concrete blocks."
DC Chris Piggott, rural vehicle crime intelligence officer, NaVCIS (National Vehicle Crime Intelligence Service), adds: "Many construction and agricultural vehicles now have so-called smart keys containing electronic information needed to start the machine, so it's vital that keys are removed from machines and stored securely in a remote location.
"Other measures include the CESAR marking and registration system, immobilisers and tracking devices which are effective in deterring thieves and aiding police recoveries."
The CEA is still progressing agreements with the police and key insurers to support a new Agricultural Construction Equipment (ACE) national police unit, which will be the successor for the original Plant & Agricultural National Intelligence Unit (PANIU).
The new unit was originally due to launch on 1 April 2020 but this has now been postponed until 1 October 2020.