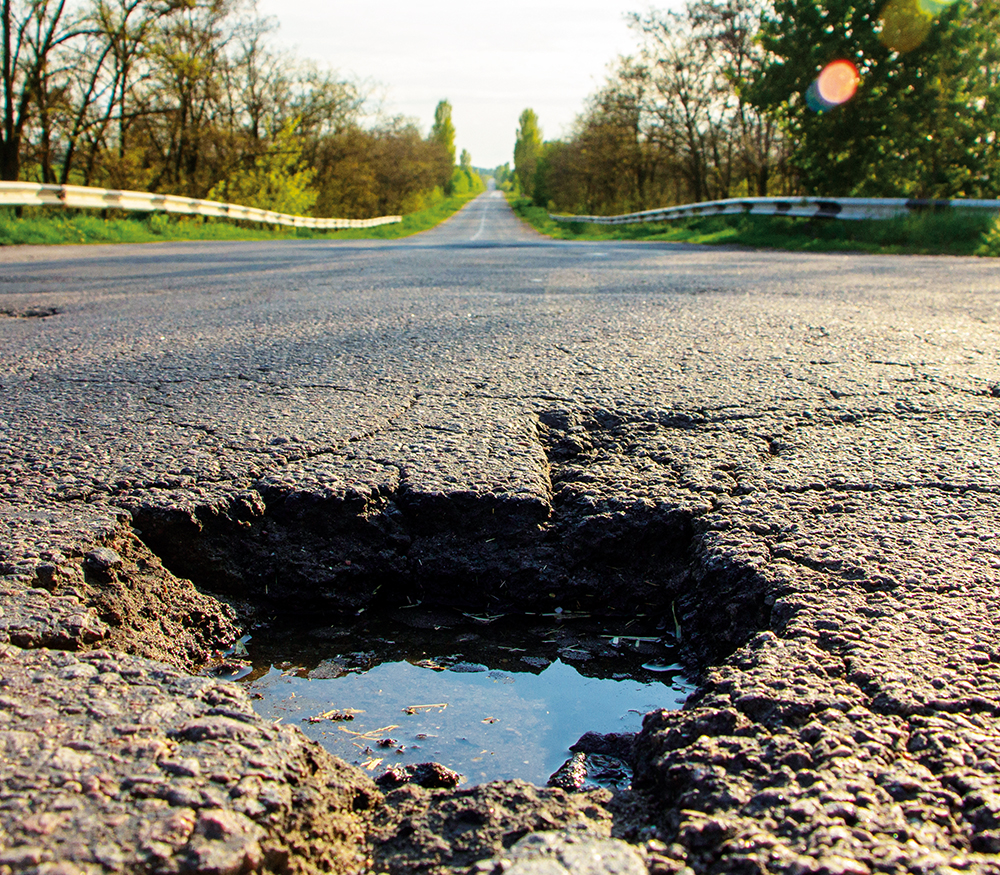 Potholes have been the scourge of local authorities for years, if not decades. Can new technology help fight this plague on our roads, asks Kristina Smith.
Potholes are quite emotive," says Phillip Beaumont, a CIOB trustee and head of the integrated management office for National Highways' Regional Development Partnership (RDP) North at Costain. "They can portray an uncared for and unloved network – although that isn't always the case."
The pandemic has sharpened the focus on potholes, according to Nick O'Donnell, assistant director of traffic and engineering for Wandsworth and Richmond Councils: "Now that more people are working from home, they are much more observant about their own environments. They are picking up on potholes more and reporting them online."
Lockdown has also taken its toll on some maintenance regimes, reports Thermal Road Repairs' managing director Aidan Conway, with his units called in to help catch up on pothole backlogs.
With budgets squeezed from every angle, local authorities need to find new ways to fix potholes more efficiently – and permanently. Technology is likely to play a big role.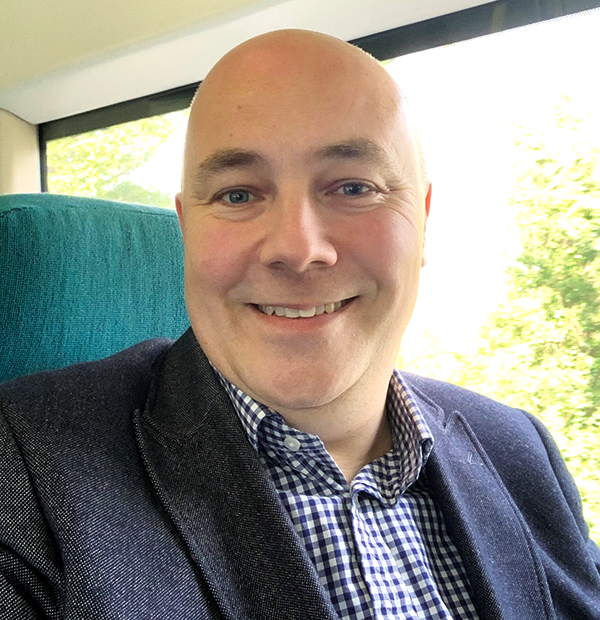 "Now that more people are working from home, they are picking up on potholes more and reporting them online."
Nick O'Donnell, Wandsworth and Richmond Councils
For the last 18 months Richmond Council has been deploying a new system from Thermal Road Repairs (see below), one of several technologies which offer alternatives to the traditional method. It may only be a matter of time before connected cars are reporting potholes. Ford has already patented its pothole detection technology to adjust suspension and Tesla has promised pothole detection – and possibly data sharing – with its Autopilot system.
Central government understands very well how emotive potholes can be. Which is why in 2020 it announced a £2.5bn Pothole Fund to be paid out over five years.
That may not go very far. According to the Asphalt Industry Alliance's (AIA's) 2021 Annual Local Authority Road Maintenance (ALARM) survey it would take 10 years and cost £10.24bn to fill all the potholes that exist now. (The 2022 survey was expected as this article was going to press.)
While National Highways' network of motorways and major roads is well resourced, with five-year horizons, local authorities have competing funding needs, says Beaumont: "Highways wants their share, but so do social care, education, parks and leisure… there's a lot of budgetary friction."
Rural local authorities are perhaps worse placed than urban ones, as the levelling-up agenda directs funds to large towns and cities. In February this year, the County Councils Network (CCN) of 36 county and unitary councils outside England's major cities, reported that its members would receive £480m less this year compared to two years ago.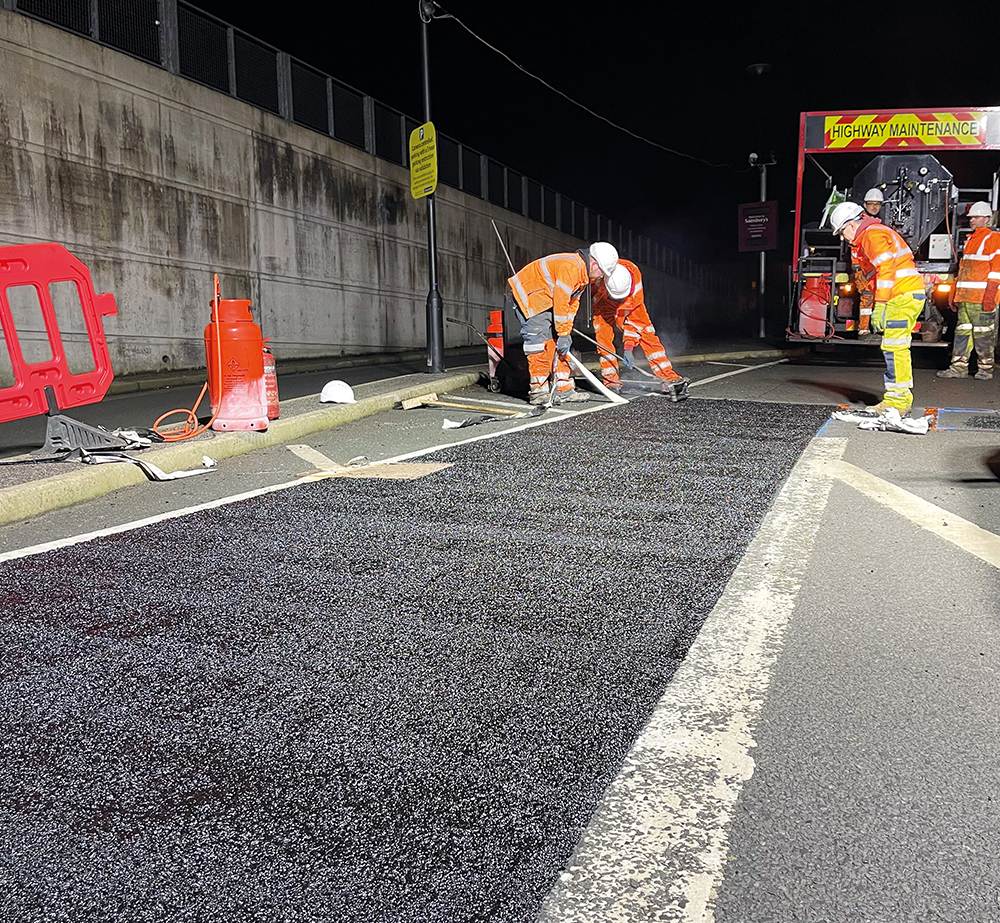 But even London boroughs, which are usually better funded, are facing falling budgets. Transport for London's (TfL's) revenues fell off a cliff during the pandemic due to low passenger numbers on the tube and buses during the pandemic.
"TfL funding has dried up of late," says O'Donnell. This means that roads that TfL are responsible for are not being maintained – with boroughs forced to step in and
foot the bill on major roads.
Potholes are generally fixed on either a temporary or 'permanent' basis. A fast, temporary fix might be necessary for safety reasons and would involve filling the void using a cold-mix material. A longer-lasting repair requires the material around a pothole to be cut out using a saw and jackhammer, to form a rectangular hole with vertical edges, so that new material – usually hot – can be poured in and compacted with a roller.
Although the vertical edges around a pothole repair are treated with a tack coat so that the new material adheres to the old, this joint is a weak spot and will eventually fail, depending on the workmanship, the weight and frequency of traffic and weather conditions. Alternative methods include heating the material around a pothole to effectively remove the joint, using better tools to improve the speed and quality of the repair, or using new materials.
Thermal Road Repairs has introduced a computer-controlled process to avoid overheating the existing asphalt, which leads to oxidisation and brittleness. Bespoke solar panels charge the heating units and can be remotely monitored using IoT technology.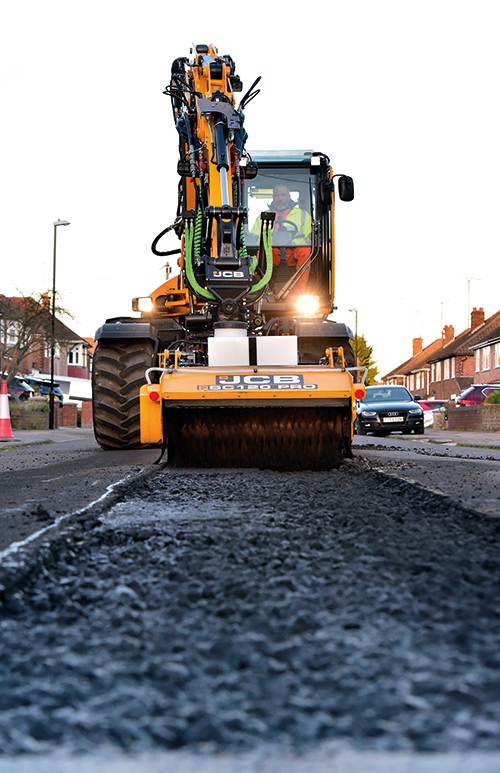 With no waste material to be carted away and far less new material required, Thermal Road Repairs' technology produces far less carbon than traditional pothole repair methods, which Conway says is an important consideration for local authority customers now.
"In the last two to three years, carbon has moved up the agenda for local authorities. Many of them have declared a climate change emergency and set net zero carbon goals, so any technology that helps cut carbon is interesting to them," he says. "Our technology saves 85% of carbon emissions compared to traditional pothole fixing techniques."
Roadmender's technology also cuts carbon emissions radically – by 85%, according to CEO Harry Pearl – again by removing the need for waste and new material. Roadmender has spent four years and £7m developing a system for using bitumen modified with waste tyre rubber to fill cracks and potholes in roads. The material comes in pellet form and can be heated at the point of use and combined with aggregates.
Pearl reckons that for a 1 sq m pothole, Roadmender technology would require around 20kg of materials, while a traditional fix would require 120kg, once a rectangular box had been cut around the hole.
Roadmender has been trialling its technology for around 14 months, on private roads, such as those at service stations or around ports, says Pearl. Having filled a crack or pothole, a further layer of the rubberised material is used to overseal the repair – once the original material has cured.
Another new system, launched in a fanfare of publicity early in 2021 is JCB's PotholePro. The machine is an adapted Hydradig wheeled excavator, equipped with all the tools needed to cut round a pothole and clean out. In addition to the tools the existing JCB Pothole Master has, the PotholePro also has a hydraulic cutting tool.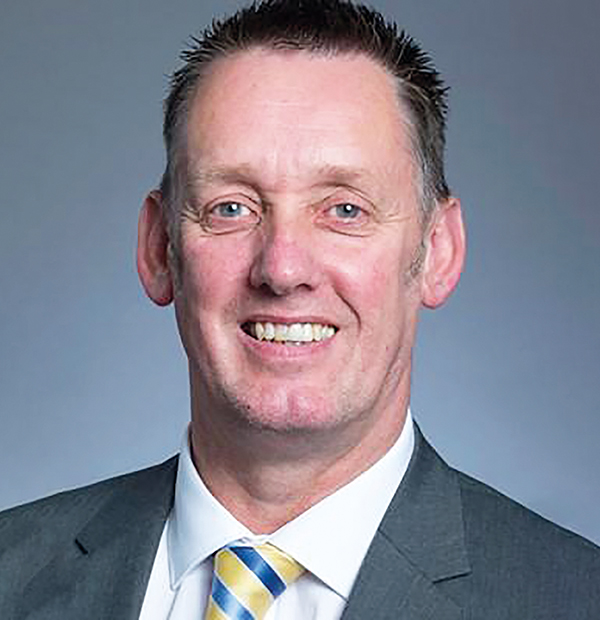 "Highways wants their share, but so do social care, education, parks and leisure… there's a lot of budgetary friction."
Phillip Beaumont, Costain
Stoke City Council was the first local authority to buy the machine in November last year, having previously been involved with trials. JCB reports that the council has fixed 10,000 sq m in four months – an area which it says would take almost three years using traditional methods.
Clearly the productivity rates of any of these new methods depend on the types of road and their condition. A machine working on a closed-off road with a high density of potholes will achieve a much greater area of repairs than one deployed to fix isolated potholes. Country roads with their crumbling edges and limited width are another challenge again.
Getting the strategic planning behind pothole repair and road maintenance right is just as important as finding the right technology. But this too requires resources that just aren't there.
Richmond and Wandsworth invest around £2,000 per borough every five years for detailed visual inspections of roads, says O'Donnell. "It's helpful because it brings you up to speed, but it also gets out of date quite quickly as roads wear at different rates."
Here, digital developments do offer hope. Companies and researchers are developing applications that train artificial intelligence (AI) to search video footage for defects. Amey is working with Kent County Council on a system that uses buses and council vehicles combined with cameras, sensors and AI to collect information on potholes and street assets. Wiltshire Council has been working with Atkins to see how smart drones could help identify potholes.
Armed with more data, highways authorities will be able to make better decisions on which potholes to tackle when. But there is no silver bullet, says Beaumont. "Ultimately, it comes down to the number of potholes, the time required to fill it, budget and the need to take up some network occupancy to do it safely. That's been a challenge for generations."
How Richmond stretched its pothole budget
The London council cut costs by over 30% by switching its repair technology.
In autumn 2020, the London Borough of Richmond upon Thames purchased a Thermal Road Repairs system for repairing potholes. According to Nick O'Donnell, assistant director of traffic and engineering, the quality of repairs being delivered was highly variable.
"It comes down to the gangs doing the work, and we were getting a pretty mixed bag of results," he says. "Some of them were quite bad." Complaints from residents were ramping up.
O'Donnell came across the technology – which uses thermal infrared heaters to heat up the material in and around a pothole before new material is added, mixed and compacted – at a conference. He then spoke to Northamptonshire County Council, which was using the system, before making the case to his councillors.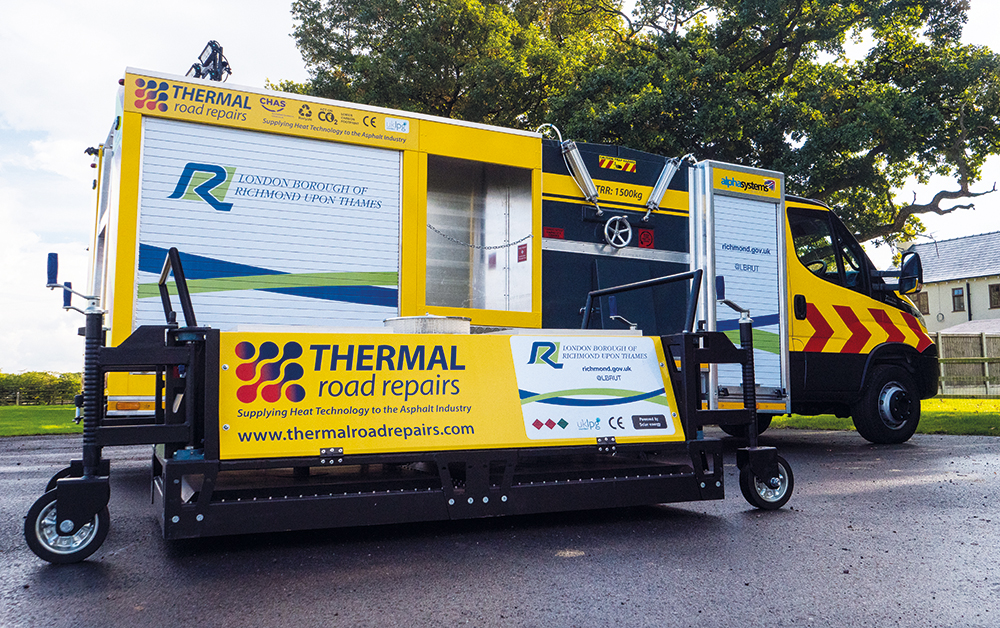 Aside from the promise of faster and longer-lasting repairs, the fact that the new system cuts carbon emissions was a plus, says O'Donnell. "It's far more environmentally friendly than traditional methods – which is a big selling point for members."
The 85% carbon savings are largely due to the fact that there is no waste to cart away and only a small amount of new material to bring in. Using solar panels to charge the heater contributes too.
O'Donnell reports that between January 2021 and January 2022, the unit treated 21 roads, repairing 4,600 sq m. That equates to a 30-35% cost saving compared to traditional methods – which means more roads are treated. This could be higher, says O'Donnell, as currently Thermal Road Repairs is supplying the crew – rather than the council.
To date, all the pothole fixes are holding strong, he says: "After 18 months, it looks cost effective and longer lasting."
Register for free and continue reading
This is not a first step towards a paywall. We need readers to register with us to help sustain creation of quality editorial content on Construction Management. Registering also means you can manage your own CPDs, comments, newsletter sign-ups and privacy settings. Thank you.