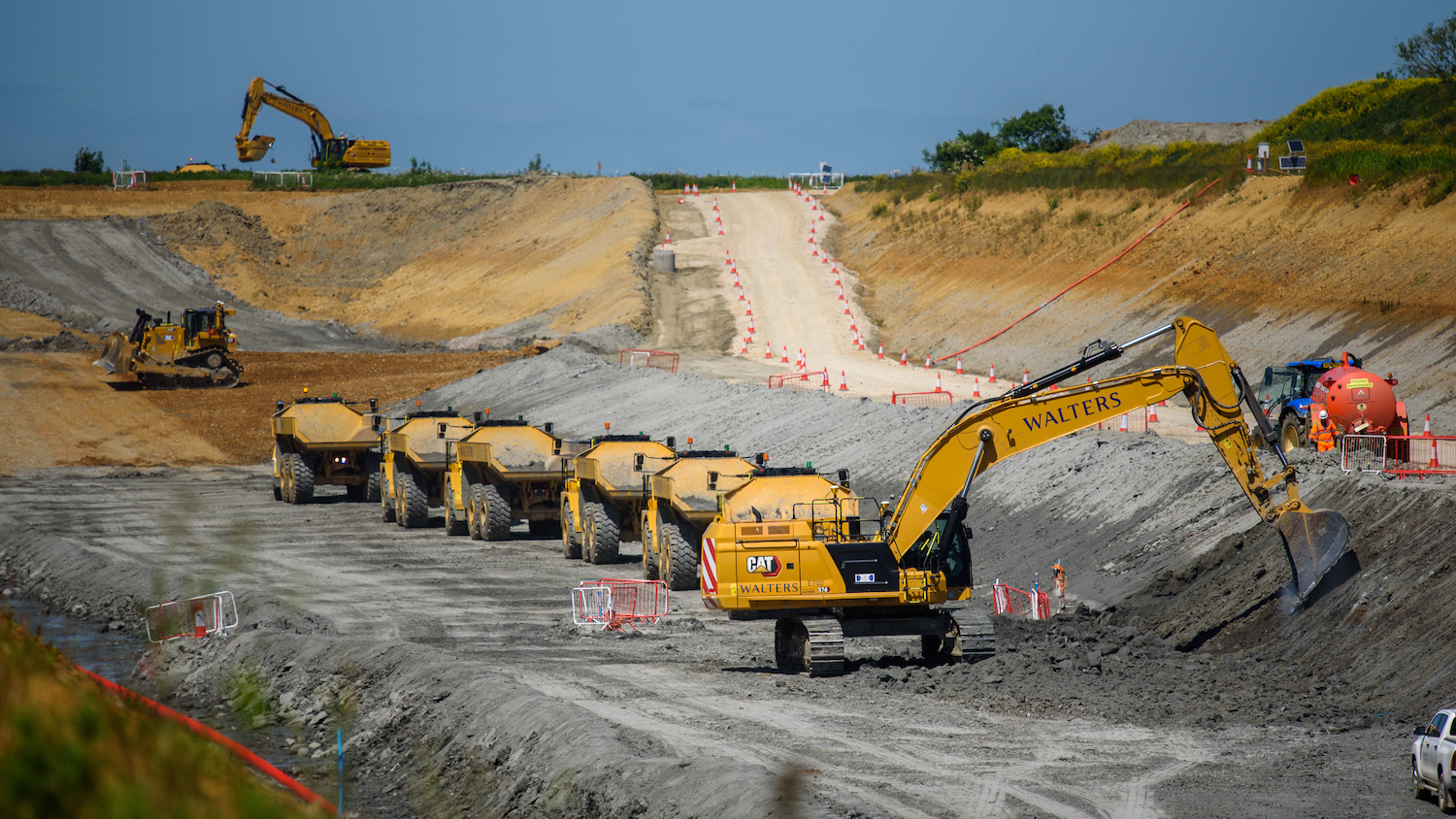 The Eiffage, Kier, Ferrovial and BAM Nuttall joint venture (EKFB JV) and UK Caterpillar distributor Finning are using a smart plant approach on HS2 earthworks to save £25m.
EKFB's smart plant programme, DIGital Graphical Earthworks Reporting (DIGGER), makes use of data from 700 earthmoving machines. The machines feature electronic weight sensors to monitor the millions of cubic metres of earth moved across HS2's central section.
The 80km section runs between the northern edge of Chiltern Hills and the east of Leamington Spa. It is engineered with a series of embankments and cuttings to blend the new railway into the landscape.
To realise the design, contractors must move 53 million cubic metres of rock and earth. More than 27 million cubic metres has been shifted to date.
Using the Finning CUBIQ digital platform and the "latest on-machine and site technologies", the collaboration of EKFB, Finning and HS2 is delivering real-time digital insights derived from telematic data from the 700 earthmoving machines.
For example, if the live data fed back to EKFB's Brackley site base shows one of the 60 excavators idling with a load because it is waiting for a dump truck to arrive, the team can shuffle the fleet so it can continue to operate. Similarly, the system enables the onsite team to identify and resolve pinch points on site roads that impede logistics.
EKFB earthworks director Mark Harrington said: "DIGGER is a game changer for EKFB's earthmoving operations. By providing data that enables us to identify where inefficiencies are occurring in real time, we can implement immediate improvement measures to ensure we maintain optimum efficiency across our operations.
"This has meant that we've been able to reduce costs by around £25m. A significant slice of that saving comes from reduced fuel consumption – so it's enabled a cut in carbon emissions too."
HS2 Ltd senior innovation manager Rob Cairns added: "Delivering HS2 remains a huge task. Most of its constituent parts are major, multi-year projects that provide both the test-bed for development of innovative technology and subsequent deployment to enable benefits to be reaped.
"Once innovative, efficiency-enhancing technology has been developed and proven on HS2, it's ready to be deployed on future projects anywhere across the UK and abroad."
Register for free and continue reading
This is not a first step towards a paywall. We need readers to register with us to help sustain creation of quality editorial content on Construction Management. Registering also means you can manage your own CPDs, comments, newsletter sign-ups and privacy settings. Thank you.