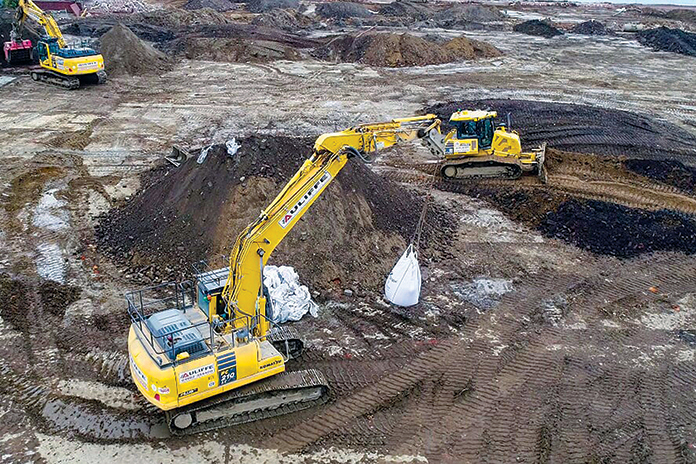 McAuliffe is working on the vast Curzon Street earthworks project
West Midlands Mayor Andy Street recently launched a new plant skills event next to Birmingham's Curzon Street Station, as the sector looks to attract new recruits through digital tech. Peter Haddock explains.
Even before it was given the official go-ahead, HS2 was being heralded as a catalyst for growing skills across the construction industry.
One sector set for a particular boost is the plant and equipment sector. In February, just days before the government green light for HS2, the West Midlands Combined Authority's mayor Andy Street launched a specialist skills event, Plant Construction Careers Live, at the Millennium Point in Birmingham, opposite the site of Curzon Street Station, terminus of the new railway.
CM caught up with Street at the event, which also coincided with National Apprenticeships Week.
"With work already underway for this part of the project, the economic argument for HS2 really adds up," the West Midlands mayor reasons. "Most importantly, the first phase from London to Birmingham is a shovel-ready project, so what we now need to do is begin to recruit and train people in anger.
"This is even more important for the plant sector, as the demographic will see a lot of skilled operators retiring before the project is even finished. This is why we need to attract young people and individuals that want to retrain into the industry. What is important about events like this is that we have a great opportunity to bring the plant and construction sectors to people that perhaps have a traditional image of the sector that is not quite right.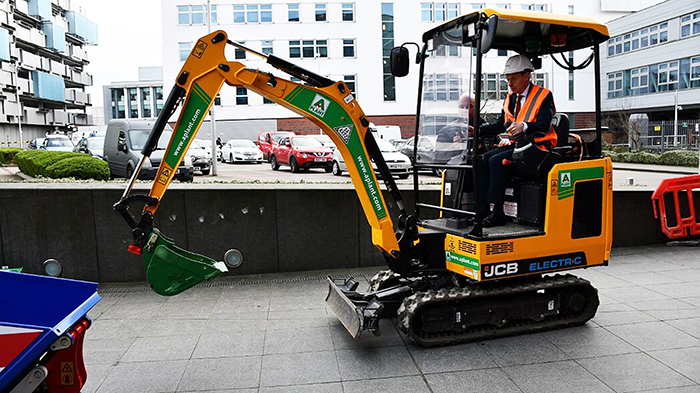 Mayor Andy Street tries out a JCB electric mini-digger at Plant Construction Careers Live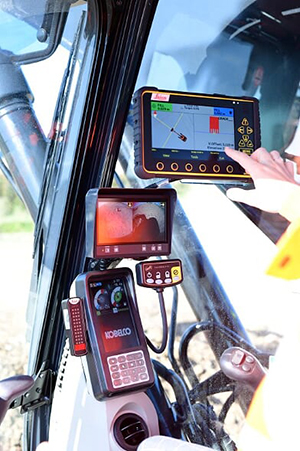 Machine control training in the cab
Street continues: "Plant is a very high-tech sector embracing the latest in technology in its equipment with 3D machine control, augmented reality and more, whilst also helping to reduce emissions. So people joining the industry have the opportunity to get a skill that will see them through their working life. What is also clear is the rapid pace of digital adoption, which is what we want to support across the wider economy."
One of the companies busy on the vast earthworks project for Curzon Street station is specialist contractor McAuliffe. The company says its work on HS2 has helped it recruit apprentices from less traditional backgrounds, including one temporary administrator who is now on a civil engineering apprenticeship supported by Wolverhampton University.
"This industry is all about having the right attitude – it is not just about skills – and this is why we look to create apprenticeships around the people we employ, to develop a true career path for them," director Steve McAuliffe explains.
"We are also fortunate to run our own recycling facilities, so we can get plant apprentices training safely on real equipment in these yards, ensuring they learn the practical skills we need."
The West Midlands Combined Authority is also supporting the sector through City of Wolverhampton College, where it has provided funding via its 'Construction Gateway' programme for a plant operator training facility. This will in turn support a new construction plant apprenticeship, which will enable new or existing staff to combine working for an employer with studying for their plant qualifications at college.
Filling the skills gap
Michael Dixon, head of faculty, explains what the college will now be capable of delivering. "With the new plant training ground set to be complete for the autumn, in addition to our new apprenticeship programme, we will be able to offer a full training and upskilling package for the wider community," he says. "This will allow us to train and accredit unemployed people, to fill the plant operator labour market and wider industry skills gap.
"In addition to practical training on machines like the new JCB electric mini-digger provided to us by A-Plant, we will also be able to offer maintenance training and softer employability skills. And thanks to our connections with the industry, we will guarantee unemployed people an interview at the end of the process, which is fantastic."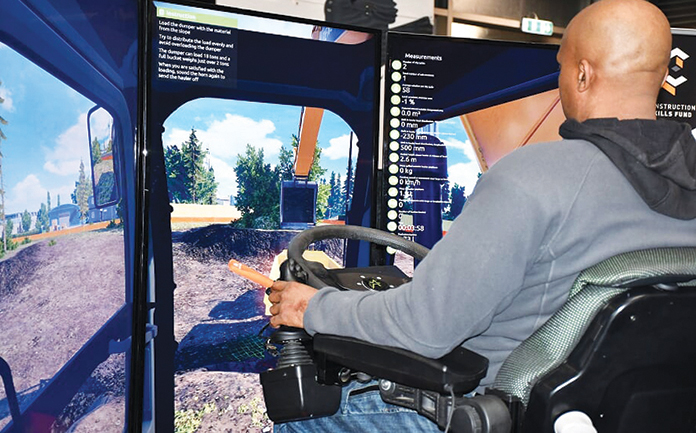 Simulator training replicates site conditions
Where colleges like Wolverhampton are tacking the shortage of staff, others are tackling the wider skills conundrum of upskilling existing operators on newer technologies like 3D machine control. And this is where the sector is having to think outside the box to develop and support new accredited training.
At Weston College in Weston-Super-Mare, plant hirer Plantforce has supplied its latest excavators and simulators to the college, to help deliver training. Together with machine control providers like Leica Geosystems, the machines and simulators are kitted out with the latest in 3D machine control.
Practically this means the college can put new and existing operators on simulators to prove competency, before walking 50m to the training ground. Here they put the simulator training into completing tasks 'in the dirt'.
The college also recently launched a 'dynamic training programme' aimed at driving an up to 15% increase in fuel efficiency for plant operators.
"The first phase from London to Birmingham is a shovel-ready project, so now what we need to do is begin to recruit and train people in anger."
Andy Street, West Midlands mayor
Sam Mercer, Plantforce operations director, explains: "What we have recognised is that, even though as an industry we have access to some really exciting technologies like 3D machine control, without operators knowing how to use these properly, we are missing the carbon reduction potential they can deliver.
"With this in mind, we have worked with the college, and simulation specialist Tenstar, to develop a programme using simulators to help plant operators and the sites they work on become more eco-savvy. It brings together many new equipment innovations from hybrid excavators to advanced battery-operated mini diggers, matching them with other technologies to reduce a project's fuel consumption and impact on the environment.
"The key focus on this classroom-based training programme is teaching operators best fuel-efficient practices on operating different types of machinery. This includes familiarisation with work modes on new machines, how to move the machine around the site, best practices for setting up on the dig, how to load trucks and how to increase productivity."
He adds: "Importantly for those participating, we have also created a new 'eco' card standard that can be used to identify and recognise advanced operators, capable of operating to consistently high standards of efficiency."