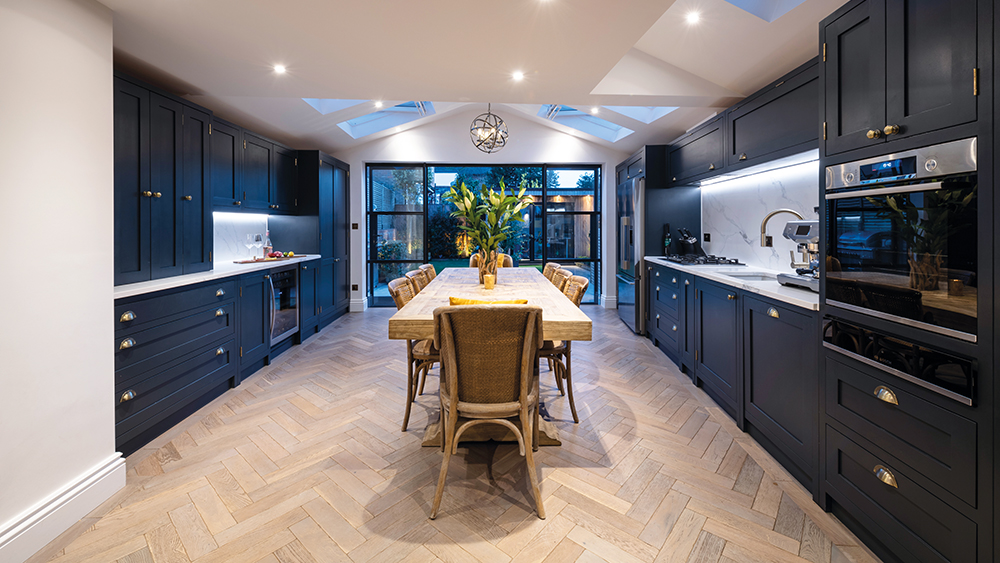 Heritage issues and an archaeologically sensitive site were some of the challenges facing Liam Dower MCIOB on a St Albans property extension.
Part-vaulted ceilings and glazed doors bring light into the kitchen
St Albans is a city steeped in history. The cathedral dates back 1700 years and is situated among the remains of the Roman city of Verulamium.
Dower Developments engaged us to transform a dilapidated period two-bedroom cottage, in the heart of the Cathedral Quarter, into a 180 sq m, four-bedroom property with a unique living arrangement.
Construction work in this conservation area – known for its wealth of below-ground heritage and archaeology, with internationally significant sites – is not for the faint hearted. Works on a site that includes or has the potential to include heritage assets need to include a Heritage Statement with Impact Assessment.
In such a high-profile area, project management was key. Timed deliveries outside peak traffic times had to be factored into the construction management plan and meticulous care taken to avoid damage to the surrounding environment.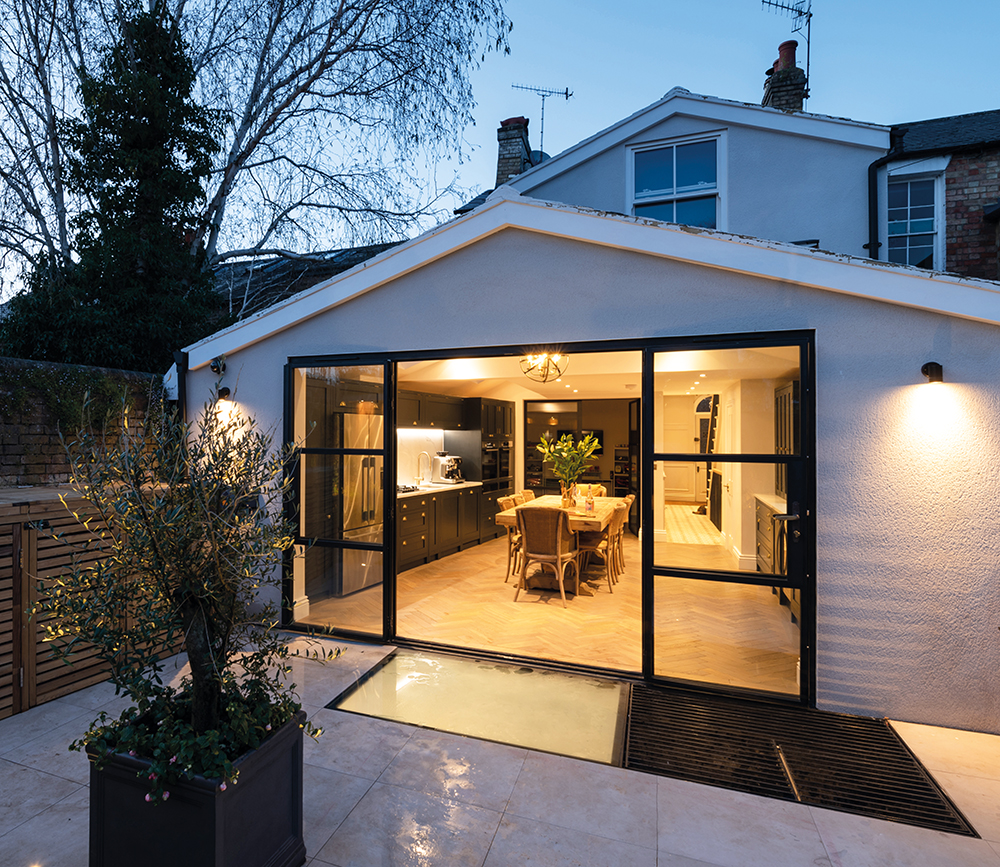 The project included a basement construction, a double-storey extension, whole-house refurbishment and landscaping. The confined and sensitive nature of the site meant we had to deploy specialists and more traditional methods of construction, while the development was monitored for items of archaeological interest. Hand-digging in correlation with conveyor belts removed excess earth.
The basement was constructed through a strategic arrangement of underpinning to the existing foundations. The formation level of the basement was around 3.8m. The lateral pressures at this depth needed to be accommodated in staged excavation to maintain the integrity of the surrounding environment.
Liam Dower CV
After leaving Loughborough University with a degree in Construction Engineering Management, Dower joined the Laing O'Rourke graduate management programme.
Having gained significant insight into large-scale construction projects and crucial experience in project management, Dower went on to establish St Albans Basement to provide a specialist basement construction service. He has worked on residential projects large and small, in conservation areas, on listed buildings and tricky inner-city sites.
He is a chartered builder.
This was achieved through temporary works design consisting of horizontal props at various key locations which were altered and modified as the basement expanded.
A large degree of structural steel was installed to support the upper floors and a major challenge was calculating the positioning of large steels into a small space. With precise planning, a series of structural steels were manoeuvred into position in the basement ceiling void to support the internal walls. Over six months, 80 sq m of additional light-filled living space was created on the lower ground floor with 2.7m ceiling heights.
Following the formation of the basement shell, the fit-out works commenced with the installation of mechanical ventilation and pumping of wastewater to ensure the space accommodated a diverse range of uses, from showering in the wet room to watching TV in the media room.
Ten months later, the residence is a beautifully appointed family home over three light-filled floors, with a detached home office in the garden.
St Albans Basement is a chartered building company (CBC), owned and managed by Liam Dower.
Register for free and continue reading
This is not a first step towards a paywall. We need readers to register with us to help sustain creation of quality editorial content on Construction Management. Registering also means you can manage your own CPDs, comments, newsletter sign-ups and privacy settings. Thank you.