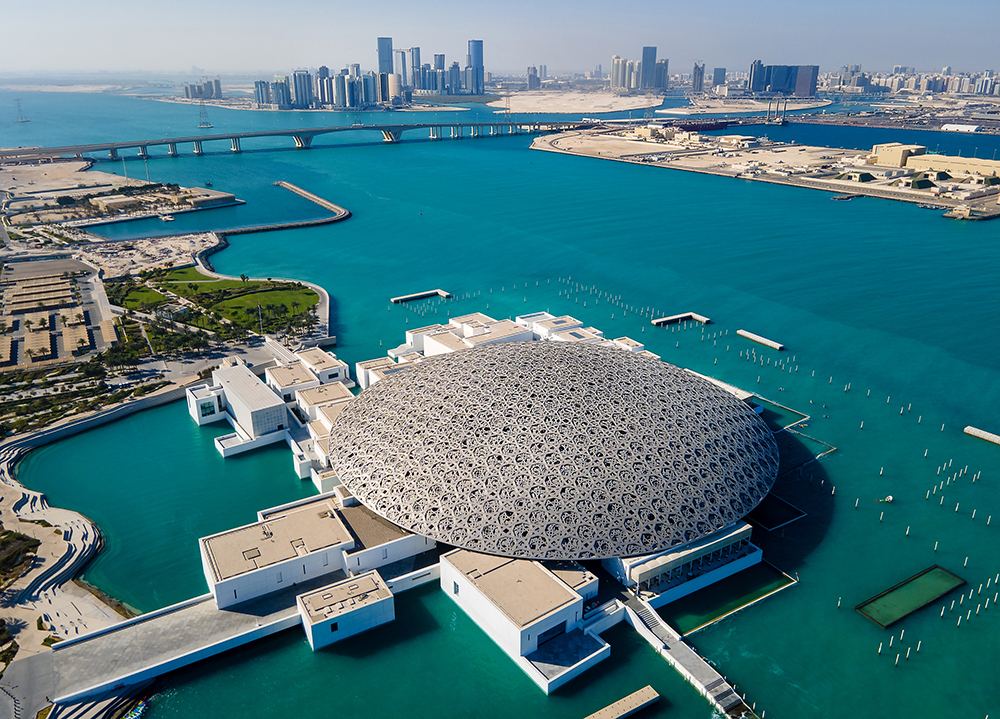 Structural hollow steel sections – commonly known as tubes – have been an unsung structural engineering success story of recent years. CM reports.
Tubular steelwork has become near ubiquitous in the built environment, prominent on structures of all types, from large stadiums to major transport developments and local commercial and retail developments of all sizes. Bridges, motorway and railway gantries all use tubular steelwork, sometimes primarily to give an aesthetic
quality, at other times hidden away performing a vital structural part in the success of projects.
Tubes can be used for everything from sprinkler systems and pipelines to long-span structures and multi-storey buildings. Some 20% of all steelwork is tubular. Tata Steel manufactured 350,000 tonnes of tubes in the UK last year, with a substantial part of that exported – some has been used on the Louvre Abu Dhabi, for example.
Engineers value hollow sections for their versatility, increasingly so when made from the higher-strength steels now available. Hollow columns are adaptable and can be filled with concrete if required, increasing fire resistance. The communities neighbouring the structures appreciate the aesthetic qualities of tubes, forming striking elements of often iconic bridges, stadiums and buildings.
Architects realise that it is often hollow sections that make their visions possible to achieve. The tight corner radius on Tata Steel's Celsius hollow sections makes for enhanced aesthetics on square or rectangular tubes when the structure of a building or bridge is to be exposed. Elliptical sections have also been developed which are used as columns in glazed areas where their shape minimises the visual impact of the structure.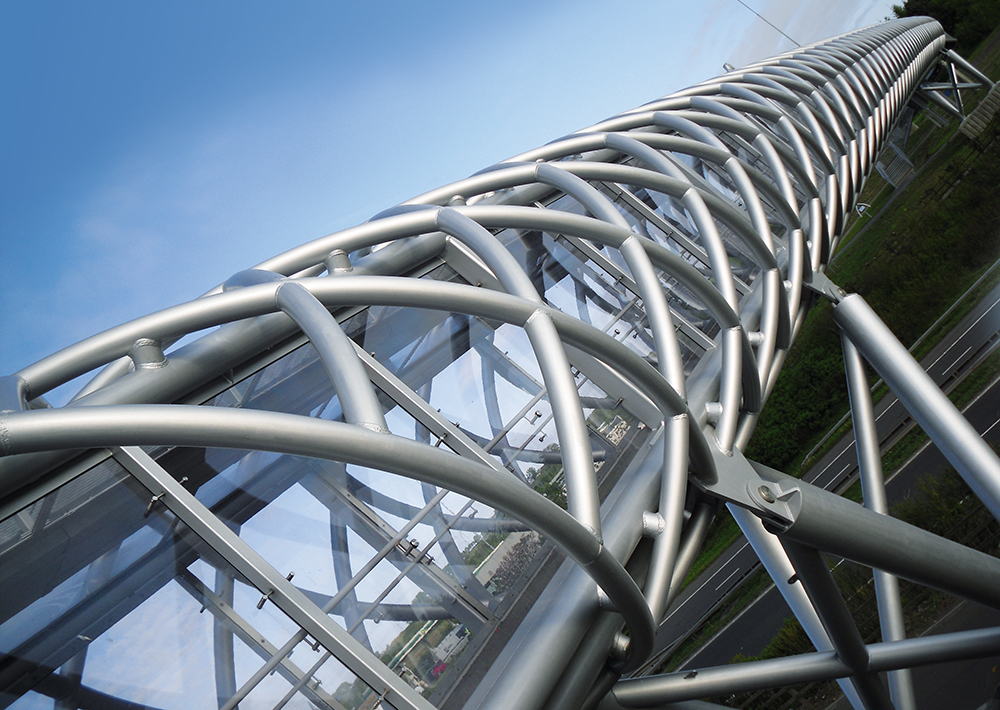 Hollow sections are set to take another significant step forward as the world focuses increasingly on sustainability and efficient design against a background of combating climate change, rising prices and sometimes scarce supply of materials.
"The structurally efficient shape of hollow sections helps lead toward efficient architectural and engineering designs," says Steve Whitfield, manager structural tubes at Tata Steel.
"Tubes have designed-in efficiency, minimising the amount of steel used, so saving on space occupied by a structure. Now tubes are available in high-strength steels, structural efficiency can reach new levels."
With the launch of Tata Steel's hot-finished Celsius range, high-strength hollow steel sections are available in a wide range of circular, square, rectangular and elliptical shapes and sizes.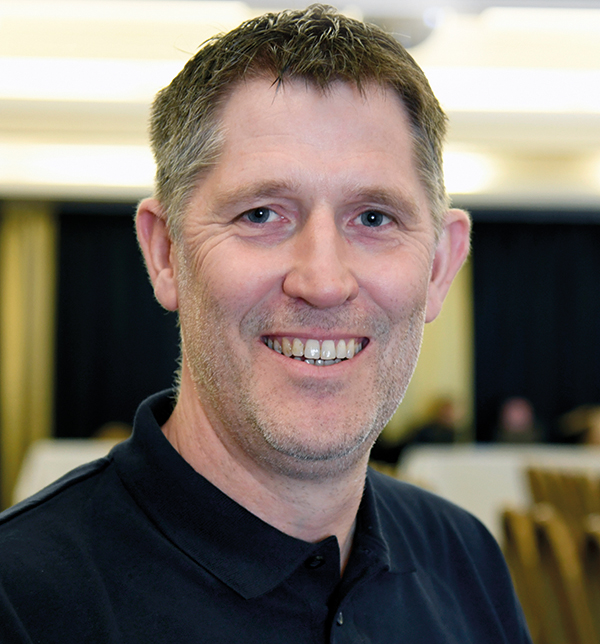 "This steel has great welding properties thanks to a low carbon equivalent value, so steelwork contractors and other fabricators are happy with it."
Steve Whitfield, Tata Steel
Whitfield says: "We see demand for the Celsius products in all structural and mechanical applications, from critical machine parts as well as multi-storey columns, space frames, attic beams and frames for cranes, ski lifts, machinery and trailers.
"This steel has great welding properties thanks to a low carbon equivalent value, so steelwork contractors and other fabricators are happy with it. It also has a controlled silicon content which means it has good 'galvanisability'."
These high strength properties mean that less steel can be used in a structure when a lighter weight is desired, opening up a market in the new era of lightweight sustainable structures. Celsius grades are also designed for use in the harshest environments, like the North Sea and in low temperature conditions.
Weathering steel is increasingly popular on buildings and bridges as architects and developers opt for designs that reflect an industrial heritage, which the developing patina of weathered steel reflects. Until fairly recently, weathering steel was only supplied in heavy sections or thin facades but is now available in hollow sections. Weathering steel hollow sections will be used on some stations on the HS2 rail route, where its low maintenance as well as aesthetics will come into its own.
"Weathering steel Celsius hollow sections, apart from looking great in their usually high-profile locations, provide durability and long life in low maintenance structures," says Whitfield.
Meanwhile, high-strength steel has been a big market success, partly driven by its sustainability advantages. "Steel is a highly sustainable material generally, but using high-strength steel means you can use less of it for a given structural purpose. Savings of 20% are achievable," he explains.
Modular is another growth area and the market move towards offsite construction suits steel.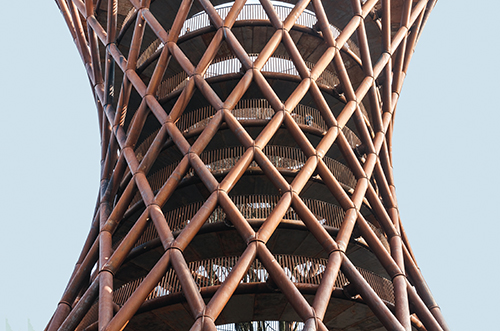 "All steel is produced off site, always has been, and is brought to site ready for erection when required," says Whitfield. "You don't need high-strength steels for buildings up to three or four storeys, but beyond that hot-finished hollow steel sections really come into their own.
"BIM is having an impact on the way we all work but it will increasingly become critical as the world goes digital. Steel has been working in this sort of way for many years, using software packages that easily produce all the information that BIM requires."
BIM models are provided for all Tata Steel construction products, including hollow sections.
Steel manufacturers like Tata Steel are working with industry partners to ensure steel can play its full part in the road to net zero carbon by 2050.
"We need the right roadmaps to achieve that, and we need the right steel as well," says Whitfield. "We think we have got that with our high-strength steels, including hollow sections, and are investing in bringing forward further improvements. The steel industry has the evidence to back up its sustainability case, especially when a proper cradle-to-cradle approach is taken."
Research and development is focusing on making hollow sections even easier to design with. Other developments will include making high-strength steel easier to weld.
Architects and engineers constantly challenge steel manufacturers and fabricators and the UK's success at meeting those challenges has assured a worldwide appreciation of hot-finished hollow sections.
A history of hollow steel sections
Technical innovations opened up a world of new construction opportunities.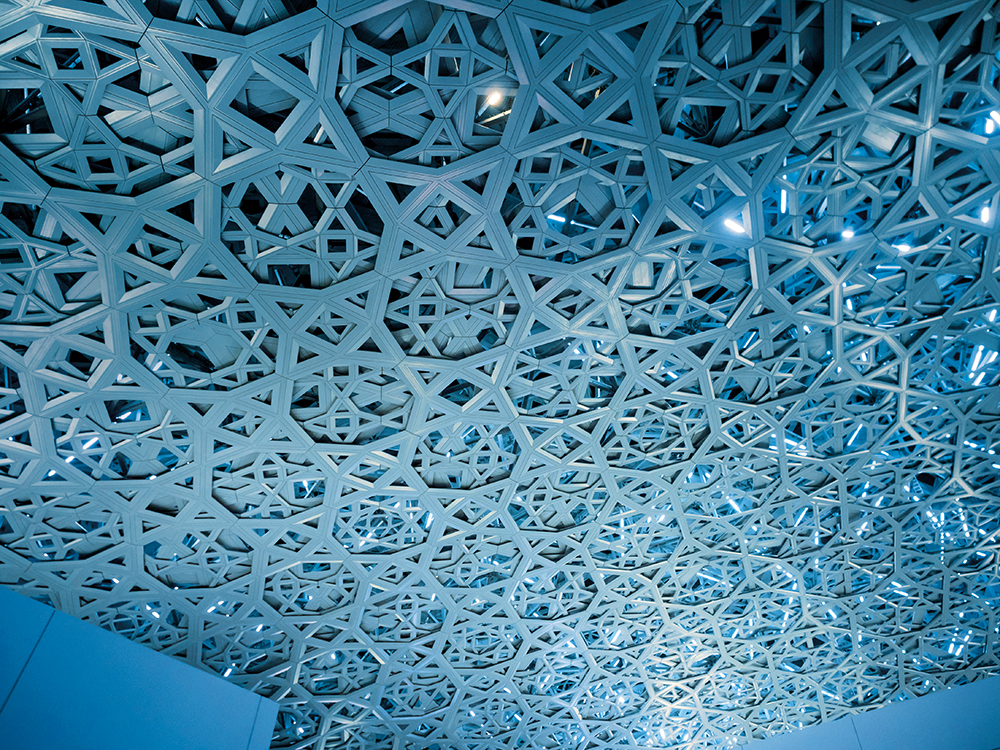 Engineers and architects appreciated the potential of hollow sections as long ago as the heroic age of engineering, but all that was available were square and rectangular hollow sections that had to be expensively shop-fabricated by welding or jointing together structural plates and sections.
Initially both fabricators and architects were wary of the new hollow sections. Few had heard of them and most didn't know how to design or detail tube. Fabricators worried – needlessly as it proved – that the amount of welding needed would be a problem.
A breakthrough came in 1959 when Stewarts & Lloyds – now part of Tata Steel's tubes business – introduced a range of hot-finished square and rectangular hollow
sections (RHS) which, along with developments in jointing technology, freed architects to express themselves structurally.
Architects appreciate the clean lines of circular profiles, which appear as the same dimensions wherever they are viewed from. Today's software packages mean that practically anything that can be drawn can be built, and hollow sections play a crucial role.
Milestone projects include the National Exhibition Centre at Birmingham, a proving ground for the Nodus system, a new way of approaching design of two-dimensional space structures. Others included the jumbo jet hangars at Heathrow and the Fort Regent Leisure Centre on Jersey, one of the first single-layer circular parabolic domes made in hollow sections.
Today, Tata Steel manufactures some 350,000 tonnes a year, at the Corby and Hartlepool mills, for structural and non-load bearing applications on many high-profile projects. The heroic age of hollow sections engineering might just be upon us.
Register for free and continue reading
This is not a first step towards a paywall. We need readers to register with us to help sustain creation of quality editorial content on Construction Management. Registering also means you can manage your own CPDs, comments, newsletter sign-ups and privacy settings. Thank you.