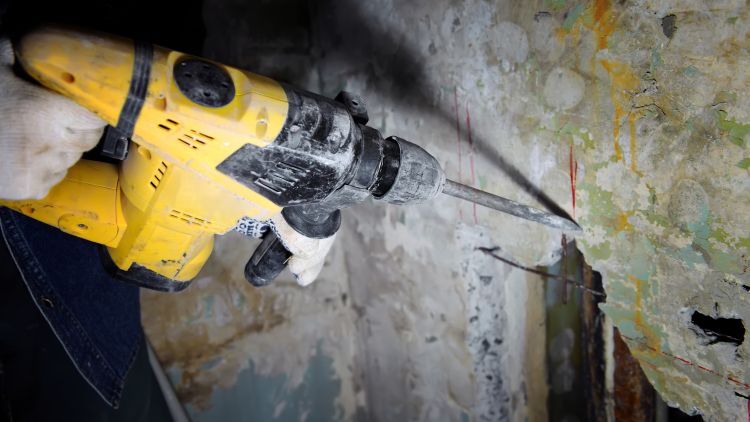 Construction puts workers at risk of developing hand-arm vibration syndrome. Billy O'Brien advises construction managers what to look out for and how to prevent it.
Hand-arm vibration syndrome (HAVS) is a preventable condition that can arise with the regular use and operation of hand-held power tools and machines, such as concrete breakers, sanders, grinders, disc cutters, hammer drills and chainsaws.
HAVS involves nerve and blood vessel damage affecting the arm and hand. The syndrome used to be called 'white finger syndrome', and it can result in permanent nerve damage and reduced grip strength.
More than two million people are at risk of getting the condition, and those particularly at risk include workers using hammer action tools for more than 15 minutes a day or rotary and other action tools for more than an hour a day.
What do you need to look out for?
There are a number of early signs of the condition, including tingling and numbness in the fingers (which can cause sleep disturbance), decreased sense of touch and loss of hand strength. In cold weather, fingertips might go white then red, pain felt on recovery (white finger syndrome or sometimes called vibration white finger).
Permanent damage possible
If people continue to use high-vibration tools these symptoms will likely worsen, resulting in potential permanent numbness, difficulty picking up small objects, as well as vibration white finger occurring more often and affecting more fingers.
Employers' responsibilities
Construction managers must ensure the health and safety of people on their site. They will need to carry out a risk assessment, take steps to minimise vibration exposure and provide training and health surveillance.
There are also exposure limits for hand-arm vibration:
2.5 m/s2 A(8) is the exposure action value (EAV), or level at which employers are required to introduce technical and organisational measures to reduce exposure.
5.0 m/s2 A(8) is the exposure limit value (ELV), or maximum amount of vibration an employee may be exposed to on any single day.
Risk assessments of vibration levels – these are an essential part of avoiding HAVS. Assessments need to be done at an employee level using realistic data (e.g. manufacturer data) along with adding up exposure time from different tools across the working day. Information from manufacturers or suppliers about vibration levels produced by the equipment can be used to calculate the daily exposure. The HSE has a handy ready reckoner to aid in the calculation.
Education and training – site workers need to be trained on all the tools they use and how to work them safely, including when using new models. Having a formalised HAVS awareness programme with refresher sessions is also good practice, alerting people to the symptoms and what they can do to avoid excessive vibration exposure.
Low-vibration tools – choose low-vibration equipment and look at vibration levels when buying or hiring tools.
Job design – ensure workers move between tasks, so they are not exposed excessively, along with looking to working methods. Where possible, adjust processes that result in vibration exposure for methods that eliminate or reduce this. For example, blocks can be split with a hydraulic block splitter rather than a cut-off saw. Machine mount equipment, such as breakers, so the operator doesn't have to hold the equipment. Pile caps can be cropped using hydraulic pile croppers.
Gloves and warm clothing – while anti-vibration gloves are not recommended by HSE, its advice does say that workers need gloves and equipment that keeps them warm (gloves do not provide protection against vibration, but keeping warm can stop some of the symptoms appearing).
Culture – workers should be encouraged to report symptoms to managers, and be confident that they will act upon what they're being told, without fear of it impacting on their employment.
While HAVS is a preventable condition, construction workers develop it all too frequently. This is not acceptable and construction managers need to be aware of the symptoms and the practical steps to stop anyone on their site developing HAVS.
Billy O'Brien CMIOSH is director of customer success at EcoOnline
Register for free and continue reading
This is not a first step towards a paywall. We need readers to register with us to help sustain creation of quality editorial content on Construction Management. Registering also means you can manage your own CPDs, comments, newsletter sign-ups and privacy settings. Thank you.