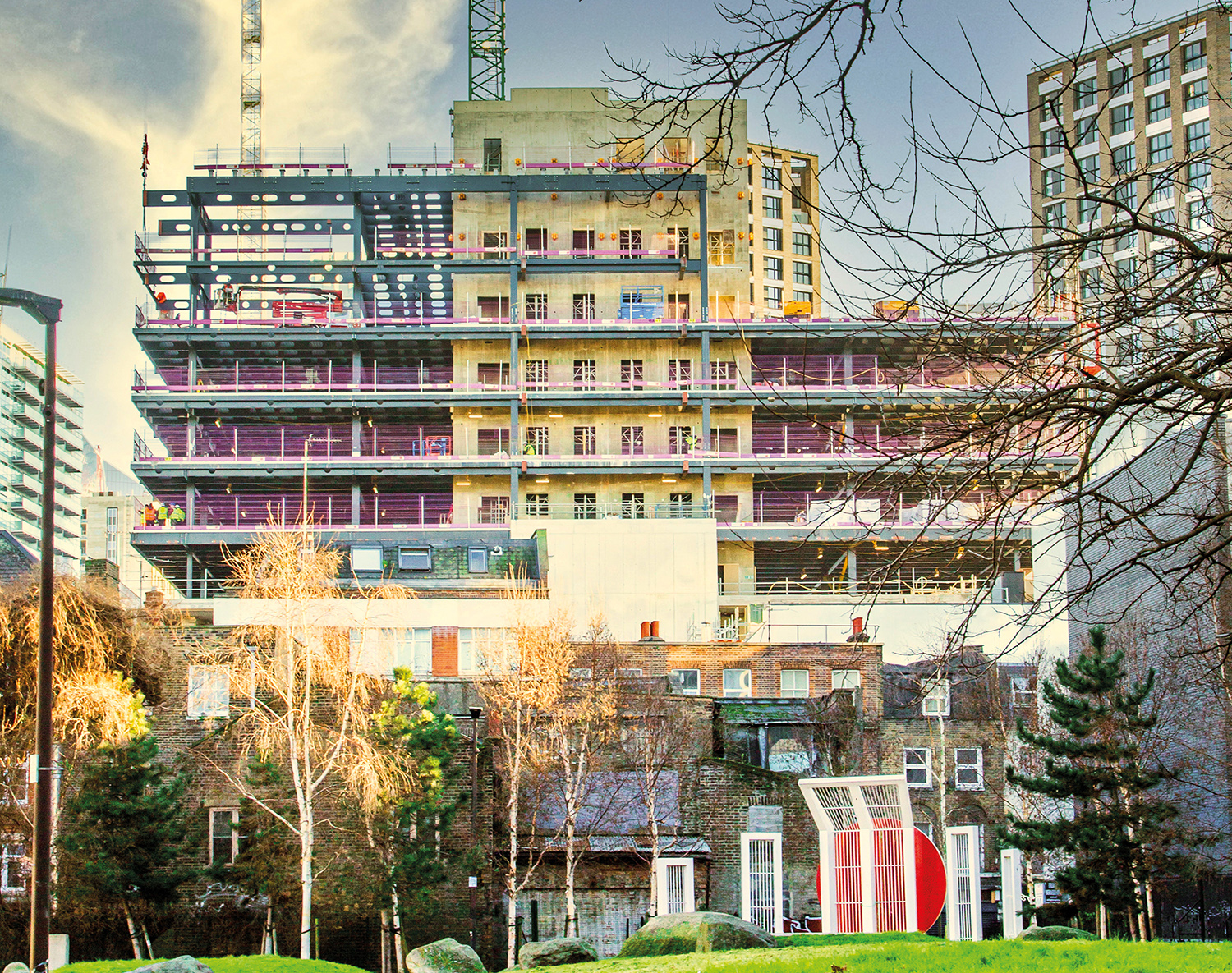 When plans to double a 1960s building proved unviable, BAM had to come up with a new solution. Construction manager Robert Biddle explains the build to Kristina Smith.
On first sight, it is difficult to understand why the facade of Central House in Whitechapel – now rechristened The Rowe – has been retained. Designed to accommodate multiple small textile industry units in the 1960s, the original building was designed to be cheap and cheerful: a sturdy reinforced concrete frame clad in precast concrete panels.
Architect AHMM's original idea had been to retain the whole of the six-storey building. But when BAM Construct came on board, quite early in the design process, there was bad news for developer Frasers Property, which is entering the London office market for the first time with The Rowe.
Project team: The Rowe, Whitechapel
Client: Frasers Property
Contractor: BAM
Architect: Allford Hall Monaghan Morris (AHMM)
Structural engineer: Robert Bird Group
MEP consultant: Sweco UK
QS and contract admin: Burnley Wilson Fish
Construction cost: £80m
Form of contract: Amended JCT 80
On site: January 2020 to September 2022
Subcontractors
Demolition: Robore
Facade retention: Apex
Facade restoration: Szerelmey
Foundation: Foundation Piling
Concrete frame: Mitchellson
Steel: Elland Steel Structures
Glazing: Structile UK
MEP: BAM Services Engineering
Lifts: Kone
Toilets: Stortford Interiors
Logistics: Madigan and Gill
"As we got into more detail, it quickly became apparent that the costs were spiralling to such an extent that the scheme was becoming non-viable," says BAM construction manager Robert Biddle. "I got a call from the development director, and we decided that we needed to do some radical thinking."
This project has required a lot of thinking all round. Initially, there was the challenge of working out how the original concept design might be delivered. And then, once that was abandoned, there were the complexities of working within a retained facade and connecting new structures and elements to it. BAM worked under a pre-contract service agreement for 18 months before the full contract was signed.
The final scheme involves the retention of the 1960s facade including the infilling of two sections that were recessed for stairwells on the north and south sides; constructing a new five-storey concrete building within the facade and then adding a seven-storey steel-framed structure on top of that. Two smaller buildings have been added to the back of the main one, each with flat roofs that will double as roof terraces. Tenants will also have a roof terrace, and balconies on higher floors.
Back in 2016 when Frasers Property bought Central House, which sits on the junction of Whitechapel High Street and Commercial Road in east London, the intention was to demolish the whole thing and replace it with a 21-storey hotel. However, Tower Hamlets Council did not like that idea and after several attempts to get planning permission, Frasers looked for a new architect and a new vision.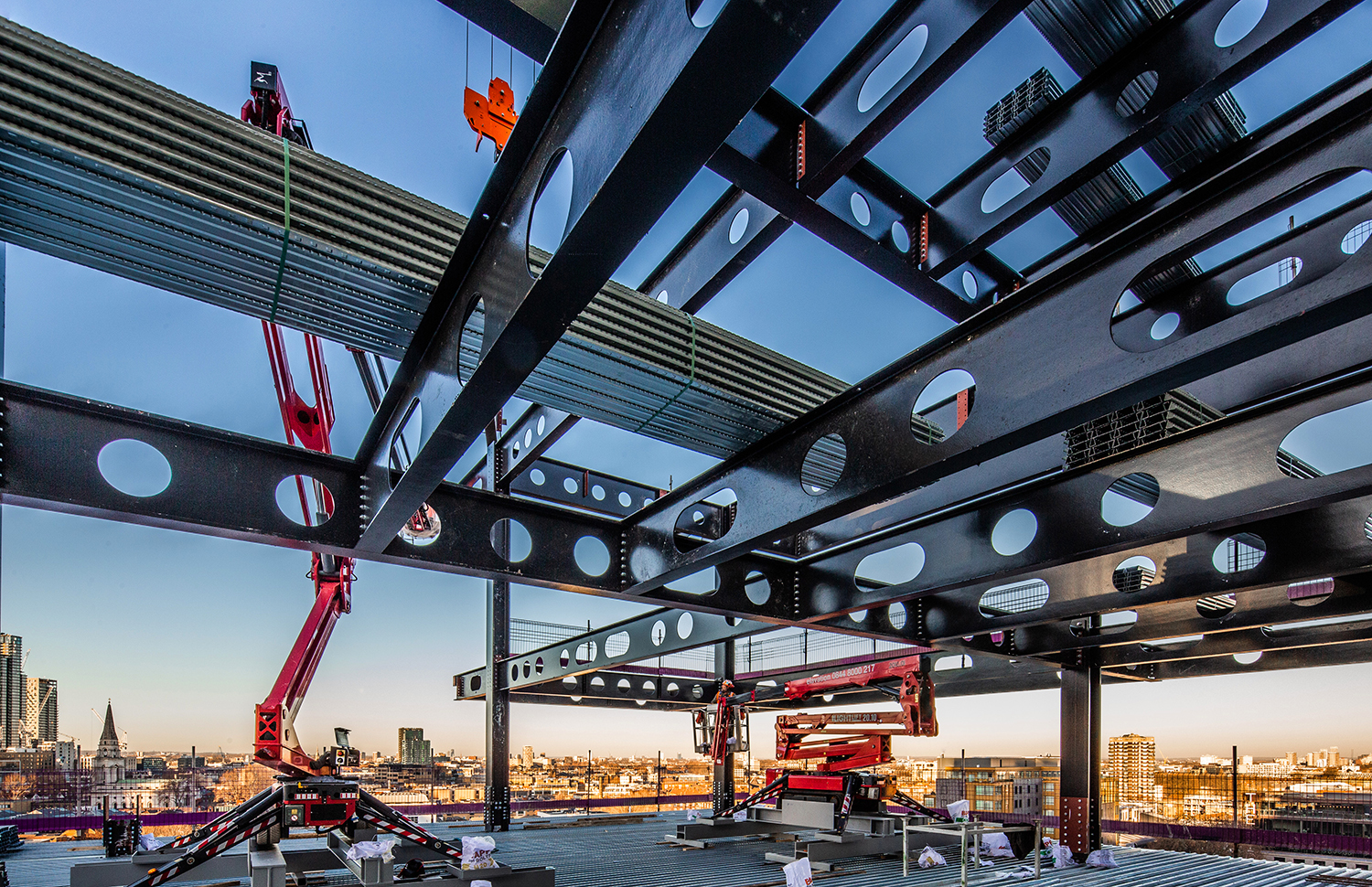 AHMM's first idea was not only carbon efficient, it had a public realm story too. The Cass school of art and architecture had occupied the building for decades until 2017; some of the architects working on this scheme had studied in the building.
"It would have been a feat to have pulled it off," says Biddle. "The idea of retaining a building and increasing it, effectively doubling it in size, is quite unique. And the reduced environmental impact would have been significant."
However, it would also have introduced a raft of safety, cost and time risks, says Biddle. The existing foundations and columns would have needed beefing up, requiring heavy civils works in very confined spaces.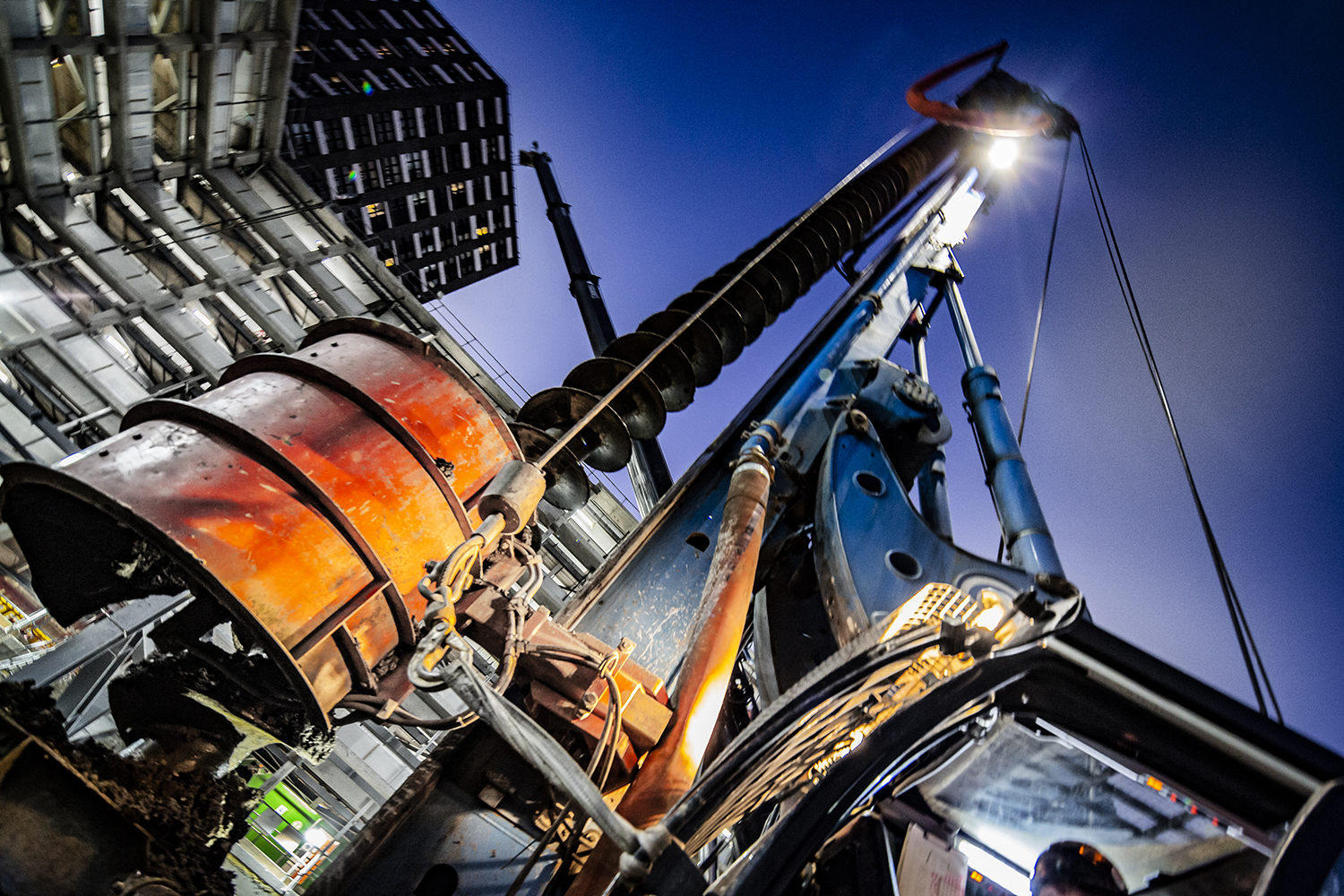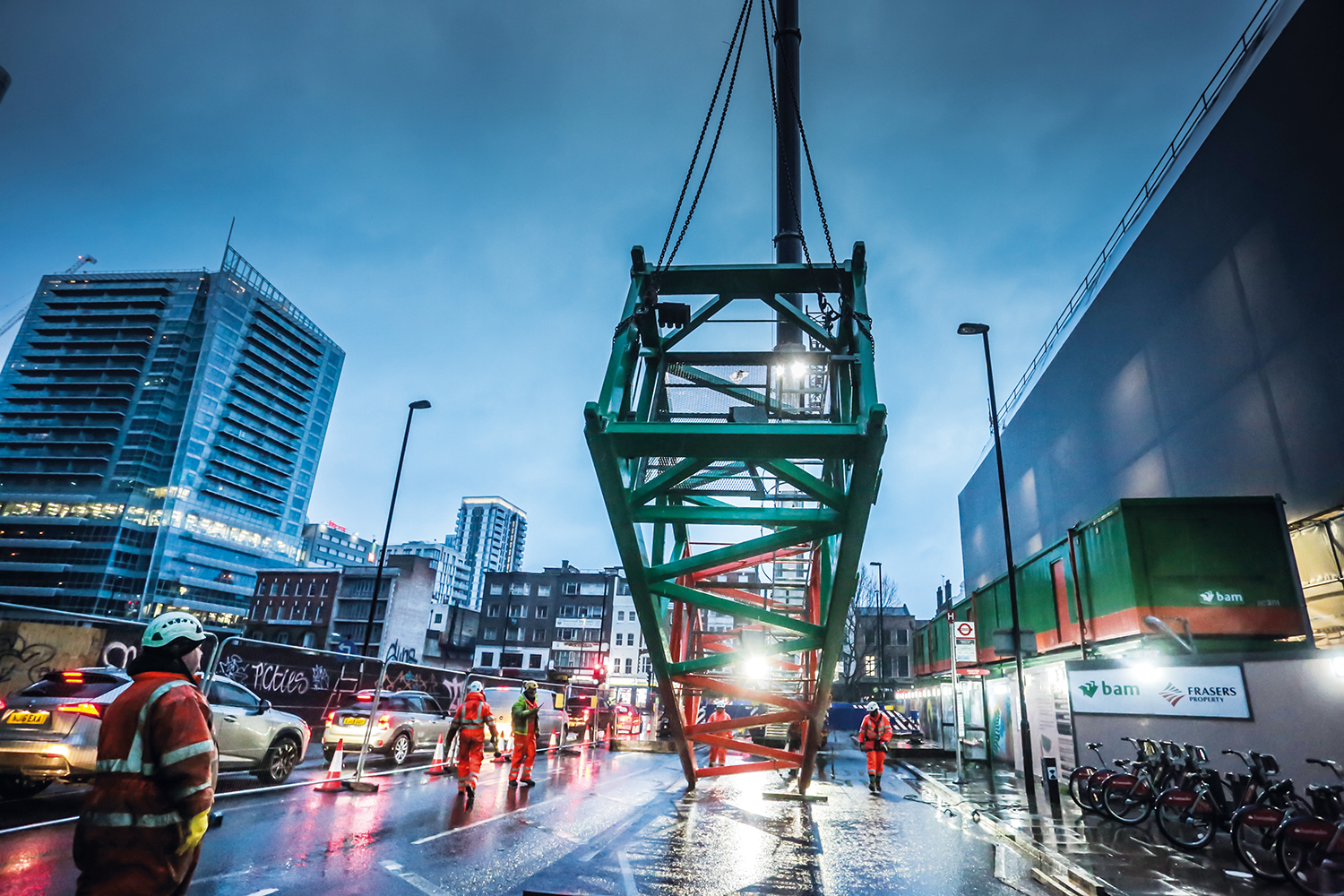 The other challenge was that the existing concrete columns were set back 5m from the face of the building. "When we put the steel frame on top, we would have wanted to align the steel columns with the concrete ones, but that would have meant a 5m cantilever at the roof structure," explains Biddle.
"That would have meant we needed a transfer structure around 1.5m deep at the 12th floor level that the cladding would have hung off." Building a new concrete frame means that the grid can be changed to avoid that huge cantilever.
BAM's solution, though less risky and less costly, has not been without its technical challenges. These have included the design of the facade retention structure, temporary and permanent piling works, attaching the new structure to the old.
The scheme's structural engineer Robert Bird Group (RBG) created the concept design for the steel frame which supported the facade, with specialist contractor Apex delivering the detailed design. BAM wanted the frame to have a dual purpose, providing access for restoration specialist Szerelmey to work on the precast units of the facade. It also had to be installed in large chunks to speed up erection and reduce footpath closure times, as the site is right by Aldgate East tube station.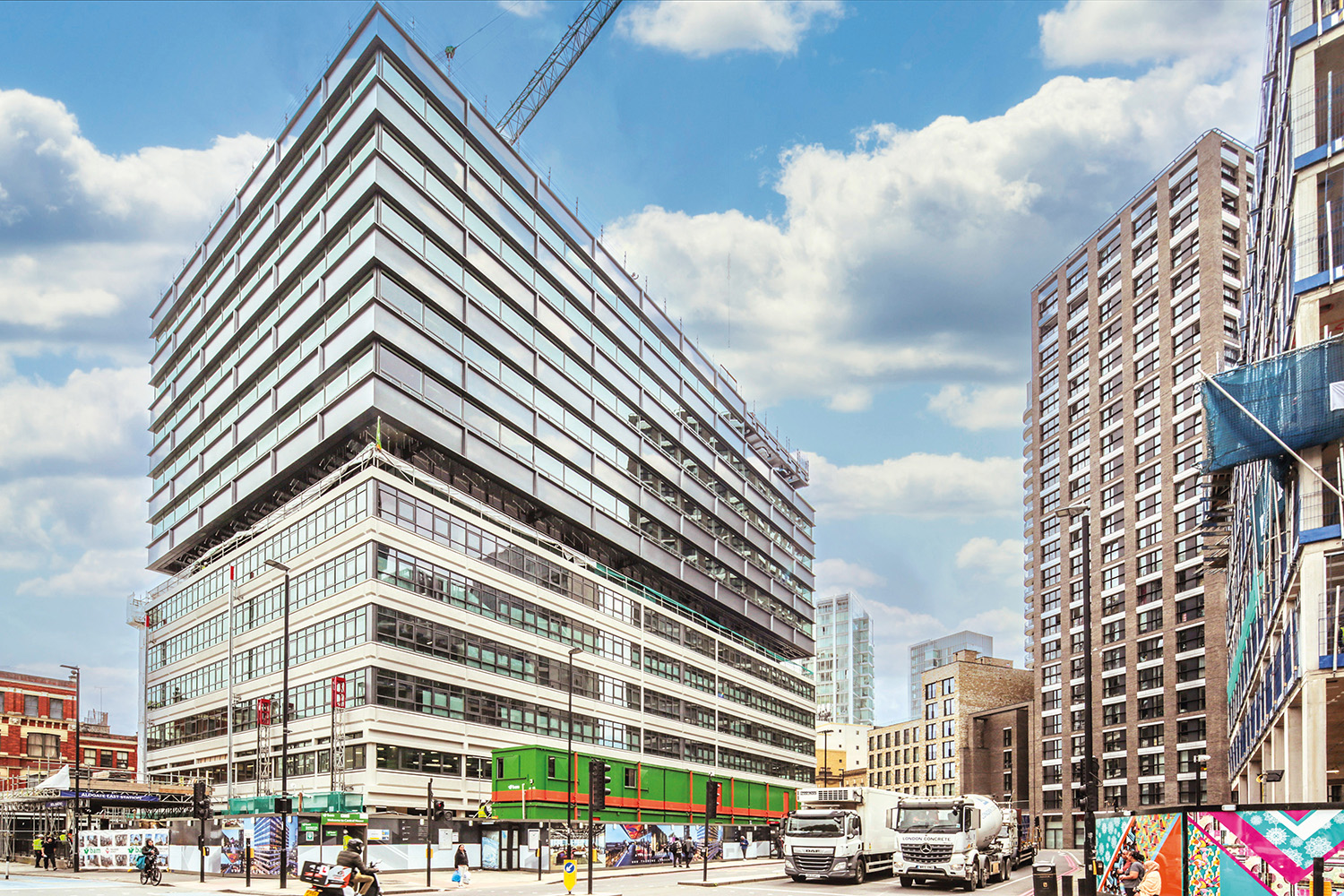 Installing the piles for the facade support was a fiddly job, avoiding existing piles and drainage runs. And so was installing the permanent continuous flight auger (CFA) piles. Piling close to the building's perimeter required that beams from the facade support system had to be removed – and carefully sequenced and controlled.
One of the clever details that the project team came up with – after extensive brainstorming, according to Biddle – was the connection between the sections of the original floors around the edge of the building and the new floors. These could not be cast together until the steel floors had been added and settlement had taken place.
CV: Robert Biddle, construction manager, BAM Construct
You could say that construction runs in the Biddle family. Robert Biddle's father is a carpenter, and his younger brother works for BAM too, as a senior site manager.
However, Robert Biddle headed off down a different career path, studying a business degree for a while until he realised it wasn't for him and he switched to a BSc in construction management. He has worked for BAM since leaving university, starting in the West Midlands and then transferring to London, with a two-year stint in the Netherlands.
He has worked mostly on commercial schemes including the Angel Building for Derwent London and Thirty Broadwick Street in Soho for Great Portland Estates. One of the most complex projects was a new extension and remodelling project at Chelsea and Westminster Hospital, working over a live A&E unit. The Rowe has involved plenty of structural challenges, he says.
The detail involved installing 200mm dowels into the existing pieces of slab and casting sleeves into the new slabs. Initially the slabs were fastened together with bolts through back-to-back Halfen angles, through vertical slots to allow movement up and down. Once everything had settled, grout was injected into the sleeves and the angles removed.
BAM created a mock-up of the system first. "Everything was bespoke," says Biddle. "We needed to prove that the solution worked."
With the building due to be handed over later this year, the external envelope is almost finished. Yet to be installed is a mural by Cass alumnus Yinka Ilori, an artist and designer known for his bold use of colour. This will run on the underside of the seventh floor, where a balcony runs around the whole building, demarcating the old and the new.
The building has a very industrial feel inside, with the concrete and steel members and services all visible. The development is aiming for a BREEAM Excellent rating and WELL gold certification, as well as a Platinum WiredScore rating for its connectivity. There has been a lot of interest from prospective tenants, says Biddle, with several visits to site.
The project isn't quite running on time, due mainly to the impacts of Covid, including a site closure, delays from suppliers and labour shortages when some of the Eastern European workers could finally go home for visits. BAM and Frasers have verbally agreed a three-week extension from 26 August to mid-September. "We have managed to absorb quite a lot of the delays," says Biddle. "We have built transparency in our relationship with Frasers, which has really helped."
BIM: Understanding everything
Digital technology was used to attend to detail at The Rowe.
"BAM culture is that we are able to get into the detail and sort out problems before they grow," says BAM's London region director Rod Stiles. "Digital is part of that."
Often, BAM will commission 3D designs, if they don't already exist, particularly for tricky interface areas, says Stiles. "It's a cost we will bear ourselves, because we will see the benefit."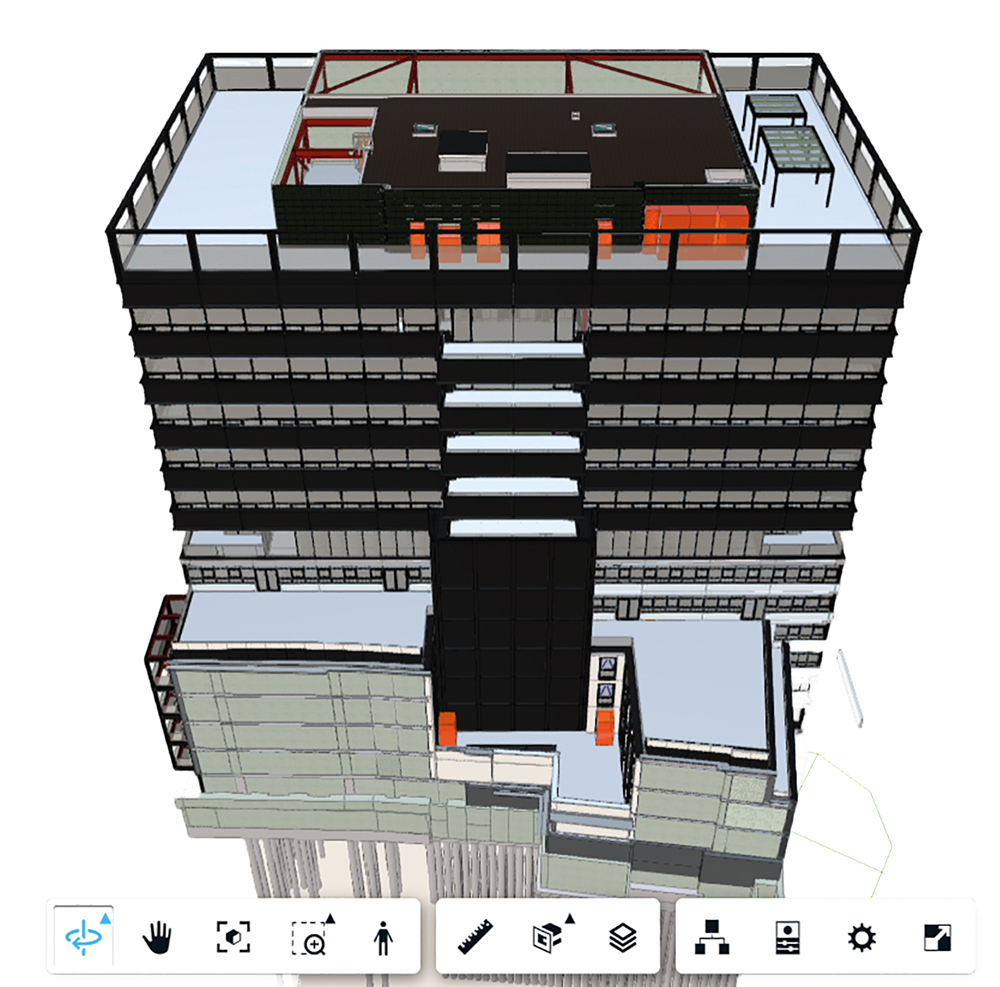 The Rowe's design team was already working in 3D, but some elements required physical checking. In fact, BAM has had a team of two engineers on site to survey and check.
"Their job has been to get to understand this structure," says BAM construction manager Robert Biddle. The BAM team at The Rowe is also trialling the latest version of BIM 360, using it for document management as well as for viewing the 3D designs. "It is much more instinctive than our previous EDM system," says Biddle. The plan is that it will be rolled out throughout BAM.
BIM 360 helps with governance too, says Biddle. For instance, when documenting temporary works signoffs. "It is safer too because it requires you to be physically out on site, taking photos, rather than filling out forms at your desk," comments Biddle.
BAM's planner on the project used 4D design to help plan the piling works. With two rigs on site and the need to control which elements of the facade support could be removed at any one time, this was vital to plan the sequencing.
The Rowe is also trialling a Trimble system that projects the position of building services runs onto the ceiling of a room so that they can be swiftly marked out – providing the building services engineers have previously calculated where the runs and brackets should be.
"The benefit is there are no mistakes because the setting out is from the model," says Stiles. "There is less risk and it is faster because they are just focusing on the installation."
Register for free and continue reading
This is not a first step towards a paywall. We need readers to register with us to help sustain creation of quality editorial content on Construction Management. Registering also means you can manage your own CPDs, comments, newsletter sign-ups and privacy settings. Thank you.