Addressing construction's productivity puzzle is key to enhancing the industry recovery from covid-19, writes Kris Hudson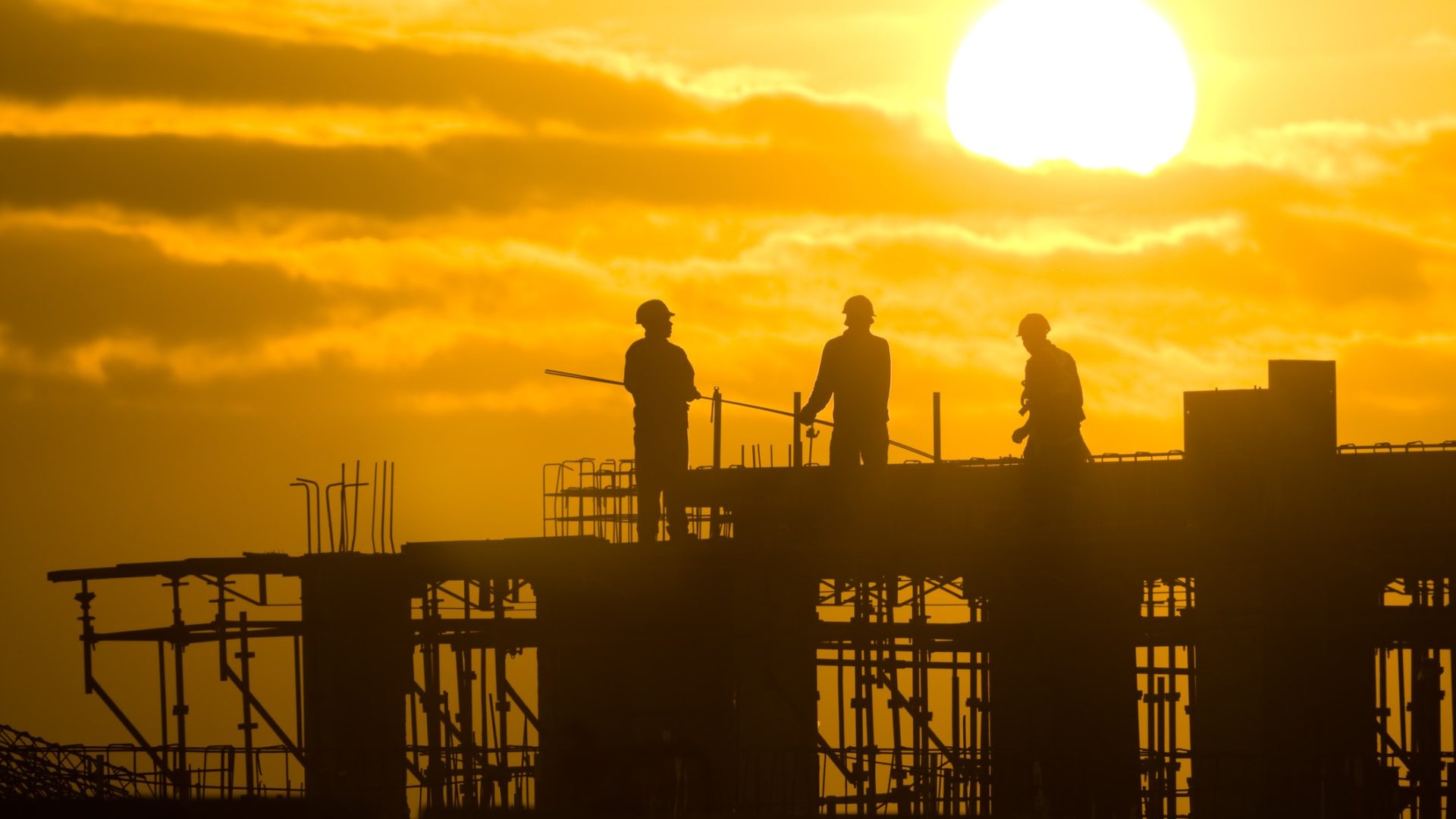 Measuring productivity is almost as difficult as improving productivity.
Various methods (such as output per hour, job or worker) are designed to gauge how efficiently resources are used. As pandemic restrictions lift and the UK economy unlocks, the ability to boost productivity is critical to support economic growth. This is particularly pressing given covid-19 and Brexit generated huge challenges around performance and resources – putting pressure on skills and availability of labour, supply chain capacity, project schedules and costs.
At a country level, the Organisation for Economic Co-operation and Development (OECD) reported that UK productivity was hit harder by the pandemic than any other G7 nation during 2020. GDP per hour worked fell by -19% from Q1 to Q2, significantly more than the next lowest – France – which declined by -11.2%. On an industry level, there was a similar trend in UK construction. Output per hour, measured by the Office of National Statistics (ONS), recorded a -7.9% drop in the sector's productivity growth over the same period.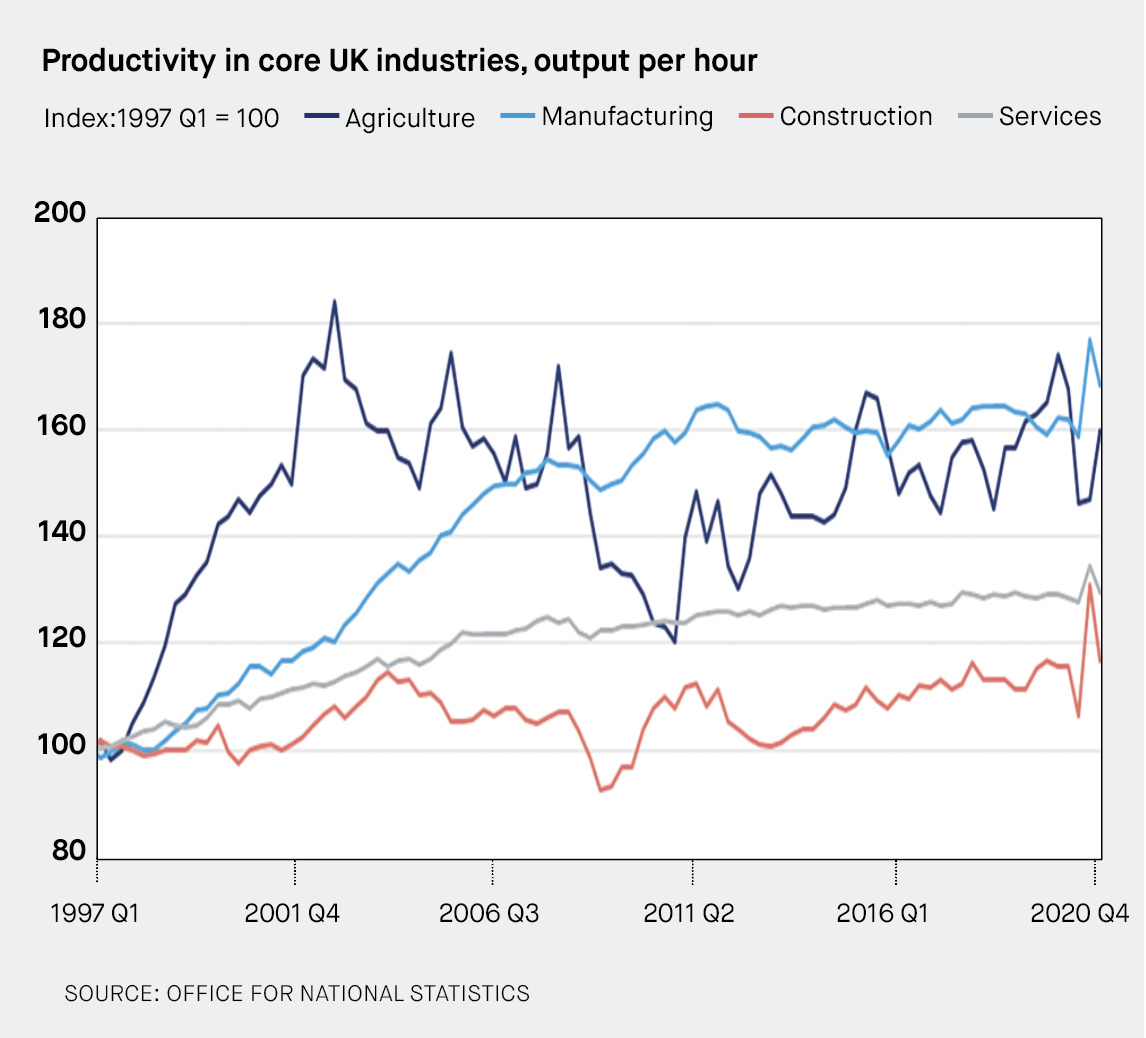 Yet the construction sector's productivity recovery after Q2 2020 was notably improved, increasing by 9.8% from Q2 2020 to Q4 2020. Not only was this ahead of any other core UK sector, but it was even above pre-covid-19 levels. Some of this growth was due to increasing unemployment mixed with burgeoning activity following the first lockdown, but it doesn't devalue the industry's response to the pandemic – adopting new procedures and processes, and increasing resilience and planning on programmes.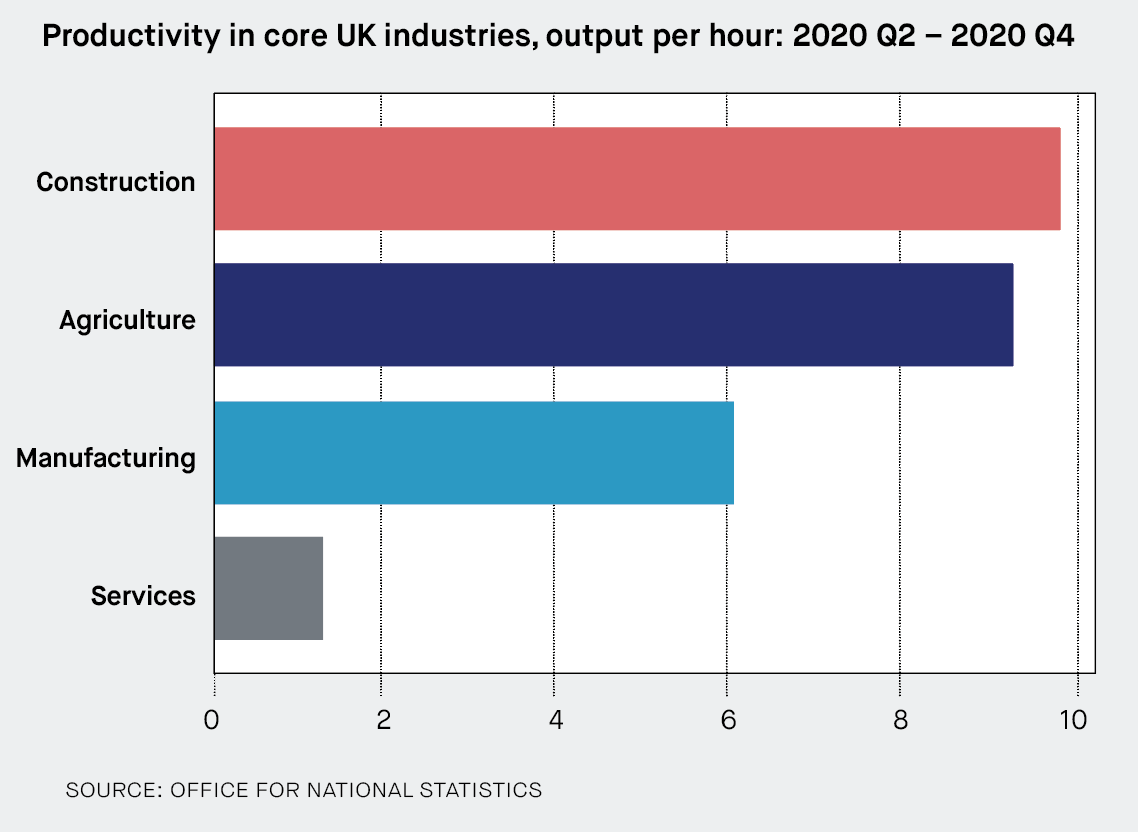 The industry has shown that it can adapt and innovate – learning valuable lessons from the months of uncertainty and disruption – but a few periods of growth do not make a trend. Data from the Q1 2021 Royal Institution of Chartered Surveyors (RICS) UK Construction and Infrastructure Monitor suggest that productivity is currently -5% lower than pre-pandemic levels. While this could be a nuance of measurement, it's clear the long-standing productivity puzzle remains unsolved.
Construction needs to retain an innovative mindset to improve value and boost productivity – embracing digital transformation and modern methods of construction to drive higher performance. Once change is enacted, rather than postulated, only then will the industry be able to rise to meet the challenges it faces, and to achieve its environmental, social and economic goals.
Kris Hudson is an economist and associate director at Turner & Townsend.