Camping out in central London or gluing yourself to the M25 is not the only way to save the planet. Ahead of COP26, Kristina Smith meets construction's own climate change warriors to find out about their roles in reducing carbon emissions.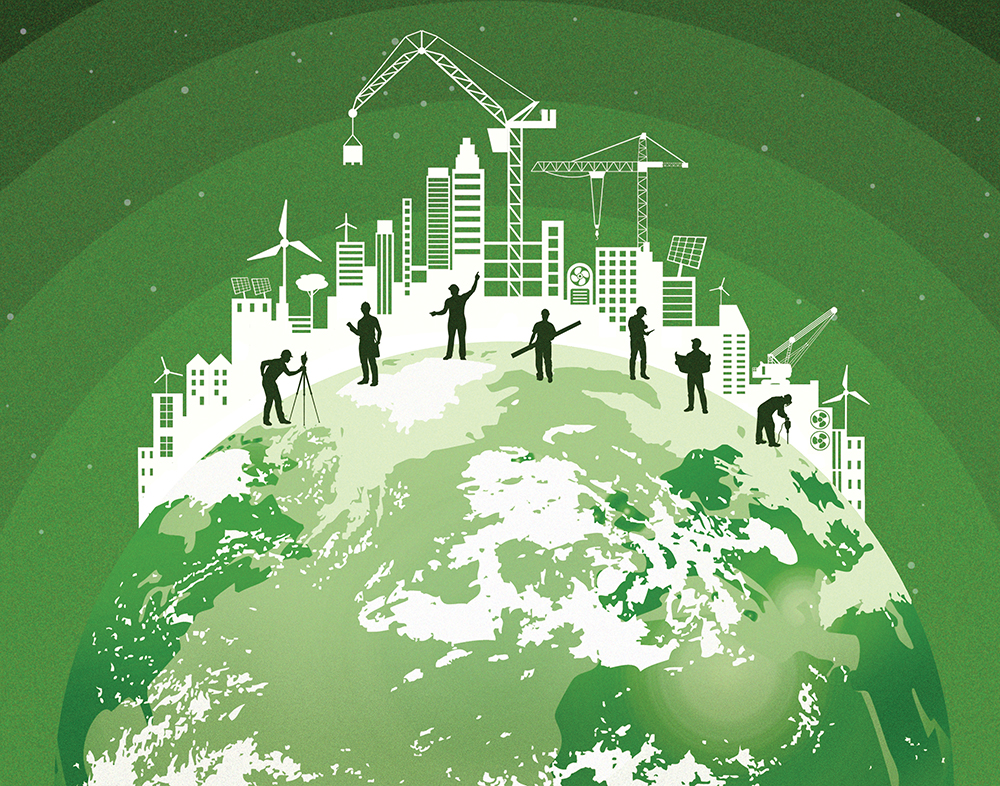 Creating confidence in domestic retrofit
Retrofit coordinator, All About Energy
If it hadn't been for Covid-19, Keith Richardson might not be a retrofit coordinator today. A visit to a trade show alerted him to the opportunities around energy efficiency retrofit, and when the first lockdown struck, he enrolled with the Retrofit Academy – currently the only provider of an accredited qualification. By July 2020, he had achieved a Level 5 Diploma in Retrofit Coordination and Risk Management.
Keith Richardson MCIOB
Trained to be a retrofit coordinator in 2020, offering the service through All About Energy, a company he founded in 2018 to deliver commercial and domestic energy assessments.
Set up Space Design & Construction in 2002 to advise catering, hospitality, retail and education clients.
Worked in the private sector for consultants and contractors for 10 years.
Started as a trainee building surveyor, working for local authorities for 14 years and gaining a TEC and Higher TEC in Building Studies, as well as becoming an MCIOB.
The role of retrofit coordinator is set out in PAS 2035:2019 Retrofitting Dwellings for Improved Energy Efficiency. From July 2021 PAS 2035 has been mandated for all projects funded under the Energy Company Obligations (ECOs) programme where energy companies must fund energy efficiency upgrade works.
In a process set out in PAS 2035, a retrofit assessor surveys the property and prescribes the measures needed, an installer proposes a design for how the works will be delivered and a retrofit coordinator then checks the designs and, most importantly, reviews the installation to make sure it's up to scratch.
"The retrofit coordinator is the linchpin between the customer, the assessor and the installer, and vital to getting it right," says Richardson. The retrofit coordinator is also responsible for submitting documents and evidence, such as photos, into a database which is held by TrustMark.
One thing that initially surprised Richardson about his new role is that it is deskbound. Rather than visiting projects on site, he relies on photographic and other evidence to make his assessments.
A challenge for Richardson and his fellow retrofit coordinators is that this a new process. "There will be a lack of knowledge among some installers. Up until July this year, they may have been doing things in a certain way and then, from July onwards they are being told to do it very differently, which may be difficult for some people.
"But this is very much a young industry and I think it's got a lot of legs."
Tackling the urgent need to upskill
Heat pump engineer and managing director, Matrix Energy Systems
Paul Leedham knows a lot about heat pumps: how to design them, how to install them and how to sort them out when other people have messed them up – as several of the glowing reviews for his company Matrix Energy Systems, on the Which? Trusted Trader site attest.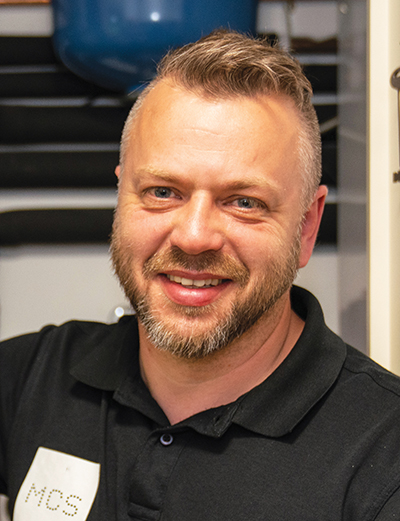 Paul Leedham, Matrix Energy Systems
Set up Matrix Energy Systems in 2009 to design, install and maintain renewable energies; today the company employs nine people.
Undergraduate and postgraduate lecturer on renewable technologies at Sheffield Hallam University since 2012.
Worked as an engineer and project manager at Marconi Telecommunications, Complete Optical and Electronics and Vaillant Group.
MSc in Engineering and Information Technology and BEng in Electronic Systems and Information Engineering from Sheffield Hallam University.
When Leedham set up Matrix Energy Systems in 2009, he quickly discovered that there was a lack of competence in designing heat pump systems. Installers were using a 'rule of thumb' approach based on the size of the house, without calculating heat loss at all, which was resulting in the wrong size of pump being installed.
"No one was doing heat loss calculations. I started doing that for other companies and very quickly found a niche," he says. He went on to recruit and train two more energy engineers from Sheffield Hallam University, where he is a visiting lecturer.
Now the Matrix business model is more focused on installation and maintenance. Since 2013, it has been maintaining, and in some cases upgrading, 600 heat pumps, both air and ground source, for a local authority.
Training will soon be part of the mix too; the biggest challenge the industry faces is a lack of competent installers, says Leedham. "At the moment there are lots of different skills levels among those who are installing heat pumps," he says. "Some people have never been trained. They are not qualified – they are not even plumbers."
Having authored the industry's first heat pump training course for BPEC in 2012, he is working on a competent person's scheme with the Microgeneration Certification Scheme (MCS) and on a new apprenticeship with the MCS and the Ground Source Heat Pump Association. "By 2025, when the Future Homes Standard is released, we will start to see the emergence of the first trained apprentices," he says.
Leedham is motivated by the urgency of climate change: "This planet is not ours; I have to hand it over to my kids and they will have to hand it over to theirs," he says. "We need a step change in training in the UK and I want to influence the delivering of training."
Practicality not preaching helps meet ambitious goals
Carbon Manager, Skanska UK
Conor McCone grew up on construction sites, working for his family's contracting business as a teenager. Perhaps it is those roots which allow him to talk pragmatically to people in all parts of the Skanska UK business and its suppliers.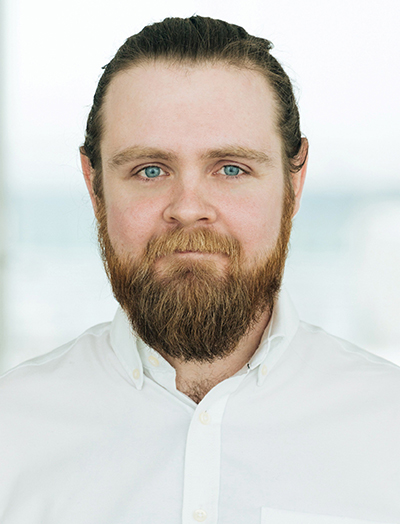 Conor McCone, Skanska UK
UK carbon manager for Skanska UK since 2018; currently studying for an MBA at Imperial College.
Joined Skanska in 2015 as environmental manager; selected as a rising star to work in Sweden for six months as group sustainability analyst.
Worked for mining company DTMT in Australia as environmental adviser.
Worked for family business, F McCone & Sons, as environmental and compliance manager.
BSc in Ecological Science and MSc in Carbon Management from the University of Edinburgh.
"Sometimes carbon management can be overcomplicated; there's too much terminology and jargon," says McCone. "It's just about knowing how to apply a few simple rules to your day job or your company and making sure you set out a strategy."
You will rarely catch McCone preaching, but he is quietly passionate about what he does. Earning big money in one of his early roles as environmental manager with an Australian mining company, he was frustrated that there was no appetite for doing things better. So, he quit to do an MSc in carbon management.
After a stint at Skanska HQ in Sweden, working on group carbon policies, McCone was instrumental in creating Skanska UK's ambitious carbon targets back in 2019. Unlike any competitor at the time, Skanska set its goals based on carbon emissions from its whole supply chain, rather than just its own operations – which increased emissions a whacking tenfold.
Now, others are following that lead. "I am proud of the fact that our strategy has now shifted to other contractors in the industry," says McCone. "It's amazing that it came from a few people, five to 10 of us, who worked on it in the very early days."
McCone had been developing the strategy for 18 months, alongside environmental technical manager David Mason and environment director Adam Crossley. At the time, they wondered whether their proposed strategy would be too ambitious for the business to support.
One of the crucial elements to gaining buy-in was linking carbon and cost, says McCone.
"We created a dashboard that can show every project we have done in the last 10 years, estimate the carbon and the cost and link the two things. So, we could talk to sustainability people and to commercial people," he explains.
Lower carbon measures don't always mean lower cost, says McCone, but sometimes it makes sense to start conversations by talking about those that do. "If you go in all guns blazing, telling people that the planet is doomed and they have to do everything right now, you lose people immediately," he says.
Seeking data patterns that change lives
Data scientist, Sero Energy Systems
It seems like quite a leap from particle physics to domestic energy systems, but it's one that Julien Caudron was happy to make.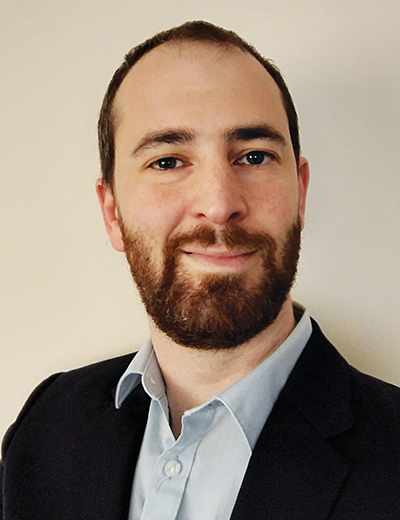 Julien Caudron, Sero Energy Systems
Joined Sero as data scientist in August 2021.
Worked as a data scientist for Energy Systems Catapult in Birmingham for three years.
Worked as a researcher at three different European universities, over six years, looking at data from the Large Hadron Collider at CERN.
PhD in Elementary Particle Physics, from the University of Louvain, Belgium.
"I wanted to move away from the academic side and do something more directly impactful for society," he says. So, he is using skills honed on data from experiments at the Large Hadron Collider at CERN in Geneva – where scientists smash up tiny particles in a bid to better understand the universe – to work out how to best combine and optimise multiple domestic low carbon technologies.
"The role of a data scientist is to look at large data sets and try to understand them, to gain insight and possibly model things so we can repeat them or make predictions," explains Caudron. "The next step can be to build a decision-making algorithm based on that."
Caudron was recruited by Sero Energy Systems in August this year. His task is to work with data from domestic properties where Sero is responsible for controlling and running a cocktail of equipment and systems including solar power, heat pumps, batteries and electric vehicle charging points.
Right now, Caudron is looking for insight and patterns from data which is coming out of Sero's first project in Parc Eirin in Tonyrefail, where some homes have been occupied for a year. As well as looking for ways to optimise the interaction between the different elements – such as when to store generated energy and when to return it to the grid – Sero will advise residents on how to save more money.
"As an owner, it's always difficult to be sure what you are consuming and whether you are using things in the best way," says Caudron. "We will use data from other houses to make recommendations through the app." The app, developed by Sero, is the interface between the householder and the various systems.
Caudron's long-term goal is to contribute to wider understanding of retrofit and energy efficiency issues, such as the reasons for performance gaps between designed and installed systems.
"There are a lot of open questions around how to make all the different smart equipment interact optimally together," he says.
Register for free and continue reading
This is not a first step towards a paywall. We need readers to register with us to help sustain creation of quality editorial content on Construction Management. Registering also means you can manage your own CPDs, comments, newsletter sign-ups and privacy settings. Thank you.