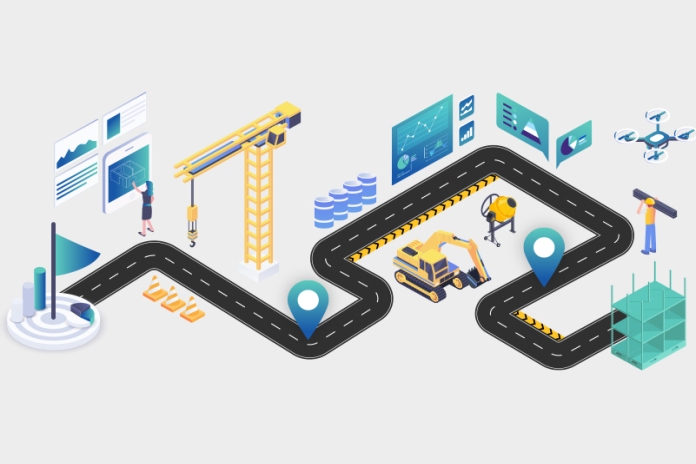 Digital tools can help centralise communication in construction, as the third in this series of CM articles in association with Monday.com explains.

From an outsider's perspective, construction projects may appear straightforward and linear, with clear objectives and logically distributed responsibilities. However, anyone who works in construction knows how much preparation, coordination, and collaboration is involved, and how difficult this is across teams and stakeholders.
The success of a construction project hinges on how effectively stakeholders communicate. Everyone involved, from the office to the worksite, must communicate consistently and frequently throughout the many stages of a project to achieve alignment, monitor progress, and resolve bottlenecks.
Without effective communication, tasks can get dropped or issues may arise without anyone noticing until it's too late to rectify, or the cost of doing so unjustifiable. Team disconnect has the potential to thwart even the most carefully planned construction projects, which is why consistent and clear communication is crucial.
The outsized effect of poor communication
Even non-complex construction projects require highly coordinated communication between stakeholders and teams.
Architects, designers, contractors, subcontractors, supply chain and equipment managers, field workers, and project owners perform different tasks and responsibilities. Without synchronisation across all of them, avoidable bottlenecks will slow progress, hurt productivity, and increase expenses.
Imagine that specific parts arrive at your construction worksite but they are not up to the contractor's standards. Without a system to communicate this feedback back to the supplier so they can quickly replace the parts, there could be a long delay before you proceed, jeopardizing the timeline and creating higher labor and equipment costs.
In addition to communicating across teams, it's also important to keep clients updated. If clients don't receive adequate information or have the opportunity to provide input, the situation could result in a hostile dispute or even litigation.
Project management systems enable a centralized communication approach
Communication is fundamental every step of the way. It's essential during the planning stage, when all stakeholders should get aligned on the objectives, conditions, and constraints of the project. It's also crucial throughout the subsequent phases, when each team needs to report on their progress, share updates, answer questions, and resolve bottlenecks.
The emergence of digital project management solutions have revolutionized how teams communicate. With solutions like Monday.com, all stakeholders can communicate effectively, maintain alignment throughout the project, and ensure they stay up-to-date without consuming extra time. In fact, Monday.com makes communication faster and easier.
Monday.com's visual and easy-to-use boards act as both a communication forum and a knowledge center for stakeholders. Individual contributors can easily upload and share documents, images, and reports, which anyone with access to the board can view with a click. Comment sections centralize questions, answers, and updates, and alert team members when there's new information.
By centralizing communication, busy workers don't need to sift through convoluted email threads for instructions, manage floods of instant messages to stay abreast of daily updates, or repeat the same information to different team members in separate conversations. monday.com empowers teams to boost efficiency while ensuring clarity across all workers — whether they're in the office or in the field.
Register for free and continue reading
This is not a first step towards a paywall. We need readers to register with us to help sustain creation of quality editorial content on Construction Management. Registering also means you can manage your own CPDs, comments, newsletter sign-ups and privacy settings. Thank you.