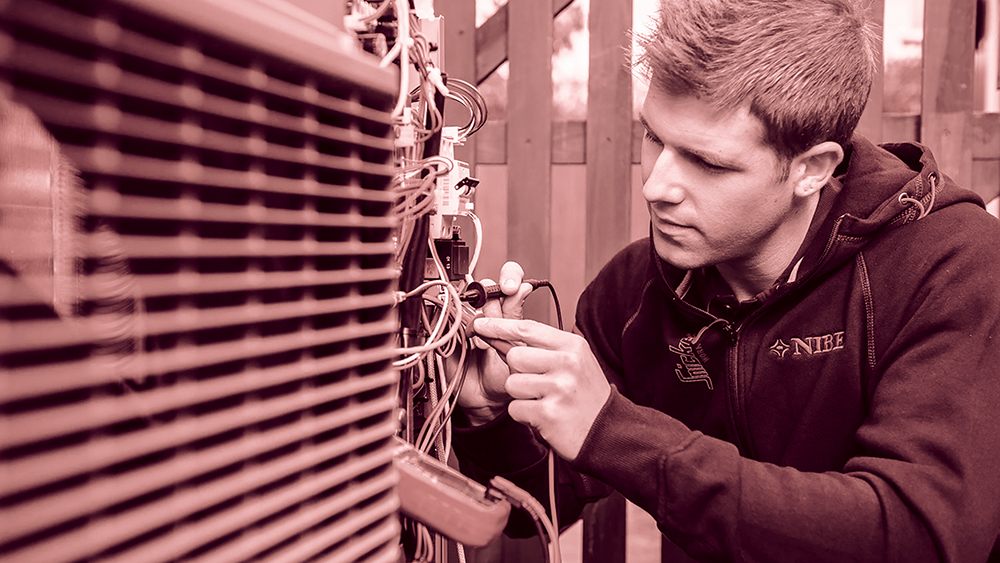 As Glasgow gears up to host the UN Conference on Climate Change, Neil Gerrard examines how well prepared construction is to deliver the heat pumps the government hopes will form a key plank of its net zero emissions strategy.
The government's much-heralded 'green revolution' is coming. As the UK prepares to host the UK's Climate Change Conference (also known as COP26) in Glasgow this month, it has already set out targets to achieve net zero carbon emissions by 2050.
The built environment – and in particular low-carbon technologies such as heat pumps within buildings both new and existing – is key to the government's ambition (see box).
The government has set an ambition for 600,000 heat pumps, both ground source and air source, to be installed a year by 2028.
But there are fears a skills gap exists. A survey conducted by CM in June this year found that four in five professionals saw net zero training as "inadequate". A CITB-commissioned report on construction skills for net zero, published earlier this year, warned that "immediate action" is required and called for "radical change" in the sector, with more support across the board for retrofit skills.
The Heat Pump Association (HPA) says that it can bridge the gap between the current shortage in skills and training, to meet the government's ambition of 600,000 heat pumps a year in 2028. Recently the body, which represents heat pump manufacturers, announced a new training course run by training sites and colleges, across which over 40,000 heat pump installers could theoretically be trained each year.
However, a spokesperson for the HPA notes: "This would be enough to reach net zero however it is important that the government puts in place a stable, long-term policy framework that provides installers with the clarity and confidence they need to want to invest in this training. The HPA is hopeful that this certainly will be provided in the Heat and Buildings Strategy." The delayed strategy is due to be published imminently.
That is a point echoed by Ian Rippin, chief executive of the Microgeneration Certification Scheme (MCS), which certifies installers of microgeneration retrofits up to 45KW, mainly in the domestic market.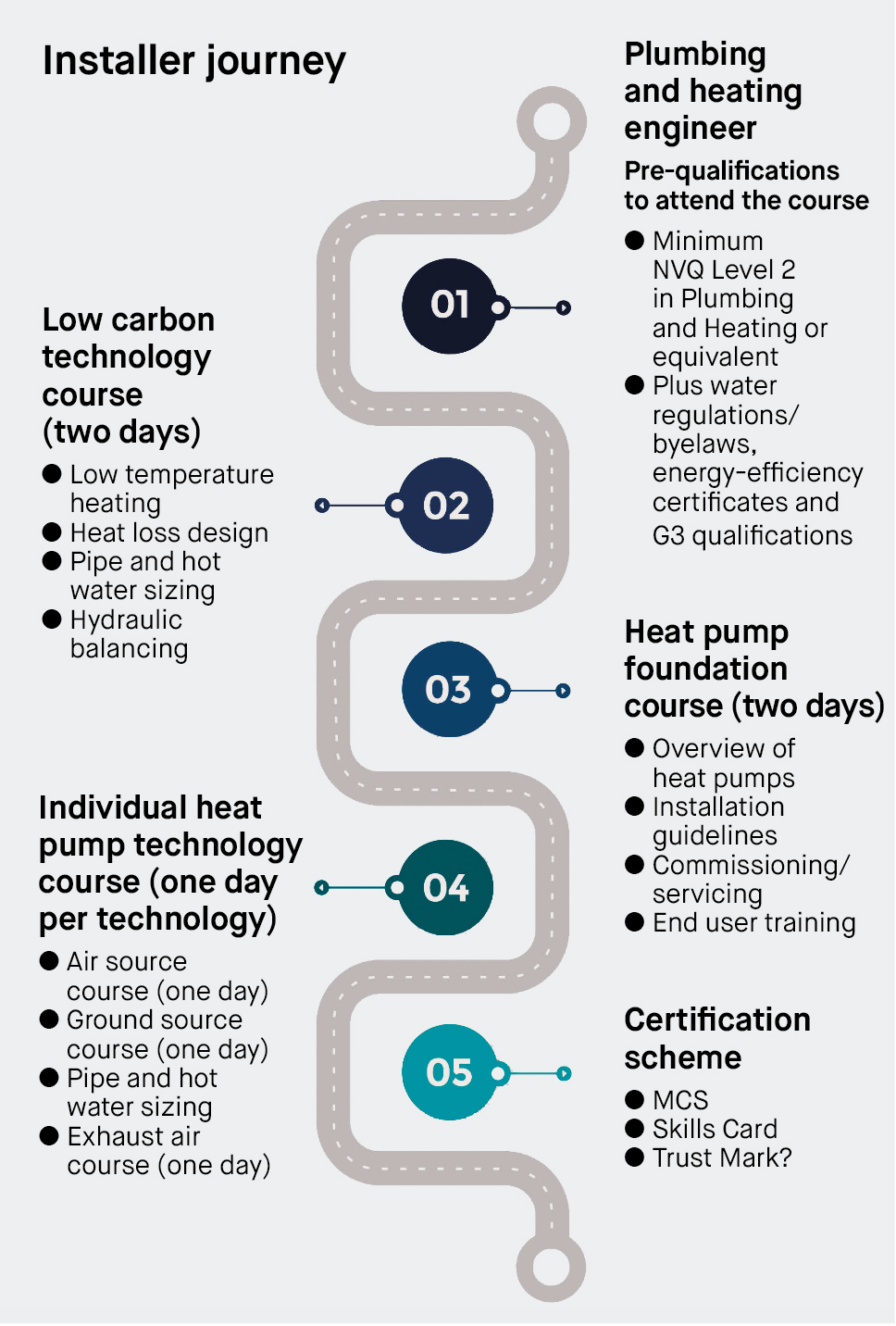 He warns: "Training providers are reluctant to take these courses on because it is about bums on seats. If there is not the demand, you are not going to get the provision. The government needs to back up its ambitions with robust policy. We need to incentivise the market's conversion to clean heat."
Rippin suggests one-off payments to consumers to offset the larger capital cost of heat pumps as a key measure to kickstart demand in the market.
Rippin says: "The market for heat pumps is key but it is very small." He points out that there are around 1,000 contractor businesses registered with MCS today, mostly offering air source heat pumps (around 30% also install ground source heat pumps).
Most businesses are small and on average can manage around two to three installations at once. To meet the government ambition of 600,000 heat pumps a year by 2028, Rippin calculates that around 30,000 qualified installers will be required in the domestic market, equating to around 10,000-15,000 contractor businesses.
While some large "super-installers" may emerge in the coming years, training so many people is a huge challenge. Rippin says the MCS has helped facilitate the development of a conversion installation course for existing plumbers and heating engineers, as well as trailblazing a new apprenticeship. It is also working with Exeter University on a design course – another key component.
The co-ordination of training is also a concern for Actuate UK, the building services alliance made up of organisations including the Building Engineering Services Association (BESA), BSRIA, the Chartered Institute of Building Services Engineers (CIBSE) and the ECA.
Potential number of installers needed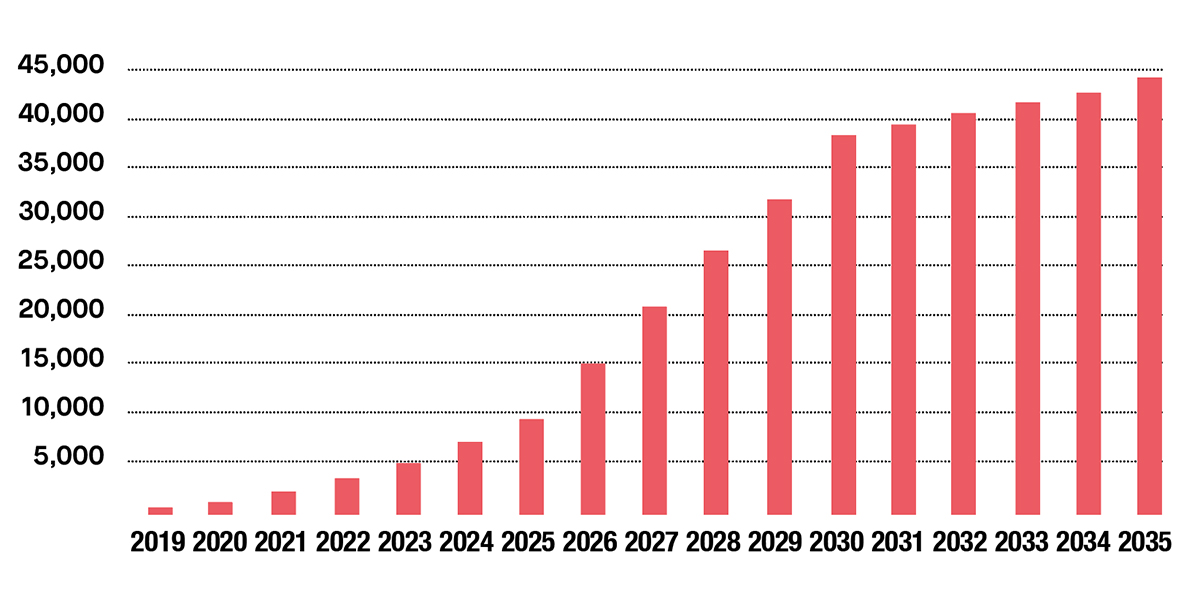 Helen Yeulet, spokesperson for Actuate UK and director of training and skills at BESA, warns that the government hasn't fully considered how new technologies will require cross-discipline experience among installers – for example air source heat pumps that require both electrical and plumbing knowledge.
Yeulet says: "Achieving government net zero targets puts unprecedented pressure on our sector. It broadens the requirement for new 'green collar' skills. It shows the importance of collaboration, with separate technical skills needing to be applied as part of whole building solutions and not as individual components. This poses a new type of training challenge, but plays to Actuate UK's strengths as a cross-industry organisation that focuses on moving away from the 'silo mentality' that has weakened our response to the climate challenge so far."
Meanwhile, Luke Osborne, energy and emerging technologies solutions adviser at the Electrical Contractors Association (ECA), points out that scepticism towards new technologies among some trainers, perhaps late in their careers, needs to change.
"There are some very good employers who have apprenticeship programmes but they are expensive and there should be some additional support for employers," he says, adding: "Industry should have more of a say in how training is delivered to freshen it up."
To meet government targets, around 30,000 qualified installers will be required by 2028 in the domestic market
The consultant's perspective
"We are aware of a skills shortage at all stages, from understanding and specifying zero-carbon technologies through to their installation and maintenance. At RLB, we are aiming to embed sustainability into each of our different disciplines, training all of our consultants to be able to have at least a five-minute initial conversation with the client to get sustainability on the agenda early.
"We have an issue in terms of issue of resource across the board – consultants, installers, everyone. We need to work on incentivisation and how to attract people into the industry early on."
Heather Evans, national head of sustainability, RLB
The contractor's perspective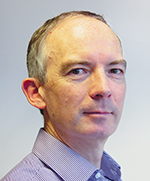 "Heat pumps are a significantly more complex technology than solar, battery storage and EV charging points, particularly in the retrofit scenario. We face a potential supply chain pinch point because we have the challenge of retrofitting a significant number of homes but also delivering what the new build industry needs.
"To what extent the government supports individuals financially to install heat pumps is a political question but there is no doubt that heat pumps is the way it is going. From a training point of view, the industry should lead the government. The construction industry should invest in training now because there is no doubt it will be needed."
Alasdair Donn, head of building performance, group sustainability, Willmott Dixon
Register for free and continue reading
This is not a first step towards a paywall. We need readers to register with us to help sustain creation of quality editorial content on Construction Management. Registering also means you can manage your own CPDs, comments, newsletter sign-ups and privacy settings. Thank you.