The ability of a wall-crawling robot to remove graffiti from bridges is to be put to the test in a new National Highways trial.
The Hausbots robot is one of a number of ideas to take part in the trial after winning a competition run by National Highways, formerly Highways England, according to BIM+.
Graffiti on bridges and next to roads can be distracting for drivers and the clean-up often requires lane or road closures, disrupting traffic, and it is costly – up to £10,000 to remove one instance of graffiti, National Highways stated.
Earlier this year, the authority launched a competition with Kier and Connected Places Catapult to identify new solutions for dealing with graffiti.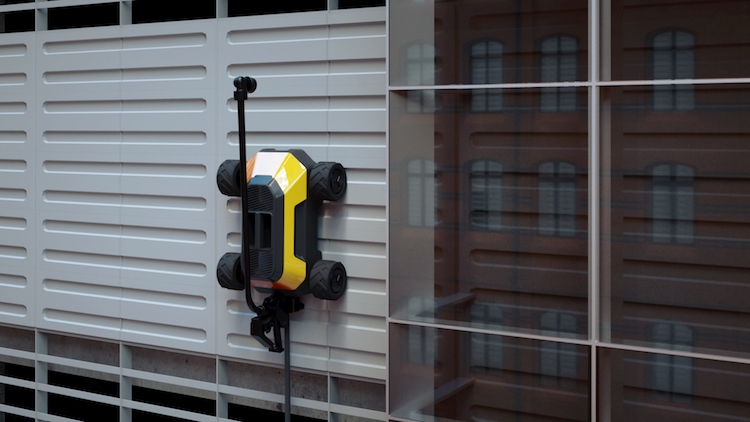 More than a dozen companies submitted their concepts and products, and the five most promising entries have now been announced, among them the Hausbots robot. The winning ideas will each get up to £30,000 to invest in taking their products forward.
HausBots
Wall-climbing robots will be used to apply graffiti-preventative paints, reducing the risk of such hazards as working at height for the workforce.
Innovation Factory
Audio sensors will detect the application of graffiti to alert authorities and trigger audio and visual deterrents.
Nano Eco Group
A 3D chemical coating to prevent the adhesion of graffiti to a variety of surfaces and films.
Powerlase
This innovation uses lasers to remove graffiti from surfaces while preventing additional damage to the finish of surface coatings and films.
Sensing Feeling
AI software analyses behaviour to detect vandals at graffiti hotspots when deterrents such as alarms and lights can be activated.
Each of the winners will use the competition funding to develop their idea and produce a feasibility study for National Highways, which will then decide the most promising products to take forward for use on the road network.
Annette Pass, head of innovation at National Highways, said: "We are very excited about taking forward these fascinating, innovative solutions that could help us tackle the relentless problem of graffiti which takes up time and money that would be better spent elsewhere on our network.
"We are confident that as we develop these ideas further we will be able to identify modern solutions to this age-old problem."
Tom Tideswell, head of innovation at Kier, said: "Tackling graffiti is an everyday labour-intensive occurrence for our maintenance teams and we are always on the look-out for innovative solutions to speed up the identification and reduce time on site removing graffiti.
"The variety of applications chosen to be taken forward can potentially increase removal productivity, reduce exposure to our workforce and reduce the need for traffic management which will improve journey reliability times for road users. I am looking forward to seeing how these potential solutions progress and enhance the variety of methods of prevention and removal of graffiti."
Register for free and continue reading
This is not a first step towards a paywall. We need readers to register with us to help sustain creation of quality editorial content on Construction Management. Registering also means you can manage your own CPDs, comments, newsletter sign-ups and privacy settings. Thank you.