Three huge MEWPs with a working height of 90m have been used by French hire firm Joly Location to assist with the dismantling of scaffolding at Notre Dame in Paris, after the cathedral was severely damaged by a blaze in 2019.
Joly Location first provided a 90m MEWP to the site in 2019 to install sensors on the damaged scaffolding to measure and monitor movement.
The MEWPs were also used for pressure studies, to assess building weakness, and to safeguard stone and gargoyles.
Scaffolders and engineers decided to belt the scaffolding to prevent it from falling outwards into neighbouring streets or from collapsing on itself, which could have led to the destruction of the cathedral's vaults. To assist with the work, a total of three 90m MEWPs were eventually used – the only machines capable of reaching the centre of the damaged scaffolding by climbing more than 50m and then reaching out by 30m and 15m-20m downwards into the structure.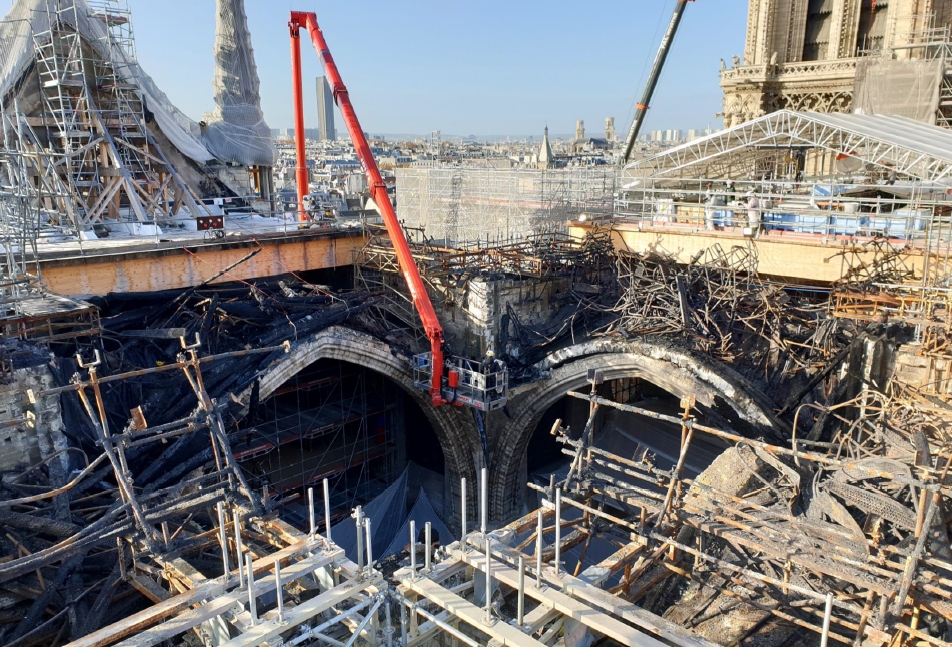 The work was carried out over several months and was assisted by mobile cranes and a tower crane. The work lasted until December 2019 before the dismantling of the scaffolding began in 2020. Scaffolders cut the scaffolding, made up of a total of 50,000 tubes weighing 200 tonnes, into small pieces. The MEWPs were in place as a means of escape for the rope access workers who were cutting the scaffolding.
In September 2020, work was intensified into two eight-hour shifts to ensure work could be finished before bad winter weather set in. The scaffolding was completely dismantled by 24 November 2020.
The works have been overseen by a publicly owned company headed by George Georgelin, with technical supervision by French scaffolding firm Europe Echafaudage, directed by Didier Cuisset. The MEWPs remained on site from June 2019 until January 2021, working with two Ruthmann T900HF mobile cranes, as well as two T900HF supplied by German hire firm Gräber and Roggermaier.
Notre Dame is thought to be the only site in the world where four T900HFs have been brought together to be used at the same time.
Register for free and continue reading
This is not a first step towards a paywall. We need readers to register with us to help sustain creation of quality editorial content on Construction Management. Registering also means you can manage your own CPDs, comments, newsletter sign-ups and privacy settings. Thank you.