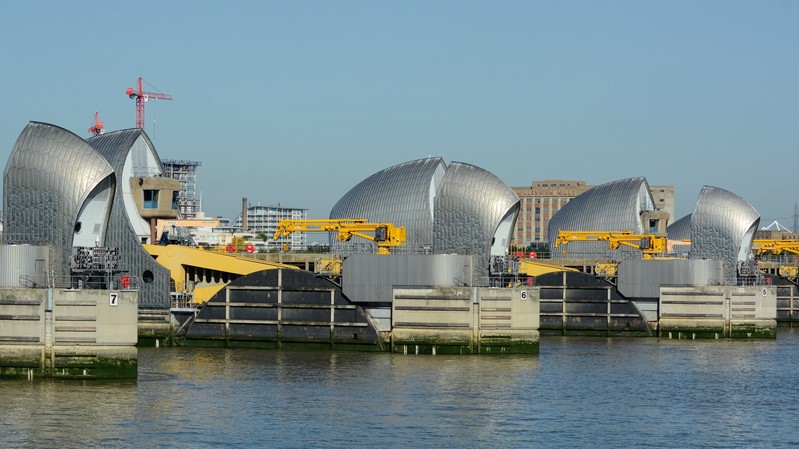 The Thames Barrier in south-east London, one of the largest movable flood barriers in the world, was completed 40 years ago this year.
The barrier, which spans 520m across the River Thames near Woolwich, was designed by Charles Draper and engineering company Rendel, Palmer and Tritton. It was constructed by Costain, Hollandsche Beton Maatschappij (HBM), and Tarmac. Cleveland Bridge, which last year fell into administration, built the circular flood gates.
The barrier divides the river into four spans, each of which is 61m across. It protects 125 sq km of central London from flooding caused by tidal surges. The 10 steel gates can be raised into position across the river. The larger main gates each weigh 3,300 tonnes and stand as high as a five-storey building. The gates are hollow, filling with water as they sink, and emptying as they emerge from the river.
Construction work on the project began in 1974, with completion in 1982. The barrier was used for the first time in 1983.
The barrier has closed a total of 205 times since it became operational (correct as of February 2022). Of these closures, 114 were to protect against tidal flooding, and 91 were to protect against combined tidal/fluvial flooding.
During the barrier's construction, the Greater London Council (GLC), which managed the barrier, produced a documentary about the build. The documentary, split into three parts, can still be viewed on YouTube (above).