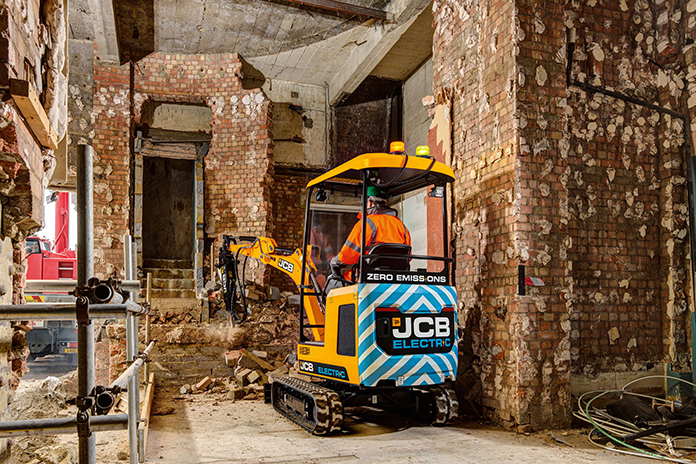 Organisations including Willmott Dixon, Colas and the Chartered Institute of Building (CIOB) have called for a "clean recovery" from covid-19, harnessing more electric, zero-emission construction equipment.
They are among a group of companies to add their support to a new report, entitled An Electric Decade in Construction, published by Hyperdrive Innovation, a UK-based designer and manufacturer of lithium-ion battery technology.
The study found that the covid-19 pandemic has injected a "renewed sense of urgency" into existing challenges the industry has faced in recent years, including tightening air pollution legislation, meeting carbon emissions targets and an increasing demand for infrastructure.
The report also found that the next ten years in construction will be centred around four key themes:
Speed: Delays caused by covid-19 mean that projects will need to increase productivity to meet deadlines and avoid unwanted additional costs.
Safety: The pandemic has shone a spotlight onto the dangers of air pollution, which the report claimed would accelerate the industry's move away from diesel engines and generators and towards cleaner, quieter electrified machinery.
Sustainability: Stricter engine and emissions legislation to meet climate targets is driving the industry away from its reliance on fossil fuels.
Simplicity: The industry expects an uptick in demand for a 'modern methods' approach to construction, using prefabricated, standardised building components developed off-site, to simplify and clean up construction processes.
Caroline Gumble, chief executive of the CIOB, who also offered her reviews for the report, said: "Covid-19 has given us the opportunity to put sustainability and innovation at the heart of strategies going forward. It has really increased the urgency to improve."
Jaimie Johnston, director and head of global systems at Bryden Wood said: "The deployment of quieter construction machinery opens up the prospect of extending the hours that certain equipment is permitted. The potential productivity increases this would lead too could be very important."
And Michael Cross, head of partnerships and innovation at Willmott Dixon added that electric equipment could also offer potential cost benefits to construction. He said: "Cost is always an important factor. Broadly speaking, powering a construction site via electricity costs around 25% less than using a diesel generator, and for big projects that require a lot of time on site, this can make a big difference."
Mike Pitts, deputy challenge director Transforming Construction at Innovate UK said that construction, traditionally reluctant to make use of the latest innovations, was gradually starting to embrace technology. He said: "Recovery from covid-19, could accelerate the adoption of technology to help speed up construction processes."
Other companies and organisations to lend their views to the report were:
Nordic Construction Company
BAT Kartellet
Snorkel
Suncar HK
Bouwend Nederland
Chalmers University of Technology
Asjes B.V.
Fédération Nationale des Travaux Publics (FNTP)
Register for free and continue reading
This is not a first step towards a paywall. We need readers to register with us to help sustain creation of quality editorial content on Construction Management. Registering also means you can manage your own CPDs, comments, newsletter sign-ups and privacy settings. Thank you.