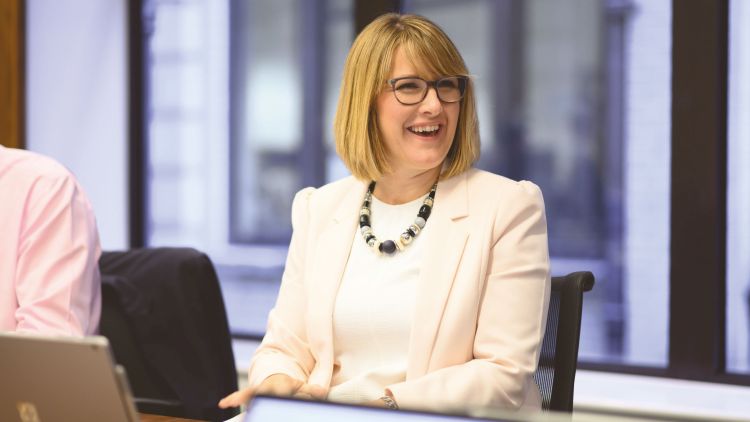 There is so much to be learned in construction from being proactive and asking questions, says Jo Weston MCIOB, operations director at Willmott Dixon Interiors.
What made you go into construction?
Growing up I always had an interest in construction, my aunt was a quantity surveyor, which gave me a good visibility of the role.
During my A Levels I decided I wanted to work in a role around finance, I had an offer for a position at Barclays bank, but opted for the management trainee scheme at Willmott Dixon, where I have spent the last 29 years of my career.
Starting on the trainee scheme, I progressed into surveying, before switching into customer management and operations, becoming a director for the business just over six years ago.
What do you remember from your first project?
I remember being seconded to a project on day two of my employment! It was a site in Luton where we were building 75 dwellings for two housing associations.
Despite it taking place 29 years ago, I look back at my first project fondly. I learnt so much about how the building process works and met so many great people, some I am still in regular contact with now.
What was the best advice you were given?
To be inquisitive and ask lots of questions. There is a misconception that asking lots of questions shows a weakness, I see it as the complete opposite, there is so much to be learnt from being proactive. Secondly, things don't always go right, and when this happens it is okay, providing we learn from our challenges.
Which project you worked on are you most proud of?
In the mid-nineties I worked on our largest-ever housing project, in Camden. The £10m project was to build 202 houses in a highly urbanised location, this bought about a huge amount of complexities and challenges to overcome, I learnt a lot from working on the project and it really helped to shape my career.
"My advice to someone starting today is to ask lots of questions – there is so much to be learned from being proactive."
Jo Weston, Willmott Dixon Interiors
Is there anything in your career you would do differently now?
The construction industry has changed significantly in the last couple of decades. Looking back, I feel I should have embraced digital construction earlier. This technology has now become the norm, we need to keep one eye on the future as I'm sure the industry will look very different in 20 years.
What advice would you give to someone starting in construction today?
My daughter has just starting out in the construction industry, which I am extremely proud of! My advice to her, as I would to anyone starting their construction journey is to embrace the opportunity with eyes wide open, ask lots of questions and don't expect to know everything straight away.
Secondly, there are many different career routes within the industry. I started on a trainee scheme before moving into surveying, followed by customer management and operations. It is important to embrace the many career pathways a career in construction offers.
What one thing would you change to make careers in construction more appealing?
The industry has come a long way since the turn of the century, welfare facilities have drastically increased, and we are seeing an industry wide drive for a more diverse sector.
One of the challenges we face are to influence young people to see the sheer number of different careers the industry supports, it's not all muddy boots (although getting onto site is great!). We need to be relentlessly raising the industry's profile in schools and across adjacent sectors to target people wanting to change sector later in their career.
What has changed the most about construction since you've been working in it?
The technology we use in construction has changed immensely, not just in the way we design buildings, but how we utilise offsite manufacture to reduce the timescale and cost of projects, how we manage process and procedures and how we communicate with each other.
Through the pandemic we have seen a mini revolution in the way we work. Even the most technophobic person has had to get used to Microsoft Teams and the nature of self-isolating and the 'pingdemic' has meant many site personnel as well as those based in offices have needed to adapt a more agile way of working. There are a lot of good learnings that will help shape the way we work in construction over the next decade.
What's the most valuable training you've received and why?
There are two standout programmes that spring to mind. In 2015 I led the creation of a quality training academy in Birmingham, working with British Gypsum and Rockwool, improving knowledge and skills in trade aspects such as partitioning and fire prevention. Working in a customer facing role, it was valuable to further my understanding of how these requirements fit together.
Secondly, I have found personal development around the softer aspects of leadership to be valuable. It is important to be self-aware and understand your strengths and weaknesses, to identify areas to improve.
Register for free and continue reading
This is not a first step towards a paywall. We need readers to register with us to help sustain creation of quality editorial content on Construction Management. Registering also means you can manage your own CPDs, comments, newsletter sign-ups and privacy settings. Thank you.