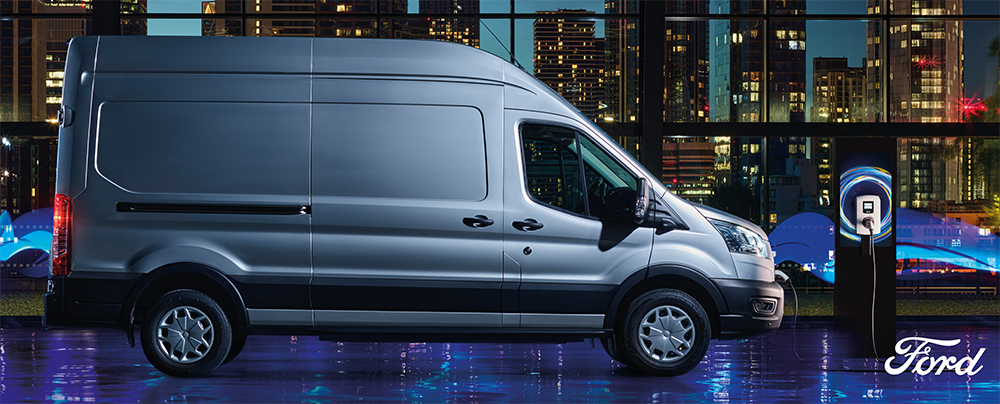 It may not seem like the most opportune time to be investigating electric vehicles for your fleet, but the needle is moving rapidly and the move from diesel or petrol vehicles cannot be put off indefinitely. Ford Fleet Management offers some pointers to simplify the key considerations.
Construction is having a tough time at the moment with falling outputs due to price increases, product shortages and a lack of skilled labour. Not to mention the constant drive for development, conservation and improvement of the built environment for the benefit of society. It's a heavy weight to carry – and now construction has to wrestle with electrification for cars and light commercial vehicles (LCVs) on their fleets.

How do we go about tackling electric vehicles (EV)?
There is much to consider granted, but it doesn't have to be onerous and it will complement an organisation's green credentials and its 'road to zero' (benefitting society). Electric doesn't have to cost you money either when partnering with Ford Fleet Management (FFM). FFM is a partnership between Ford Motor Company and ALD Automotive. Ford has been commercial vehicle market leader for the past 55 years. It has unrivalled insight as to how fleet customers choose and use their vehicles.
ALD Automotive has a long history of providing innovative funding and fleet management products to fleets across the globe. FFM will leverage these strengths to support fleet operators with their integrated fleet management system, tailored to customer's specific needs.
FFM's team of expert consultants with talk you through the steps required throughout your journey and provide you with practical and financial calculations to help support your future decisions.
What help can Ford Fleet Management provide?
Their team of EV consultants will work with you to consider the day-to-day role of your vehicles, including distances travelled, location, weight of goods and hours of operation. Charging infrastructure is a key factor with home, depot and public charging being taken into account and solutions are available for each scenario. By cross referencing this information against the database of vehicle specifications, advice on the most suitable EVs can be provided.
Finding alternative vehicles based on range, volume and payload only answers the operational question and not financial. However, Matt Saunders, corporate account manager at FFM, has the answer: "By providing Total Cost of Ownership (TCO) analysis, we can demonstrate the difference in cost between an ICE vehicle and the selected EVs. Whilst EVs may appear initially expensive, our TCO analysis takes into account all costs associated with running the vehicle, including finance, service, maintenance and repairs, fuel, benefits in kind and NI contributions (where applicable). From studies previously run, EVs can be very cost effective."
How much does this expert consultancy cost?
Ford Fleet Management wish to build long-term relationships with their customers by demonstrating their depth of knowledge and professionalism and so are offering this consultancy service free. There is no charge and no obligation.
I'm not sure I'm ready just yet, is there an interim step?
Many companies are understandably nervous about infrastructure and whether they, their drivers or the public network are ready. Before committing long term, why not take an electric vehicle for a month and test the infrastructure, without any commitment, just send it back after a month or so. FFM's Flexible Leasing product allows you to experience daily life living with an EV without tying yourself down. Talk to one of their consultants today.
This paid partner content has been created by Construction Manager in partnership with Ford Fleet Management
Business customers only. Funding/finance solutions provided by Ford Fleet Management UK Ltd, Oakwood Drive. Emersons Green, Bristol BS16 7LB. Ford Fleet Management UK Ltd registered in England no.12782519.Finance subject to status Guarantees and indemnities may be required.