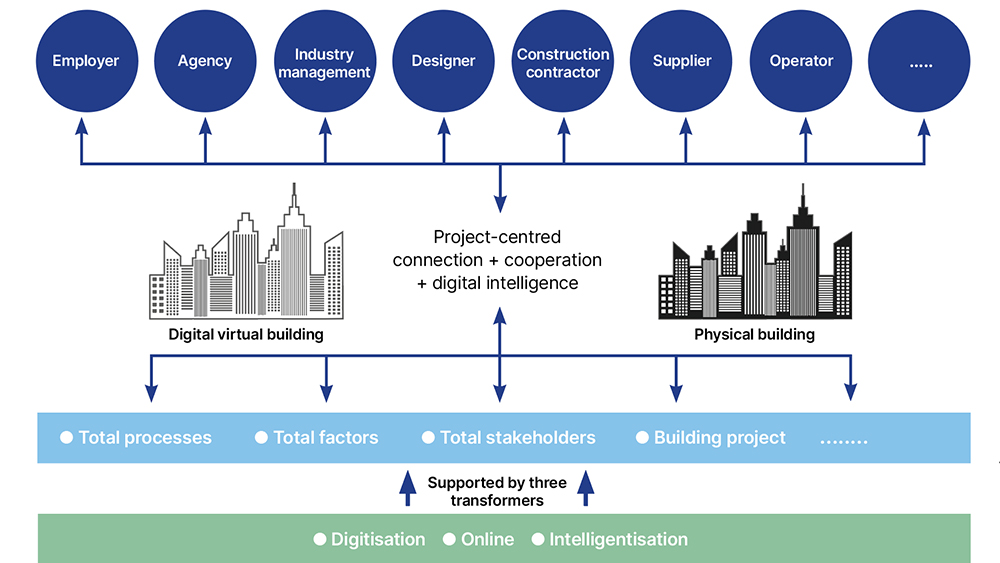 Digital building platform service provider Glodon explores the challenges and solutions of the new digital transformation in construction.
As one of the largest industries in the world, construction continues to lag well behind other sectors in the adoption of technology, despite its potential to significantly improve project efficiency and quality, save costs and cut waste and emissions.

In the foreseeable future, a changing environment, technological innovation and unpredictable interruptions will keep triggering further transformation. Enterprises need to adapt to stay in the game.
Possible challenges of transformation
This hesitancy is not due to a shortage of innovation in the sector. Indeed, emerging solutions are available to recreate how we plan, design, estimate, construct, operate and maintain built assets.
Lack of motivation can often be a result of a number of factors: lack of alignment and cooperation of all stakeholders, where a project involves all kinds of agencies and units; large and unstructured amounts of data to be processed; the transient nature of projects, which are all unique; a lack of qualified staff; as well as considerations of cost.
Digital transformation requires several adjustments: changing the relationship between upstream and downstream in the industry chain; changing the whole process of collaborative relationship in the project; and changing production relations within the organisation.
Digital building strategy
These changes lead to the development of the digital building – an industrial strategy that uses BIM, cloud computing, big data, IoT, mobile internet, AI and other information technologies to lead an industrial upgrade that is complemented by advanced lean construction.
This transformation of production methods will drive the construction process from physical to digital twin construction, followed by changes in management and transaction methods and a business model shift towards large-scale customisation and service-oriented construction.
Through the effective integration of personnel, processes, data, technology and business systems, the digital building allows the digitalisation, networkisation and intelligentisation of the whole process – a new digital infrastructure for transformation.
Digital transformation of the construction industry is not the simple application of new technology, but an all-around transformation of development concept, production, management, business and organisation method.
Improving core competence
The digital building platform is coming to close the gap in the industry and boost industrial transformation through a more integrated, holistic and socially driven approach, which allows us to innovate in planning, construction, and management, driving our cities to become autonomous, controllable, reliable and sustainable places.
The future is here. Can you afford to wait?
This article has been produce by Construction Management in association with Glodon. www.glodon.com/en
Register for free and continue reading
This is not a first step towards a paywall. We need readers to register with us to help sustain creation of quality editorial content on Construction Management. Registering also means you can manage your own CPDs, comments, newsletter sign-ups and privacy settings. Thank you.