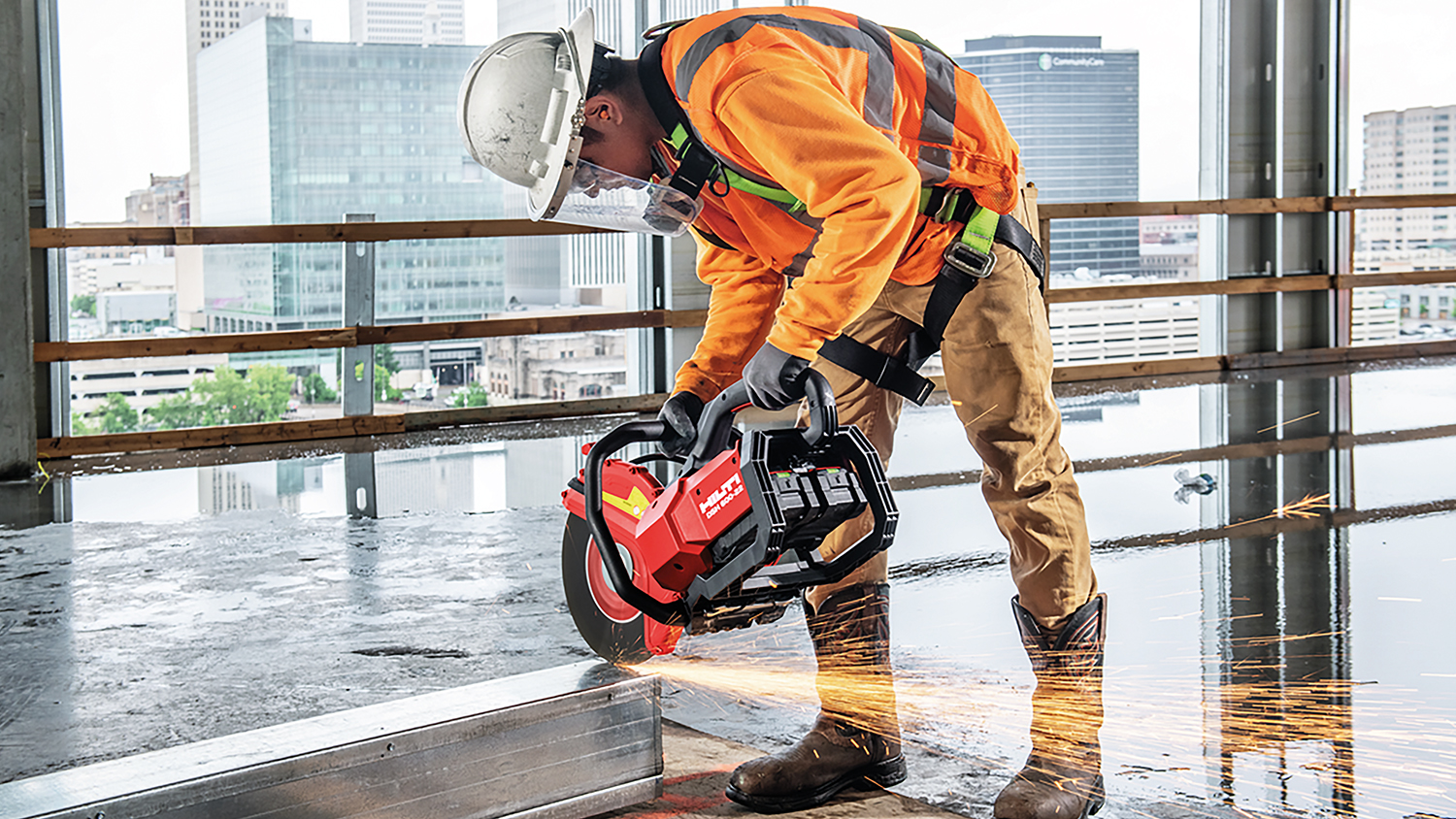 The construction sector knows it's missing a trick when it comes to productivity. Thibaud Lefebvre, Hilti's GB vice-president, tells Hamish Champ how his company's smart tools can help the industry slash time-wasting and work more sustainably.
The challenges facing construction – coping with tight schedules and labour shortages, defending margins, managing risk and doing things as efficiently and as environmentally responsibly as possible – are all too familiar to companies in the sector. Important as these issues are, the industry's poor productivity record is instrumental in holding back its fortunes.
Thibaud Lefebvre, the newly appointed vice president of tool manufacturer Hilti's GB operation, argues that the reason construction productivity is stagnating, lagging behind most industries from agriculture to retail, is simple.
"You have many stakeholders working on a site, all using a multitude of systems. You have workers who aren't as productive with their time as they could be – around 70%, we believe, of unproductive behaviour is due to missing information, materials or tools. And then you have poor communications between workers
on site and those in the office."
Much of this can be overcome if the industry embraces digitalisation, Lefebvre argues. Hilti commissioned research which showed its customers' adoption of digital working was held back by two factors: first, a lack of integrated solutions – firms were working across numerous software platforms at any one time, leading to duplication, time delays and even mistakes.
The second issue centred on clients struggling to implement new software packages. Barriers to the adoption of new software include an absence of integrated solutions and critically, says Lefebvre, a lack of management coaching in digital technology.
Working directly with clients
Hilti's strategy of having a direct relationship with its customers is a key factor in solving both these hurdles to success. As Lefebvre says: "We don't go through big distributors. We work directly with clients. That change management element, which is so important in the adoption of new technologies, is supported by our field teams. More than half of our total workforce are out there every day, supporting customers, job sites, offices. We are supporting every step of their journey."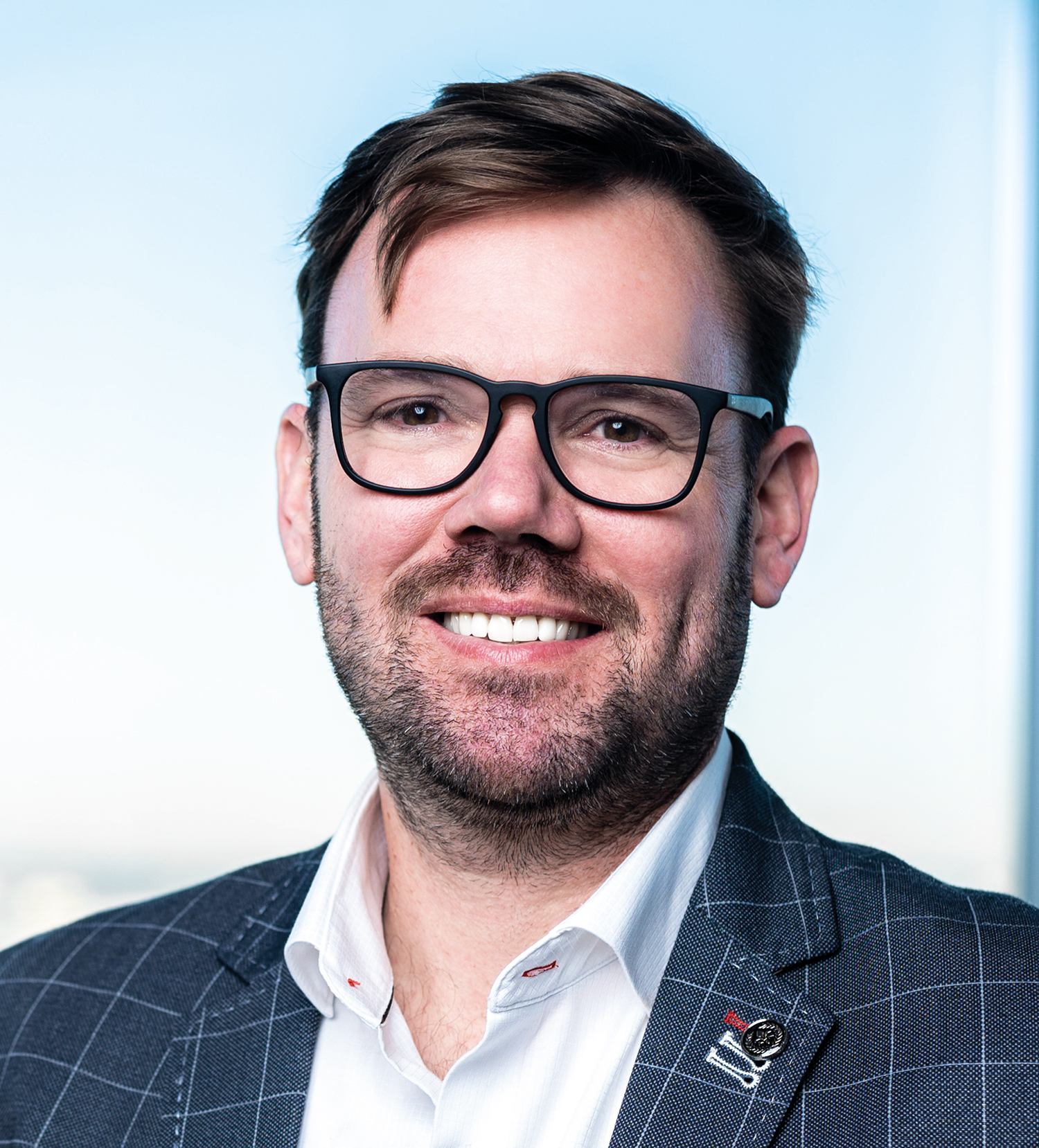 "We don't go through big distributors. We work directly with clients. More than half
of our total workforce are out there every day, supporting customers, job sites, offices."
Thibaud Lefebvre, Hilti
Three things make Hilti a great productivity partner, says Lefebvre: "Our dedication to the industry; a commitment to innovation, which sees us invest $500m [£407m] every year launching more than 100 new solutions, connecting hardware, software and services together; and that direct relationship with our customers."
Hilti can enhance the profitability of a client by boosting the degree to which it works digitally. Its systems support a job site team's ability to plan and delegate tasks, while its resource management capabilities support the management of assets, commodities and consumables. Hilti also works with customers on design, construction and prefabrication.
"We help clients increase many minutes of productivity per hour, using the best performing tools and applications," says Lefebvre. Which leads neatly into a discussion on Hilti's new generation of battery-powered tools and how they can enable teams to work more productively.
Cordless battery platform
Across 2022 and 2023 Hilti will have launched over 100 new cordless tools using its state-of-the-art Nuron 22V battery platform. "You have the same performance as a corded tool," says Lefebvre of the system, "along with uncompromising health and safety."
Hilti's tools are 'smart', using digital communication technology to alert operators when the battery is running low via a 'state of health' function. "We can radically reduce the number of steps it takes to become aware of a battery's condition, when it goes below 60% capacity, and the time it takes to supply a replacement. Given the number of tools a company might be using, this can save a lot of money – and, crucially, it also enhances productivity," says Lefebvre.
In addition, digital processes including near-field communication (NFC) systems, where tools have inbuilt chips; and Bluetooth, which connects the tool with the database via a sensor tag. And wifi technology can advise a company when and where a tool was last charged.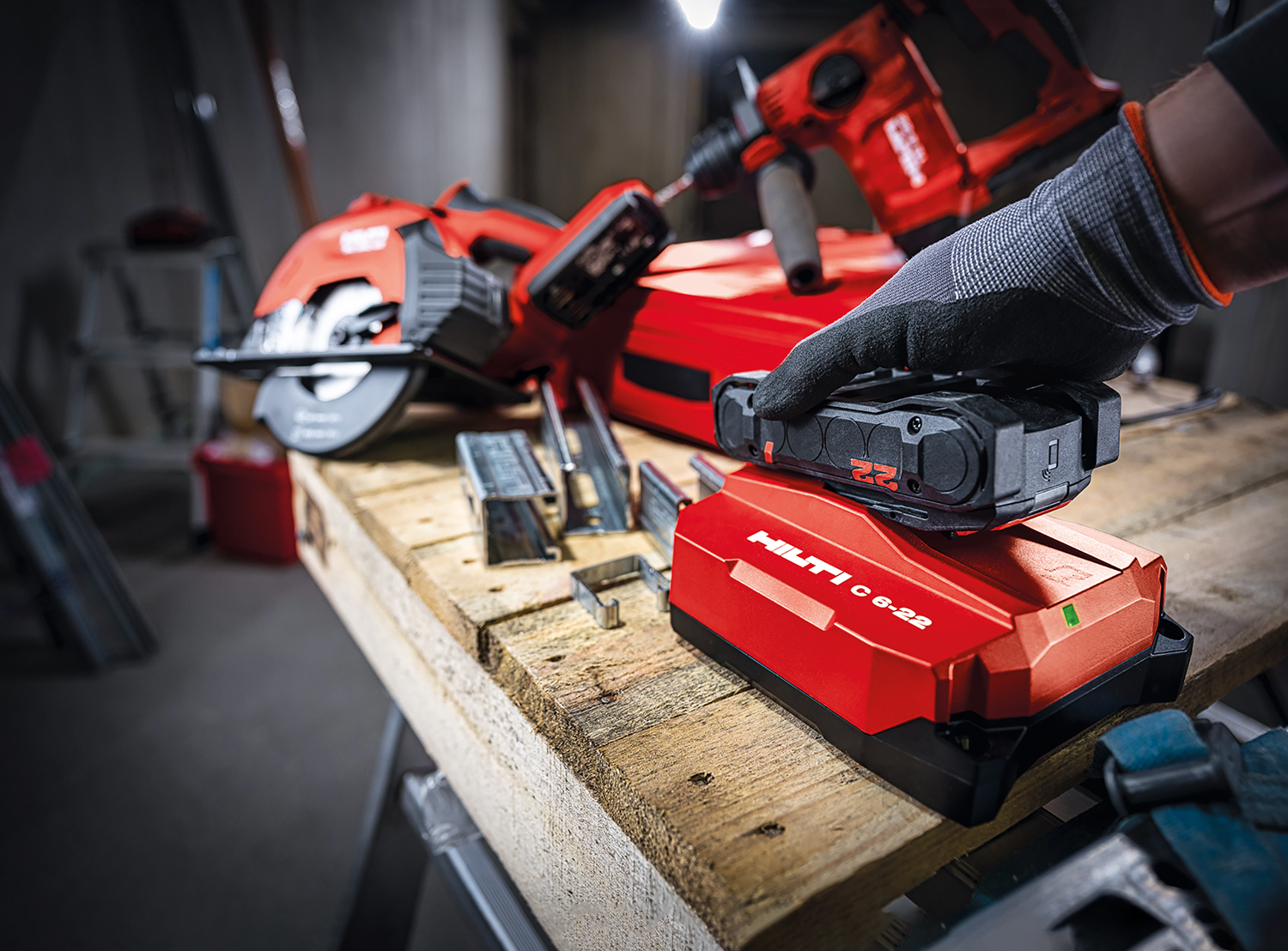 These also help with locating tools and helping to find out how many are lying idle. This can optimise the use of assets worth hundreds of thousands of pounds. Checks can be carried out by location, asset group or worker.
Managing tools in this way is part of Hilti's ON!Track system, which the company says is the largest software system for asset management in the world, serving 16,000 customers.
Says Lefebvre: "Companies can integrate ON!Track with their own enterprise planning system in order to manage small tools and equipment, along with materials, labour and consumables, thanks to the strategic partnership we have established with Trackunit, the world's largest telematics device provider."
The sensor tags and software work not just on Hilti tools but across all different brands and equipment both onsite and in vans, ultimately sharing all the information with the offices and warehouses.
"The strategic partnership with Trackunit will enable full automation of tracking, managing and optimising all kind of assets, Hilti or non-Hilti assets, including heavy equipment and vehicles through telematic devices leveraging GPS technology. There will be no more lost tools due to mismanagement and automatic transfers between vans and warehouses," says Lefebvre.
This 'live' information will help firms to be more productive. "Can I relocate a tool not being used at one location to another site where it could be put to use? With Hilti's smart tools I can. This is all part of proactive tool scheduling, tracking and maintenance. Essentially we are offering tools that talk."
Hilti's Nuron single cordless platform allows connectivity between site, office, warehouse and vehicles, enabling firms to know the location and power status of every small tool.
It doesn't stop there. Hilti offers impressive sustainability credentials – repairing tools for customers, or simply recycling parts of the equipment where possible.
"Our one-platform battery offer means our customers can have fewer batteries in stock at any one time," says Lefebvre. "Combined with our approach to recycling materials we believe this is circularity in action."
Register for free and continue reading
This is not a first step towards a paywall. We need readers to register with us to help sustain creation of quality editorial content on Construction Management. Registering also means you can manage your own CPDs, comments, newsletter sign-ups and privacy settings. Thank you.