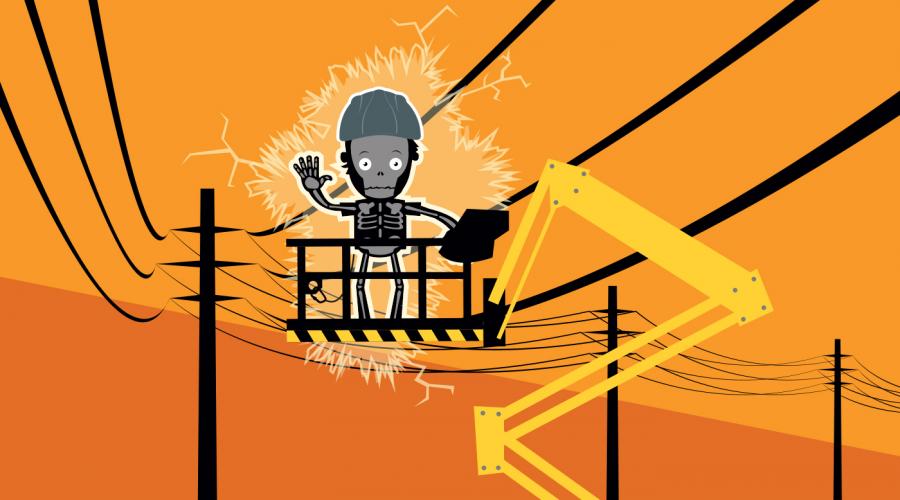 Electrocutions are the second biggest cause of fatal accidents involving mobile elevating work platforms.
When the International Powered Access Federation's safety committee conducts its regular analysis of incident data, trawling through the nature and causes of fatal or injurious accidents involving powered access, the same three categories continually reoccur: falls from the platform; stability/overturn of the machine; and electrocutions.
As the annual IPAF Global Safety Report describes in detail, electrocution is the second biggest killer in the powered access sector. Falls from the platform lead to most deaths, but there is not much between them. And whereas falls are not necessarily fatal, incidents involving a person or machine coming into contact or near-proximity with power lines nearly always are.
Electrocutions are much more prevalent for users of powered access in North America than they are in the UK. Over the past 10 years more than 80% of electrocution incidents reported to IPAF have been in the US. It is for this reason that North America's biggest trade show for construction machinery, ConExpo, provided an appropriate venue for the launch of IPAF's latest safety campaign, called High Voltage!
Brian Parker, IPAF head of safety and technical, says: "Similar to IPAF's Don't Fall For It! targeted safety campaign, which is aimed at reducing falls from the platform, the High Voltage! campaign aims to raise awareness of risks involved when using MEWPs around power lines, and how to plan for safe working."
It would be wrong, however, to think that this type of incident does not also happen in the UK.
In January this year, Kier was fined more than £4m following two separate incidents, in 2018 and 2019, on the same motorway improvement project on the M6 near Sandbach in Cheshire. Neither incident involved powered access – in both, raised lorry loader cranes brought down low-hanging 11kV cables. Fortunately, no one was killed in the incidents, despite a cable landing on the live motorway on the second occasion.
And in October 2021, a Bridgend scaffolding company was fined £200,000 for a 2016 incident that did prove fatal. An employee died when a lorry loader crane (again) he was operating struck an overhead power line.
When it comes to electrocutions involving MEWPs, the most likely locations are in public areas or alongside roads, rather than on controlled construction sites. The arboriculture industry is the primary industry where platform occupants have been electrocuted, mainly using static boom (type 1b) MEWPs. Clear-up work after storm damage is a recurring motif in US electrocution statistics. It is easy to imagine how an 'all hands on deck' emergency scenario can sometimes lead to safety compromises.
Though the majority of electrocutions involve contact with an overhead power line, they have also been reported in workshops with overhead cranes and live busbars.
It is not just platform operators and occupants suffering fatalities. Ground personnel have been killed by arcing of electricity and/or while using ground controls in attempting to rescue people at height. It is for this reason that IPAF's campaign avoids reference to 'overhead' power lines. Even when power lines are above most people, they may actually be below operatives in an elevated basket.
The campaign features Andy Access, the IPAF mascot, in lead role, seeking to raise awareness of the issues. Supporting material includes a 15-second video featuring Andy Access elevating into a power line, with inevitably shocking results.
Provide information to those who plan and manage MEWP operations.
Provide information on the main causes of electrocutions with power lines.
Raise awareness of the hazards and risks of working near power lines.
Provide information on the industry sectors where electrocutions and electric shocks occur.
Identify risk control measures and a Safe System of Work (SSoW) to implement and reduce the number of incidents occurring.
Provide general global guidance for those who undertake tasks to prevent incidents from occurring.
Parker adds: "We hope all those who read this document will let us know their thoughts. Like all of IPAF's industry safety and technical guidance, this is a 'living document' and we place a huge emphasis on listening and responding to constructive feedback – so I urge people to view and download the document, read and understand it, and share it with colleagues."
Register for free and continue reading
This is not a first step towards a paywall. We need readers to register with us to help sustain creation of quality editorial content on Construction Management. Registering also means you can manage your own CPDs, comments, newsletter sign-ups and privacy settings. Thank you.