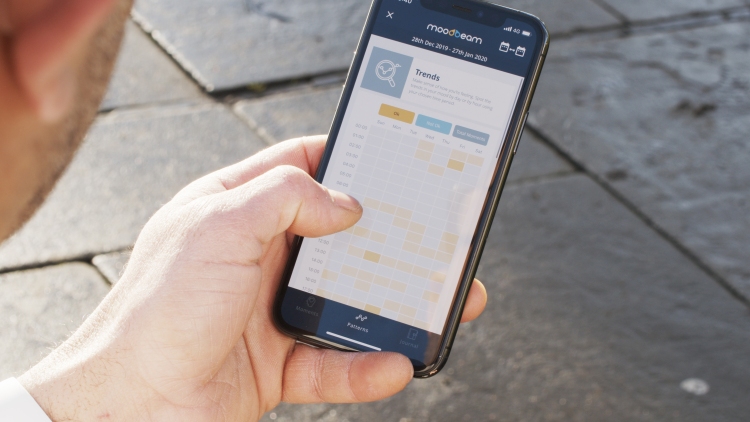 More than half of those who participated in a trial to monitor the mood of construction workers to enhance their wellbeing favour introducing the scheme across the whole industry.
That's one of the findings following a three-month trial of Moodbeam's mood monitoring technology by national framework provider Pagabo.
In the trials more than 380 volunteers from 13 businesses – including Kajima Partnerships, Pick Everard, and Faithful+Gould – wore a Moodbeam wristband. The wristband featured two buttons – yellow for the user to press when feeling good, and blue for when they were feeling not so good.
The data collected allows organisations to see how their teams and individuals were feeling, with a view to being able to identify where changes could be made, or additional support provided to improve more positive wellbeing at work.
The technology has now been developed further to allow participants to use a direct-entry mobile app featuring yellow and blue buttons to mirror the wristband.
In September, the Office for National Statistics (ONS) published data for 2020, which shows that for every 100,000 construction workers, 30 took their own lives. Glasgow Caledonian University professor Billy Hare has also carried out analysis of rates of suicide in different sectors, which found that construction workers are 3.4 times more likely to take their own life.
Charley Wainwright of Pagabo said: "The latest ONS stats and the analysis carried out by Professor Billy Hare is striking – especially when we look at the past five years and across other industries. While the rate has remained fairly steady between 2015 and 2020 for other professions, the construction figure has gone up by five percentage points, from 25 in 100,000 in 2015, to 30 in 100,000 in 2020.
"This ongoing issue clearly isn't going away and instead is becoming even more prevalent, which is why as an industry we need to find new ways to manage this collective issue. Mental wellbeing is a complicated issue. Much like a hard hat will not stop you from cutting your hand, there needs to be a network of safety nets and personal protective equipment (PPE) to help protect workers – and Moodbeam can be seen as PPE for mental wellbeing."
Kajima Partnerships project director Richard Coe said: "We found the trials really illuminating. We had volunteers sitting across several departments, so it was interesting to see how different departments were under different pressures at different times.
"Not being in the office, we didn't have the usual visual clues on how our people were feeling. Moodbeam really helped to alleviate this, and if anyone was consistently pushing blue then we were able to check in, find out why and mobilise solutions."
Pagabo said it would continue its partnership with Moodbeam in a bid to change the way the construction industry handles employee mental wellbeing.