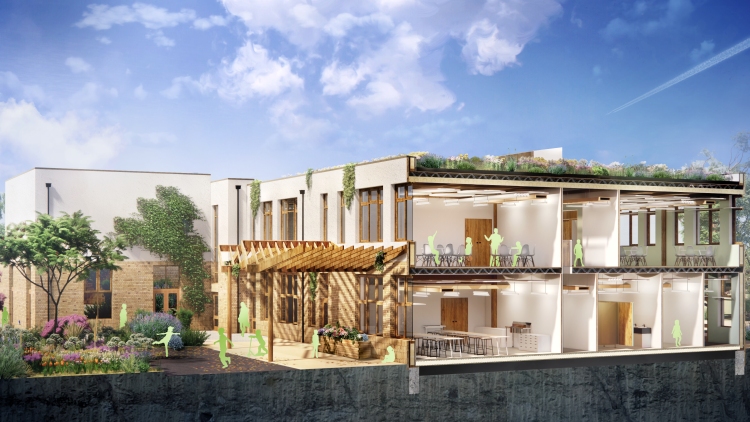 Morgan Sindall and a group of architects and consultants have digitally remodelled a school the contractor built four years ago to slash the project's whole-life carbon by two thirds.
The Circular Twin project took a school Morgan Sindall constructed in 2017 and digitally reimagined the build process from start to finish with low carbon as the driving factor, rather than cost.
Compared with the school in real life, the reconceived version had a 67% reduction in whole-life carbon, a 72% reduction in the upfront embodied carbon, and a 39% reduction in forest consumption, according to BIM+.
Capex was delivered within standard budgetary parameters, although there was a "modest" increase in costs. However, the low-carbon version also delivered a 52% reduction in annual energy consumption, and long-term energy savings for clients.
"This initiative has uncovered a revelation – that low-carbon construction is inhibited by our industry's reliance on traditional design and procurement approaches. The outcomes show that achieving low-carbon buildings is possible today," said Louise Townsend, director of social value and sustainability at Morgan Sindall Construction.
"By engaging with contractors at the design stage, we can work with customers to design significantly lower-carbon buildings, whilst also working within their budget parameters."
Louise Townsend, Morgan Sindall Construction
The project was brought together by Morgan Sindall Construction as a top tier contractor, with procurement specialist Scape, architects HLM and Lungfish, and multi-disciplinary engineering consultancy Cundall.
Townsend added: "By engaging with contractors at the design stage, we can work with customers to design significantly lower-carbon buildings, whilst also working within their budget parameters. Of course, there will be trade-offs and the ultimate cost depends on how far the client wants to go in terms of reducing carbon."
Townsend said the study was "hard evidence" of what can be achieved, and was a "much-needed" and radical, industry-led response to the climate crisis. It could also empower local authority clients – of whom 300+ have already declared climate emergencies – and other organisations to reach increasingly ambitious sustainability goals.
Yasmin Nally, associate architect at Lungfish Architects said the project "demonstrated that a sustainable school with carbon at the centre of the decision making is completely possible without special measures, provided a collaborative team and environment is established early".
A Lifecycle Cost Model, of 60+ years life expectancy, of the reimagined school was created from guidance of more than 250 supply chain partners. Study participants believe the project could be the first to put into practice the strategies of the Construction Playbook and guidance from the UK Green Building Council.
Chris Clarke, director of performance and improvement at Scape, said: "Any part of a project team basing decisions on cost alone is inhibiting low-carbon construction."
Alex Carter, partner at Cundall, added: "Working with the supply chain on material selection and collaborating with the wider design team to develop low-carbon design options will allow us to make more informed decisions in the future. This not only increases the skills of all involved, but also helps the whole of the building industry to raise its game."
Register for free and continue reading
This is not a first step towards a paywall. We need readers to register with us to help sustain creation of quality editorial content on Construction Management. Registering also means you can manage your own CPDs, comments, newsletter sign-ups and privacy settings. Thank you.