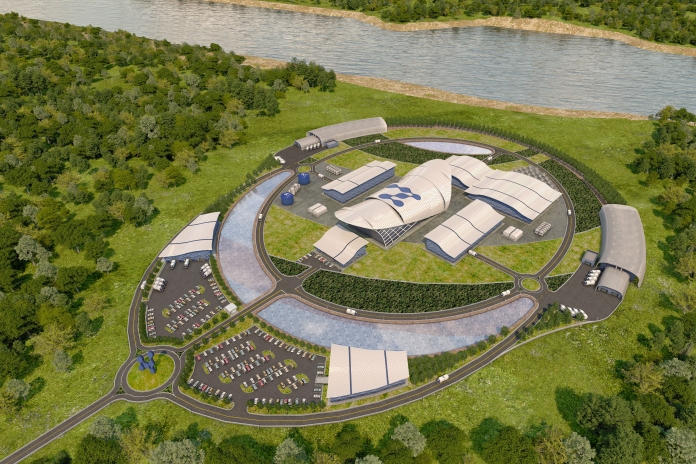 A UK-based energy company is investigating the possible development of a combined wind and nuclear hybrid energy plant in north Wales, harnessing a small modular reactor (SMR).
Shearwater Energy is exploring opportunities to build the project, which would produce 3GWe (gigawatt electrical) of zero-carbon energy and would also produce over three million kilograms of hydrogen per year for use in the transport sector.
It has submitted an outline proposal to the British government and the devolved governments of Wales, Northern Ireland and Scotland.
Shearwater has also selected the US-based small modular reactor (SMR) technology being developed by NuScale Power to provide the base load and load-following energy for the proposed hybrid energy project. Shearwater has signed a memorandum of understanding (MOU) with NuScale Power to further collaboration in advancing the proposed project.
Under the MOU, Shearwater and NuScale will explore opportunities for the combined generation of nuclear power based on NuScale's leading SMR technology, offshore wind energy and hydrogen production at sites in the UK, with a flagship opportunity being explored at Wylfa on Anglesey.
NuScale's assessment of the UK supply chain concluded that more than 75% of the content of a NuScale plant could be sourced within the UK.
In August 2020, NuScale's SMR became the first to receive design approval from the US Nuclear Regulatory Commission. Its power company customer will be breaking ground in 2023 on its first project located in the state of Idaho in 2023.
Simon Forster, chief executive officer of Shearwater said: "Combining low-carbon generating technologies enables us to achieve similar performance characteristics to large thermal plants without the high cost, long construction time and environmental legacy. When fully developed, an SMR-wind plant at Wylfa will provide 3 GW of reliable, zero-carbon electricity at a fraction of the cost of a conventional nuclear power station with surplus energy generation focused on the production of hydrogen to support the transport sector's transition to low-carbon fuels. Power generation at Wylfa could begin as early as 2027."
Register for free and continue reading
This is not a first step towards a paywall. We need readers to register with us to help sustain creation of quality editorial content on Construction Management. Registering also means you can manage your own CPDs, comments, newsletter sign-ups and privacy settings. Thank you.