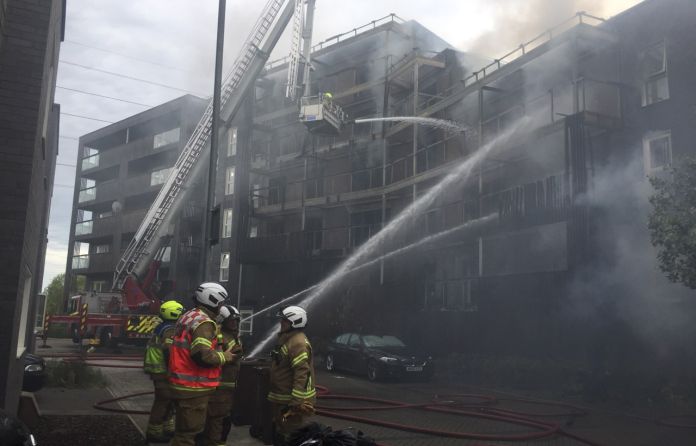 The use of modern methods of construction (MMC), including modular units, timber frames, and wooden balconies or cladding all elevate the risk of balcony fires.
That's according to Zurich Insurance, which has warned that almost £9m of damage was caused last year by just four balcony blazes.
The insurer cited figures from the London Fire Brigade that there have been 550 such fires in London alone over the past three years. It paid out £210m for fire damage in 2019 – an increase of 48% since 2018.
Zurich said it decided to include modular pods or buildings in its list of factors that increase the risk of balcony fires because of the potential for internal fire spread within the structure "where there may be unforeseen weaknesses and vulnerabilities in fire stopping and fire compartmentation applicable to some modular technologies".
It added that the interface and application of any cladding system, whether combustible or otherwise, where it is applied to the structure of the building can also present "the opportunity for rapid and unforeseen fire spread if not correctly specified, installed, or maintained".
It warned that the majority of balcony fires start as a result of careless use of barbecues or discarded smoking materials. The risks are also increased by the fact that wind speeds are stronger at greater heights and can carry burning embers for up to one mile.
Official figures from London Fire Brigade show that in the last three years there have been 550 balcony fires in London alone.
Andy Dark, Fire Brigades Union assistant general secretary, said: "It's clear from Zurich's damning evidence that using any kind of barbecue on a balcony should be banned.
"Time and again, firefighters have fought fires in blocks of flats where the accidental source of ignition has been a barbecue used on a balcony."
Zurich's role in building safety shake-up
Zurich Insurance, which played a role in the Independent Review of Building Regulations and Fire Safety announced by Dame Judith Hackett following the Grenfell Tower tragedy said it has "repeatedly" warned the government that the regulatory system covering high-rise and complex buildings is "not fit for purpose" and has called for a rethink of the whole system and how it works. This includes:
Extending the combustible cladding ban to the entire external height of all residential and non-residential buildings.
Introducing a property-safety building regulatory baseline to ensure that residents can not only escape but also have a home to return to.
Introducing a publicly available property database to ensure that property owners, the wider public, and Fire & Rescue Services understand how a property was constructed.
It has also echoed warnings by the London Fire Brigade of the dangers of balcony barbecues which are being "marketed carelessly".
Register for free and continue reading
This is not a first step towards a paywall. We need readers to register with us to help sustain creation of quality editorial content on Construction Management. Registering also means you can manage your own CPDs, comments, newsletter sign-ups and privacy settings. Thank you.