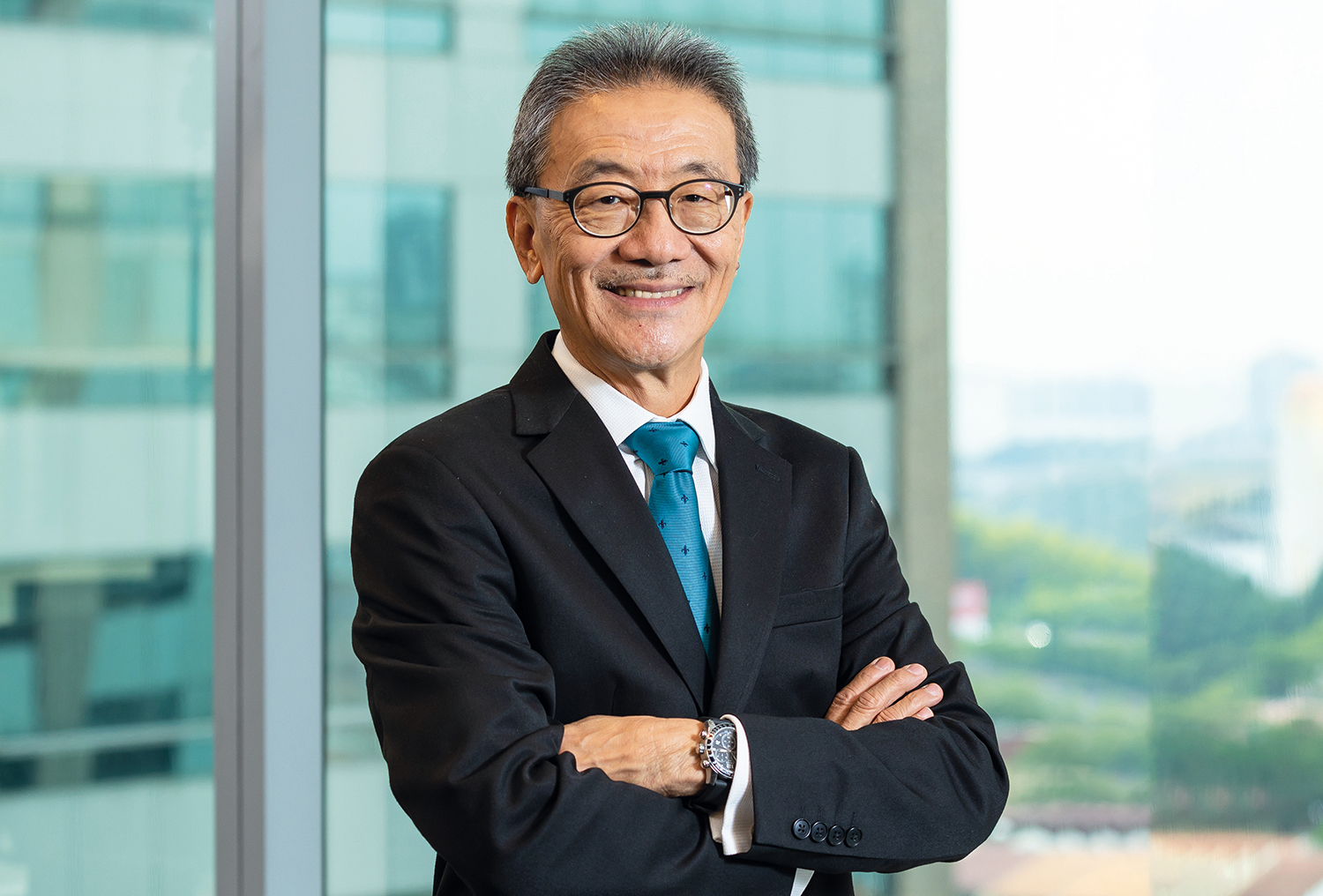 New CIOB president Michael Yam is turning the spotlight on construction's green agenda. From his home country of Malaysia, he spoke to CM editor Will Mann about his plans for the year.
Michael Yam believes CIOB should be on the front line of the built environment's battle against climate change. The institute's new Malaysia-based president is making sustainability the core theme of his term in office and brings to the role 35 years of construction and property experience from around the globe. Speaking to CM on Teams, he is excited about the year ahead and CIOB's ability to make a difference.
"As the world's largest professional body for construction, with 47,000 members operating in 100 countries, CIOB is in a position to bring about positive change to the sustainability agenda," says Yam.
"CIOB members work as clients, consultants, project managers, constructors and asset managers – they are involved in all aspects of development, construction and the built environment.
"Through academia members, the institute can also shape the education and standards taught on sustainability, at university level and through to CPD courses.
"This influence means CIOB is well placed to lobby government and other key stakeholders on the adoption of sustainability policies, and adherence to the COP26 agenda."
One of Yam's key focus areas is the imminent publication of a CIOB Sustainability Guide with the 6th Edition of the Code of Practice in Project Management, which he calls the "gold standard" of industry reference manuals.
"I am currently chairing a panel of 16 environmental experts, including Professor Chris Gorse, the director of the Leeds Sustainability Institute (at Leeds Beckett University) and editor of the guide," Yam explains. "It essentially embeds and threads sustainability into all phases and aspects of the construction process."
Yam, who currently chairs two investment funds and holds various non-executive director positions, has worked in the UK, Australia, and South Africa, as well as Malaysia. So how has his global perspective shaped his views on sustainability?
"My experience in the more developed countries where I have had investment interest is that the government created an 'ecosystem' – through both regulation and incentives – that imbued a culture of sustainable behaviour," Yam replies. "This has helped shape the attitude of people and how businesses operate, to the point where it is almost second nature.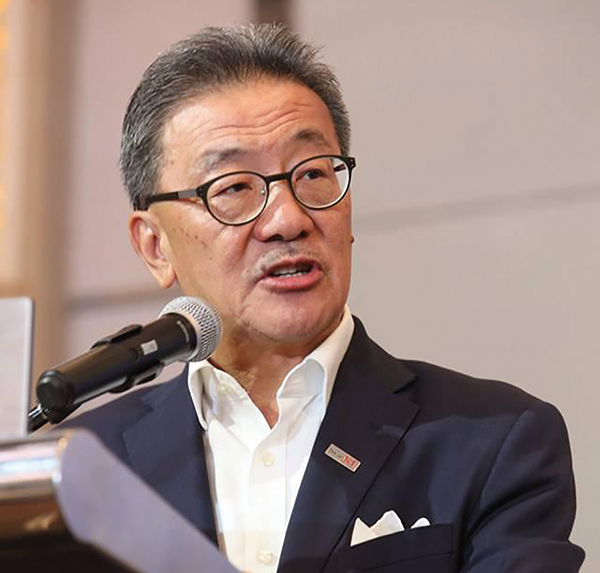 Michael Yam on…
… sustainability skills
"Just as the growth of BIM has created a new generation of digital specialists, sustainability will be the catalyst for new innovation and skills."
… influencing change
"CIOB members work as clients, consultants, constructors and asset managers – they are well-placed to lobby on sustainability."
"This is the case in the most sustainable cities in the world, which include Copenhagen, arguably the greenest, Vancouver, Stockholm, San Francisco, Helsinki and Singapore."
But there are newcomers on the world sustainability map, Yam continues.
"We are now seeing planned cities like Neom in Saudi Arabia, a US$500bn net zero development, and Masdar in the United Arab Emirates," he says. "The journey towards a sustainable world will involve applying good practice lessons from existing sustainable cities and also the newbies like Neom.
"But for many countries, the economic viability of green policies can get in the way of the desire to save planet Earth."
Yam says his home country of Malaysia is still "getting to grips" with the significance and impact of climate change.
"People in Malaysia are shielded from the cost increases in fossil fuels that have affected other countries because of government subsidies," he explains. "As an example, petrol is sold at less than 40p a litre at the pumps, compared to £1.70 in the UK. With electricity, 1kWh is sold at 4p for domestic consumption and 7p for commercial customers, while in the UK it is 18.9p. These low prices do not encourage consumers or businesses to save and reduce their use of fossil fuels."
But, with increasing incidences of heat waves and severe flooding, the government is now taking a serious view of sustainability, Yam says.
"The government's 12th five-year strategy plan, for the period 2021-2025, aims to make Malaysia a carbon neutral country by 2050," he explains. "The plan includes developing a roadmap for reducing carbon from sectors with high emissions and increasing use of renewable energy such as hydro power, solar and biomass. No more coal-fired power stations will be approved.
"Additionally, the stock exchange requires that all plcs must produce a sustainability report yearly on the company's policies and actions and the Malaysian Institute of Corporate Governance also scrutinises their environmental performance," he continues. "There are incentives such as reduced tax on rental income for green-rated buildings."
Yam is proud of his involvement in a sustainable construction project which was completed recently in Malaysia. The Women's Aid Organisation Child Care Centre is a shelter for victims of domestic abuse and is one of a select number of residential buildings given a rating by GreenRE (the Malaysian real estate sustainability certification body) of platinum, the highest score available.
The financing, design and construction came almost entirely through REHDA Youth – an organisation set up by Yam 10 years ago when he was president of Malaysia's Real Estate and Housing Developers' Association.
Michael Yam on…
… site welfare
"If workers sleep well, if they are healthier, then their productivity is better – everybody wins."
… planet CIOB
"The UK leads the way in health and safety, but there is plenty of digital innovation in the Far East. CIOB can share all this knowledge around."
"REHDA Youth is like CIOB's Tomorrow's Leaders, it aims to develop the next generation of property professionals," he explains. "They took on the construction of this centre after the previous building burned down. REHDA Youth worked with industry partners to source sponsorship and donations for the project, which included around 80% of the fixtures, electrical appliances and building materials."
Green features at the centre include LED lighting, a solar photovoltaic system, rainwater harvesting and water-efficient taps. The new centre will save up to 60% of energy usage compared to a conventional building and provide 15% to 20% savings in utility bills, Yam says.
"It's a special project supporting a very worthy cause," he adds.
Projects such as this will help the built environment industry promote itself more effectively as a desirable career choice for young people, Yam believes.
"Just as the growth of BIM and information technology has created a new generation of digital construction specialists, sustainability will be the catalyst for greater innovation and new skills," he says.
"This will, in turn, increase productivity, reduce labour requirements through better quality and precision, minimise waste, lead to better health and safety outcomes and ultimately more efficient operation and maintenance through the asset's life cycle.
"I forecast a positive and gradual reset of the construction and built environment sector as the 2050 net zero target approaches."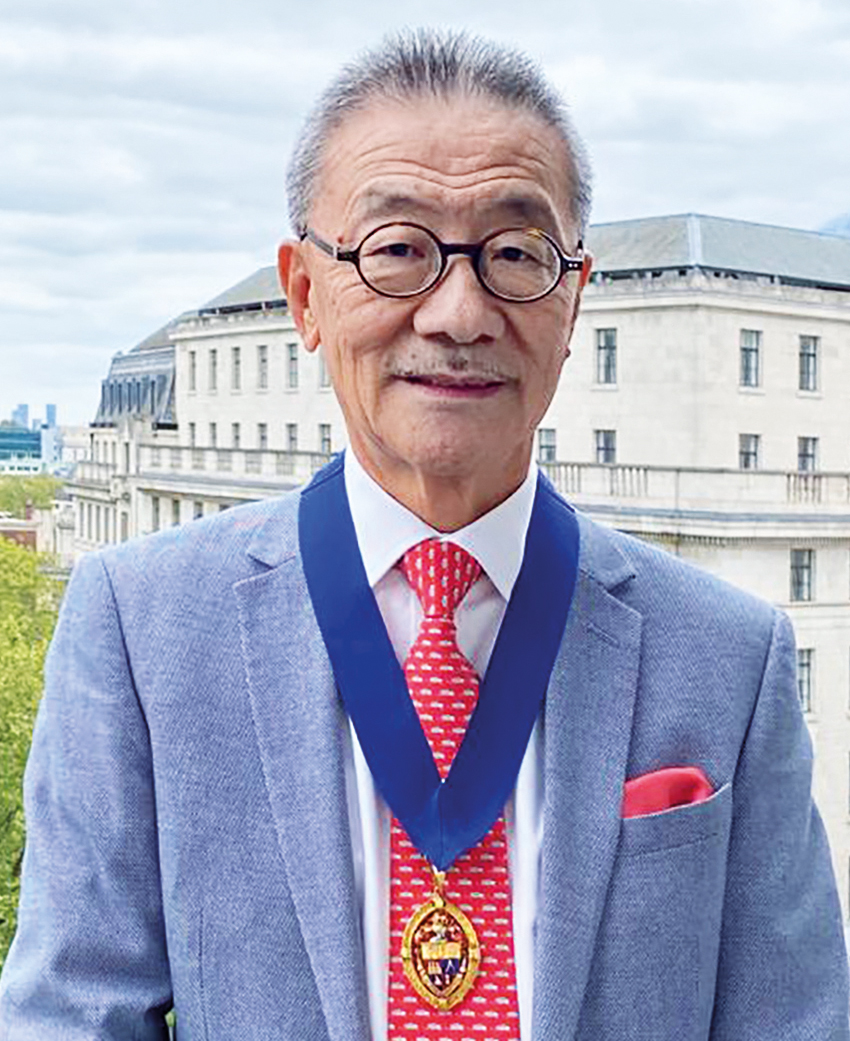 Beyond sustainability, Yam has two other main themes as president, one of which is supporting the CIOB's work on health, safety and wellbeing.
"Site workers are well looked after in developed countries compared to in Asia and in other parts of the world," he says. "In the UK, most construction workers live in their own homes and commute to work.
In Malaysia and other countries around the Far East, 90% to 100% of labour is imported.
"They are not directly employed labour so tend to be overlooked in the areas of health and welfare. If there is torrential rain and no work is possible, they don't get paid. They are recruited by subcontractors, who have bid for the work on lowest price, so housing and welfare is not a priority. And developers outsource labour supply, so they tend not to ask questions about workers' accommodation."
But attitudes have changed because of the pandemic, Yam says.
"When Covid-19 struck, contractors faced site lockdowns due to infections which hit them in the pocket," he explains. "So now, developers are paying more to ensure that the workers' welfare is taken care of. This means every site having centralised labour quarters, and these have tightly regulated hygiene standards.
"The living quarters are typically modular, often like shipping containers with windows and doors cut out and an insulated roof on top, which are stacked up in blocks four storeys high. There is a long way to go to meet welfare standards in developed countries, but it's a start. For contractors, the cost of this accommodation has to go into their preliminaries."
The message from this, Yam says, is that there is a benefit to developers in paying "a little more" for worker welfare. "Consumers have recognised and accepted the fact that they have to pay more for their property in the interest of the wellbeing of workers," he says.
"If workers sleep well, if they are healthier, then their productivity is better – everybody wins," he says. "So, I will be using my CIOB platform to communicate this message."
Yam's other main theme as president is to promote the benefits of CIOB membership around the world and strengthen the link between the institute and the international hubs.
"Being based in the Far East, and having visited many countries here and around the world, I understand the very different cultural nuances of these nations," he says. "I've spent time in China and Hong Kong, Singapore, India, Sri Lanka, Thailand, Japan, Korea, Indonesia, to name a few, and invested in Australia and South Africa.
"All these countries have very different legislation and regulations, while their construction industries vary in maturity. I will help develop their strengths while supporting them to mitigate their weaknesses."
Yam is multilingual; Cantonese is his mother tongue, he also speaks English, Malay/Indonesian and conversational Putonghua, the most common form of Chinese. "When I speak to CIOB hub members in China using Putonghua, they are always really pleased that I've made that effort," he says.
Yam sees engagement with CIOB's global community as a "two-way flow" of information and ideas.
"The UK will be a central hub, as the headquarters of CIOB, but this is not about imposing standards on the rest of the world in a 'one-size-fits-all approach', because there is so much we can learn from other countries," he explains. "The UK and other developed countries lead the way in health and safety, but there is plenty of innovation in digital and modular construction in the Far East, for example. CIOB can share all this knowledge and help harmonise best practice.
"I believe that with understanding of the different cultures and histories of countries around the world, we will achieve the global recognition that CIOB deserves," he concludes.
Over 35 years' experience in the construction, real estate development and corporate sectors in Malaysia, UK, Australia and South Africa, including leading two public-listed companies as the MD.
Chairman of InvestKL Corporation, a trade promotion agency of the Ministry of International Trade and Industry Malaysia.
Until recently independent non-executive director of four different public listed companies and Standard Chartered Bank in Malaysia.
A former Advisory Board member of Kuala Lumpur City Hall and former director of construction regulator Construction Industry Development Board.
President of CIOB Malaysia from 2005-2007 and member of CIOB Board of Trustees from 2008-2012.
Educated at the Royal Military College and the University of Westminster and awarded an honorary doctorate by Heriot-Watt University in 2021.
Conferred the Malaysian title 'Datuk Seri', the highest state award for Kuala Lumpur, in 2011 by HM the King of Malaysia.
Register for free and continue reading
This is not a first step towards a paywall. We need readers to register with us to help sustain creation of quality editorial content on Construction Management. Registering also means you can manage your own CPDs, comments, newsletter sign-ups and privacy settings. Thank you.