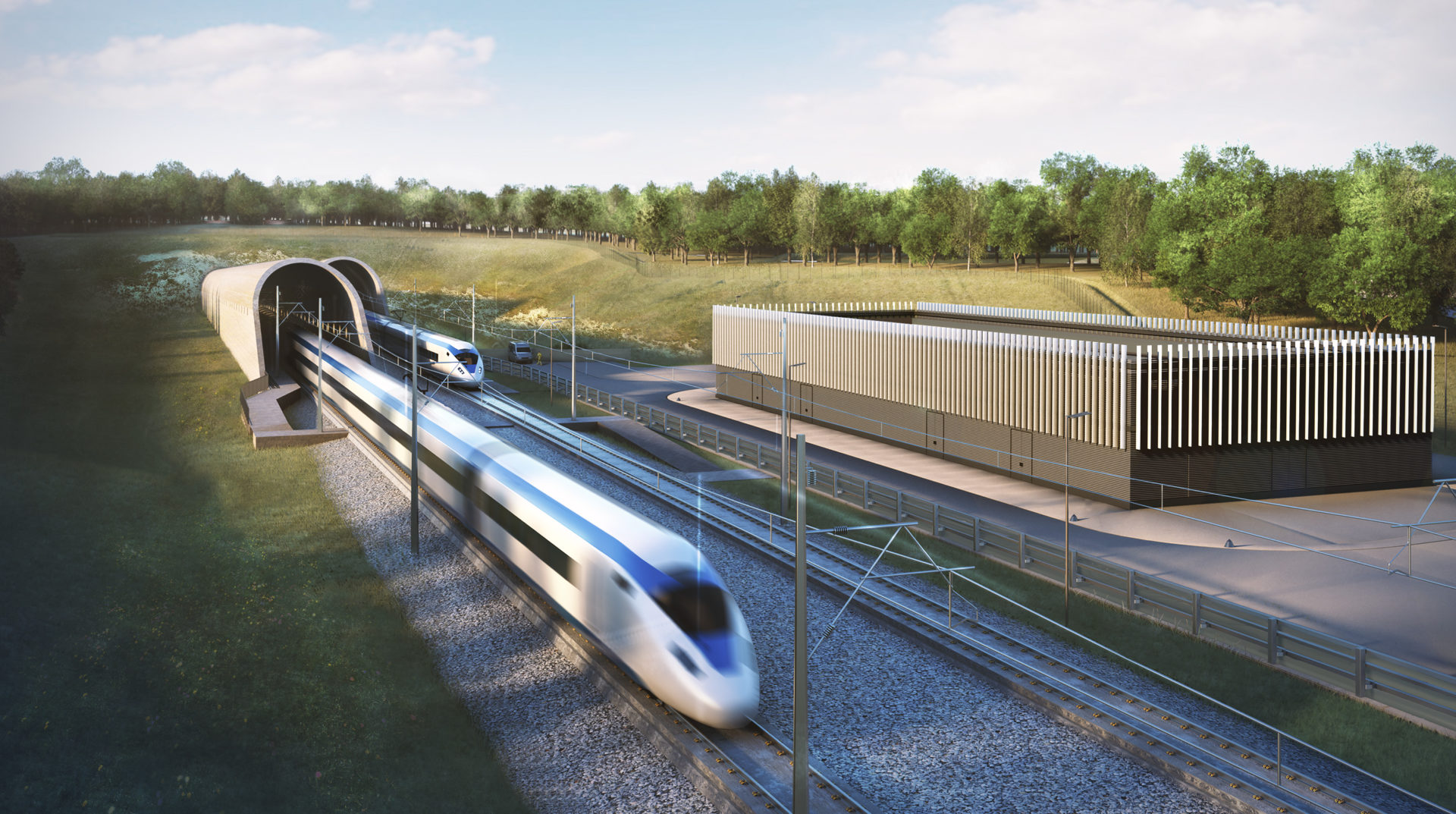 Two giant tunnelling machines, 'Florence' and 'Cecilia', excavating the HS2 Chiltern Tunnels have passed the halfway point.
The twin tunnels are the longest in the HS2 project at 10 miles. Just to reach the halfway point the 2,000 tonne tunnel boring machines (TBMs) have removed 1.3m cubic metres of chalk and flint. This is enough material to fill more than 500 Olympic-sized swimming pools.
The excavated material is mixed with water to form a slurry and then pumped back to the surface.
Each machine digs and lines the tunnel with concrete wall segments and grouts them into place. The TBMs work at a speed of 15 metres a day and the work so far has taken 18 months.
A team of 17 operate each TBM, which have been specially designed for the mix of chalk and flint under the Chilterns. The crew work in shifts to keep the machines running around the clock, supported by 100 people on the surface.
Material from tunnelling will create a chalk grassland restoration project at the south portal of the tunnel. This will provide 127 hectares of new landscaping, wildlife habitat and biodiverse chalk grassland.
HS2 head of tunnel engineering Martyn Noak said: "This tunnel will take HS2 underneath the Chiltern hills, safeguarding the woodlands and wildlife habits above ground as well as significantly reducing disruption to communities during construction and operation."
Engineers have also built five ventilation and emergency access shafts near Chalfont St Peter, Chalfont St Giles, Amersham, Little Missenden and Chesham Road. They also just completed the first breakthrough from a cross passageway to the Chalfont St Peter shaft.
Two more TMBs have been launched to begin the London tunnels and the project celebrated completion of the first of two tunnels under Long Itchington Wood in Warwickshire.
Register for free and continue reading
This is not a first step towards a paywall. We need readers to register with us to help sustain creation of quality editorial content on Construction Management. Registering also means you can manage your own CPDs, comments, newsletter sign-ups and privacy settings. Thank you.