Collaboration is key as construction's efforts to tackle carbon emissions and embrace circularity gather pace. That's according to prominent figures from across the supply chain, including two tier-one contractors, construction technology group Hilti and hire firm Speedy in a recent round table discussion. Neil Gerrard reports.
How do you see construction's approach to sustainability today?
Graham Edgell (GE): Sustainability was a bolt-on to the construction industry but it is now business as usual. We need to collaborate to succeed. The whole circularity and environmental agenda needs to be joined up and we can set an example to other sectors because one thing about construction is that it's good at finding effective solutions.

Rainer Ringgenberg (RR): Hilti has long had a focus on sustainability topics like, for example, the health and safety of our customers and employees. We have also been active for many years on the social side with our global Hilti Foundation. But we realise there is also this environmental aspect where we believe we have to take more care of the areas where we do business. We believe, thanks to our footprint globally, that we have an import role to play.
Russell Down (RD): Environmental issues come up for me with all of our stakeholders, whether they be our shareholders, our customers, our employees, our suppliers, and I think as a hire provider, we are in a unique position to influence the debate, to participate, and to shape the future. We are in the process of setting science-based target initiatives.
Geraint Rowland (GR): Costain launched its own climate change action plan at the end of 2019 and that has really changed the focus massively. There is much more focus from leadership now on changing the industry. I would agree with Graham that collaboration is key.
What is your company's current approach to circularity and the environment?
RD: Speedy's impact on the environment is affected by our position in the supply chain as a provider of equipment to customers but also our own carbon footprint. The equipment we provide is inherently sustainable because we are effectively promoting the sharing economy and therefore helping to improve efficiency and utilisation and minimise wastage.
Round table participants
Russell Down, chief executive, Speedy Hire
Rainer Ringgenberg, head of market region northern Europe, Hilti GB
Graham Edgell, director of sustainability and procurement, Morgan Sindall
Geraint Rowland, group environmental director, Costain Group
We are also very good at maintaining and repairing equipment, prolonging its life. And we develop new technology with the manufacturers such as Hilti. We operate 500 company cars, over 1,000 vans and lorries, so we are promoting the use of hybrid and electric vehicles, as well as using hydro-treated vegetable oil in our fleet.
RR: Circularity and sustainability are at the centre of what we do. We look at it from a holistic perspective. Circularity is key for us and we want to be global number one in our industry and in our area when it comes to circularity. Innovation is in our DNA so we are looking at what we can do with extraction of raw materials, extending the life of a product, and how we can take those products back from the market to recycle and reuse them at the end of their life. In 2020, we took back several million tools, batteries and chargers and we can recycle 97% of the material.
Geraint Rowland (GR): Our approach has changed from the back end, looking at the waste that is coming out and searching for a place to divert it from landfill, to the front end and being design focused. We have called it 'Eliminating Harm' and that is from health and safety and environmental perspectives, but we have focused a lot on bringing carbon reduction and circularity to our designs. We are running training courses with designers both internally and externally to try to get them to change the way they are doing things. We need to work with our clients to do that.
GE: We have divided our carbon and our environmental impact into our own operational carbon, that of our supply chains, but also the embodied carbon in our products at the end. And I think the big point for us is we have realised now that we cannot do it as one tier one – we need to do it as a critical mass across the industry, which includes our supply chain and our competitors.
What have you found to be some of the simplest and most effective ways of reducing your company's emissions?
RR: We look at our environmental footprint reduction from a top-down perspective and also from a bottom-up approach. When it comes to the top-down approach, we created a sustainability team linked to the group CEO and we define areas where we want to be better. For example on CO2, we want to be neutral by 2023. Product innovation is important for reducing emissions. A long product life improves the hirer's margin as well as the environmental impact. If you buy a cheap tool, it might only last a year or two, you end up needing more tools, which generates more waste and cost.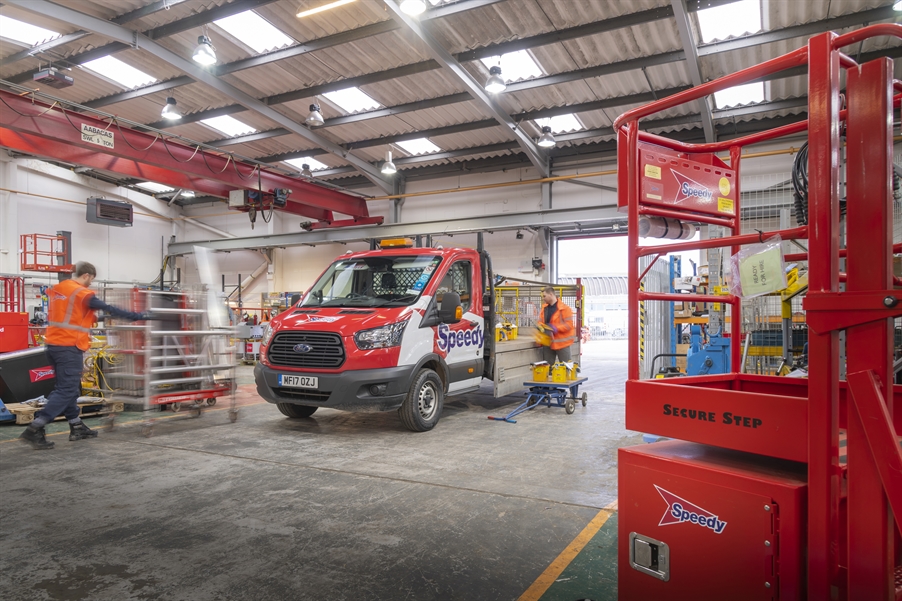 We are also trying to reduce CO2 emissions related to our service model. We will change 15,000 cars from fossil fuels to electric cars. And at the same time we also follow a bottom-up approach where we ask people and our team members in the field if they have good ideas. As an example, we came up with our new Hilti tool bag, which is made 100% out of recycled bottles.
GE: We have 6,500 staff and each one of them is making a carbon pledge. We have already reduced our operational carbon by more than 68% since we started but we know that we are now in the hard miles where we need to do it together, so it is engaging with people so that everyone has a joint understanding of how to do it. Alternative fuels, fleet, renewable energy – they are the easier targets. We have now moved on to harder targets, which is the lifecycle carbon and carbon that is embodied in buildings.
RD: For us it is twofold: it is the equipment that we bring into the fleet through our suppliers and looking at innovations in those areas, whether it is battery-, solar-, hybrid- or even hydrogen-powered equipment. There is an education process there with our customers that the piece of equipment might not be the cheapest to hire up front but fuel usage and the carbon output from in the longer term it will be cheaper to run and also there is a significant environmental benefit from it. Our own carbon footprint revolves around logistics. All our company car list is now electric or hybrid vehicles and we already have electric vans and electric lorries within the fleet.
GR: We found that the idling levels in our plant were exceedingly high which is obviously costly. You can put a nice pound sign against it but it is also a very significant bit of our carbon so we set a target across all of our projects to set a baseline for idling and a reduction target which has been quite successful.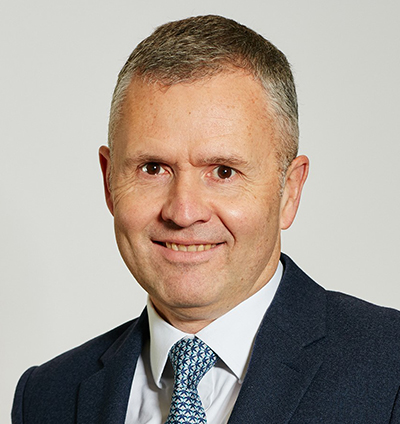 "Our own carbon footprint revolves around logistics. All our company car list is now electric or hybrid vehicles and we already have electric vans and electric lorries within the fleet."
Russell Down, Speedy Hire
How are you training people within your organisation – and your customers – to meet the sustainability challenge?
GR: We have our own Leading Carbon in Costain course that we have rolled out to the majority of our leaders now and we have strengthened our other safety, health and environment (SHE) training courses so that environment is a stronger element within those. It is a key part of what we are delivering to all our staff. Getting people on board is vital. We also do work with our supply chain. We run a supply chain academy and work very closely with the Supply Chain Sustainability School.
GE: We are founder partners of the Supply Chain Sustainability School. We are part of the team that has driven learning pathways. The school can tailor a learning pathway to individuals and companies. I am pleased to say that Speedy are part of the school as well as Costain, so it really works.
RD: Our chief operating officer sits on the board of the Supply Chain Sustainability School with Graham and we found it extremely useful with training and with changing our culture. We have got our own head of ESG, we have got learning and development, but all of that is feeding in and using the material generated by the Supply Chain Sustainability School to change the culture within the organisation and make sure we have got 3,500 advocates for reducing our carbon footprint.
RR: It is exactly the same picture for us in Hilti. The good thing is, it's not so difficult to win the team members to go in this direction. They think it is the right thing to do. We are also trying to help our customers on the sustainability journey. Many of our employees are trained to seek solutions in research and development. Normally the innovations do not speak for themselves – we have to show it. It is not just about environment, the health and safety factor also plays a role and there we have some cool features which make our team members excited such as our exoskeleton which can support the workforce in working overhead.
Do you select supply chain partners based on their environmental performance?
GE: The supply chain in Morgan Sindall is worth over £3bn. Historically we have used a PQQ process, which is reactive and based upon legislative compliance. But with clients judging us more and more on quantitative measures around sustainability, we have started to introduce them the same way.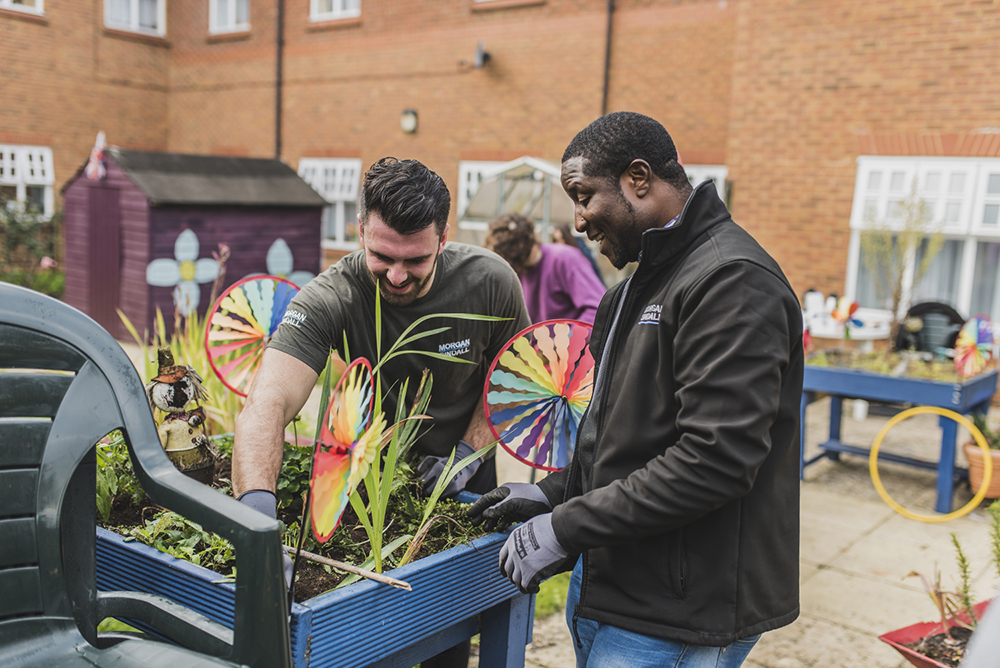 Now, on a project-by-project basis, we have tried to open the door to measurable and provable innovation so that we can share the best practice not just with ourselves but with the client. We are encouraging our supply chain to build up a library of case studies that we can get third party accredited that we are happy to share with other bodies and our peers and joint venture partners.
GR: We have some really good examples from some infrastructure projects like Crossrail, HS2, and it is a matter of trying to spread that best practice. It needs to be an efficient process so it is targeting those areas where you have got most opportunity on carbon or where there's the most environmental risk so that is where you are potentially scoring the heavier weighting on environment and carbon. As an industry I think we need to get better and start rewarding those companies that are making the most progress.
RD: More of our customers are using environmental criteria to select their suppliers. It is important therefore that we introduce innovative equipment and that has an impact on how customers select us because it can reduce the end cost of the project and certainly will reduce the environmental impact.
GE: These are exciting times because from almost a standing start, the industry is responding in a massive way. The fact that you have two tier ones in the discussion today, you have a manufacturer that is setting examples, and an enabler like Speedy delivering them right to the coalface just shows this. We have a long way to go, but if we can continue to share, collaborate, target and measure the improvements, I think we can set an example to other sectors.
RD: We have been working on this for a long time but the momentum now seems to have really re-emerged. We are a public company and the shareholders are very much pushing this agenda. Equally our customers, their end customers, their employees and our suppliers are all working to push this forward.
RR: The best sign is that we have all been able to speak about this together for a good hour. Collaboration is key. When we work together and we involve suppliers and customers in the innovation process and the supply chain process, then we can win double.
GR: I have been in this role a long time and it feels now like we are making huge progress and getting to the real issues like scope 3 emissions. They are tough things to drive down to zero carbon but we are making progress and we are getting more interest from our clients. Collaboration all the way. Let's get there.
Register for free and continue reading
This is not a first step towards a paywall. We need readers to register with us to help sustain creation of quality editorial content on Construction Management. Registering also means you can manage your own CPDs, comments, newsletter sign-ups and privacy settings. Thank you.