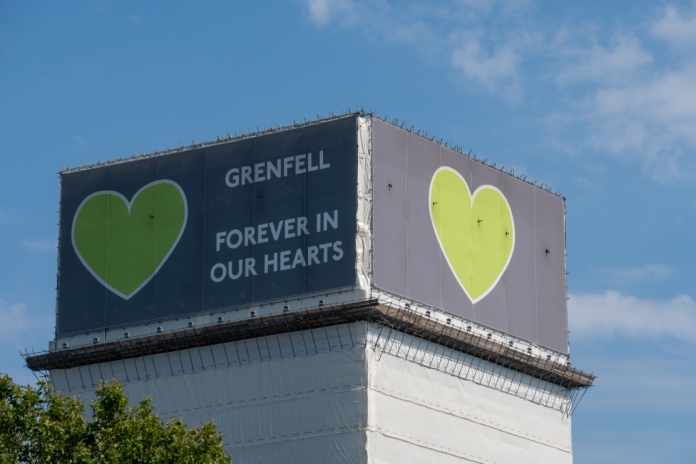 With module two of the second phase of the Grenfell Tower Inquiry getting underway, Paul Morrell warns why looking to construction's 'good old days' won't provide the answer to fixing a broken system.
As the first module of the Grenfell Inquiry's second phase draws to a close, it is neither necessary nor appropriate to dwell on individual culpability to start learning some lessons.
It is not difficult to predict what the general outcome will be: in the reverse of the Dodo's verdict in Alice in Wonderland memorably quoted by Michael Latham, everyone has lost (except the lawyers), and none shall get prizes. Of course, nobody has lost more than those who died in the fire and those who loved and depended upon them, and respect for them and for the due process of the Inquiry demands a degree of circumspection; but enduring justice will lie in a changing of ways that ensures that, in the cliché, "this must never happen again".
The scale of the challenge is daunting, though. The case raises so many issues that go to the heart of the structure, conduct and performance of the industry that only the blindly complacent would feel entirely confident of emerging from such a dolorous tale unscathed; and while what we are hearing is certainly shocking in degree, and casts light into some dark places that few of us would go, with or without the grace of God, it is not so surprising in principle.
For who, when sensing that the market has shifted their problem from finding enough work to finding enough people (surely recognised by us all), turns away the next enquiry on the grounds that they don't have sufficiently experienced staff?
Who would deny that all of us learn at our clients' expense – and that the trick is to learn enough, and to learn it soon enough? How else can experience be accumulated in the first place?
Who can honestly say that they've read the thousands of pages of codes, standards and manufacturers' literature which lie behind every design decision?
How much more might those standards be both clear and contemporary if a proper investment had been made in their development and review – free from the alternating political appetite for regulation and then de-regulation, and the parlour games of "one in, one out" and the like?
How many professional institutions and trade associations (and in this respect I would like to see no great distinction between them) genuinely address the conduct and continuing competence of their members, once qualified, on any basis other than CPD hours recorded?
Above all, though, when will the industry present itself to its clients in a way that takes accountability for its product? I have seen the Inquiry described as a "shameless catalogue of blame-shifting", and in the case of Grenfell we must leave the charting of a route through that to the Inquiry. That would, however, be neither difficult nor necessary if it were not for the extraordinary degree of fragmentation in the industry; but that will not change overnight, as it has developed as a perfectly rational response to the trading conditions we all operate under, with the pattern of demand being both diverse and volatile.
Don't be drawn to simple-sounding solutions
Given that reality, I hope people will not be too drawn to three ideas in particular that have been offered as solutions. These are that all would be well if we could just go back to the old days of designers designing and builders doing as they are told; or if clients could just learn to procure more wisely (although I have seen little evidence of industry actors knowing how to sell wisely, and those clients who do buy to more enlightened criteria can by no means be sure of reaping the promised reward for doing so); and above all if we could just relieve the pressure on cost (this in a country with construction costs amongst the highest in the world).
In that context, it was disappointing to see the press latch on to the comment made by Paul Hyett in his generally careful and reflective expert evidence to the Inquiry to the effect that one of the problems is design and build – given that this is one of the very few ways in which at least part of the project delivery process is integrated. Paul was also invited to conclude that the problem was cost pressure but, while acknowledging that the impact of value engineering is not always benign, declined to do so.
Certainly cost is a factor (and one wonders in passing how much has been paid for the experts who have advised the Inquiry on the design, by comparison with the fees earned by those who produced the design in the first place); but one can no more take out price as a significant factor in procurement than one can take gravity out of physics, and Paul Hyett was clearly right in saying that it can never be the excuse for doing the wrong thing.
The subjects for reform in construction are what the US Airforce call a "target rich environment", but the most pressing questions arising from the Grenfell Inquiry are probably: what conduct and competence can clients expect of the industry (and what can those in the industry expect of each other); how can it be recognized, procured and assured; and what is the sanction for a shortfall in either?
However, these high level questions quickly parse into a host of topics embracing education; regulation (and could someone please explain to government that characterising proper standards as "red tape" is a grievous category error) and compliance; testing and self-certification; how collaboration and accountability should work in realities of the market; and a host of other issues. It also means asking not just what would be a better world but what would make that better world happen. "Toolkits" are certainly necessary and helpful, but they are just that, a collection of tools, and will not change the world – unless, perhaps, they include a tool for looking into people's souls.
Clearly, this is more than any one organisation can take on, and construction has always been hopeless at speaking as one. Hope must therefore rest in the "reset" (all the rage just now) of the Construction Leadership Council (CLC), and a continuation of the excellent example shown in coordinating the response to Covid-19, and the CIC-lead work on competence. The CLC still lacks a delivery mechanism, of course, and no strategy is worthy of the name unless it identifies both the subjects and means of improvement, and has the resources to deliver it (so, please, no "Construction 2030" report with political targets that had no chance, and probably no expectation, of being achieved).
Instead, the answer must lie in doing the thinking, agreeing the programme, and then brigading and endorsing the enormous amount of work that is currently done in an uncoordinated way – too much of it by professional institutions and trade associations going it alone, putting organisational ego above collective good.
The conventional wisdom of a post-Covid age is that "nothing will ever be the same again". Certainly it will accelerate or embed some changes that were already afoot, but the more general sentiment seems to be a longing to return to things as they were. It would be little short of tragic if, notwithstanding the instructive lessons of Grenfell and covid, the industry reverts once again to its factory settings.
Paul Morrell is a former senior partner of Davis Langdon and was the UK's first chief construction adviser between 2009 and 2012.