As we count down to COP 28, defence veteran Peter Egan FCIOB argues that the sector can be a leading client for sustainable best practice in the built environment.
The UK defence industry is one of the largest and most influential in the world, with a budget of over £20bn and a workforce of more than 200,000. With the government's 2050 net-zero commitment, the Ministry of Defence is setting out to build a more modern, fit-for-purpose and sustainable estate, driving change in four key areas.
We are now in a time of opportunity, with organisations looking to upscale sustainable practices. The defence infrastructure team within UK Strategic Command have been working with Project X Global, a B Corp initiative aimed at transforming the construction sector by applying cutting-edge technologies and practices to deliver high-quality, low-carbon, and circular buildings.
Project X Global is helping embed new concreting technologies and sustainable practices into projects at RAF Leuchars in Fife. Project X Global uses financial support mechanisms that help cover the increased costs of using new digital tools, prefabrication, and circular economy techniques within the delivery. The result is that these practices have been upscaled with construction partner Graham.
To be eligible, projects need to be already funded against standard costs and have client buy-in to use more sustainable practices. Project X Global then supports the increased cost of research, testing and assurance that may be needed. The aim is to reduce the embodied carbon in this project and create a case study for wider use.
The UK defence sector operates in various environments worldwide, from the arctic to the desert. This poses significant supply chain risks, including vulnerabilities from changing markets and enemy actions. These issues can be addressed by embracing more sustainable and vernacular options.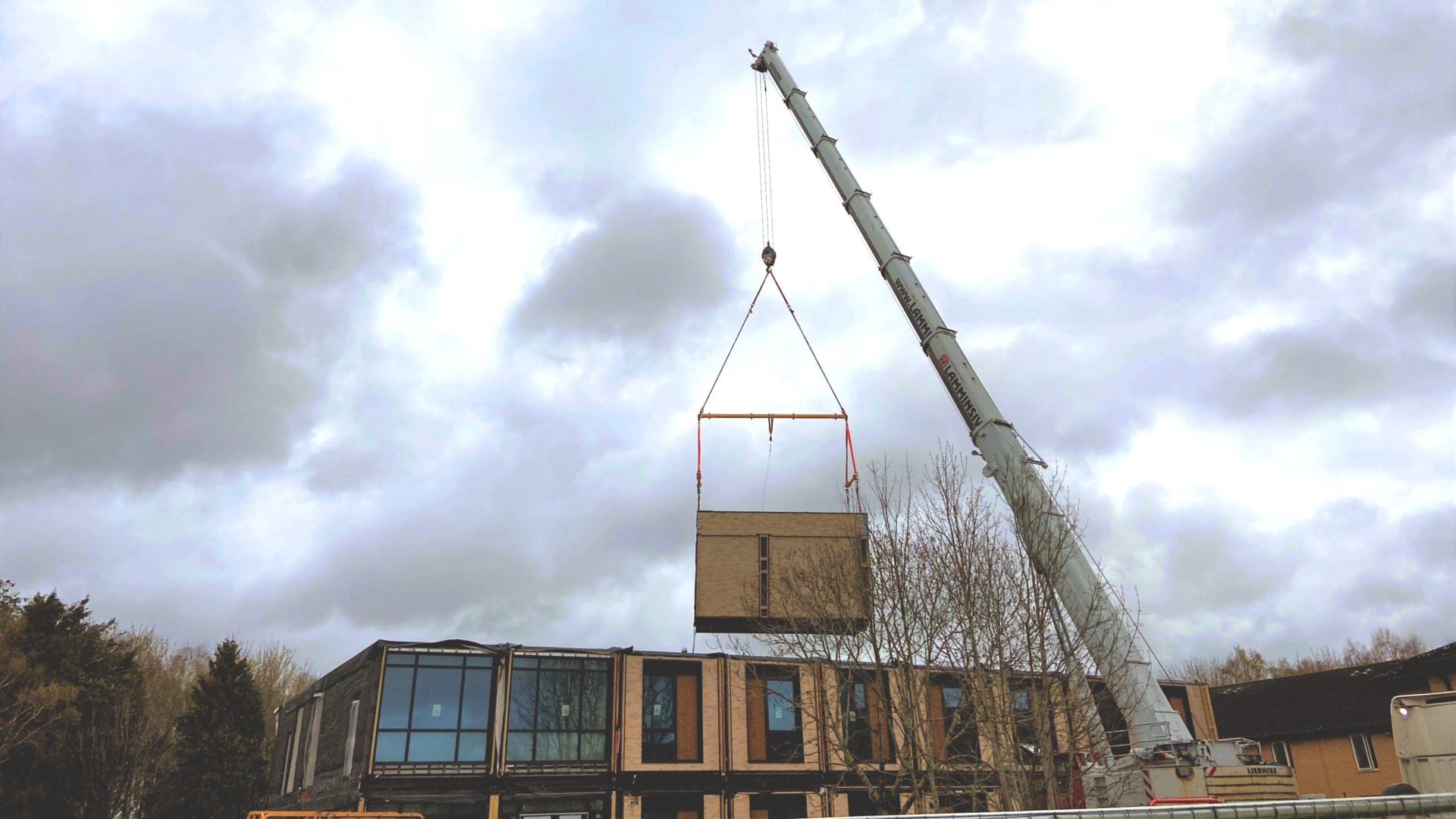 An example is the approach to new SLA (single living accommodation) with modular construction specialist Reds10, which is designing and building sustainable modular barracks for the British Army and UK Strategic Command. These can be assembled on-site within a greatly reduced time frame using prefabricated components.
The barracks are also energy-efficient, water-efficient, and adaptable to different climates and terrains. And they also embrace wider mental health considerations such as access to natural light in barrack rooms and improved views of nature. These barracks can also be dismantled and reused, or recycled at the end of their lifecycle.
AI can be exploited to help address missing skill sets, but this needs the right information to be fed into the process. With the right questions, can we drive forward more sustainable solutions, using tools like ChatGPT.
The images below show the results provided by the chatbot when asked to include vernacular principles into deployable accommodation, including: maximising shading to reduce heat gains; incorporating airflows to enable natural cooling; and improving visibility out of rooms.

For the construction industry, this level of change is no easy feat, as there has been a lack of sustainable training in the last 50 years. This has created a vacuum in skill sets with knowledge of high energy and carbon practices throughout the sector.
Educated clients are needed to push for better and higher outputs. History shows that the construction sector in general overall tends to follow rather than lead in adopting new technologies.
Peter Egan FCIOB is a sustainability consultant and chartered engineer with EGS Consult and has more than 25 years' experience working in the military.
Register for free and continue reading
This is not a first step towards a paywall. We need readers to register with us to help sustain creation of quality editorial content on Construction Management. Registering also means you can manage your own CPDs, comments, newsletter sign-ups and privacy settings. Thank you.