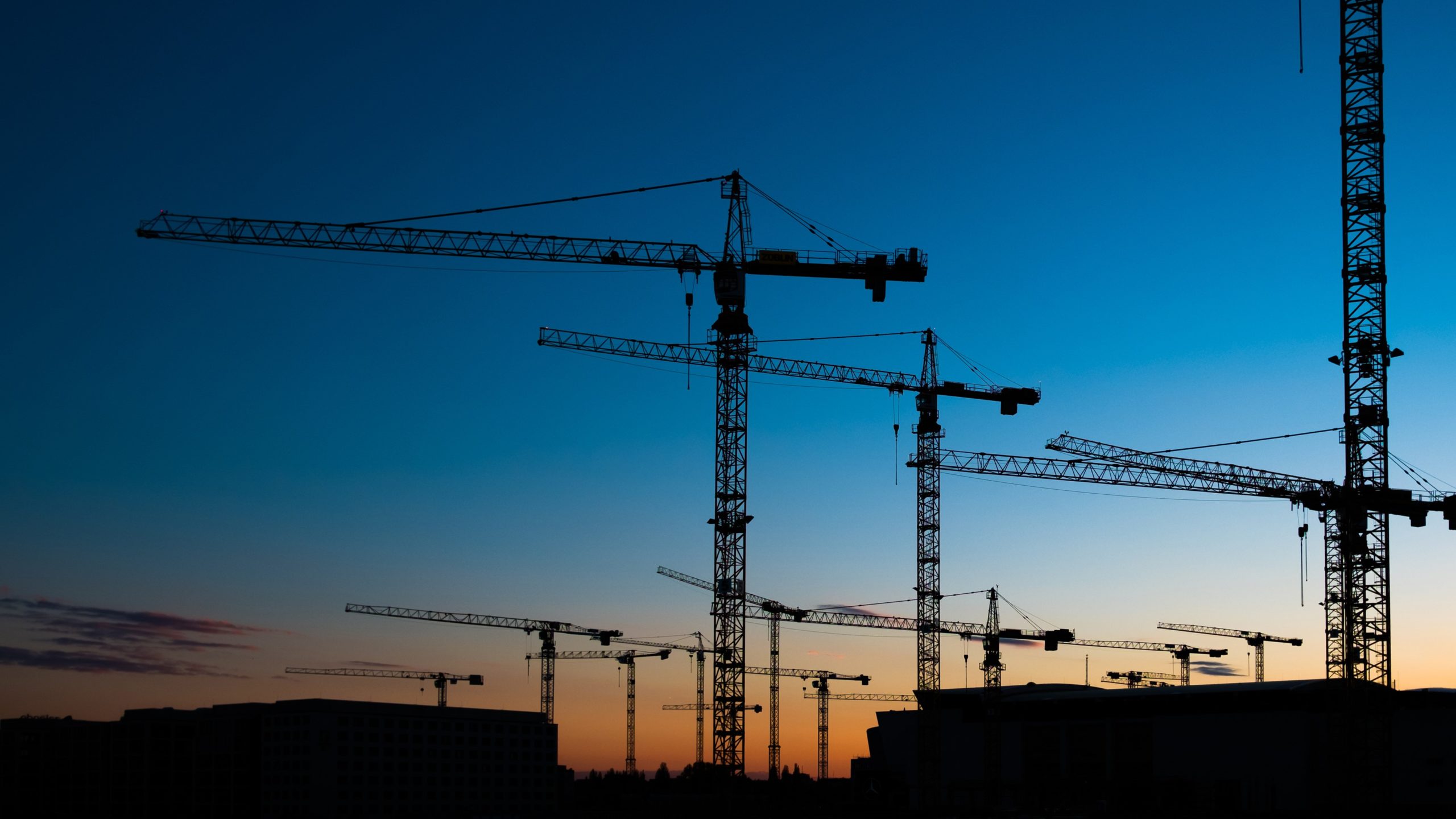 Fixed-price contracts were still most commonly used in construction in 2021-2022, although the risk of inflation means that the industry may be turning rapidly to other pricing mechanisms.
A total of 950 construction professionals responded to the survey in January to April 2022, answering questions about their legal and contractual practice in the preceding 12 months.
Some 86% of respondents were consultants or advisers. Contractors made up 5% of respondents, clients another 5%, subcontractors 1% and 'other' 3%.
In total, 77% of all respondents said fixed price or lump sum was most commonly used for their contracts. RIBA commented that when inflation was at 2%, this suited all parties well. But with UK inflation rising, fixed price looks increasingly risky and it suggested that the industry may be rapidly turning to other pricing mechanisms.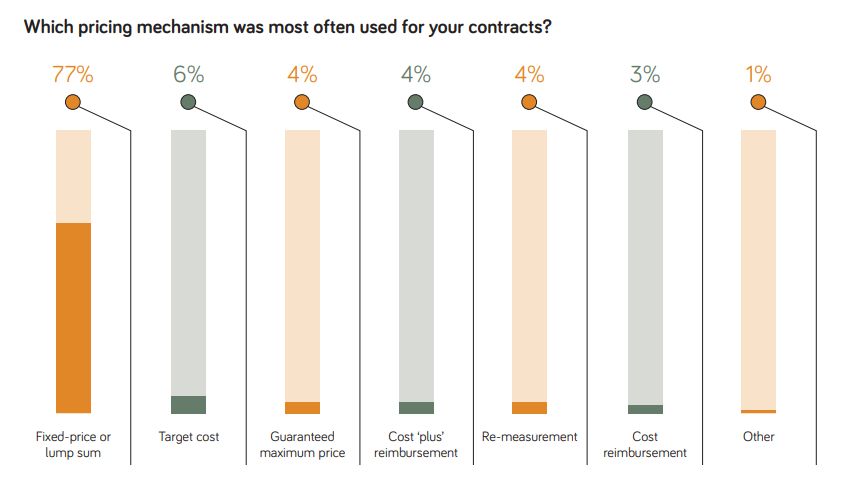 'Traditional' procurement routes
Meanwhile, 'traditional' procurement routes still dominate in construction. The majority of respondents (56%) still use a traditional form of procurement where the designer is directly engaged by the client, with contractors appointed separately.
These traditionally procured projects fall into two categories – those that have a defined contractor/subcontractor element (40%) and those that don't (16%). Meanwhile, over a third of respondents (34%) said they used design and build most often.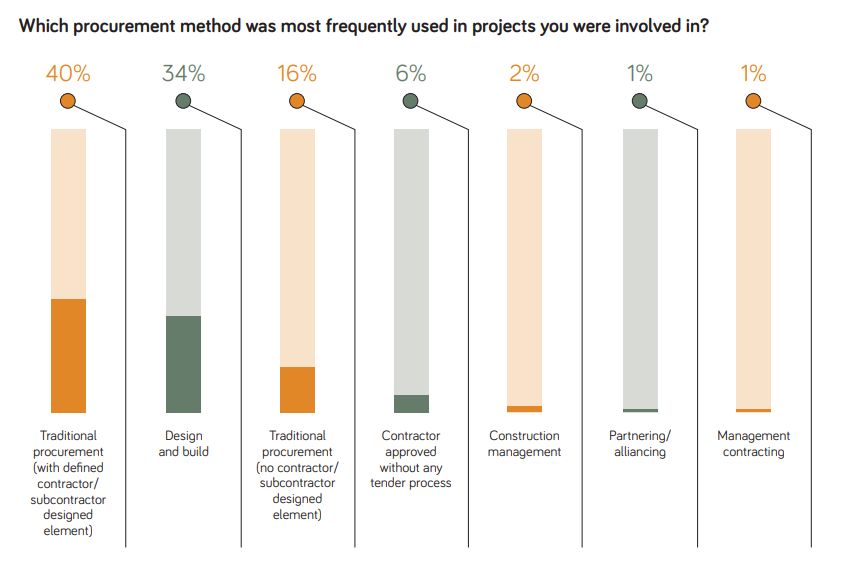 Clients the biggest barrier to collaboration
The majority of those surveyed said they adopted collaboration techniques that started in the past 12 months. Some 22% said they used collaboration on all projects, with another 35% saying they used it on some. The remaining 43% answered 'no' to the question.
The most common form of collaboration was a contract that included the ethos of mutual trust and cooperation (74%), followed by a formal partnering agreement (17%), and a non-binding partnering charter (15%).
Nearly two thirds (63%) agreed that collaborative projects reduced the number of disputes that rise. And 61% said they improve delivery of the client's objectives.
But when asked what prevented them from becoming involved in or using more collaboration in projects during the past 12 months, 42% said the client did not want to use collaboration in projects. Another 34% said projects they work on were too small, and 21% sited concerns about risk.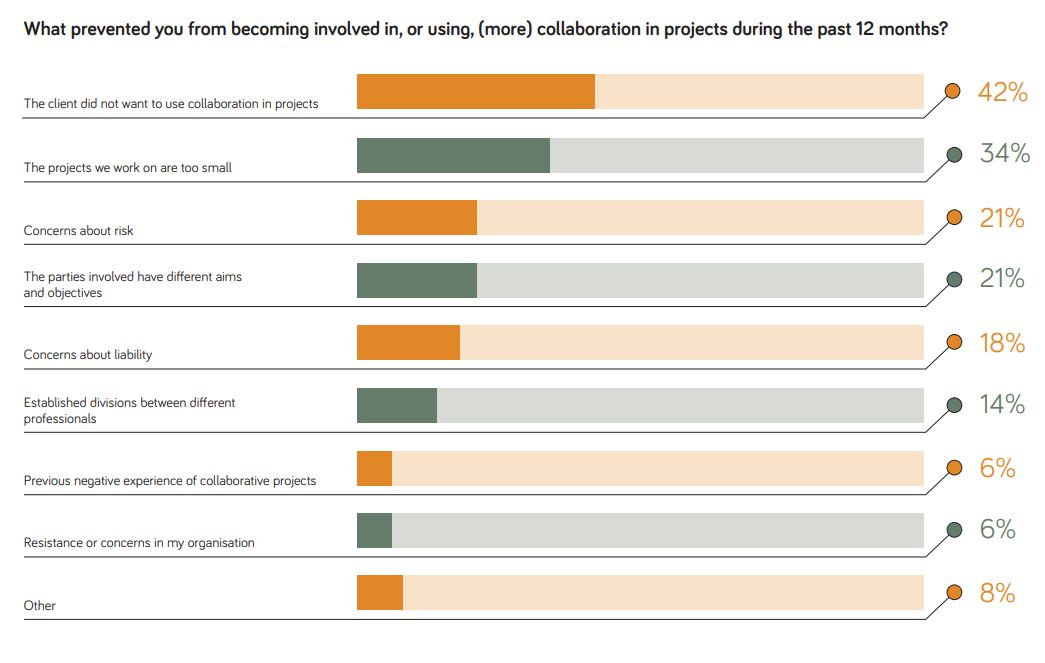 Lack of products and labour drag on project progress
The most cited reason for a lack of project progress was employer's variation (60%), followed by Covid-safe working practices (57%).
A lack of products was the third-most cited reason among respondents (50%) for a lack of project progress. Lack of workers (33%) was fifth. These were both new issues, arising from the pressures of Covid and Brexit.
Register for free and continue reading
This is not a first step towards a paywall. We need readers to register with us to help sustain creation of quality editorial content on Construction Management. Registering also means you can manage your own CPDs, comments, newsletter sign-ups and privacy settings. Thank you.