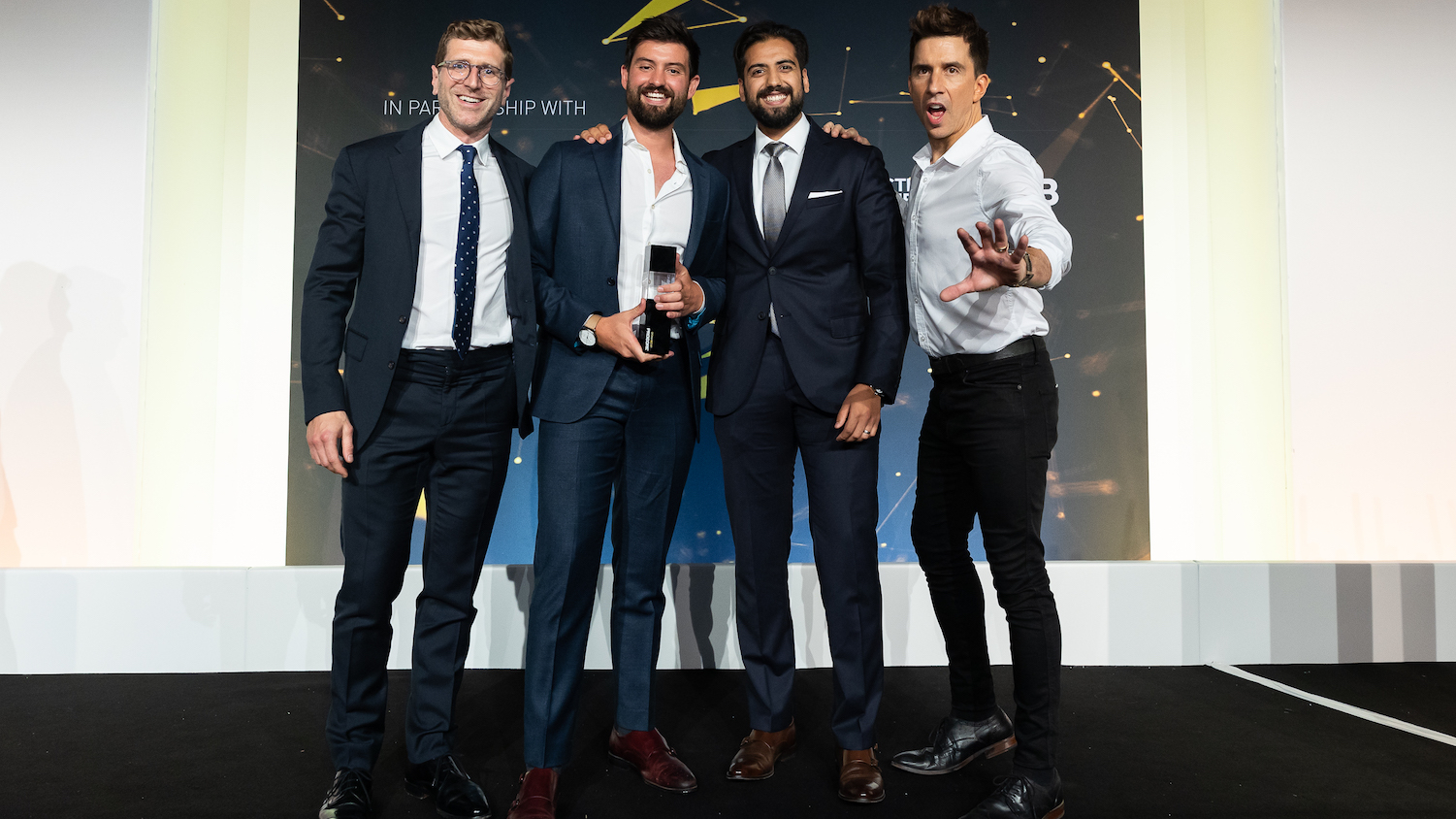 XYZ Reality's augmented reality Atom headset, which helps prevent delays associated with rework, was the winner of the Digital Innovation in On-Site Productivity category, sponsored by Procore, at the Digital Construction Awards last night (12 July).

The Atom, XYZ Reality's augmented reality (AR) headset, has been developed to overcome the persistent productivity problems affecting construction, particularly, the reduction of rework through greater accuracy.
AR is not new, but the Atom, and the HoloSite software which enables it, was developed from a construction, as opposed to a generic technology, perspective.
Launched in November 2021, the AR capability means the wearer can see a visualisation of the as-built digital twin, 3D Rendered, delivered within 3mm-5mm accuracy. This means site teams can be confident they're building to the correct specifications and allows real-time, in-situ inspections to be conducted during the build.
Project teams use HoloSite software to upload data from Autodesk Revit, Navisworks and other software, where it is converted into an XYZ format which plugs into the Atom. Data flow between the Atom and HoloSite provides visibility and real-time information between site teams and the office, allowing them to check if works are executed as detailed in the BIM model.
"The Atom offers impressive, multi-faceted innovation. It offers a move away from a reactive approach to tackling errors, to a more proactive way of working and solving problems."
What the judges said
Its in-built cloud technology means the Atom is a highly collaborative device, allowing remote viewers to log into a live feed and troubleshoot issues. This also reduces the need for multiple personnel to travel to the site for inspections.
An example of the Atom's effectiveness is a recent data project where the tool was used by construction management firm PM Group. Their team used the technology during rainwater pipe installation. The Atom pinpointed multiple positional discrepancies in the surface water network connections and slab penetration positions – but before any major works were undertaken.
PM Group explained the issues to the relevant contractors who corrected the errors without significant delays. This saved over £250,000 and 3.5 weeks of predicted rework, demonstrating the productivity and financial gains from using the technology.
XYZ Reality's team recognise the challenges of introducing new technology into a construction business and support the introduction of the Atom with staff training, on-site support and assistance in processing data.
Dan Houston of XYZ Reality, said: "Traditionally in construction, there is a very reactive process using traditional means. We've shifted that mentality, because if you can see what you need to build, you get it right the first time. We've just scratched the surface of what we want to achieve."
On-Site Productivity shortlist:
Black Potts Weir, Flood Alleviation Scheme | L Lynch, BAM Nuttall
Crane telematics | Skanska UK, Select Plant Hire
Digital progress tracking with automated reporting | Taylor Woodrow
SCS Railways JV work on HS2 | SCS Railways, HS2, Zutec
The Forge | Bryden Wood, Landsec, Sir Robert McAlpine, Mace, NG Bailey
Register for free and continue reading
This is not a first step towards a paywall. We need readers to register with us to help sustain creation of quality editorial content on Construction Management. Registering also means you can manage your own CPDs, comments, newsletter sign-ups and privacy settings. Thank you.