The Digital Construction Awards attracted more than 120 entries, 63 of which have been shortlisted. Here, we detail the shortlist for the Digital Innovation In On-Site Productivity, sponsored by Procore.
This category recognises the best digital innovation that improves on-site productivity. Six entries made the shortlist. 
Black Potts Weir – Flood Alleviation Scheme | Lynch with BAM Nuttall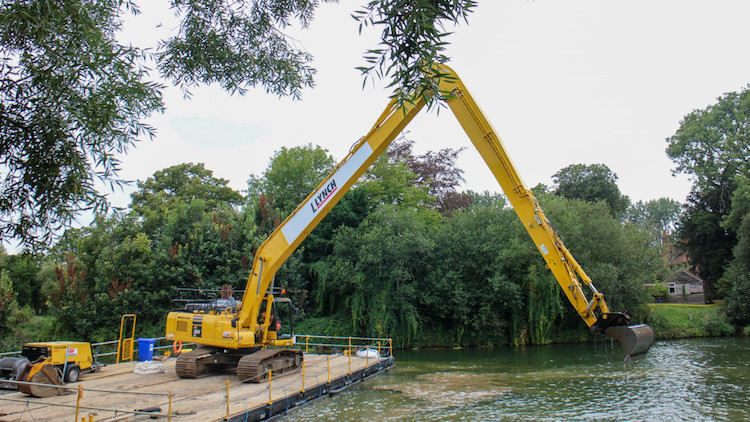 The Environment Agency appointed BAM Nuttall to carry out repairs to Black Potts, one of six weirs along the man-made Jubilee River near Windsor.  
Typically, a scuba team would help execute this work, but the job would take a minimum of 12 weeks. Plant hirer Lynch offered BAM a digital solution that would cut the programme by half while reducing safety risks. This involved a survey of the riverbed topography and use of GNSS machine control to position rock armour in the eroded sections of the weir, instead of divers. 
Lynch provided BAM with two excavators for the work, both equipped with Leica MC1 machine control. A special attachment shot the survey, which was uploaded to ConX cloud software. The BAM team then mapped the exact positions for the rock armour, which the operators lowered into position at the first time of asking, using the machine control.  
The work was completed, as Lynch forecast, six weeks early. 
Crane telematics | Skanska UK with Select Plant Hire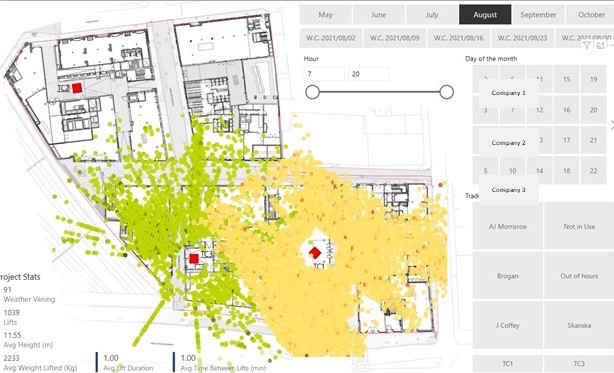 Tower cranes are among the most expensive equipment used on construction projects, but their utilisation is often disrupted. For this reason, Skanska and its plant hirer partner Select started exploring how to improve crane utilisation through digital technology.
Their approach pulled together data from IoT (Internet of Things) sensors on cranes and used Python scripts to access information from manufacturer Terex's crane management systems. With Power BI, the Skanska-Select team built dashboards that calculated the number of lifts occurring throughout the day, plus the positions of the hook, which showed the routes of the crane operator. 
The team used this data to calculate the number of lifts each trade contractor required, identify trends, and monitor any issues on a real-time project dashboard.
The process allowed Skanska and Select to analyse rates of installation for different packages, such as for concrete pours, and assess and improve work processes. The team could also review each crane's power consumption and develop more efficient schedules, with fewer wait times and unnecessary crane movement.  
Digital progress tracking with automated reporting | Taylor Woodrow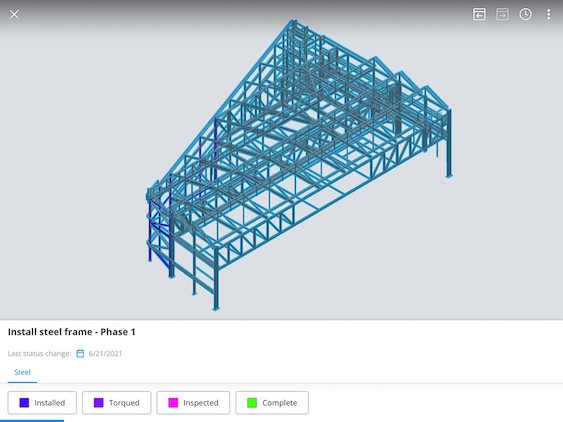 Taylor Woodrow set out to change the way it monitors project progress on EcoPark South, part of North London Waste Authority's £1.2bn waste management hub in Edmonton. 
The contractor's existing paper-based workflows would often see triple handling of data from site to office, and the goal was to digitise this process, using the steel frame construction as a pilot. 
The project team assigned tablets to site operatives, who recorded the status of components from the digital model in relation to the construction progress, for example, 'installed', 'tested', or 'awaiting inspection'. Each update automatically synced via the cloud and allowed project management to check the status via a Power BI dashboard. This process also updated the model, allowing other project stakeholders to view live progress in Synchro 4D Pro.
The new workflow has eliminated the risk of inaccurate capture of data and reporting and slashed the time taken to collate, assess and report project progress. It will be implemented across the Taylor Woodrow business later this year. 
SCS JV Temporary Works on behalf of HS2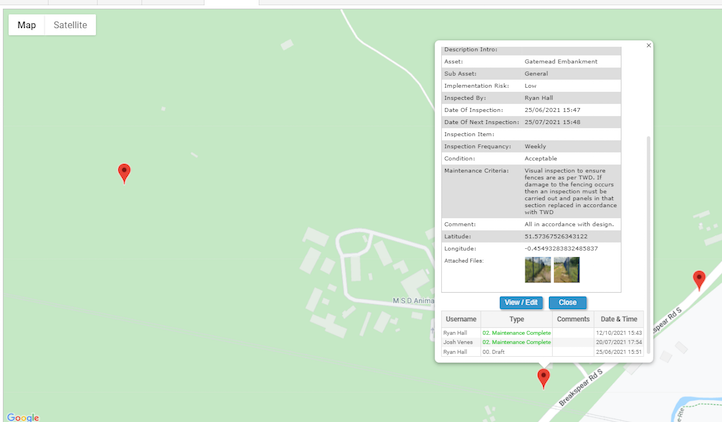 The Skanska Costain Strabag JV on HS2 used digital technology to improve productivity of its temporary works activities and eliminate challenges delivering 'redline markups'. 
Historically, SCS had managed its temporary works register and design brief through Excel. The JV brought in Zutec as its technology partner to improve the process.
Through the introduction of Zutec Cloud and Zutec Field, temporary works design managers and coordinators could manage the whole design in one secure location. Zutec also created a common data environment to handle all temporary works documents and processes, including the register, permit to load and maintenance.
The tech firm addressed SCS's redline markup concerns, through a process that links Zutec with Bentley product Assetwise (Zutec can accept data from third party applications using its 'webhook' feature). For example, when IFC drawings are tagged in Assetwise, users can then access these drawings in Zutec cloud, mark them up, and once accepted by the quality team, push the document back into Assetwise via an API. 
The Atom AR headset | XYZ Reality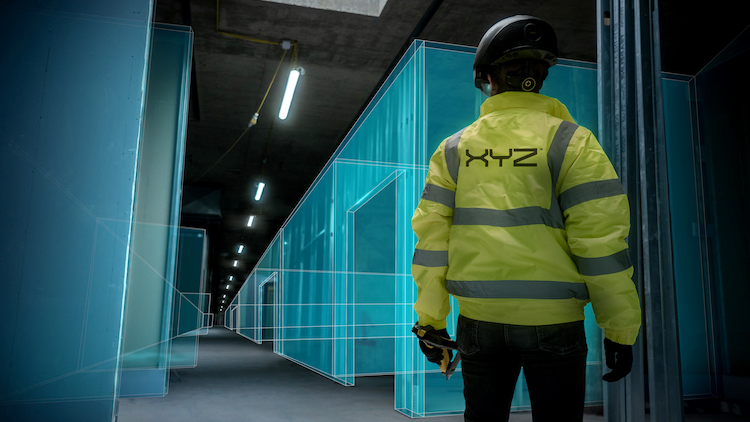 The Atom, XYZ Reality's augmented reality (AR) headset aims to tackle productivity problems associated with rework.
Launched in November 2021, the AR capability means the wearer can see a visualisation of the as-built digital twin, 3D rendered, delivered within 3mm-5mm accuracy. This means site teams can be confident they're building to the correct specifications and allows for real-time inspections. 
Project teams use HoloSite software to upload data from Autodesk Revit, Navisworks and other software, where it is converted into an XYZ format that plugs into The Atom. Data flow between The Atom and HoloSite allows site teams and remote workers to check if works are executed as detailed in the BIM model. 
An example of The Atom's effectiveness is a recent data project where the tool was used by construction management firm PM Group. The Atom pinpointed multiple positional discrepancies in the network connections before any major works were undertaken, saving more than £250,000 and 3.5 weeks of predicted rework. 
The Forge | Bryden Wood with Landsec, Sir Robert McAlpine and Mace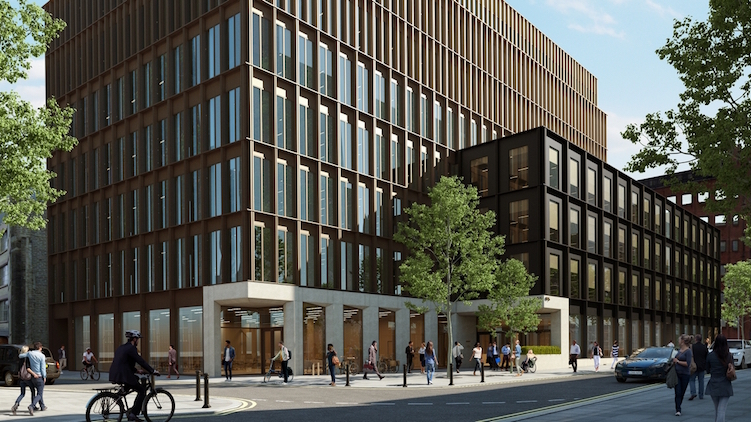 Improving site productivity was a key aim of the platform DfMA (design for manufacture and assembly) approach on Landsec's £95m office development in Southwark, London.
Bryden Wood analysis showed The Forge demonstrated suitability for 80% adoption of platform DfMA. Architect and client worked with key suppliers to prototype digital tools and onsite automation to drive new levels of efficiency.
For example, a highly rationalised superstructure meant identical components could be rapidly manufactured and assembled. The superstructure design, which created a data set for every component, also generated bills of materials and created QR codes for logistics. The contractor team of Sir Robert McAlpine and Mace achieved the ambitious installation cycle of 15 days per floor.
Temporary works fabricator Easi Space, backed by UK Research & Innovation, devised robotics to cut and weld components together. The temporary works used at The Forge can also be reused on other schemes.
Cambridge University is aggregating data compiled on The Forge and already their analysis shows significant benefits from the platform DfMA approach, including a 50% reduction in site operatives for superstructure and façade. 
The winners of the Best Use of Data category, alongside the victors of the other 11 categories, will be revealed at the awards dinner on 12 July at the Brewery in London.
The Digital Construction Awards celebrate best practice and reward innovation in the application of BIM and digital technology in the built environment sector.
The awards are run by Digital Construction Week, the Chartered Institute of Building, and media titles Construction Management and BIMplus. 
Awards sponsors include Revizto, Bluebeam, Procore, Autodesk, Solibri and the Association for Project Safety.
Register for free and continue reading
This is not a first step towards a paywall. We need readers to register with us to help sustain creation of quality editorial content on Construction Management. Registering also means you can manage your own CPDs, comments, newsletter sign-ups and privacy settings. Thank you.