The Digital Construction Awards attracted more than 140 entries, 62 of which have been shortlisted. Here we detail the shortlist for the Delivering Net Zero with Digital Innovation award.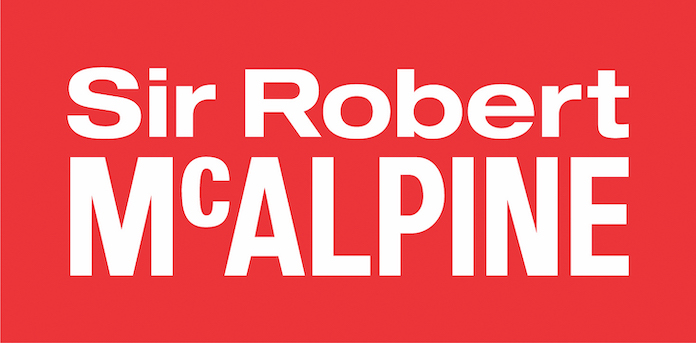 The Delivering Net Zero with Digital Innovation category, sponsored by Sir Robert McAlpine, recognises organisations that use digital tools, methods and skills towards achieving net-zero carbon emissions.
Six entries made the shortlist, including those from and Skanska, Winvic, and WSP.
AI-based embodied carbon calculator | Winvic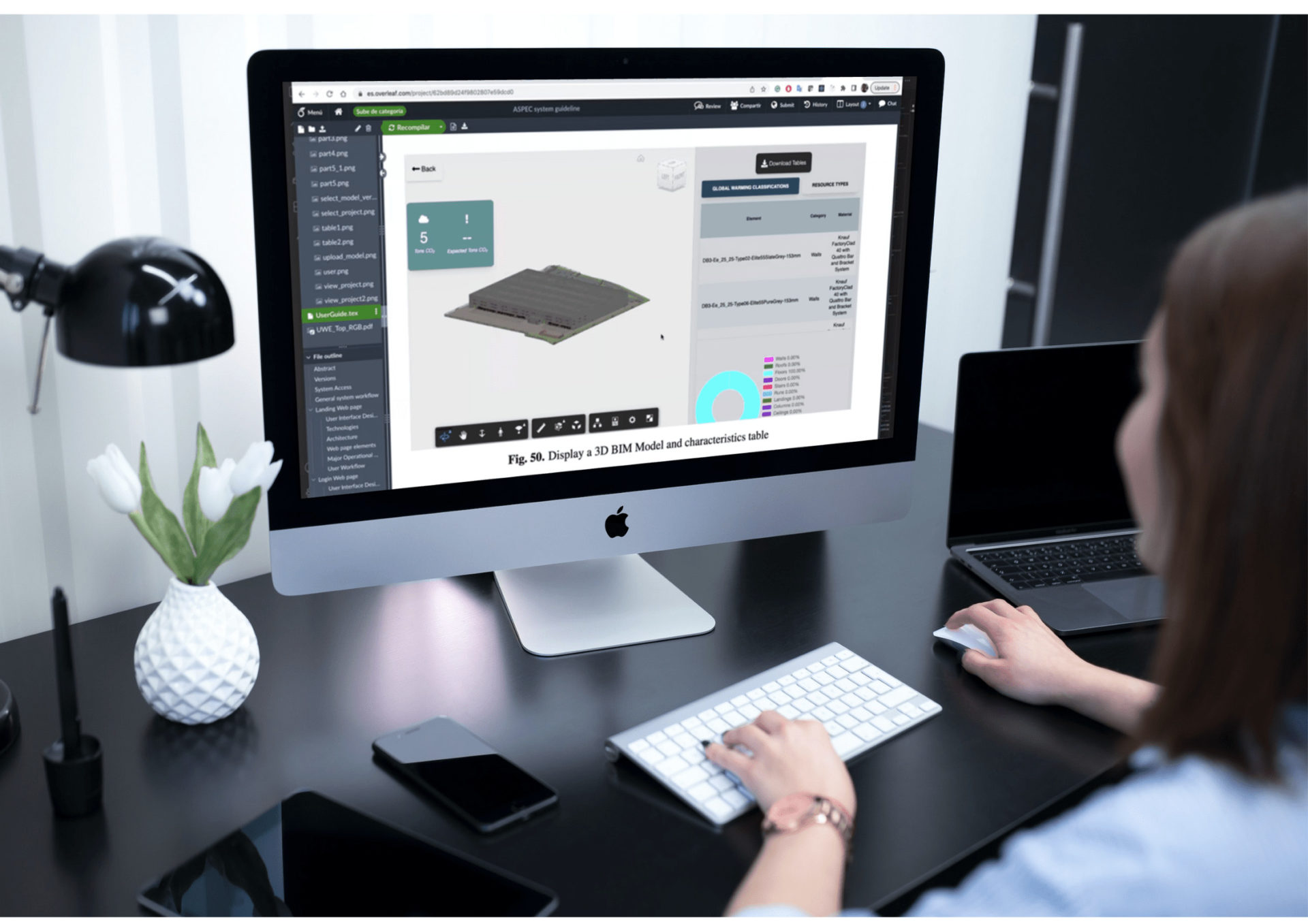 Current methods to calculate embodied and operational carbon emissions are onerous and prevent design teams from proactively driving down the embodied carbon footprint of projects. This is particularly challenging when addressing the carbon emissions of building materials.
Winvic created an artificial intelligence (AI)-based embodied carbon calculator using historic embodied carbon data from previous construction projects to develop machine learning models to predict the embodied carbon based on construction project design.
Data from construction projects' designs was also used to train and develop the machine learning models and the supply chain. The data from the carbon calculator relays information to a platform where 'what if' analysis of embodied carbon of materials is carried out with the aim of identifying alternative design specifications that reduce the embodied carbon of the project.
Winvic used big data analytics, including predictive and prescriptive analytics and data visualisation. This allows the project team to continually have insight into what is being undertaken and reviewed and also allows them to input into the overall project scope.
The ability to optimise schemes and see embodied carbon costs in real-time design and apply material changes through the AI-based embodied carbon calculator leads to quantifiable reductions in greenhouse gas emissions, Winvic said. It also allows for faster delivery of project tasks thanks to the automatic estimate of the embodied carbon cost of any digitally-designed project.
Digital twin modelling for climate-resilient housing | IES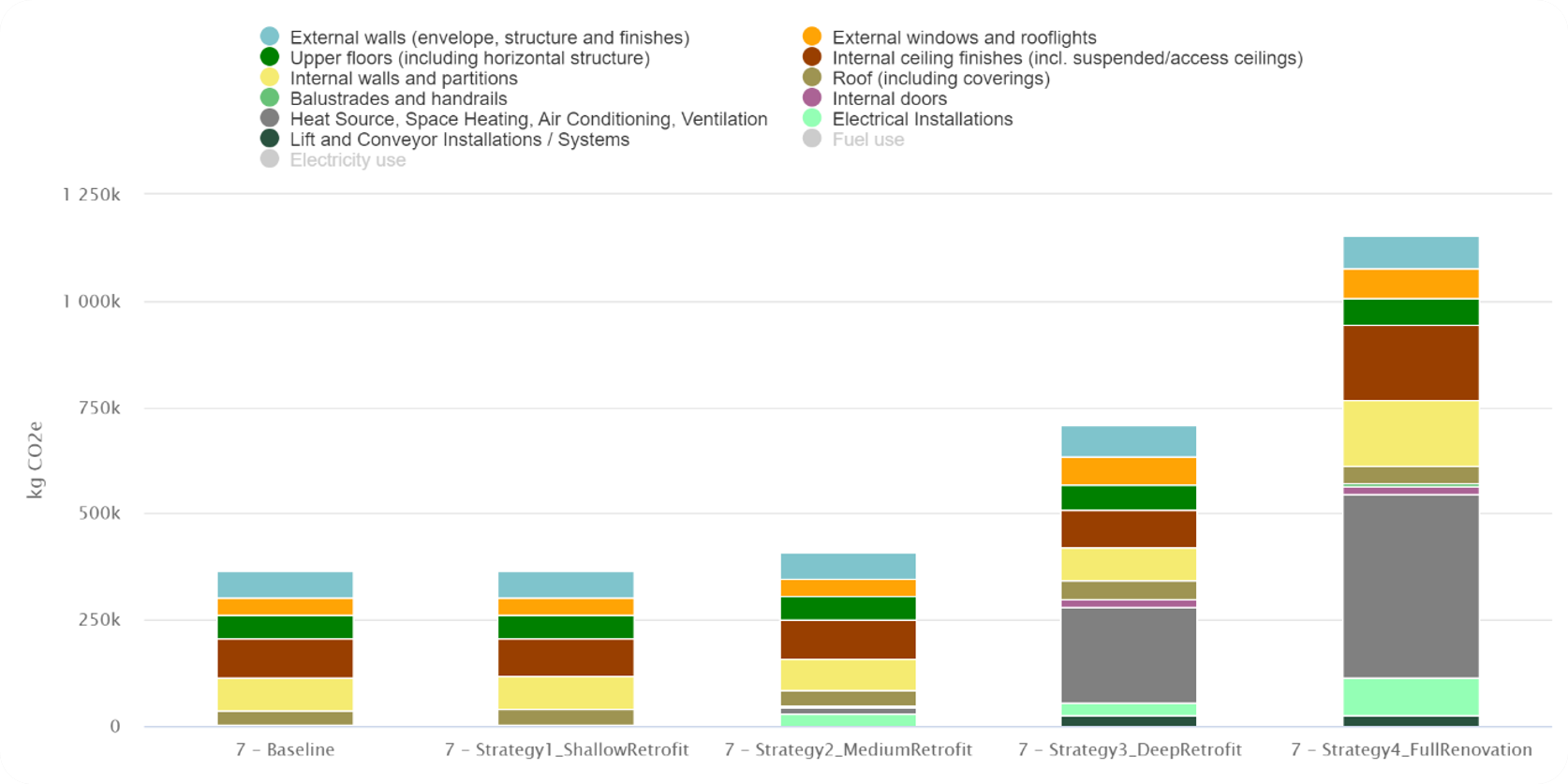 Using its digital twin technology, IES carried out energy and carbon modelling of three residential blocks in Dublin. It assessed the full carbon impact and efficiency of four strategies over three different time periods to regenerate the vacant buildings built in 1962.
The project took a whole-life carbon approach, considering both embodied and operational carbon. The digital twin models were used to identify which strategy, from shallow retrofit to demolition and rebuild, would result in the biggest reduction in operational emissions. To determine the strategy that would lower emissions most significantly, the main sources of energy consumption were identified by breaking down energy by end uses.
The digital twin uses IES's dynamic simulation modelling software that digitally models buildings to highlight the optimal route to regeneration and reducing embodied carbon. It also serves as a decision support tool to simulate and identify what actions must be taken to meet carbon reduction targets by 2030, 2050 and beyond.
The results showed that over a 60-year life period, each residential block can achieve around an 85% reduction in cumulative emissions through deep retrofit. As a result of the study, Dublin City Council can make evidence-backed decisions when developing green strategies for the refurbishment of ageing buildings.
DAISY: early-stage multi-objective optimisation using artificial intelligence to reduce carbon when it matters the most | WSP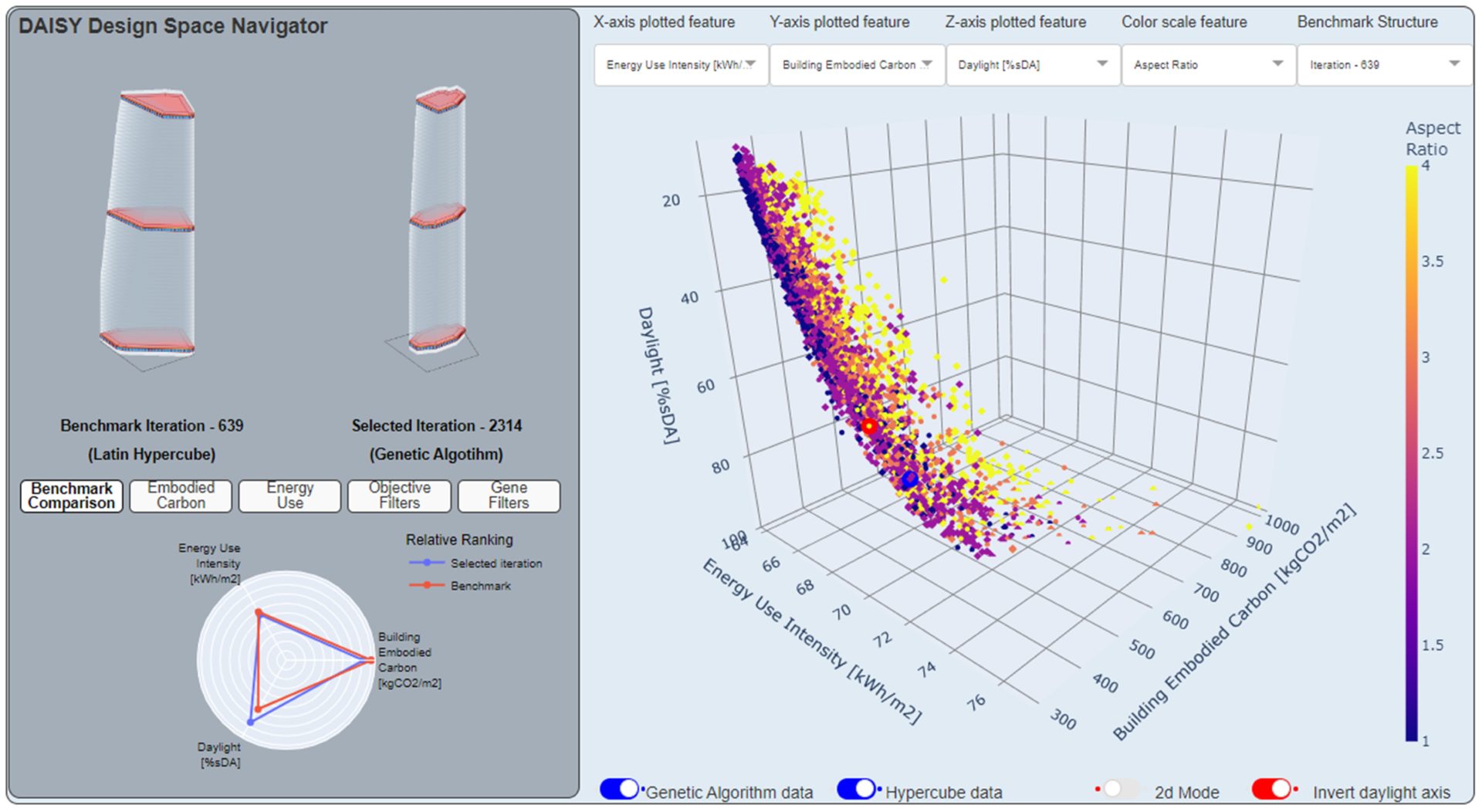 The traditional linear approach to building design limits the ability to optimise building performance across multiple metrics, including embodied carbon, energy use intensity and spatial daylight autonomy.
To overcome this challenge, WSP developed a computational tool that uses parametric design and machine learning to optimise building performance during the early stages of design. DAISY (Digital, Artificial Intelligence and Sustainability) generates and analyses a variety of options, including size, shape and building orientation to identify the most optimal solution for sustainability and user comfort performance metrics.
By assessing hundreds of potential combinations, DAISY enables designers to define and identify parameters and compare them to enhance building performance, meet environmental standards and maximise long-term savings.
DAISY's multi-objective results strike a balance between daylighting and additional heating and cooling requirements through integrated facade and environmental simulations, as well as the overall embodied carbon of the various design permutations.
Because it can run these simulations at the earliest design stages, DAISY helps streamline identification of the planning and performance requirements, allowing designers to demonstrate to regulatory bodies that the chosen design exceeds current benchmarks.
DAISY uses multi-objective optimisation techniques to identify building designs that maximise performance across multiple metrics and provides a user-friendly interface that allows designers to easily explore, visualise and understand the design space.
This design space exploration was achieved through machine learning and surrogate modelling, highlighting paths to higher-performing designs and allowing designers to build an intuitive understanding of the design space.
Skanska's transformational journey to net zero through redefining the 5D+ BIM dimension | Skanska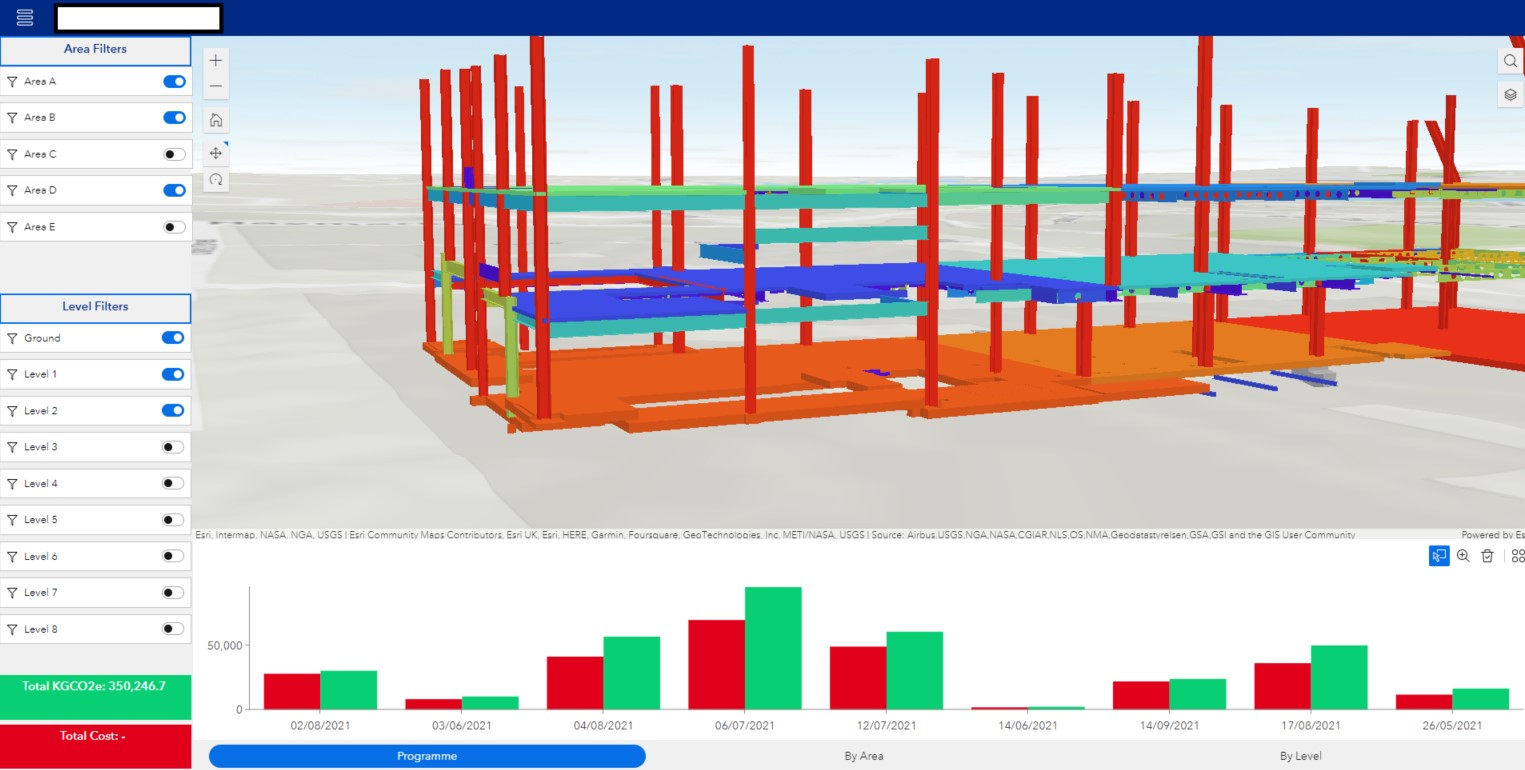 Skanska has developed an innovative digital process that integrates a variety of cutting-edge digital solutions to help it achieve net-zero carbon in its projects as well as its supply chain by 2045.
An online platform for creating and sharing relational databases collects and calculates carbon factor information, which, through automatic pipelines, is integrated with Skanska's 3D models. This enriches the existing 3D models with carbon data, enabling the company to interpret its project's 5D+ model as a single source of truth and generate a structured database that can be used for data analytics.
The outputs of the 5D+ BIM process has led Skanska to increase the efficiency of modern methods of construction to reduce carbon in projects by up to 17%. It also helps the company to keep track of a project's carbon emissions based on its design programme and cost. It also helps Skanska to build up its data foundations to enable the use of artificial intelligence and machine learning to advise clients on carbon reduction decision-making processes in future projects.
The process has been so successful that British Land approached Skanska to ask if it could release publicly its algorithm so the developer can use it for its projects. Another of the process's achievements is the development of a 5D+ BIM-led structured database around steelwork.
Solibri Inside | Nemetschek Group (Solibri, ALLPLAN, Graphisoft and Vectorworks)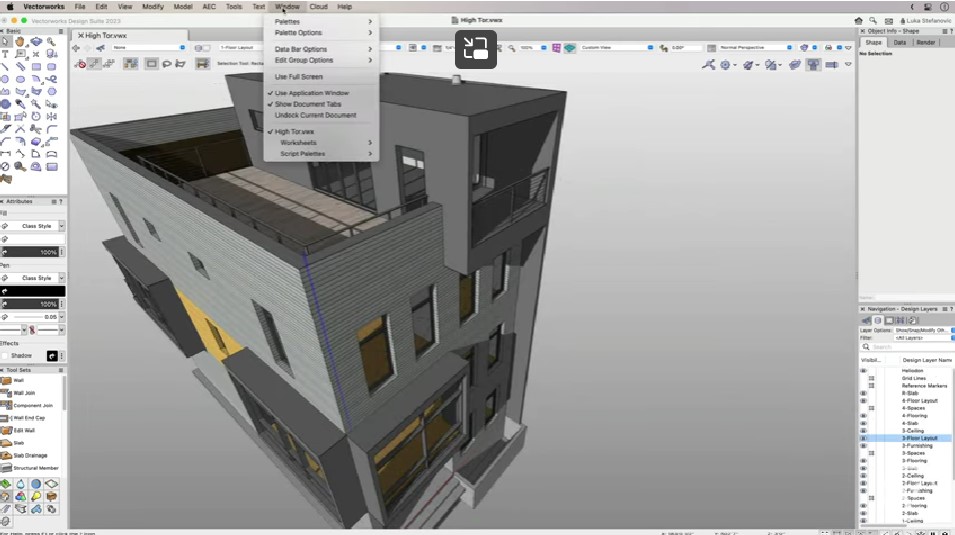 The Nemetschek Group (Solibri, ALLPLAN, Graphisoft and Vectorworks) developed a digital solution, Solibri Inside, that allows designers to significantly reduce rework and errors and ensures their BIM models are buildable and ready for sharing. This leads to a reduction of the consumption of energy and resources throughout the entire construction lifecycle, contributing to the industry's goal of achieving net-zero carbon emissions.
Solibri Inside's goal was to provide a collaborative digital solution that could reduce material waste, ensure on-time and on-budget project delivery and help minimise carbon emissions by avoiding errors.
During the development of the tool, Nemetschek collaborated with industry experts, clients and stakeholders to identify the key pain points and challenges faced by the construction industry. This resulted in Solibri Inside integrating BIM and project management software to enable real-time collaboration and decision-making. Technologies used include cloud-based services, SaaS-based solutions and native features.
The integration of Solibri Inside within Nemetschek's authoring tools Allplan, Graphisoft Archicad and Vectorworks makes it more convenient for designers to conduct quality checks, without the need to open another programme.
By improving the quality of BIM models and reducing errors, Solibri Inside also helps to reduce rework, ultimately saving resources and significantly lowering CO2 emissions during construction.
Transport and logistics | EPD Insulation Group

EPD Insulation Group saw the opportunity to improve both driver safety compliance and the delivery experience to its customers through the delivery of IT for its fleet of vehicles and drivers.
EPD's old system was entirely manual and involved great amounts of paper printing, many phone calls and a number of 'grey' areas. For example, the company had no record of how its drivers got to and from their destinations other than predetermined routes, or how efficiently they drove their vehicles.
EPD approached technology provider Eurora Group for a single in-cab solution that could combine driver delivery apps, navigation and driver performance. EPD selected the Webfleet Pro 8475 as the best device to accomplish this combined approach, along with Eurora Group's Cyrus suite of software.
Among other features, the Webfleet system allows EPD drivers to carry out vehicle checks with configurable defect reporting and photo capture and customer delivery notifications by text and email with a dynamic ETA.
One of the main aims of the project was to increase compliance in driver vehicle check reporting through an enforced digital process that would allow the driver to communicate defects in real-time. This enabled the defect reporting to be more accurate, efficient and enforced compliance.
The benefits of the new digital system include the reduction of EPD's fleet carbon footprint on numerous levels, including driver efficiency (speed and idling, for example) and fuel efficiency. EPD said it is already seeing large carbon and financial benefits with fuel efficiency and the planning of vehicle maintenance.
The winners of the Delivering Net Zero with Digital Innovation category, alongside the victors of the other 11 categories, will be revealed at the awards dinner on 4 July at the Brewery in London.
The Digital Construction Awards celebrate best practice and reward innovation in the application of BIM and digital technology in the built environment sector.
The awards are run by Digital Construction Week, the Chartered Institute of Building, and Construction Management and BIMplus.
Awards sponsors include the Association for Project Safety, BIMcollab, Bluebeam, Everwarm, Graitec, nima, Procore, Revizto and Sir Robert McAlpine.
Register for free and continue reading
This is not a first step towards a paywall. We need readers to register with us to help sustain creation of quality editorial content on Construction Management. Registering also means you can manage your own CPDs, comments, newsletter sign-ups and privacy settings. Thank you.