Recent ONS data shows new orders rising significantly, but finding talent to fill the skills gap is likely to require long-term investment, writes Kris Hudson.
As the construction sector and the wider economy continues to recover post Covid, with construction leading the way, it remains to be seen whether green shoots will convert into deep roots. Despite new positive data on construction output and new orders, manifesting labour shortages and ongoing cost increases remain a threat to the sector's recovery, and could hamper long-term growth prospects.
Recent Office for National Statistics (ONS) data shows new orders rising significantly, increasing by 17.6% on the quarter and 135.2% on the year as of Q2 2021 as demand climbs out of its pandemic trough at pace. It's worth bearing in mind that this is from a much lower base than even during a global recession such as 2008, and shows a rapid return of investor appetite.
New construction work in the UK (£m)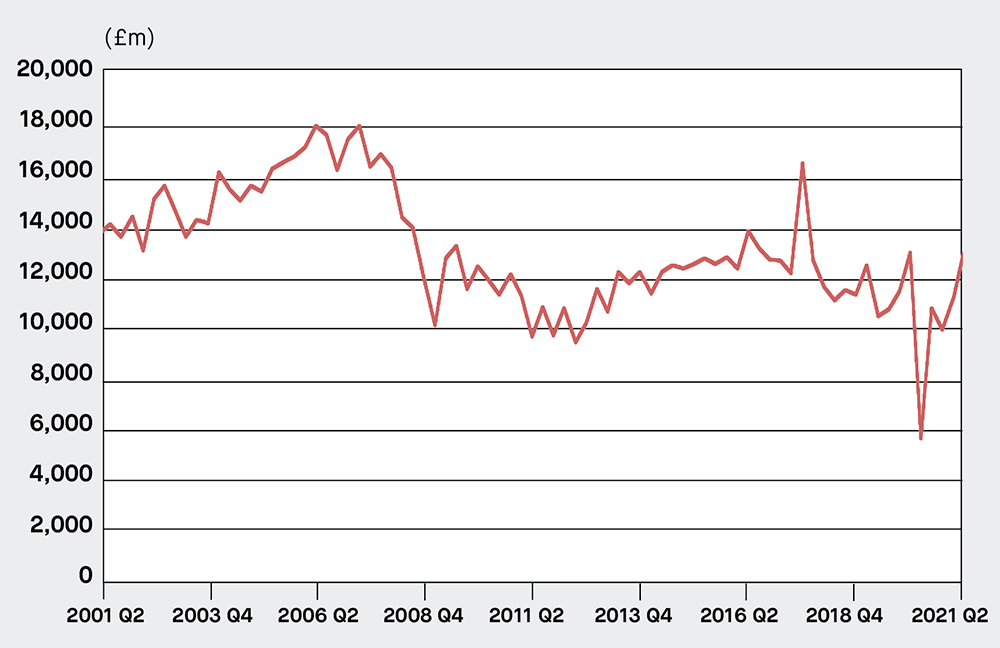 This should bode well for construction output – which tends to lag a couple of quarters behind new orders' progress. But this is far from certain, and labour availability to deliver these new orders remains a significant challenge. Unless demand declines, productivity improves, or labour supply increases we will only see the ongoing undersupply of labour persist.
Recessions tend to cause a reduction in construction employment but in this case we're starting from an especially challenging position. The Covid-19 induced recession, coupled with Brexit and a reduction in the availability of foreign workers has seen construction employment fall 8.2% below pre-pandemic levels seen in Q4 2019.
With construction output and new orders exceeding expectations so soon after recession, labour resource is under considerable strain.
UK construction output (£bn) and employment (,000s)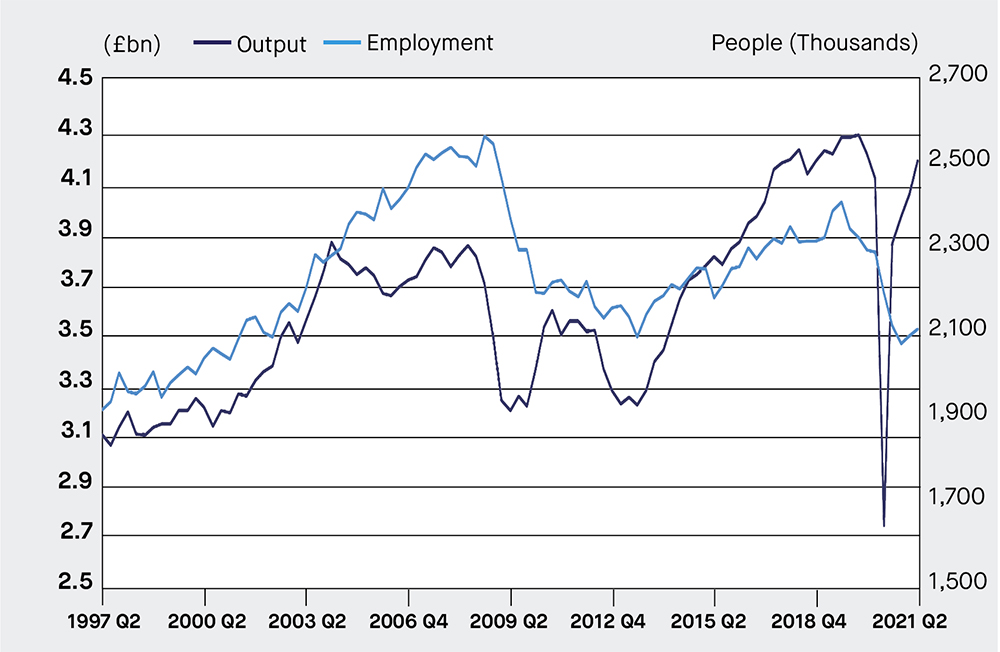 Finding and training new talent to plug the gap is likely to have a substantial time lag, which in turn may sustain high labour costs. Over the last 10 years, the average weekly earnings in construction increased by an average month-on-year rate of 2.2%. Current figures are far in excess of that – reaching 14.1% month on year in June 2021. In turn, further upward pressure on costs could take its toll on output growth.
In the short term, labour is likely to remain expensive and businesses should prepare for the fact that while order books may be growing, so will the costs of construction. Longer term, the industry must dig deep to resolve legacy employment constraints. This means investing in people and working hard to diversify the talent pool – recruiting, training and retaining workers from as wide a group as possible to secure future labour capacity.
Kris Hudson is an economist and associate director at Turner & Townsend.
Register for free and continue reading
This is not a first step towards a paywall. We need readers to register with us to help sustain creation of quality editorial content on Construction Management. Registering also means you can manage your own CPDs, comments, newsletter sign-ups and privacy settings. Thank you.