CPD: Understanding multi-sensor positioning systems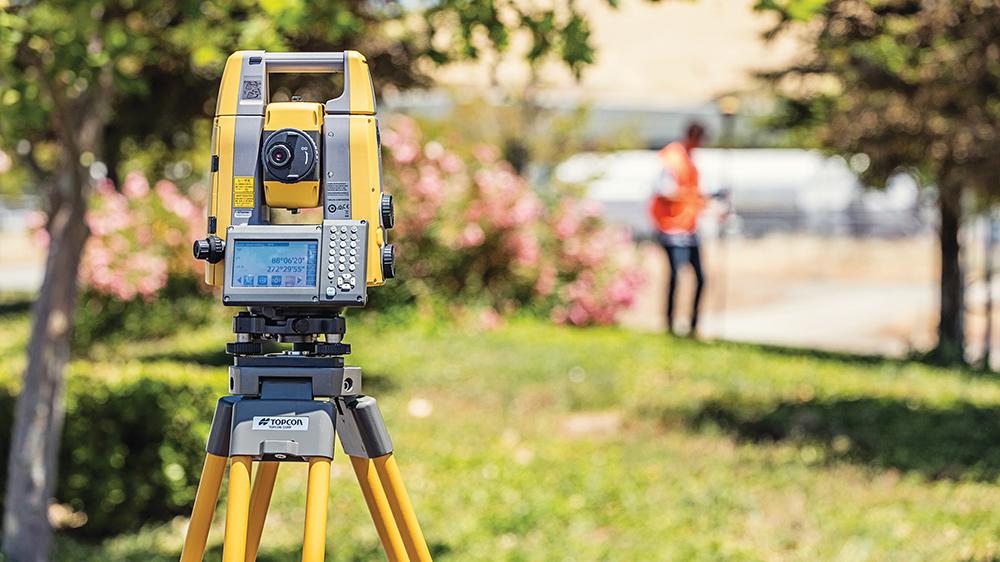 The sheer number of positioning systems available to construction companies can be daunting. But multi-sensor systems can offer a combined solution to give contractors the best of both worlds. This CPD, in partnership with Topcon Positioning GB, looks at the new technology.
The face of construction is changing. The sheer number of positioning solutions available to construction firms – whether new independent contractors just starting out, or established businesses, can be daunting. It can be difficult to understand when to use more traditional optical equipment, like total stations, or when to use more recent innovations like GNSS (GPS) positioning. What should you choose to get the best in efficiency, usability and value for money?

In the past, this was a difficult question to answer. Often, a compromise would be involved. Optical total station solutions have traditionally been great for accuracy, but provide challenges when working on a national OS grid or on a large site with numerous obstructions. A GNSS solution doesn't give quite the same level of accuracy as optical, but gives increased flexibility to work easily on national or local coordinate systems and on large sites without being blocked by obstructions.
Now, however, multi-sensor systems, like Topcon's Hybrid Positioning system, utilise optical robotic total stations (RTS) and GNSS receivers in a combined solution to give the best of both worlds.
Optical and GNSS positioning systems
Total stations are generally used on a local coordinate system, so a small construction site of 10 houses could have, for example, 1,000m east by 2,000m north applied to the site. In basic terms, this places both the site and total station onto a single, local independent coordinate system with each feature on site having its own related coordinate.
A GNSS system is another method often used; most commonly opted for is a network rover, and this is the main reason why people are using GPS more frequently. Over the last 10-15 years national Ordnance Survey coordinates have been used more in general construction rather than just for specialist requirements.
GNSS can work on a national or local coordinate system. A new housing estate, for example, can be mapped over existing mapping, such as OS maps, or even Google or Bing maps, to show exactly where you are in the UK, allowing design and planning to take into consideration the wider environment and its impact on the eventual build. GNSS is simple – within minutes you can be operational and surveying basic points.
Each system has its own benefits, but also drawbacks. Optical solutions can be time-consuming for larger projects, and having a clear line of sight to targets can be challenging on more complex sites. However, they can also work indoors, which is especially important for projects such as tunnelling or renovation works.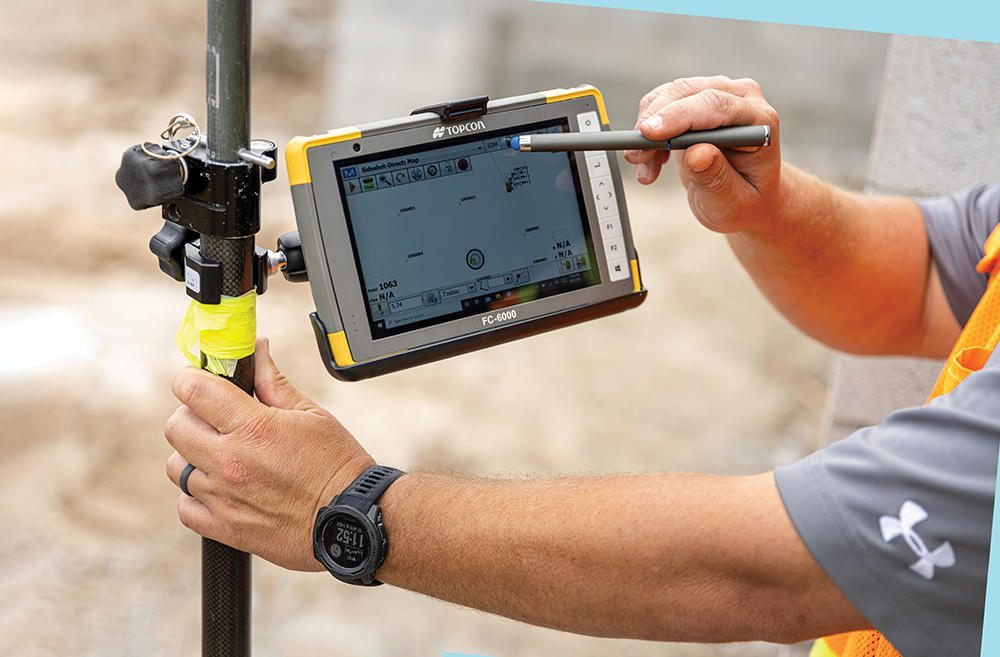 The accuracy of GNSS systems can be improved, and the more satellite constellations that the system accesses, the more likely the data is to be precise. For example, Topcon's HiPer SR solutions can access GPS and GLONASS constellations, and some more advanced solutions, like the HiPer VR and HR, can access even more, including Galileo and BeiDou.
The downside to these systems is their inability to be used indoors or where the satellite signals are obscured and blocked – in which case a RTS system would be needed to obtain the information.
Hybrid systems are an amalgamation of the two – offering the strengths of both approaches in one package. Historically each item would be purchased and used individually, but using two different systems can be costly and time consuming.
One example of the benefits of a hybrid system in action is when measuring a large stockpile on site. Traditionally, the use of an optical total station would require operators to traverse around the stockpile to measure multiple points from its entire surface.
With GPS added to the optical solution, there is no need for this; a hybrid allows users to switch to the GPS reading instantly, surveying the stockpile with no line-of-sight issues, and potentially saving hours of work moving the instrument around for multiple setups.
The modern construction site and its requirements is changing. The days of being able to do everything on a local grid are disappearing, and national OS coordinates are becoming more important. Certain construction site standards also now require a national coordinate system.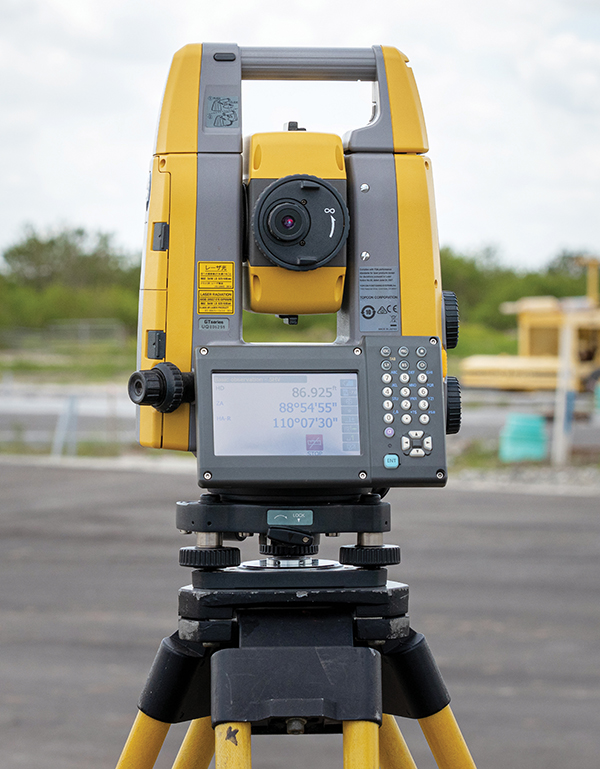 Topcon's Hybrid Positioning system places a lightweight GNSS receiver on top of the prism and allows the total station to reacquire prism lock in a matter of seconds. Users can select safe, convenient locations and define the unknown point of their instrument from GNSS measurements.
Some tools, like the HiPer VR from Topcon, offer a TILT (Topcon inertial levelling technology) function – traditional location equipment has always required the use of a levelling bubble but this system allows the user to survey in a non-level position such as a building corner.
The TILT system allows for positioning up to 15 degrees from level and still records accurately, which is very useful when trying to measure difficult to reach positions in tricky environments, such as the edges of buildings.
Another of the key benefits of a hybrid system, especially with the Topcon system, is that it is scalable – you can, for example, buy the RTS and add GNSS later and add in different elements as needed for your projects.
What's stopping hybrid adoption?
Despite the wealth of benefits that multi-sensor systems offer, there is still a lack of adoption of new technology like this from many within the industry. Younger generations can be more tech-savvy, yet there is still some reluctance towards even the easiest-to-use solutions that can accelerate productivity and efficiency for the better.
Many are either still unaware of the technology or choose to use outdated and inaccurate methods and legacy systems because they are familiar and within comfort zones, but they simply won't deliver the same results. In fact, it's still not unheard of for some sites to be set out with string lines, tape measures and a theodolite.
'A hybrid system allows users to switch to the GPS reading instantly, surveying the stockpile with no line-of-sight issues.'
Some are still reluctant to invest in digital tools, as it can be difficult to see any ROI. However, multi-sensory systems, such as Topcon's, not only reduce the costs in comparison to the need of having two separate solutions, but also reduce the need to spend money rectifying any mistakes or inefficiencies in the first place. This means these investments are less about ROI and more like insurance policies.
There is also still a misconception that these systems require extensive training and can be seen as complex. The reality couldn't be further from this – many systems, particularly those from Topcon, are designed for ease of use and simplicity, so require little training for operators to begin using.
There is a need for the application of both systems for hybrid to be of benefit to a project– and many in the industry do not see a need to invest. However, given the increasing demands of government legislation and procurement and tender processes, the benefits that multi-sensory systems offer are invaluable. Moreover, the need to digitalise is now more important than ever, and the wider adoption and understanding of the technology across the industry can provide improvement to accuracy, efficiency and productivity in the long term.
Leading manufacturers in the industry are highlighting the benefits of these new technologies to workers in the sector. Those using digital solutions also need to become advocates, supporting upskilling within their businesses.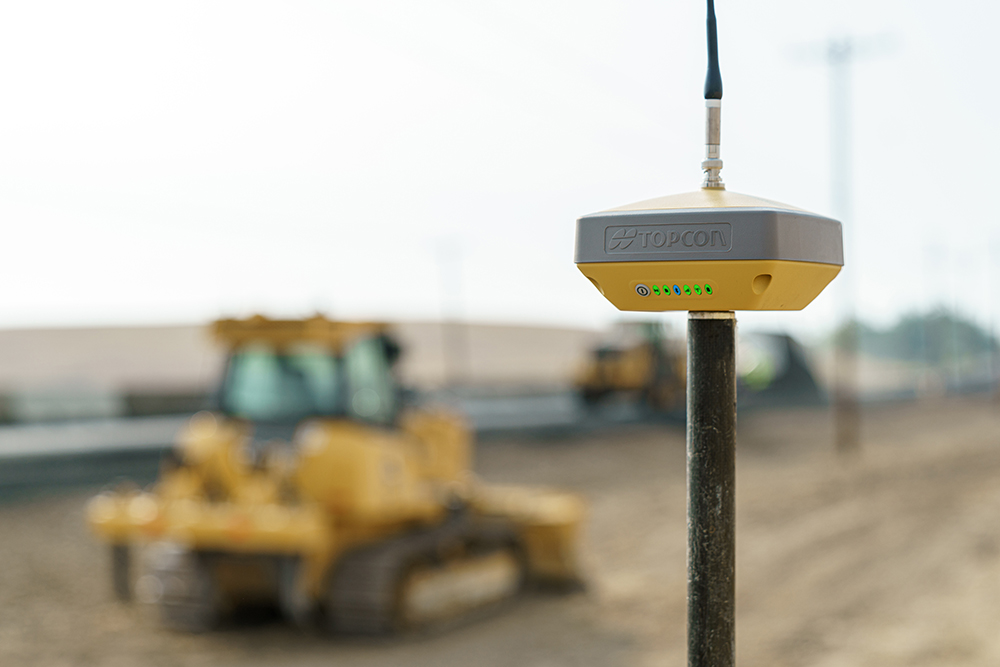 Contractors should look to focus on training their staff and implementing new workflows, and also investing in solutions which will not only provide increased productivity and profitability now, but also futureproof their business.
For all modern survey and construction positioning systems to work to their full potential, they require the support of design, processing and field software, such as the MAGNET software suite from Topcon. This allows for full control of the job from initial site survey, to design, to stake-out and as-built reporting.
Also, all job data can be shared remotely between the office and site using inbuilt cloud technology. The speed and cost effectiveness gained from removing the need to travel between office and site is a huge bonus.
Using the software and technology efficiently can help to improve productivity, accuracy and accessibility through effective workflows across the site and teams and can help to avoid stoppages.
Multi-sensor positioning systems are also a great tool for future workers in the industry and are excellent for both learning and teaching. Adopting and learning to use systems such as these, as well as encouraging their use to your colleagues, will stand you in great stead for working on the construction sites of the future.
With the need to use more digital tools prevalent across the industry, companies must explore the newest innovations to keep up with trends, legislation and competition.
By implementing simple yet powerful tools like multi sensor systems and modern user-friendly software, the industry can take a big step towards embracing digital.
This article has been created by Construction Manager in partnership with TopCon.