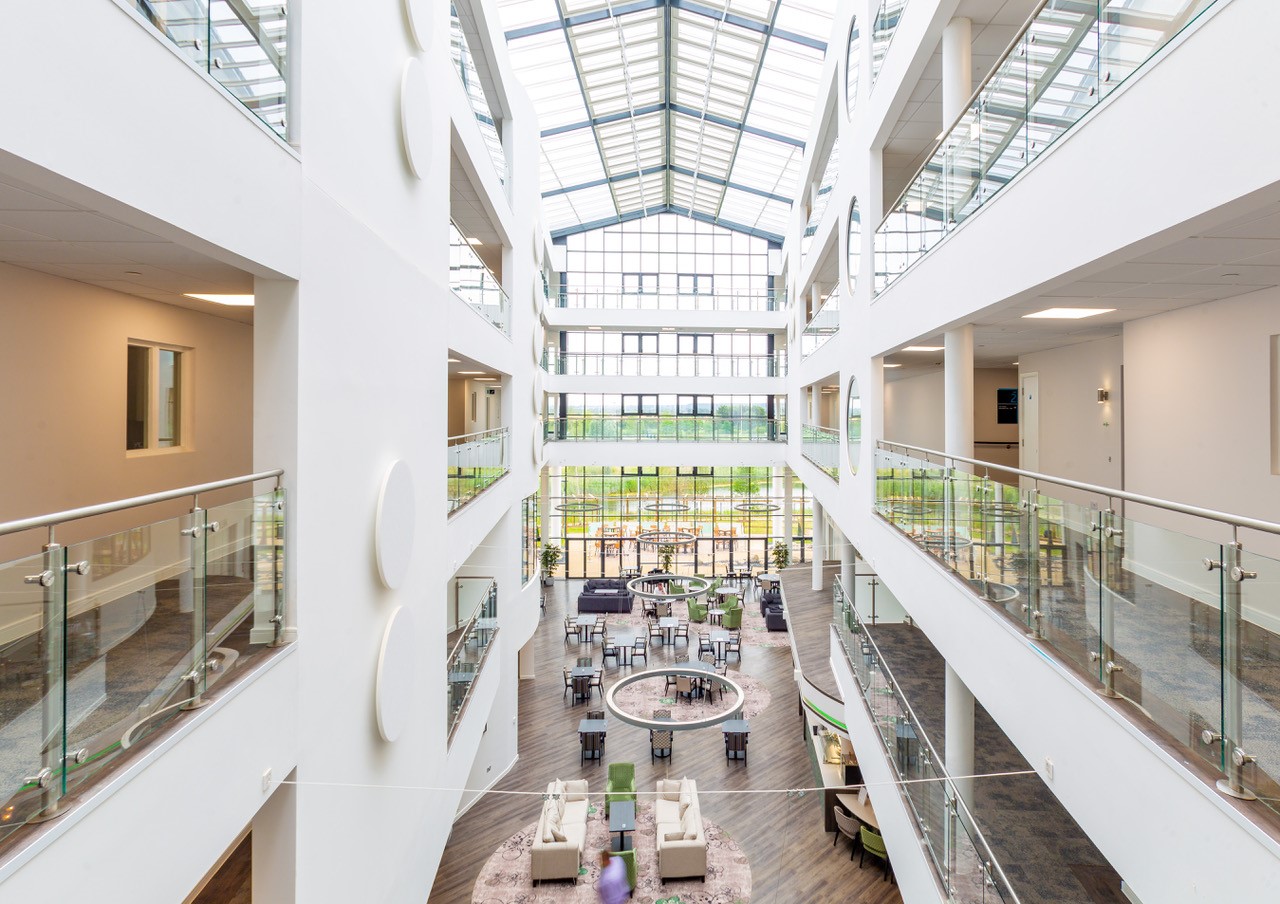 Commercial and public buildings span an array of uses and occupancies, including education, healthcare, retail, offices, leisure and industrial. They all have differing needs, but one aspect they all have in common is the requirement for high-quality daylight and ventilation solutions that deliver reliable performance.
This CPD, in association with VELUX Commercial, describes what to look for in terms of the right products and the regulations governing their installation.
Good daylighting has performance benefits for all buildings, as well as delivering better comfort for the people who use them. However, selecting and installing the right roof glazing solutions can seem challenging with many different building performance characteristics to balance.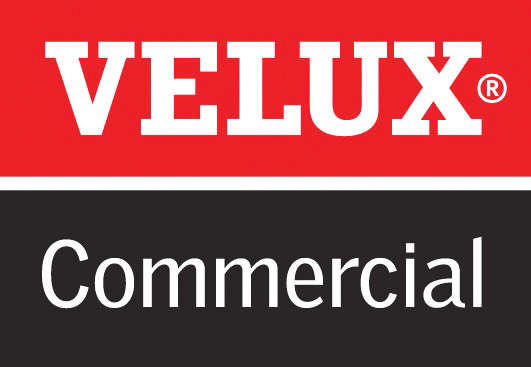 The term 'roof glazing' covers a variety of daylighting solutions. While 'glazing' might cause you to think first and foremost about glass, it can be used more broadly to mean a part of a window or wall made of glass or other transparent material.
In this article, 'roof glazing' refers to the broad range of materials, products and accessories that can deliver high quality daylight into commercial buildings.
Why aim for good daylighting?
Daylight brings building performance benefits, by reducing reliance on artificial lighting and delivering savings in energy use, while maintaining year-round comfort.
Carefully positioned roof glazing can help to maximise solar gains and reduce energy demand in winter, while specifying accessories such as ventilation and blinds can help to control excess solar gains in summer and reduce energy demand due to comfort cooling.
Artificial light may be capable of achieving some of the qualities of daylight, mainly in terms of illuminance levels and spectrum, but this is only the visual aspect of light. Known as the image-forming pathways, it means we can see and carry out tasks of varying levels of detail.
There are also the 'non-image forming pathways' to think about, which artificial lighting is not able to provide us with.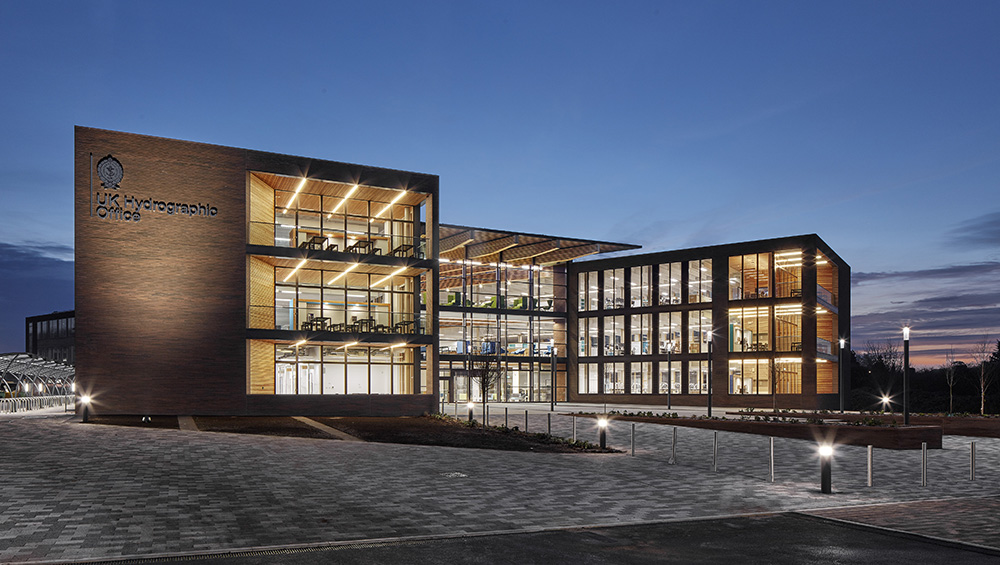 Our bodies respond to the way in which daylight naturally changes in its qualities and tones throughout a day. Often, we don't even realise that limited exposure to daylight during an average day is impacting our circadian rhythms, how we sleep and, ultimately, our mental health.
Our mood is enhanced by exposure to daylight, and we feel more alert, especially when high levels of daylight are supplemented with proper ventilation. This improves comfort and wellbeing, health and safety, and productivity, all of which are important in the different types of commercial building.
Daylighting solutions need to be specific to the type of building in which they are installed. Some buildings are designed to be multi-functional spaces featuring more than one type of occupancy, all of which changes how daylight needs to be experienced.
Glass, polycarbonate and GRP daylighting solutions all help building users to experience daylight in different ways, ensuring that all of the benefits of daylight are delivered.
Creating healthy and comfortable internal environments
The climate and biodiversity emergencies have focused a lot of our attention on the 'external' impact of buildings. Addressing carbon emissions and energy use and seeking to minimise the impact of our material choices on the planet, are all important goals for a building project.
No less important is the health and wellbeing of building occupants and users. We spend so much of our time inside buildings that creating interior spaces and climates to enhance our mood and wellbeing is an increasingly relevant metric for building design and specification.
People crave a connection with the outside, and there are multiple studies that show the potential benefits of delivering healthy indoor climates, whether it is an increase in productivity and a drop in absenteeism at work, enhanced learning in schools, or improved patient recovery rates in hospitals.
Specific guidance on daylighting is available for different sectors. The table below gives an indication of typical lux levels that are desirable for a variety of building types, though project-specific advice should always be sought.
"Some buildings are designed to be multi-functional spaces featuring more than one type of occupancy, all of which changes how daylight needs to be experienced."
National funding bodies for sports, or sporting associations, often produce their own design guidance for sport and leisure facilities. Sport England, for example, offers specific advice on diffused lighting in sports halls. The English Schools' Football Association also provides clear requirements for using daylight to illuminate sports halls.
Contact sports, or sports involving small, fast-moving objects, require high levels of illumination and, crucially, no glare.
Due to their specialised natures, the health and education sectors often have specific design guidance that goes above and beyond the minimum requirements of national building regulations. This guidance includes daylighting performance.
EN 12464, part 1, is another source of information for schools. It deals with the lighting of indoor workspaces and, while not specifically about daylighting, gives recommended lux levels for different types of classroom environments. These levels can be met with daylighting, to achieve the overall benefits we discussed earlier.
| | |
| --- | --- |
| Commercial sector | Suggested lux levels |
| Education (See EN 12464-1 Light and lighting — Lighting of workplaces — Part 1: Indoor work places)   | 100 (e.g., circulation areas, corridors) 300 (e.g., classrooms, tutorial rooms) 500 (e.g., auditoriums, lecture halls, practical rooms and laboratories, libraries) 750 – 1000 (interiors where visual tasks are very difficult, requiring small details to be perceived) |
| Sports facilities | 200 – 300 (most activities) 750 – 1000 (competition-level activities) |
| Offices | 300 – 500 |
| Retail | 200 – 500 |
| Healthcare* | 50 – 100 (hospital corridor) 200 – 300 (dormitory living quarters) |
| Public buildings | Depends on building occupancy and use |
| Industrial | 100 (warehouses and storage areas) 150 (loading bays) 300 – 750 (engineering environments) |
*Values from archtoolbox.com
Lux levels are only one aspect of good daylighting, and the European daylighting standard EN 17037 offers a route to assessing the quality of daylighting. It covers assessment of view, access to sunlight and glare prevention, in addition to daylight provision.
It provides the flexibility to choose the level of performance in each category, as relevant for the proposed building and its use. Daylight provision can be assessed by either climate-based daylight modelling or daylight factors.
The standard's daylight requirements aim to provide the desired light level, or better, for 50% of daylight hours through the year if the space meets the required target. Artificial lighting can supplement the daylight if that minimum cannot be achieved.
Glass, polycarbonate, and GRP roof glazing
The best way to achieve the correct balance of outcomes on a project is to have the flexibility of choosing from a range of solutions. To aid in choosing the right product for the right application, in this section we'll look at three roof glazing options: glass, polycarbonate and GRP.
Glass – an architectural feature as much as a daylighting solution
Glass looks good from the outside of a building and can be used to create an architectural statement on the inside too, due to its excellent light transmittance. For that reason, glass is, and will remain, the solution of choice for most applications.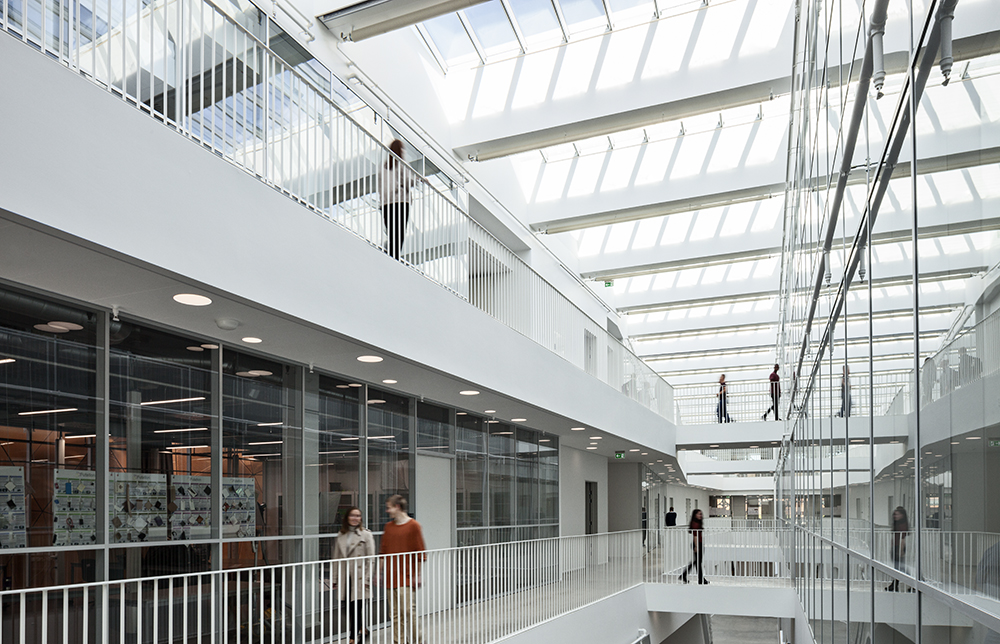 Glass suffers no deterioration in its appearance over time, life expectancy is excellent, with virtually no impact on service life from normal weathering. Glass units also provide the best all-round thermal performance, fire safety and acoustic insulation. A range of options, such as low-e glass, can be specified to achieve the desired levels of energy efficiency.
Accessories may need to be specified to reduce glare and, as the heaviest of the three materials discussed here, there can be structural limitations on the use of glass.
Pros
Design flexibility helps to create architectural statements.
Longevity of critical performance characteristics.
Fire resistance.
Excellent thermal performance that can help to achieve low-energy buildings.
Can include PV and other sophisticated solar control.
Best acoustic performance, including rain noise reduction.
Varying fragility rating including 'Walk on' options
Cons
Potential for glare.
Consider solar gains, including balancing light transmission with admission of solar radiation.
Heavier than the other materials.
Costliest of the three options.
Polycarbonate – a plastic alternative to glass's transparency
Polycarbonate is a thermoplastic material that is typically extruded into flat sheets, but which can also be reformed into barrel vaults and three-dimensional shapes such as domed rooflights. As a lightweight solution, polycarbonate offers a potential solution for roof structures that cannot accommodate the weight of glass rooflights. It is also more cost-effective than glass.
Like glass, it is a naturally clear material and can provide high levels of light transmission, but it can also generate glare and shadow as a result. An opal tint can be incorporated during manufacture, or the polycarbonate can be textured, to create a diffusing effect if required, with some accompanying loss of light transmission.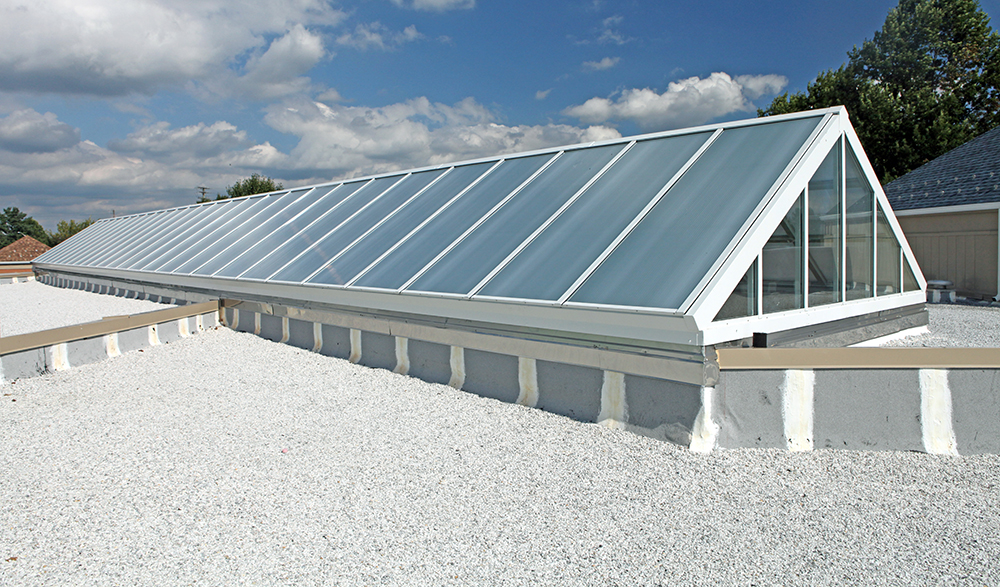 It is a strong and high-performance solution, capable of excellent durability, but polycarbonate does need to be handled correctly to ensure it delivers long-term performance. For example, unlike glass and GRP, it's necessary to accommodate thermal movement when installing polycarbonate. Failure to do so, especially around fixings, can lead to cracking and premature failure.
UV protection for polycarbonate is essential, not just to resist discolouration and maintain light transmission levels, but also to ensure that it retains its structural properties. If polycarbonate sheets are supplied with UV protection on one side only then care must be taken during installation to ensure that the protected side is facing up.
Some polycarbonate sheets may be supplied with protection on both sides to remove the risk of incorrect installation.
Care must also be taken to ensure that polycarbonate does not suffer prolonged exposure to moisture, or to certain chemicals.
One area in which the lightweight nature of polycarbonate counts against it is in terms of acoustic performance. Sound reduction is much poorer than glass solutions, and polycarbonate does not perform as well as GRP in this regard either, even though they are both plastic-based materials.
Pros
Lightweight solution.
Strong and high performance.
Durable solution when handled correctly.
Can be shaped.
Can be used on new-build projects but particularly well-suited to refurbishment.
A cost-effective option.
Cons
Requires protection from UV.
Hygroscopic material can be affected by moisture.
Must not come into contact with PVC or plastisol-coated metal.
Stressing the material can accelerate its deterioration.
GRP – a lightweight and naturally diffusing solution
Glass reinforced polyester, or GRP, is a thermosetting plastic. It is converted from a liquid and, once formed into its final shape, cannot be reformed.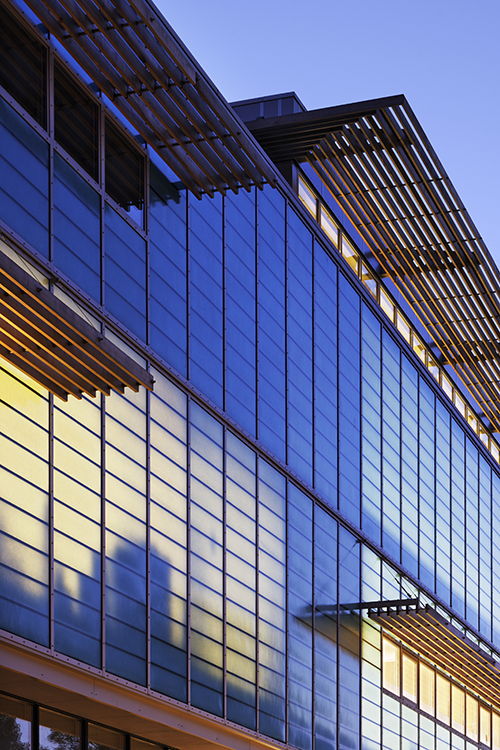 A continuous lamination process shapes GRP into either flat or profiled sheets for rooflights. It is possible to form it into a barrel vault design but making three dimensional forms such as domed rooflights is not possible using an automated process.
The lightweight nature of GRP lends itself to new or existing roofs where minimal structural load is desirable. It can also be used to create in-plane rooflight options, where the rooflight needs to sit flush in a profiled metal or fibre cement roof system.
Like polycarbonate, GRP requires a UV-absorbing surface layer to ensure good light transmission and resist discolouration in the long term. Unlike polycarbonate, its structural properties will not be affected if a UV-absorbing layer is not specified, but GRP is likely to naturally suffer a higher loss of light transmission over its life.
GRP is a naturally diffusing material, so transparent rooflights are not an option. Diffuse lighting combines well with other qualities for certain applications. For example, chemical resistance for industrial buildings, and impact resistance for sports halls and leisure centres, where objects can strike against surfaces with some force.
Pros
Lightweight.
Suitable for in-plane options.
Chemical resistance.
Impact resistance.
Glare-free and shadow-free lighting.
Cons
Protection from UV light is desirable.
Material can yellow over time.
Poor acoustic performance.
Building performance requirements vary across different commercial sectors. It's important to have a range of solutions available to meet the unique needs of every building. A project's needs are defined by the client, as well as by standards and regulations, some of which are mandatory, and some which are voluntary.
Outcomes vary depending on whether a project is a new build, or the refurbishment of an existing building. Working with existing structures can impose a number of constraints, and here again a range of solutions can help ensure there is a way of delivering the desired outcome within the constraints imposed.
Glass, polycarbonate, or GRP solutions are all capable of providing high levels of daylight and meeting the needs of building users. Selecting the right type of glazing for a given application means understanding what qualities of daylight are required in that situation.
Roof glazing provides building performance benefits, such as through thermal performance or fire safety. It provides a healthy and comfortable user experience and can be used to make an architectural statement too.
This article has been produced by Construction Management in association with VELUX Commercial.
VELUX Commercial understands the importance of supporting you throughout a commercial project programme – from product selection and technical advice, through to installation and after sales services. Our expertise, knowledge and support offering makes us your preferred partner in providing the right daylighting and ventilation solutions to meet your specific needs.
Information in this CPD was correct at the date of publication.