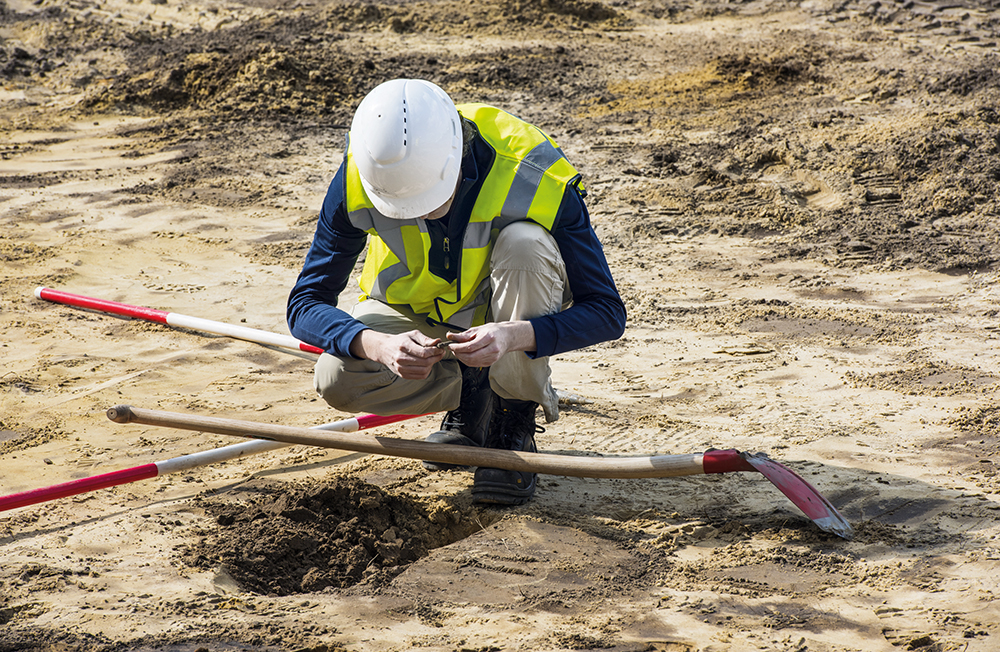 Archaeology is a physical job with the potential to cause occupational health problems. New tools and techniques can reduce the risk of harm and boost productivity. This CPD explains more.
Commercial archaeology is a relatively new discipline in the UK. Though commercial digs at development sites took place in the 1970s and 1980s, big changes came in 1990 with the introduction of Planning Policy Guidance Note 16: Archaeology and Planning (PPG16). PPG16 said that developers, rather than the state, had to pay for archaeological investigations associated with developments that required planning permission.
Since then, the scale and scope of archaeological investigations linked to construction projects has grown, particularly in relationship to major infrastructure programmes. Headline projects include Crossrail, Aberdeen Western Peripheral Route, London Olympics Park, A14 Cambridge to Huntingdon Improvements and Tideway.
Just like any other specialist contract on a construction site, archaeological works are governed by the Health and Safety at Work Act 1974 (HSWA) which places a duty on all employers "to ensure, so far as is reasonably practicable, the health, safety and welfare at work" of all their employees, and persons working on their premises. However, basic safety considerations are often given far more attention than health ones.
Musculoskeletal disorders (MSDs) are among the most common health problems among construction workers, accounting for 54% of ill health. They are also the biggest risk for archaeological workers.
Manual handling on archaeological digs can lead to immediate damage to tendons and muscles, or to longer-term MSDs which can prevent work. Activities that can lead to physical health problems include bending and crouching, stretching and reaching, heavy lifting of equipment and environmental samples and pushing wheelbarrows full of earth.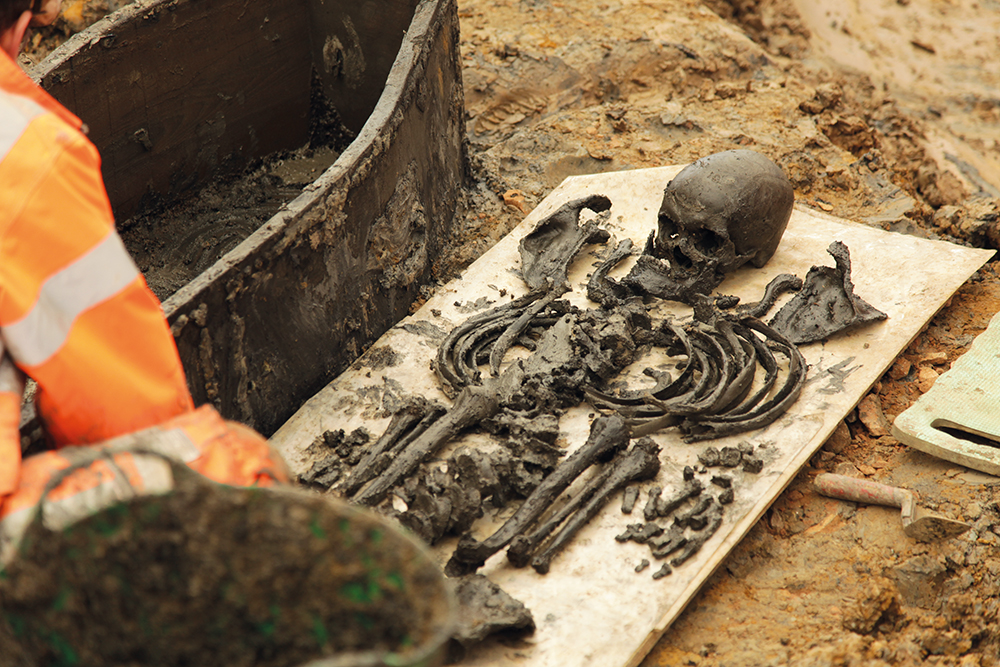 Repetitive work and working in awkward positions can lead to problems that affect the arms, fingers, shoulders and necks. Upper limb disorders (ULDs), often called repetitive strain injuries (RSI), can lead to pain, tingling, swelling and weakness, and can ultimately make it impossible for people to work. In archaeology, tasks that could induce such problems include shovelling, trowelling and filling wheelbarrows.
In addition to health risks, slips, trips and falls can be prevalent on archaeological digs, since people are often moving around site to find tools and equipment.
What action should be taken?
The first step is to carry out a risk assessment to work out what the occupational health risks are. The construction manager should then work with the archaeological contractor to make the activities as streamlined and ergonomically friendly as possible.
For instance, on a large site, such as the HS2 enabling works in Area South (see case study below), consider establishing multiple workstations so that archaeologists have easy access to small tools, finds bags and other items.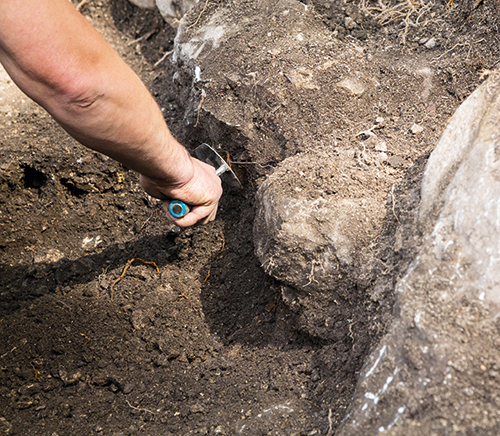 Traditional wheelbarrows can be replaced with motorised ones, such as an electric 1 tonne wheelbarrow with front-loading capacity. As well as reducing manual handling risks, this increases productivity as workers have more time to spend on other tasks.
For reducing the ground levels and managing spoil, small electric 360 tracked excavators could replace the traditional method of hand-digging. Again, this has a significant impact on productivity rates as well as reducing the risk of physical harm.
Where hand tools are needed, source tools that match people's height and strength. For instance, there are different weights and lengths of shovels or mattocks.
One of the most important activities on an archaeological dig is securing finds, soil samples and tools at the end of the day. Again, thinking about logistics and assisted modes of transportation can help. Electric wheelbarrows can be used to transport bulk soil samples and archaeological finds off site at the end of each shift. Lockable tool chests located close to the dig help reduce the distances that tools must be carried and mean that they are easy to locate on the following shift.
Archaeological excavation is just the first step in a series of archaeological activities that are needed to get the full academic and public benefit from a dig. Archaeological finds must be cleaned, catalogued, conserved, assessed and analysed in an archaeological lab.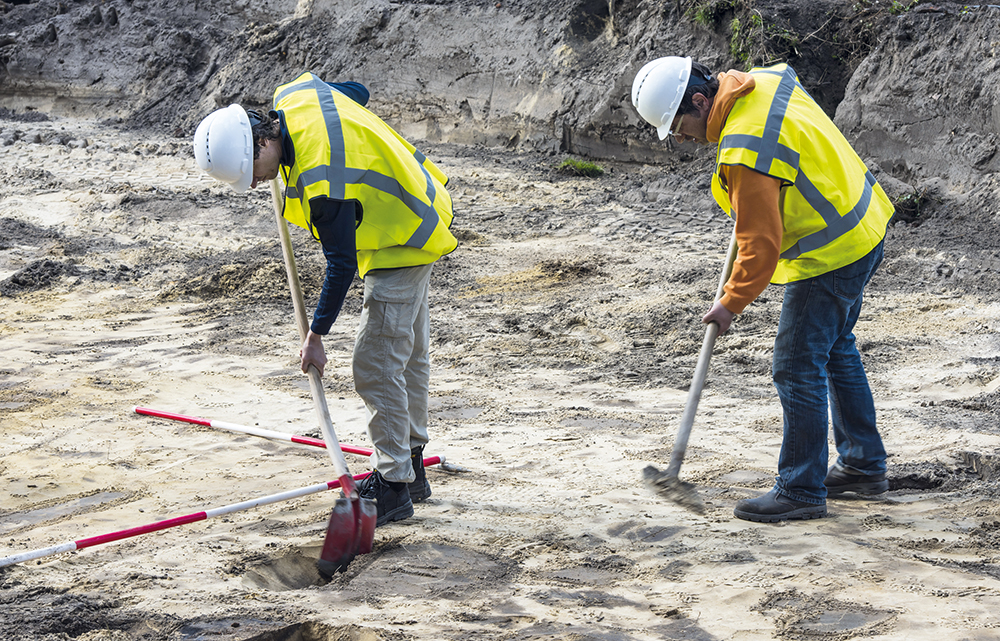 Here again, by looking at the processes and ergonomics involved, it is possible to improve working conditions and reduce occupational health risks during post-excavation activities. Standard ergonomic data can be used to help make equipment more accommodating to people of differing heights.
Actions could include: designing shelving heights to suit the heights of users; installing washing stations with adjustable heights; ergonomic tooling for osteological finds processing; anti-fatigue matting for those carrying out standing work activities; natural lighting and decoration to boost wellbeing and productivity.
Archaeological fieldwork activities are labour-intensive. Particularly for larger-scale archaeological programmes of work, there should be early consideration of the location of welfare and the type of welfare, keeping in mind that the archaeological workforce may be 50% female.
Further reading
High Speed Rail (London – West Midlands) Act 2017 – Schedule 20 Burial grounds
Raynor, C, August 2019, Safe by Design, Institute of Occupational Safety and Health
Bicknell, J, Foster, A, Raynor, C, 2018, Preserving the Past, Chartered Institute for Ergonomics and Human Factors
Think carefully about walking routes and storage for archaeological finds and bulk samples.
Providing bespoke areas for research and lab work can reduce occupational health risks and enhance public benefit and academic outputs earlier in the process and reduce post-excavation costs.
This CPD was based on an HS2 learning legacy paper written by Caroline Raynor, head of industry innovation, formerly project manager and lead archaeologist, at Costain. You can read it at https://learninglegacy.hs2.org.uk.
Case study: Europe's biggest archaeological exhumation
Over 200 people, working in specialist teams processed burials at St James's Gardens.
The HS2 enabling works programme in Area South covered 25.8km of the route from Euston Station to the Colne Valley, and includes Euston Station and tunnels, Victoria Road Box, Northolt Tunnels and Old Oak Common Station.
At Euston, the works included the biggest archaeological exhumation programme in Europe, involving the exhumation of over 40,000 bodies at St James's Gardens, which was a burial ground between 1789 and 1853.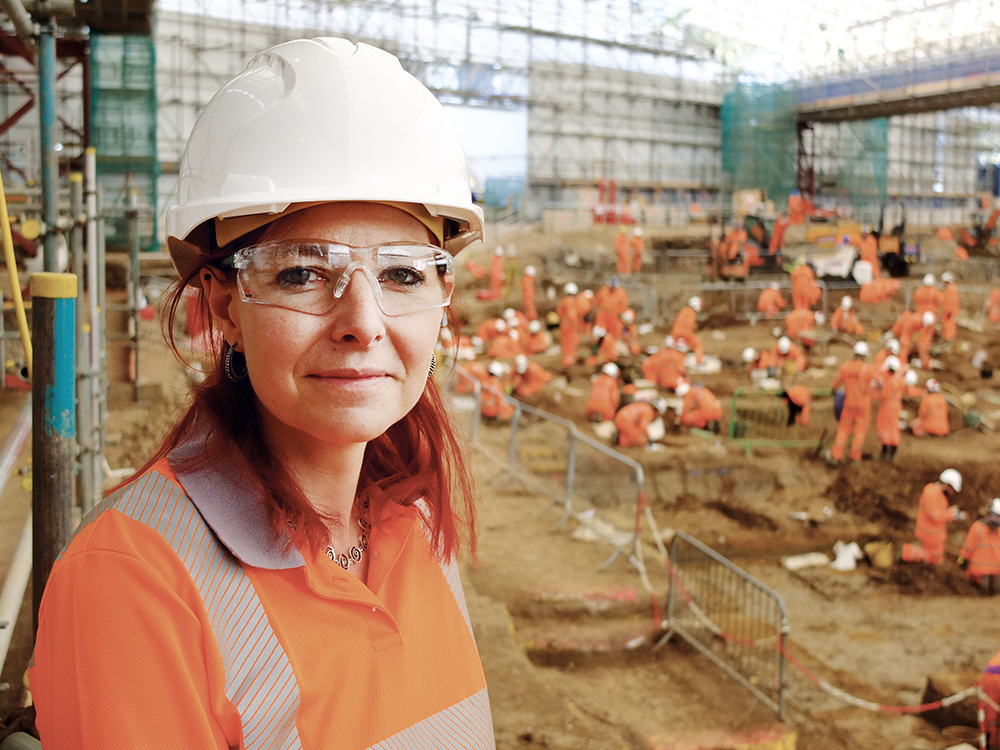 During the archaeological excavation at St James's Gardens, activities centred on two key work sites. The primary site was the dig area itself. Covering 11,000 sq m, the excavation was staffed by over 200 individuals, including osteologists, archaeologists, engineers and surveyors. These were supported by exhumation operatives, scaffolders, plant operators and banksmen.
The secondary work site was the bespoke archaeological labs which accommodated a team of osteology specialists, trainees and archaeological finds specialists who assessed and managed human remains and associated artefacts as they were recorded and removed from site.
Provision of small electric plant and supporting teams to manage spoil increased morale and productivity by a factor of five as well as reducing occupational health and musculo-skeletal issues. Bespoke labs allowed iterative data flow to site to inform the excavation research agenda and saved £400,000 of post-excavation costs.
Costain Skanska JV was the main contractor, the archaeologist was MOLA Headland Infrastructure (MHI) and TCS Exhumation Services was the exhumation specialist.
Information in this CPD was correct at the date of publication.