CPD: Implementing effective grease management
This CPD, in association with ACO, considers the best methods for tackling the build-up of fat, oil and grease in drainage systems
The build-up of fat, oil and grease (FOG) in drainage systems is a major issue affecting both commercial kitchens and the UK's sewer system. Food service establishments continuously discharge wastewater that contains FOG through kitchen drainage systems and into the sewer network. Over time the FOG accumulates and causes blockages in the drainage pipes and sewers.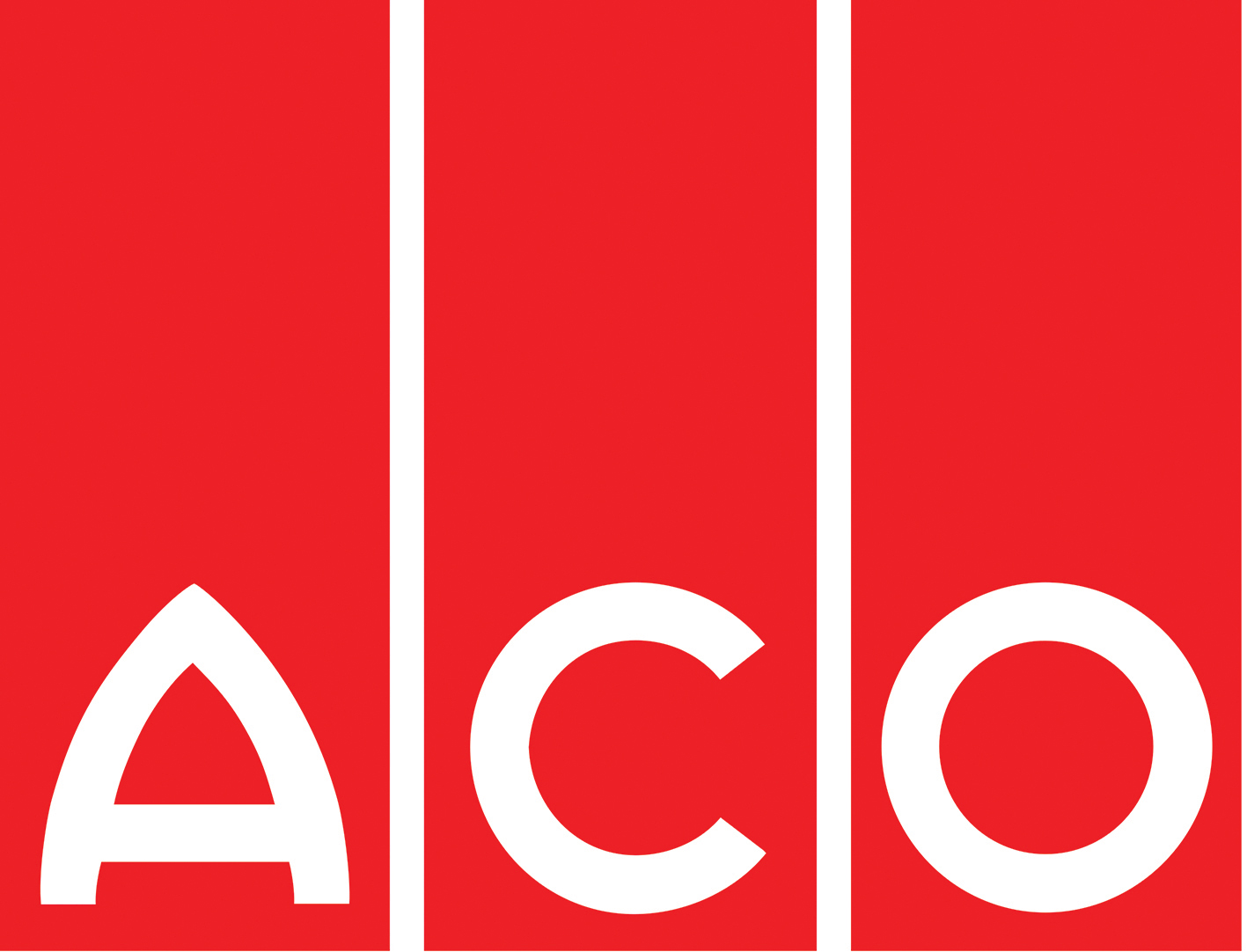 As a result of these blockages, untreated FOG poses serious ramifications to infrastructure, health and assets for both commercial food businesses and water companies managing the sewer system. This is why it is vital that kitchen operators become more aware of FOG build-up and how it can be prevented.
To treat FOG, grease management systems must be put in place to cleanse wastewater as it travels through drainage systems. Different sizes and types of commercial kitchens will require different grease management solutions, but by applying methodical guidance and specification, effective grease management can be successfully implemented.
FOG is created from food debris, fats and oils used in the cooking process and the washing of food equipment, utensils and crockery. Sinks, dishwashers, cooking facilities and food waste all contribute to kitchen wastewater containing FOG that is fed into the drainage system.
Accumulation of FOG leads to waste-water discharge through kitchen drains becoming restricted which in turn reduces the hydraulic capacity of the drainage system. Not only does this increase the likelihood of the kitchen flooding but it also affects hygiene as foul odours, infections and pests emerge.
The problems continue to mount as the build-up of FOG can create congealed masses called fatbergs. Fatbergs are a combination of non-biodegradable solid matter that form in sewers and clog the sewer network. Their formation leaves water companies with reduced efficiency in sewage plants and watercourse pollution.
Every year, the UK spends around £100m clearing an estimated 300,000 fatbergs, as water companies struggle to keep sewer systems clear. The impediment to sewage networks understandably leads to kitchen operators being held accountable.
Every food service outlet in the UK has a legal obligation to "manage effluent content" under the Water Industry Act (1991). Section 111 of the Water Industry Act gives water companies the power to bring a criminal proceeding against anyone who causes injury or inhibits the free flow of the sewer network.
Despite the heavy consequences, many kitchen operators take an 'out of sight, out of mind' approach and continue to pour FOG down sinks and drains. Part of the problem is that UK building regulations do not mandate the use of FOG mitigation systems and it is left up to the food service outlet or kitchen end-user to determine whether to install a grease management system. As a result, only around 20% of the 400,000 commercial kitchens in the UK have any form of FOG mitigation in place.
Legislation needs to be adhered to by food service establishments in order to avoid prosecution for FOG build-up. The Water Industries Act concerns premises that are connected to the public sewer, outlining that it is a criminal offence to knowingly put matter into drains that cause blockages or damages the sewer.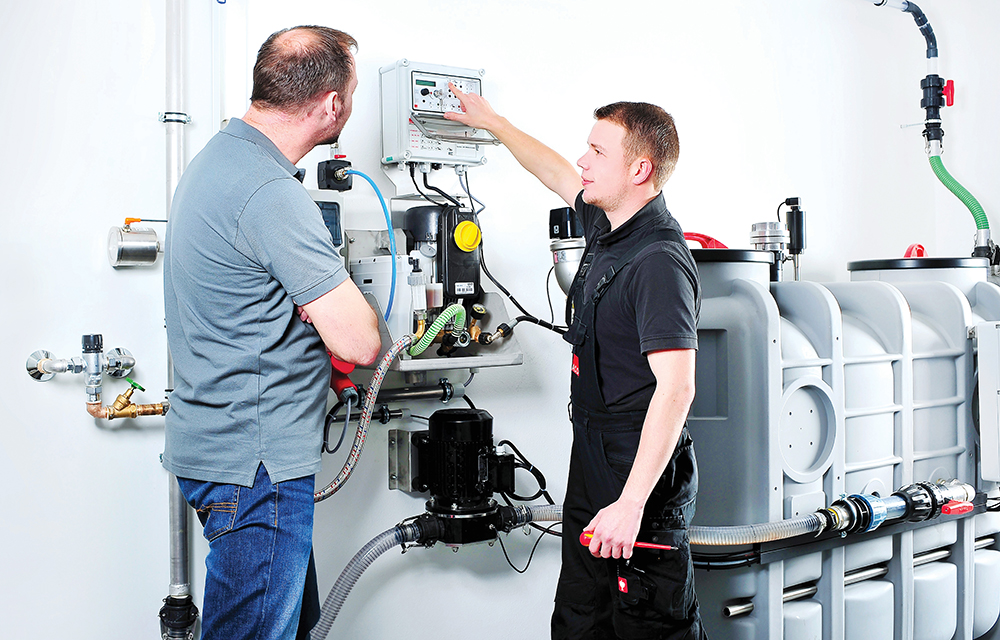 Building regulations say that commercial hot food premises should have an effective means of grease removal, compliant to BS EN 1825 or other effective means. A large number of outlets come within this bracket and must ensure their facilities have a grease management system installed.
When implementing grease management systems, specifiers must make certain they comply with local building regulations, as mandates can differ across the UK. In addition, new legislation in the form of the Inland Waterways Act is currently being debated in parliament that will make the need for FOG management a focus for food service establishments.
What options are available?
As FOG becomes an increasing issue, contractors need to understand the different systems available.
A typical grease management installation sees wastewater flow from the food preparation or kitchen area to the system and out to the foul sewer. It is essential that a periodic check is made to ensure the system is running as expected and to make any adjustments, such as to the dosing rate or frequency.
Four principal methods are used for modern grease management systems:
Grease traps (GTs): GTs are mainly under-sink units which use gravity to separate FOG and food particles from the wastewater. GTs are usually compact with limited capacity, meaning daily maintenance is required to ensure they run efficiently. However, GTs can be combined with biological dosing to increase the daily maintenance interval.
Grease recovery units (GRUs): These are available in two types: hydro-mechanical and passive systems. Hydro-mechanical units remove FOG wastewater using mechanical assistance, such as rotating wheels, oleophilic drums or wastewater flow events to skim off any surface FOG.
In a passive system, collected FOG is heated to ensure it keeps a liquid form, making it easier to remove from the unit. Similarly to bio-chemical direct dosing units, there are no standards or performance data to guide the user on how to size the systems or what to expect. However, many UK devices are tested to the American standards ASME A112.14.3 and A112.14.4.
It is worth noting that preventing solidified fat from forming can be problematic; GRUs may need to be kept warm to ensure FOG remains liquid.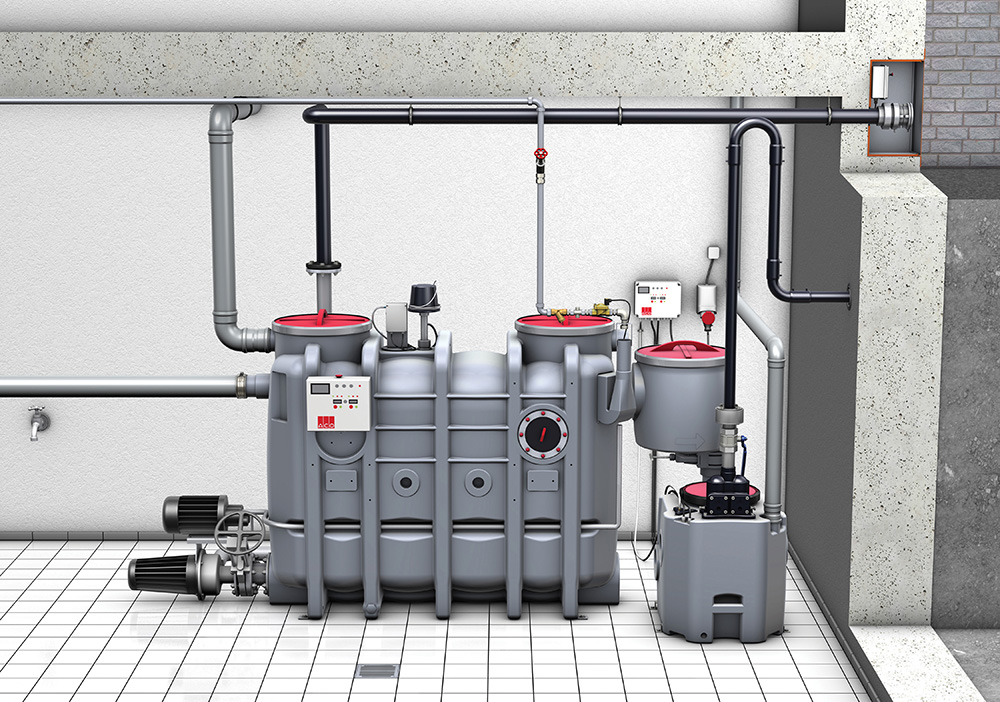 Grease separators: Similar to GTs, grease separators can be used for both above- and below-ground applications and this is the only system with a British Standard – BS EN 1825. Primarily used in under-sink applications, grease separators prevent most FOG and sludge deposits from entering the sewage system.
The contents of the separator must be emptied once per month, either manually or automatically removing the FOG and sludge. One key benefit of a grease separator is that it is the only unit, according to BS EN 1825, that can be sized on either the volume of food produced per day or the hydraulic throughput generated from the type and quantity of kitchen equipment installed.
Bio-chemical direct dosing units (BDDUs): While some catering establishments select BDDUs, they can often be seen to only shift the problem.
BDDUs use a chemical activator which forms emulsions of FOG to ensure wastewater does not solidify. It is worth noting that the FOG discharged to the sewer system may de-emulsify and form solid material downstream, and cause blockages for the water companies to deal with.
The systems are suitable for above-ground applications only, and there are no British or European standards which cover their use and sizing, but it is advised that standalone use of bio-dosing is avoided.
Selecting and installing the system
Planners should look out for systems which are certified to BS EN 1825 standards, as they reduce risk to the specifier and operator. Reference should be made to water company network requirements for new build properties, as connection to the water supply can be affected by the specification of a grease separator.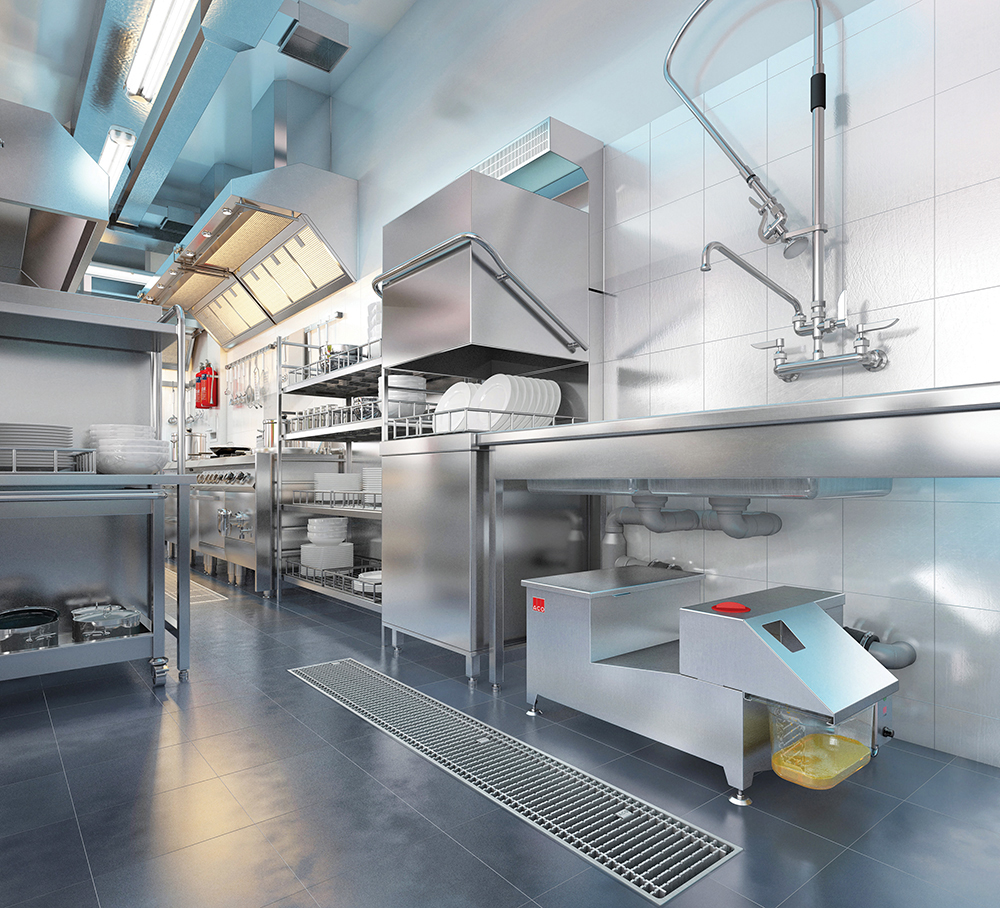 Once the system has been selected, it is important to understand the installation process where there is operational best practice guidance to follow. Separators or grease traps, for example, should not be placed in unventilated rooms or close to opening windows. Access must all be factored in at the design stage, as maintenance is non-negotiable.
Installations below sewer level should either have a lifting station, where the separator wastewater is collected, or a sump where all the building's wastewater is collected before pumping it out to the sewer. The lifting station also acts as a backflow preventer, if installed with a backflow loop in the pressure pipe.
Installations below backflow level (usually street level) require backflow preventers. Often, a valve is installed to prevent backflow to the building.
However, should backflow occur, the wastewater inside the building can overflow, particularly if the facilities that create the wastewater are still used by occupants. For these applications, it is recommended that a lifting station is used. ACO recommends using backflow preventers in residential and in non-essential applications for multiple user dwellings.
This article has been created by Construction Manager in partnership with ACO.
Case study: ACO clears the FOG for King's College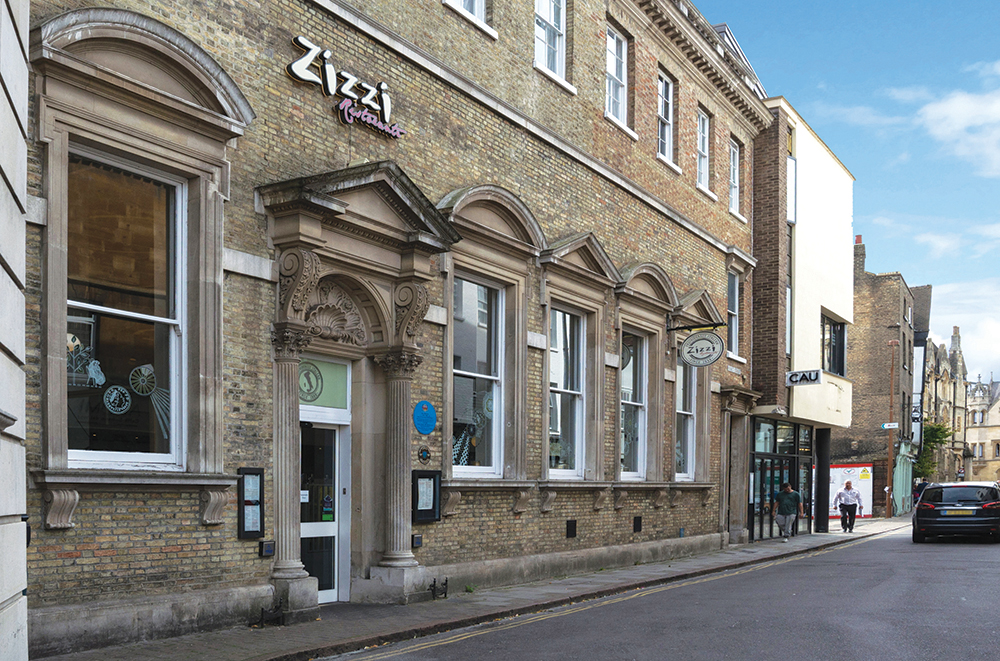 King's College Cambridge was founded in 1441 by Henry VI and is one of the 31 colleges in the University of Cambridge. World-famous for academic prowess as well as its chapel and choir, the college has many catering facilities to support its student accommodation throughout the city.
In 2018, King's College commissioned new catering facilities for restaurants located below ground level underneath the Bene't Street Hostel, a student accommodation facility housed in the old offices of a national bank.
The project involved the creation of two new areas, one now occupied by restaurant chain Zizzi. Reflecting the college's commitment to being a responsible commercial landlord and commercial kitchen operator, effective management of fats, oils and grease (FOG) was a critical requirement.
ACO Building Drainage was approached by project consultant Richard Jackson Limited to specify an effective grease management solution for the new Zizzi restaurant.
As well as managing the FOG created by the new facility, any grease management solution had to operate within the traditional design of the building and to fit within the limited and unusually shaped space of the old bank vaults where the Zizzi restaurant is located. ACO also had to consider how installation and commissioning could be managed for a below-ground application with limited site access.
ACO Building Drainage's technical design team specified an ACO LipuJet above-ground grease separator unit, an ACO lifting station and related control boxes. ACO LipuJet separators are certified to BS EN 1825 and designed for applications where a freestanding grease separator unit is required.
Manufactured from polyethylene for optimum durability, the ACO LipuJet separator was perfect for use in the relatively confined space of Zizzi's commercial kitchen.
Available in a range of sizes, a NS4 sized separator unit was specified to meet the FOG management requirements of the number of covers and the type of food prepared.
Certified to EN 12050-2, ACO lifting stations are specified when the grease separator is installed below street level to prevent backflow and to ensure effective removal of wastewater.
In a range of sizes to suit different project requirements, the ACO lifting station comprises a twin pump system for improved operational reliability. It also benefits from an energy-saving channel impeller on the pump to reduce blockages. Its horizontal installation also meant that there was no need to ventilate the pump.
Installation and commissioning
Installing a grease management system below street level within the confines of an unusually shaped traditional building presented unique challenges. The team had to cut through the ceiling above the restaurant then rebuild the ceiling/floor above after installation.
Commissioning was handled by ACO's service partner, Aqua Mundus, which specialises in the installation, commissioning and maintenance of FOG management systems.
This article is based on an ACO Building Drainage CPD.