CPD: Fire resistance and engineered wood panels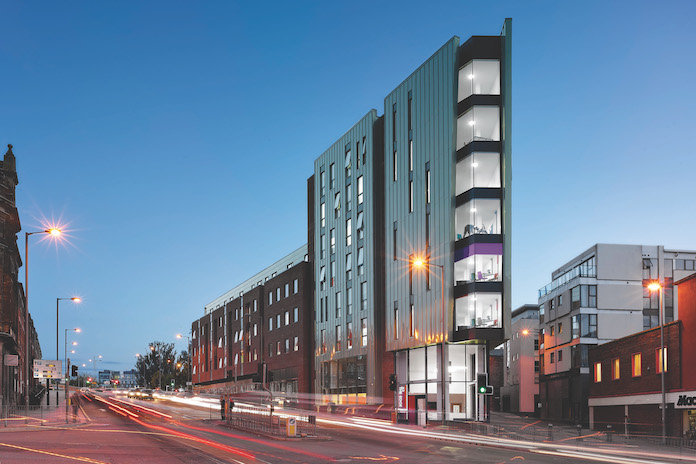 Flame-retardant engineered wood panels have opened up possibilities for construction projects. But how does this technology work and what benefits do fire-retardant engineered wood panels bring to the table? This CPD, in partnership with Medite Smartply, explains
A flame-retardant (FR) engineered woodpanel is typically available as oriented strand board (OSB) or medium-density fibreboard (MDF). While one is structural, the other is used for decoration and finishing. OSB variants can be used in floors, walls and ceilings within a building – if meeting the relevant Euroclass. MDF variants are often used in sensitive environments where maximum protection is required, such as art galleries, hospitals and schools.

Flame retardant vs fire resistant
When talking about an FR product, there can be some confusion about what it relates to. Fire resistance is different to flame retardance and it's important to establish this early on.
'Reaction to fire' is the measurement of how a material or system will contribute to a fire's development and spread, particularly in the very early stages of a fire when evacuation is crucial.
'Fire resistance' is the measurement of the ability of a material or system to resist, and ideally prevent, the passage of fire from one distinct area to another, e.g. from one apartment to another.
Testing the fire resistance of a building element involves determining its behaviour when exposed to a particular temperature, normally that representing a fire in an enclosed space (a room). Fire resistance is one of several properties of the structure/product, and is not simply a property of the specific materials used in the structure or product. The product or structure can then be classified in terms of the relevant fire reaction.
The classes REI 30, REI 60 and REI 90 specify the time a building element has to last in case of fire – 30, 60 or 90 minutes. The performance of a building element can be derived from this classification, i.e. load capacity (R); impermeability to smoke and flame (E); insulating effect (I). Evidence is provided in the form of a fire test conducted on the complete building element with a corresponding test certificate according to EN 13501 Part 2.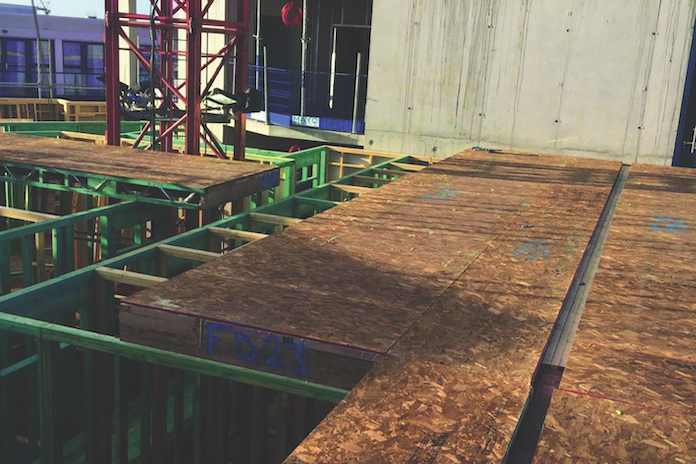 When talking about fire in relation to buildings it is important that we use a common terminology. This terminology is used by the Wood Protection Association (WPA), Timber Trade Federation (TTF) and Medite Smartply and is something that the organis-
ations are pushing to standardise throughout the industry.
Ignitability: How readily will a material ignite and catch fire?
Spread of flame: Once ignited, how quickly will flames spread across the surface of that material?
Heat release: Once alight, how much heat energy will be generated?
Smoke development: How much smoke and combustion gases will be generated?
Flaming droplets: Will the burning material disintegrate and produce burning droplets or debris which could fall onto and ignite other surfaces?
There are four main stages of a fire: ignition, fire growth, fire fully developed and fire decay. These stages happen over a period of time and are affected by the amount of oxygen, fuel and heat.
All wood burns, this is true, but an untreated engineered wood panel would contribute to a much hotter fire, with a much earlier flash point. A flash point is the stage of a fire where it moves from the fire growth stage to the fully developed stage (see chart below).
A flame-retardant panel, on the other hand, has a much lower burn temperature initially, meaning you have a more predictable burn rate and importantly more time to evacuate from a building.
An FR panel takes longer to reach the flash point due to the panel treatment which has enhanced its reaction to fire, again giving greater time to escape a building, or to extinguish smaller fires. In these situations, seconds save lives.
Flame-retardant treatment will enhance the reaction to fire properties, reducing ignitability and slowing fire development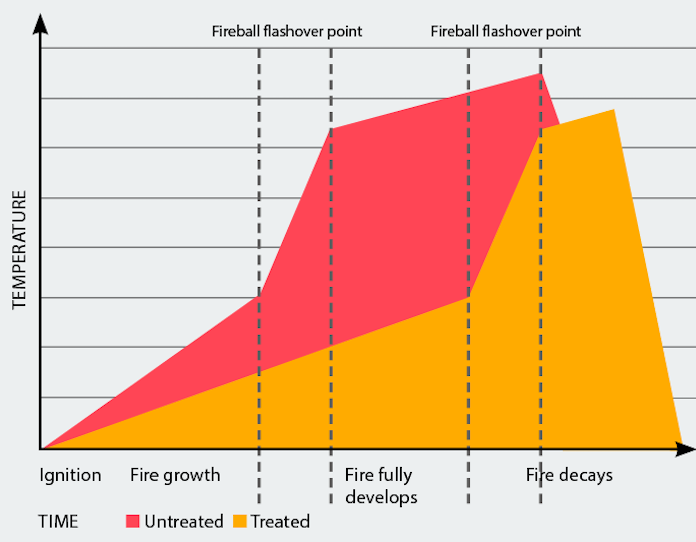 Fire regulation for timber products
To ensure the fire safety of public and private buildings, it is vital to portray a clear understanding of flame-retardant products and how they meet the increasingly stringent requirements of Building Regulations.
Approved Document B (Fire Safety) of Building Regulations requires Euroclass C reaction to fire performance for walls and ceilings, and Euroclass B in higher risk areas such as escape routes and staircases, classified in accordance with BS EN 13501-1: Fire classification of construction products and building elements.
In order to comply with this requirement, wood panels for use in walls and ceilings must pass two stringent reaction to fire tests, namely EN ISO 11925-2 (ignitability test) and BS EN 13823: 2002 (single burning item, or SBI test). The SBI test evaluates how the product would react in a real life 'room corner' fire situation and records the rate of fire growth, lateral flame spread and total heat release.
Reaction to fire relates to the degree to which a product will contribute, by its own decomposition, to a fire under specified conditions. Products, other than floorings, are classified as A1, A2, B, C, D, E or F (with class A1 being the highest performance and F being the lowest) in accordance with BS EN 13501-1.
Euroclass B is the highest fire performance a wood product can be classified as (because wood is a natural organic material). Euroclass B is described in the Euroclass system as having "very limited contribution to fire". Standard untreated OSB achieves Euroclass D and is described as having "acceptable contribution to fire".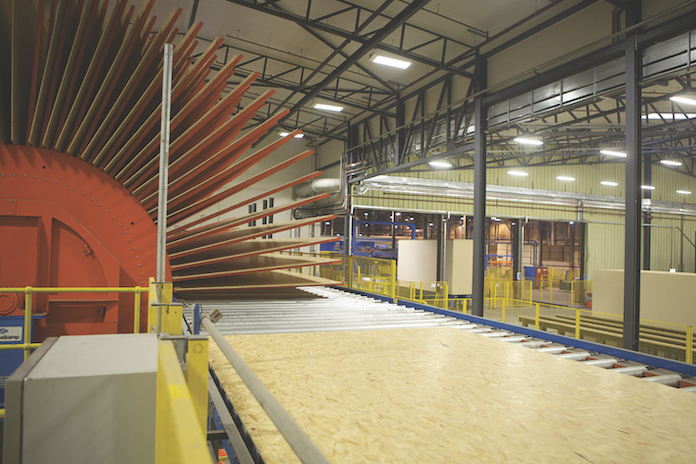 In addition to being Euroclass graded, timber panels manufactured for use in buildings must present a clear CE mark.
CE marking of construction products (those covered by a harmonised Euro-pean standard) is mandatory under the Construction Products Regulation (CPR). Harmonised standards include guidance on the minimum information that should be included with the CE mark.
The following is a list of harmonised standards for wood-based products that include provisions for fire where the reaction to fire classification may be changed by treatment.
EN 13986: 2004 +A1: 2015. Wood-based panels for use in construction. Characteristics, evaluation of conformity and marking
EN 14374: 2019. Timber structures – Structural laminated veneer lumber (LVL) requirements
EN 14342: 2013. Wood Flooring. Characteristics, evaluation of conformity and marking
EN 14915: 2013. Solid wood panelling and cladding. Characteristics, evaluation of conformity and marking.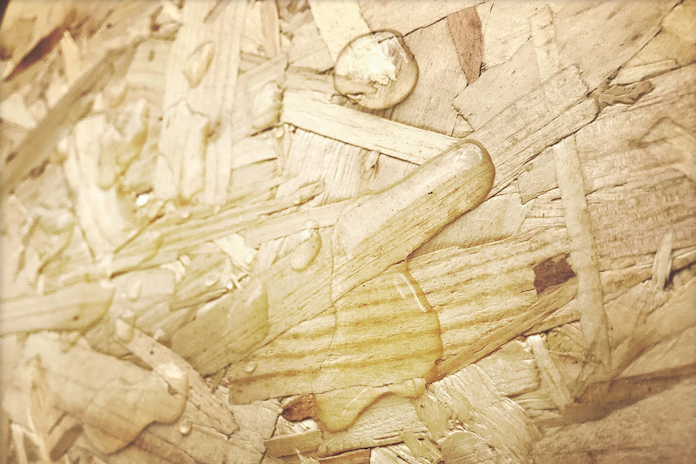 Testing and classification on reaction to fire
Smartply Max FR B has been tested to:
EN 13823 (SBI test)
EN ISO 11925-2 (ignitability test)
EN ISO 9239-1 (radiant test – for flooring) and classified in accordance with EN 13501-1: 2007 and A1: 2009.
The product relates to the following fire classes and fields of application:
Euroclass B-s2, d0 (wall, ceiling, roofing and free standing applications)
Euroclass BFL-s1 (flooring applications).
The thresholds to achieve Euroclass B are higher than those for Euroclass C, so if a material achieves Euroclass B then it also conforms to Euroclass C for the same field of application.
Case study: The Edge, Liverpool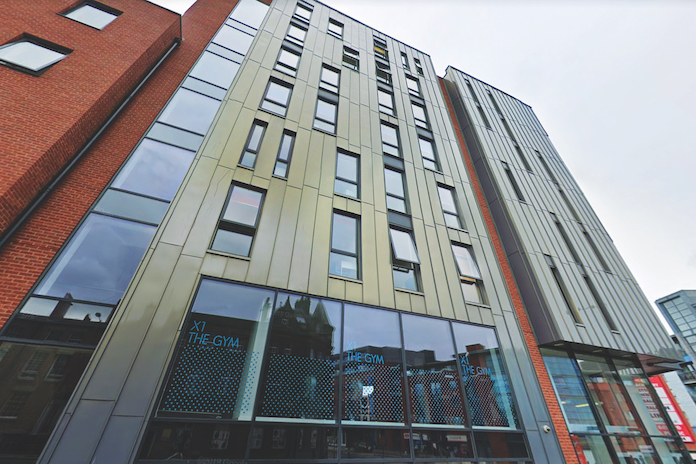 The Edge, a 231-room student accommodation building on London Road, Liverpool, was constructed to meet the city's urgent need for student homes.
Smartply FR/FR Build OSB3 from Medite Smartply has been used as a flame-retardant flooring solution in the seven-storey building, which caters to students of Liverpool John Moores University and University of Liverpool.
The design of the concrete and timber frame building by DK Architects is clad in facing brickwork, metal cladding with UPVC windows and aluminium curtain walling. The main contractor, Bardsley Construction, worked with timber frame engineer and fabricator Datum to specify 1,000 sheets of 18mm Smartply FR/FR Build OSB3 panels to be used as the floors for all seven storeys. Datum selected the product for its consistency and flame-retardant properties.
Ross Archer, technical manager at Datum, explains: "For the developer, fire safety and quality of build were of paramount importance as they really wanted The Edge to stand out as an example of high-quality student accommodation in the city. When building the timber frame part of the structure, we looked for a flame-retardant flooring panel that wouldn't be affected when the edges were cut to the specification of each storey."
During manufacture of Smartply FR/FR Build OSB3, a water-based, eco-friendly, flame retardant from ZeroIgnition is added, ensuring fire performance while maintaining structural integrity. Alternative post treatment flame-retardant technologies can have a destructive effect on the mechanical or physical properties of the panel, resulting in a tendency to crack or shatter.
This article has been created by Construction Manager in partnership with Medite Smartply